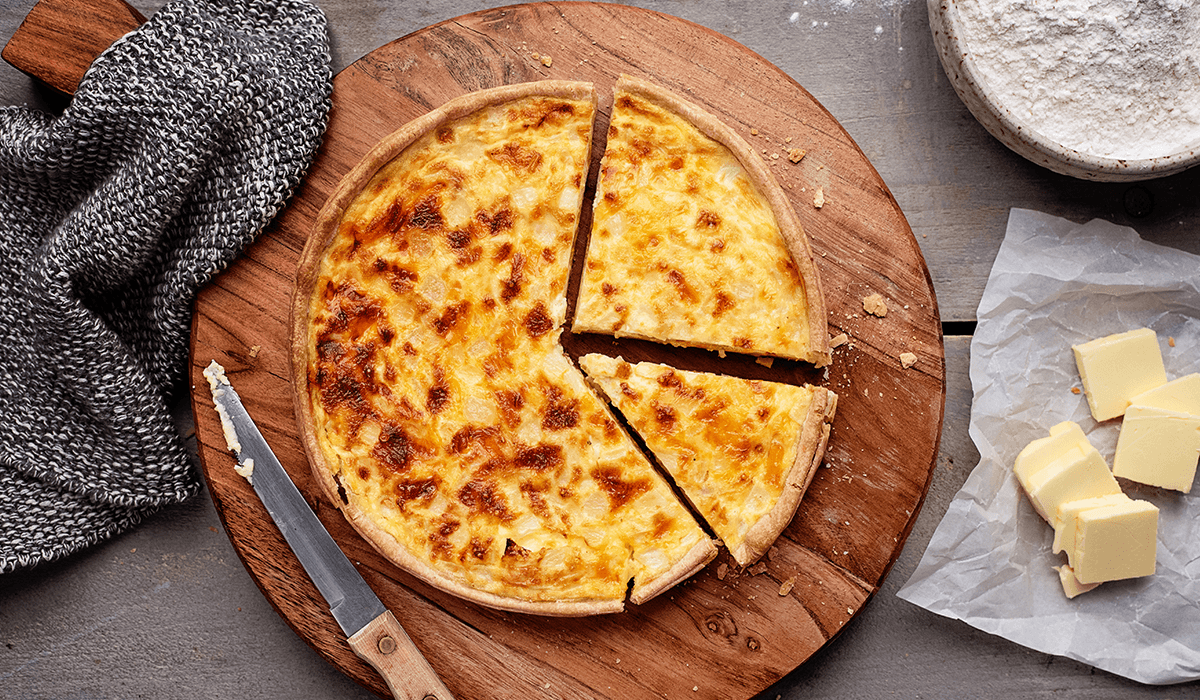 10 Brunch Ideas to Help Kick-Start the Day
As we begin to find new ways to safely spend time with friends and family (while respecting public health guidelines), we can also find new ways to enjoy one of our favourite midday feasts. That's right — brunch is back.
A little bit breakfast, a little bit lunch, brunch is beloved by early risers and late sleepers alike. But how can you turn a basic brunch into something fabulous? Here are 10 fun brunch ideas that'll make your next social distance get-together with your besties even sweeter.

Savoury Brunch Ideas
Quiche: A Savoury, Customizable Tart

Easy to make, delicious, and fully customizable, quiche is a must-have for any brunch. Plus, this perfectly shareable savoury pie usually only takes about 15 minutes to prepare!
Ever decked out a butter-crusted quiche with decadent extras? A good place to start is what the seasoned pros call "quiche lorraine", packed with hearty add-ons like crème fraîche and bacon (yum!). Kick things up a notch by swapping out the bacon for pancetta and sprinkling on your favourite cheeses to really make it your own.
Bacon: A Crunchy Classic

Bacon at brunch is a no-brainer for any brunchees looking to include a meaty protein on their menu. The quality of the meat makes all the difference — opt for thick-cut, cruelty-free and GMO-free certified bacon, Canadian-raised without antibiotics and naturally smoked with maple wood for a better buy and superior flavour.
Serve up crispy bacon on its own as a side, on a quiche, or in a sandwich. You can even incorporate bacon into sweet recipes! For a healthy dish with a bacon-y twist, try smashed avocado toast with bacon, served with fresh cherry tomato salad.
Bagel + Labneh + Smoked Salmon = Perfect Brunch Trio

With savoury smoked salmon, tangy creamy cheese, and crispy Montreal-style bagels, it's no wonder this trio is a brunchtime staple. Ever tried your bagels slathered with labneh?
Labneh, a soft cheese spread made from strained yogurt popular in Middle Eastern cuisine, is packed with protein, calcium, and probiotics and makes a great substitute for cream cheese, sour cream, or tzatziki.
Beyond the bagel, labneh and smoked salmon can also be enjoyed bite-sized on crackers or mini-pancakes. Don't be afraid to think out of the box with this dynamic duo! Got leftover smoked salmon after brunch? There are lots of other exciting ways to use smoked salmon too!
Don't Forget the Cheese!

Goodfood started out in a tiny Montreal apartment around the corner from the Jean Talon Market, so we have a bit of a soft spot for Quebec cheeses. Did you know that there are over 700 varieties of Quebec cheese? That's a lot of cheese!
A cheese platter (or individual platters for safe sharing) featuring your favourite Canadian artisanal cheeses is always a good idea when hosting. Not only are local cheeses absolutely delicious, there always seems to be something new to discover and it's a great way to support Canadian farmers and businesses.
For a balanced platter, try adding different types of cheeses from the six main categories:
Firm cheeses (Cheddar, Gouda, Edam, Cantal, etc.): These cheeses have been fermented several times and are often rind-free. Taste varies according to the length of the ripening period and ranges from very mild to very sharp.
Semi-soft cheeses (Oka, Raclette, Tomme, etc.): The light taste and softer texture of these popular cheeses make them ideal for sharing with cheese connoisseurs and newcomers alike.
Soft cheeses (Camembert, Brie, Champfleury, etc.): Soft and delicate, these cheeses come in various levels of creaminess (like double or triple cream) with rinds that are bloomy (moist with a white coating) or washed (brushed with brine).
Fresh cheeses (Labneh, Boursin, Ricotta, etc.): Rindless, mild, and smooth, the creamy texture of fresh cheese is a result of the tried-and-true method of curdling and draining milk. These cheeses are ultra-spreadable and go great with bread or crackers.
Hard cheeses (Gruyère, Parmesan, Pecorino, Comté, etc.): These fattier cheeses are designed to be grated or shaved on your favourite dishes. They also have a long shelf life so you can use them in multiple dishes throughout the week!
Blue-veined cheeses (all blue cheeses): The mould (good mould!) that grows inside these smooth, marbled cheeses gives them their strong taste and adds personality to any dish or platter.
Brunch Ideas to Satisfy Your Sweet Tooth
Pick Your Perfect Pastries

Danishes, croissants, chocolatines, turnovers, cakes or macarons: warm, soft, freshly baked goods are a delicious way to spoil your guests — and yourself — at brunch! Ready in about 15 minutes, they're also ideal for sharing safely, thanks to their individual portions.
Although many pastries are catered to sweet tooths, they can also be used in savoury recipes like spanakopita (spinach and feta turnovers) or Tuscan-style tomato and olive turnovers. There's something for everyone!
Maple Syrup, a Timeless Canadian Staple

9 796 000. That's how many gallons of maple syrup were produced in Canada in 2018 alone! Considering how deep this sweet treat is rooted in our history and many of our traditions, maybe that number isn't that surprising.
From savoury to sweet applications, maple syrup always has a place at the brunch table! It's easy to bring the cabane à sucre home with a variety of maple drizzled (or soaked, who are we kidding?) delights.
Need some inspiration on where you can include this local delicacy in your brunch feast? Here are a few ideas:
Drizzle on yogurt and oat bowls
Spread on baked goods as maple butter
Layer in a pudding
Add to waffles, pancakes and French toast
Use to flavour ham, bacon, or salmon
Mix with fruit and jams
Use as a sweetener in drinks
Creamy, Fruity Yogurt

With or without granola, dairy and coconut-based yogurts are an easy, affordable brunch option guaranteed to start the day off on a bright (and creamy) note. Yogurt is also a nutritious on-the-go breakfast solution!
Add seasonal fruits like apples, blueberries, strawberries, or peaches to your yogurt for perfect parfaits. Maybe even drizzle with a bit of that maple syrup!
Fresh Favourite: Seasonal Fruit

Added to yogurt, sprinkled on pancakes, blended into smoothies, as a cold-pressed raw juice or fruit salad, never underestimate the freshness, flavour, and colour that fresh fruit adds to your brunch spread! Fresh fruit is also a great way to counter the richness of indulgent menu items like meats and cheeses.
We can all use a little more fruit in our diet, and what better time to incorporate them in then when local farms are brimming with fresh, seasonal offerings. These fruits are particularly delicious during the summer months:
Strawberries
Blueberries
Cherries
Raspberries
Melons
Blackberries
Peaches
Pears
Brunch Beverage Ideas
Add Smoothies in the Mix
Making delicious, all-natural smoothies is more convenient than ever — especially when they come ready to blend and ready to serve in just a few minutes! At brunch, smoothies are a great way to add more fresh fruit in the mix, stay hydrated, and balance out your menu.
These recipes are classic crowd-pleasers:
Banana Pecan
Acai Bellini
Boreal Berry
Tropical Storm
And good news for coffee lovers: two of our most popular smoothie flavours, Cold Brew Crisp and Peanut Butter Cup, feature premium cold-brewed coffee for an extra kick.
The Classics: Coffee & Tea

Is there anything better than the smell of fresh-ground coffee or steeping tea in the morning? When it comes to impressing your brunch guests, good quality coffee and tea make all the difference.
Serve up the best with:
100% Arabica Amazon Blend Coffee from Brazil and Columbia with tasting notes of peanut, pomegranate, and toasted bread
Elderflower, Mint, Raspberry Fields, Chaï, and Organic black tea perfect for relaxing
Iced coffee or kombucha (bubbly beverage made from fermented tea) for sweltering summer days
Make your brunch the best it can be with fresh, local ingredients, good friends, and great conversation. Time to get creative, have fun, and stay safe!
What brunch ideas will you try next?
 
Image Credits
Feature Image, Image 1-2, 4-6, 9: via Goodfood
Image 3, 7, 8, 10: via Unsplash