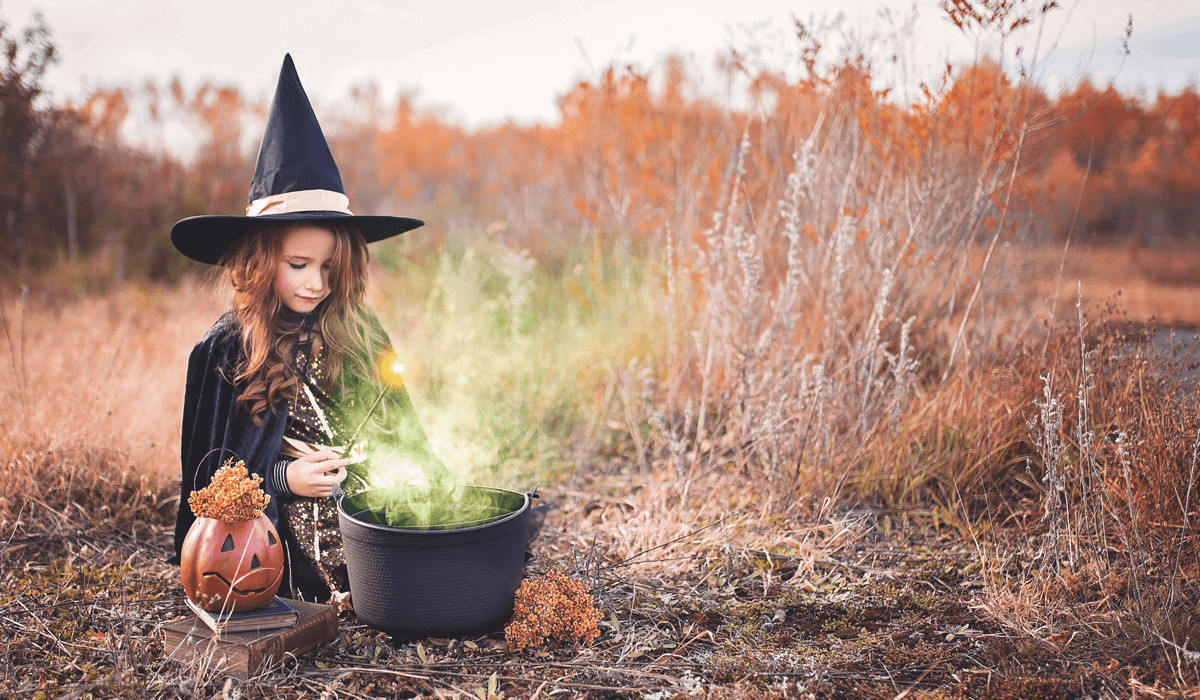 3 Boo-tiful DIY Halloween Costumes Made from Recycled Materials
Have you decided on this year's Halloween costumes yet? If you're still searching for the perfect costumes for your family, we've got you covered. These easy costumes are fun to make, eco-friendly, and won't break the bank — and you probably have everything you need in your craft drawer and recycling bin!
So reclaim that Goodfood box or paper bag from the blue bin and let your imagination run wild with a few out of the box ideas for kids, grown-ups, and your four-legged friends alike. Here are 3 to get you started (and check out last year's post for even more creative concepts!).
 
1. Escargot All Out With Fido's Homemade Halloween Costume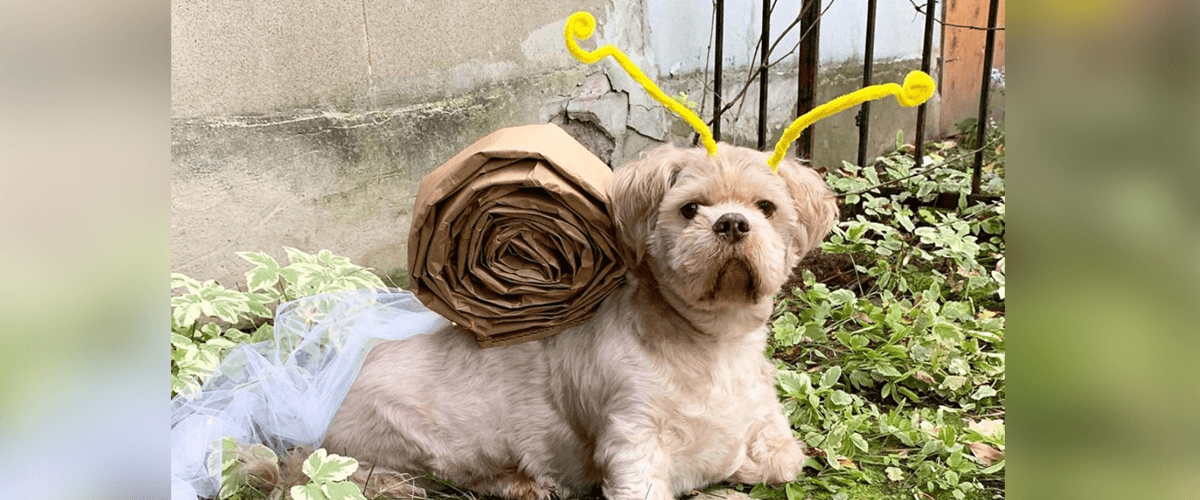 This costume is guaranteed snail slime-free. No promises on drool.
If you've got a fur baby at home who wants to get into the festive spirit, this easy-to-make snail costume is comfortable to wear and cute as a button on pups of any size. Ready for the runway in only a few steps, this one is also great as a last-minute costume for kids too!
You'll need:
5 Goodfood WOW bags (or other brown paper bags)
A headband
Adhesive tape or glue
2 colourful pipe cleaners
Ribbon
Steps:
For the shell:
Cut open the brown paper bags along the sides so they open up and lay flat.
Tightly fold the bags horizontally and place them in a line, as if forming a long rope. Tape the bags together.
Once the bags are taped together, roll them up tightly horizontally, creating a long paper "rope". Secure with tape if needed. Then, roll the "rope" up tightly, like a cinnamon bun, to create the shell. Secure with double-sided tape or glue on the inside of the end of the roll.
Cut a small piece of cardboard slightly larger than the shell to create a stable base and tape or glue it to the shell. Tie some ribbon on each side of the base, forming two loops that will serve as shoulder straps (like a backpack). For your furry friend, the shell can also be attached to their harness for (slooooow) neighbourhood strolls!
For the tentacles:
Choose 2 pipe cleaners in any colour you'd like and curl them around the headband. Yup, that's all!
2. Fabulous Photo Booth Props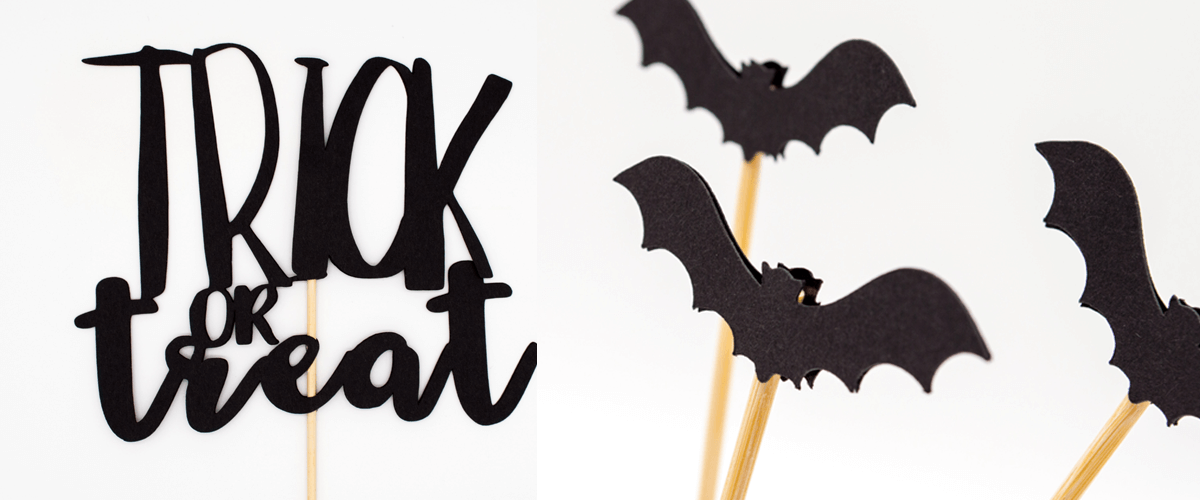 Bats, beasts, and broomsticks make for boo-tiful photo booth props!
Since we'll be celebrating a little differently this year, bring the fun home with a DIY photo booth session complete with homemade props. Share the pictures with your friends and family or host a virtual Halloween party and show off your handiwork live! This is a fun (and totally silly!) way to celebrate together, even if you're apart.
You'll need:
Cardboard from your Goodfood box (or recycled paper)
Scissors
Hot glue
Popsicle sticks
Optional: Markers or paint
Steps:

*Parental supervision required for steps involving scissors and hot glue.
Draw your Halloween designs on your prepared cardboard or paper. You can freestyle it or print out an online template to follow. For thinner paper, draw the design twice so you can double up.
Carefully cut out your designs and decorate them however you like!
Using a hot glue gun, glue the cardboard cutout to the popsicle stick. If using thinner paper, glue one design on one side, and one on the other so they match up.
Repeat this as many times as you'd like and try out different Halloween-themed designs!
3. For Your Knight In Shining Armour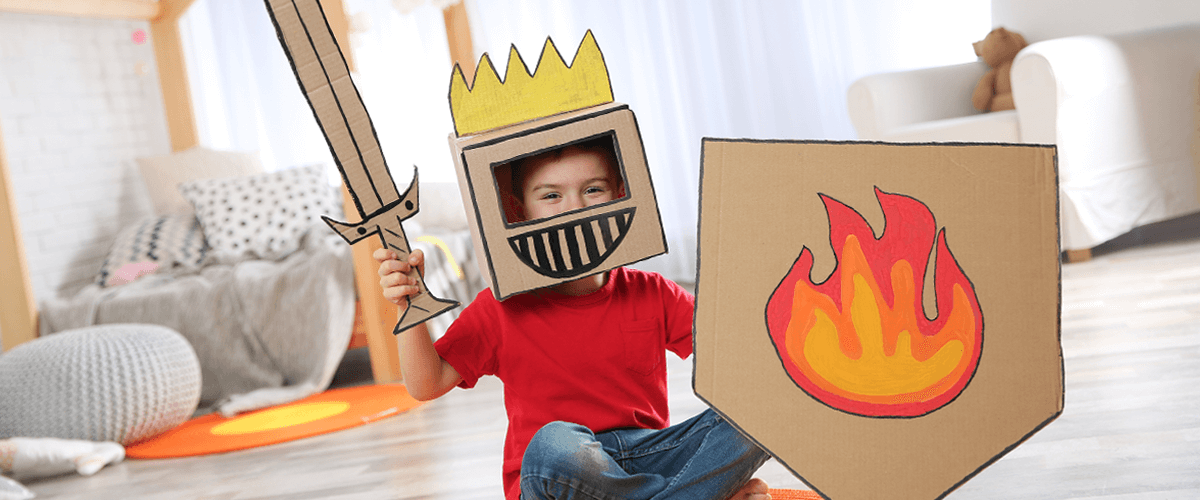 Valiant steeds and fire-breathing dragons not included.
Transform your home into a magical kingdom with a little cardboard, some glue, and a whole lot of imagination! Your child (or you, we know you want to) can become a brave and honourable Knight of the Round (Dinner) Table in a few easy steps.

You'll need:
Cardboard from your Goodfood box
A smaller box (for the helmet)
Markers or paint
Scissors
Glue
Follow these steps:
For the shield:
Cut your Goodfood box open. On a large section of the cardboard box, draw a shield in the shape and size you want.
Cut out the shield and then let your knight in training decorate it with markers or paint.
Bend a strip of leftover cardboard to make it less rigid, then glue to the back of the shield, leaving enough space for a hand to slip under.
For the sword:
On another piece of cardboard from the box, draw and cut out a sword shape.
Let your child decorate their sword to their liking.
For the helmet:
The easiest way to make a helmet is to take a small, head-sized box and remove the bottom and the majority of one side (for visibility) before decorating.
Make sure the helmet is comfortable, fits properly, and allows your child to have full visibility once it's on their head.
Get Crafty this Halloween!

Halloween is the perfect opportunity to get creative and to use your imagination to delight the little ones (and the young at heart). Which homemade Halloween costume will you make using your Goodfood boxes this year?
Share your creations on Instagram by tagging @goodfoodca and using #GoodfoodCostume! We can't wait to see your amazing ideas!
 
Image Credits
Feature Image: via Unsplash
Image 2: via @derptheslurp on Instagram
Image 3: via Unsplash & Unsplash
Image 4: via Shutterstock