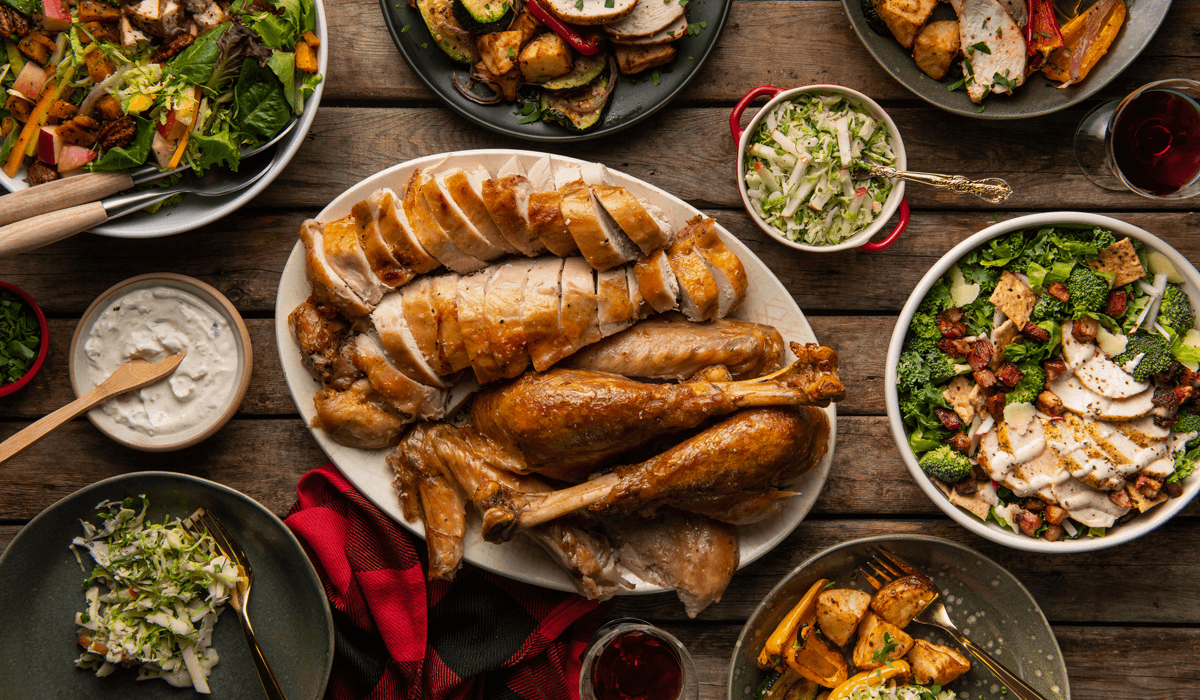 5 Thanksgiving Essentials for the Ultimate Holiday Feast
Thanksgiving is a time to enjoy family, friends, and food while expressing our gratitude for all the good things in our lives. Although this year is going to look a little different and we may not be able to gather around the table with our families, there's still a great opportunity to celebrate the occasion with loved ones in our households or even from a distance virtually. Plus, a fabulous feast also means amazing leftovers for lunch!
Read on for 5 Thanksgiving essentials that will make your dinner the easiest and most delicious yet.
Chef's Tip:
To spend some quality time with loved ones you can't get together with this year, make a date and plan out your favourite recipes to cook together or order the same Thanksgiving meal kits and enjoy your festive feast via
video chat
.
1. Turkey

For many, Thanksgiving just isn't Thanksgiving without a glistening turkey as the table centerpiece. Even if you're a turkey-cooking pro, there are always new tricks to make it even tastier and cook it safer.
 
The Traditional Way

If you're prepared to put in a little elbow grease to cook a turkey the old fashioned way, here are a few tips and tricks for the juiciest, most flavourful turkey on the table.
 
Defrosting Your Turkey

Is your turkey frozen solid? To safely and efficiently thaw it in time for Thanksgiving, thaw in the fridge for at least an entire day. The thawing time will vary depending on the size of the bird, but Health Canada recommends 24 hours for a 5-pound turkey and about 48 hours for a 10 pounder.
To speed up the defrosting process, run cold water over the frozen wrapped turkey or submerge in a bowl of clean, cold water. Be sure to change the water every 30 minutes to keep the turkey chilled. Anticipate about 2 and a half hours of thawing time per 5 pounds.
Important Note: Never thaw a turkey at room temperature or with warm water, as this will cause bacteria to build up and may cause illness. Wash your hands before and after handling raw poultry. Always follow government recommendations for cooking, defrosting, and storing food.
Preparing Your Turkey

Because of its long cook time, turkey can dry out without the proper prep. Here's how to keep your turkey at its juiciest:
When your turkey is thawed, gently loosen the skin from the meat using your hands, taking care not to tear, puncture, or remove it.
Once the skin is loosened, soften a generous amount of regular butter, garlic butter, or herbed butter (enough to coat the whole turkey). Using your fingers, apply butter underneath the skin of the bird, including the legs, wings, and cavity. Make sure the butter is evenly distributed by pressing down on the skin of the turkey and gently massaging.
Add in fresh herbs like thyme, rosemary, or sage under the skin and feel free to sprinkle with your favourite dried spices too!
Don't forget to remove the giblets from inside the cavity and replace with a full or half lemon, butter, herbs, and spices.
When your turkey is defrosted and prepared, it's ready for the oven!
Find it on your selection page:
Salted Butter, Savoury Thyme & Tarragon Poultry Rub, Savoury Seoul-Style Spice Blend, Alla Romana Spice Blend, Zingy Garlic & Oregano Spice Blend, and more!
Cooking Your Turkey

To make sure your turkey is food safe, preheat your oven to at least 165°C (330°F) and use a meat thermometer to check that the thickest part of the breast has reached an internal temperature of 82°C (180°F) for whole birds and 74°C (165°F) for pieces.
For cooking time, calculate approximately 45 minutes per kilogram of meat. For example, a turkey weighing 3 kilos (a little over 6.5 pounds) takes about 135 minutes (2 hours and 15 minutes) to cook.
You'll know your turkey is ready when the meat thermometer reaches the temperature above and the juices run clear. After cooking, don't forget to let your turkey rest to preserve maximum juiciness.
 
Timesaving Goodfood Hack

Cooking a turkey from scratch takes a lot of time and effort. If you're short on time, we've got the ultimate Thanksgiving hacks to help you enjoy the festivities to the fullest.
Whole Cooked Turkey (4.5 kg)

Pre-seasoned and fully cooked using the "sous vide" technique to lock in flavour and juiciness, this tender, flavourful turkey is ready to serve and eat! Simply reheat it in your oven, with the optional step of crisping the skin under the broiler.
Thanksgiving Meal Kits

Another easy option is our fully-loaded Thanksgiving meal kits that have everything you need for a delicious festive feast, all delivered right to your door. From classic turkey to veggie bowls to steaks, there's something for everyone!
2. Mashed Potatoes

Creamy, dreamy mashed potatoes — what Thanksgiving feast is complete without them? Whether you cook them yourself or opt for the ready-to-eat option, it pretty much goes without saying that mashed potatoes are a must-have for any turkey dinner.
 
Cook Your Mashed Potatoes Like a Chef

Cook, mash, serve, right? Even though mashed potatoes are one of the easier options on the menu, we have a few tricks up our sleeve to bring your mash to a whole new level.
Add an Apple!

It's true, potatoes and apples are a mash made in heaven! Incorporating an apple into your mashed potatoes brings lightness and a touch of sweet-tart freshness to the mix.
Here's how to do it:
For your mise en place, shop potatoes, slice an apple into cubes, and prepare 2 tablespoons of butter (plus extra, to taste).
Add potatoes to a pot of salted water. Bring to a boil, cooking for about 15 minutes or until tender. When cooked, drain, saving half a cup of potato water.
While the potatoes cook, add apples to a pan with butter. Cook until tender.
Add apples and butter to the pot of potatoes and mash, slowly adding the potato water until you get the desired consistency. Season with salt and pepper. For extra creaminess, fold in milk, cream, or labneh.
Garnish with Your Favourites

For added flavour and crunch, garnish with green onions, shredded cheese, caramelized onions, fresh herbs, hot peppers, or anything else you'd like! For a savoury and salty twist, incorporate cooked bacon or pancetta into your mash.
 
Timesaving Goodfood Hack

Simplify your Thanksgiving meal with ready-to-eat mashed potatoes that are just as creamy and delicious as homemade. Get them delivered to your home before the big day, heat, and serve.
3. Veggies

The key to the ultimate Thanksgiving spread lies in colour and variety. Add a few seasonal ingredients to the menu, cooked however you like them best, and celebrate the bounty of harvest season!
Here are a few delicious fall flavours to inspire you:
 
Mushrooms:
Squash:
Squash salad
Roasted pumpkin
Pumpkin seeds
Cruciferous:
And many more:
Eggplant gratin
Radicchio salad
Roasted cipollini onions
Stuffed shishito peppers
Artichokes

Timesaving Goodfood Hack


We've got delicious ready-to-eat vegetable sides that just need to be heated up and served. So easy!

 

4. Bread




From appetizers to gravy conduits, there's nothing like warm, fresh bread to unify a Thanksgiving spread. Get creative with the types of bread you add to the menu and don't forget about tomorrow's sandwiches (bao make amazing turkey buns)!
 

Homemade Bread


Do you have a (possibly forgotten) sourdough starter in your fridge? Many tried their hand at breadmaking during the lockdown and some even got pretty good at it!

Even if you're not yet a master baker, making bread requires no special machinery and only 4 key ingredients: flour, salt, yeast, and water. Let's get baking!

Steps:

Form a dough: In a bowl, whisk together the ingredients. Using your hands, work until a soft dough forms. Shape into a ball and put back in the bowl.
Let it rise : Cover the bowl with plastic wrap and let the dough rise in a warm place until doubled in size, about 1-2 hours.
Knead : On a lightly floured surface, knead gently (without tearing) and shape. Cover and let stand for 1 hour.
Bake : Preheat oven to 230°C (450°F). Boil some water and add to an oven-safe dish on the bottom rack to create steam, which will keep the bread moist on the inside and crispy on the outside. Make some cuts on the top of the dough, sprinkle with flour, and bake for 20-30 minutes until the crust is golden brown. Let cool before slicing.

 

Timesaving Goodfood Hack


We get it: sometimes there just isn't enough time in the day to bake your own bread! That's why we've added tons of par-baked options to your selection page. Just pop them in the oven for a few minutes and you'll have warm, freshly baked bread that tastes (and smells) just like homemade.

 

5. Pie




Whether you make one yourself or save time with a pre-baked option, there's nothing better than a good slice of pie to end a Thanksgiving meal in style.


Homemade Pumpkin Pie


October is pumpkin season and that means pumpkin pie! A true taste of the season, this classic pie is as easy to make as it is to eat. Plus, it's made with only a handful of ingredients, including pumpkin purée (or fresh pumpkin).

Recipe Ideas

 

 

Timesaving Goodfood Hack


Even cooking enthusiasts need a break sometimes. Make dessert the easiest part of the evening with ready-to-eat pies that taste just as good as homemade. No one will know the difference (pinky swear we won't tell)!

 

Enjoy Thanksgiving Together (Even if You're Apart)


No matter what Thanksgiving looks like this year, we invite you to use this time to cook a delicious meal with your family, on a virtual call with your loved ones, or as a treat to yourself.

Visit your selection page for more holiday meal ideas!

 
Image Credits

Feature Image, Image 1-9: via Goodfood