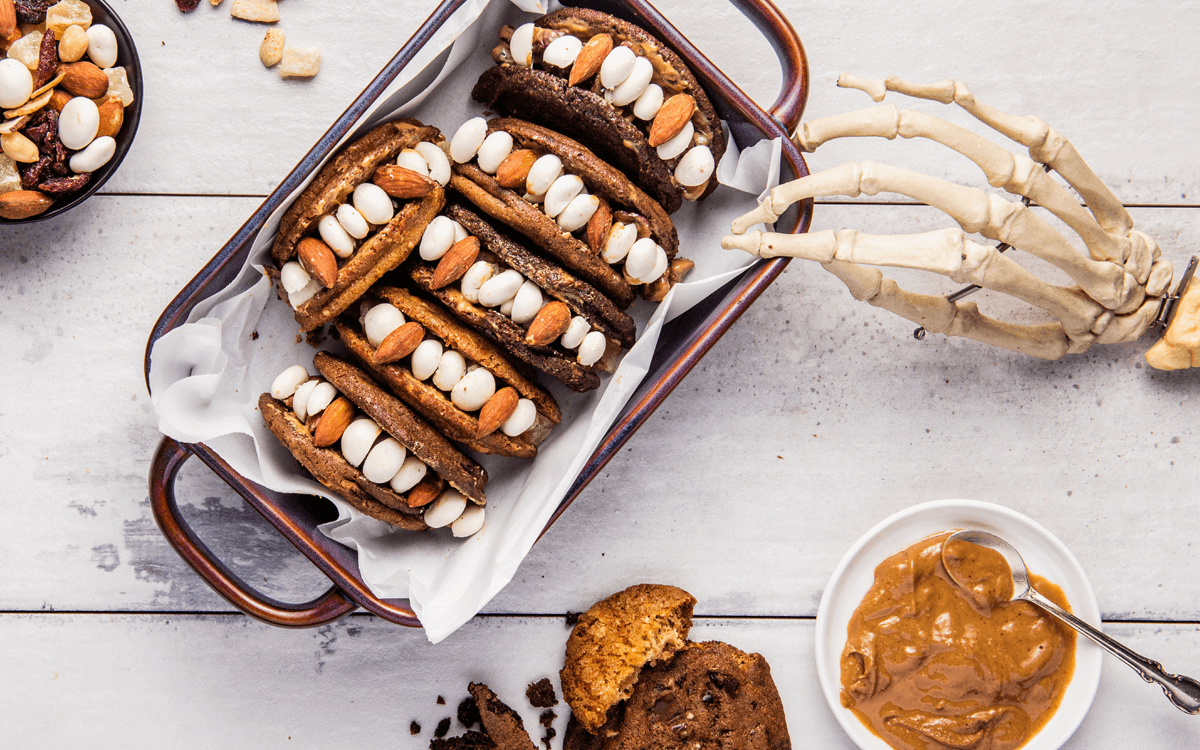 8 Fun and Easy Halloween Snacks to Make with the Family
The weather is getting chilly, the leaves are turning brilliant shades of red and orange, and pumpkins are popping up on doorsteps — that's right, spooky season is here! Even if we'll be spending more time indoors this year, Halloween is still a great opportunity to have fun with your family, play with your food, and get creative in the kitchen.
We've assembled 8 fun and easy Halloween snacks kids and grown-ups alike will love to make and love to eat!
Note: No monsters were harmed in the making of these recipes.

BOOtiful Bark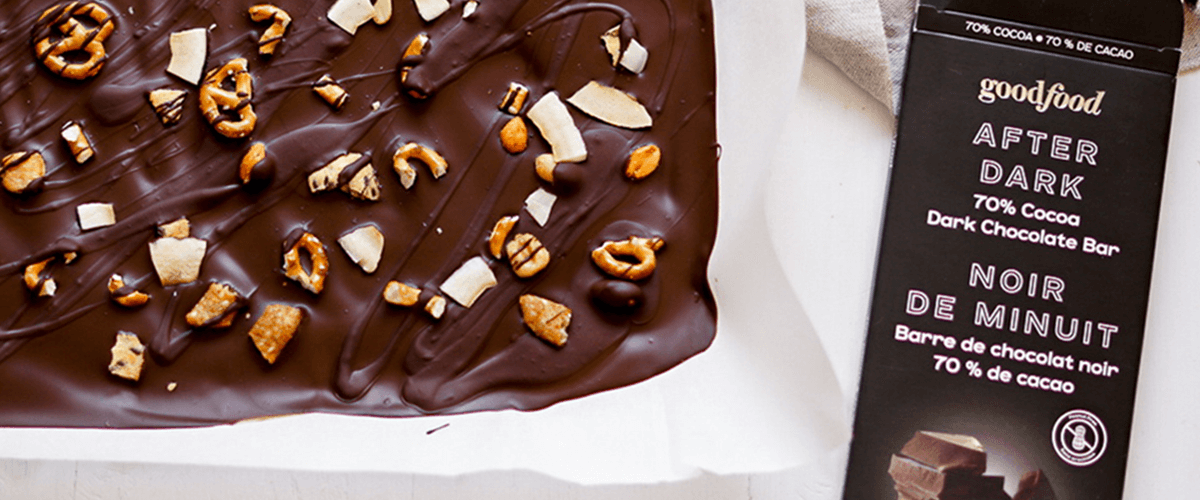 This decadent chocolate bark takes only a handful of ingredients and a few simple steps to make. Use leftover Halloween candy to make monster faces or snack mix for that perfect sweet and salty combo — the possibilities are endless. When it's all set, give it a smash (the funnest step)!
 
Ingredients:

| | |
| --- | --- |
| • Milk or 70% Cacao Dark Chocolate Bars | • Gummy Candy Mix or Salty Snack Mix |

---


Prepare the chocolate

In a microwave-safe bowl, melt chocolate in 30-second increments, stirring each time. Pour melted chocolate onto a parchment-lined baking sheet and spread out evenly using a spatula or butter knife. Sprinkle with Halloween candy or snack mix.

Let it set

Allow to fully cool at room temp for about 2 hours (to speed up the process, you can place the tray in the freezer for about 10 minutes).

Break!

Carefully break the bark into pieces (the kids will love this step) and store in an airtight container. Enjoy your monster faces or sweet and salty snack!
Eggscellent Mini Pumpkins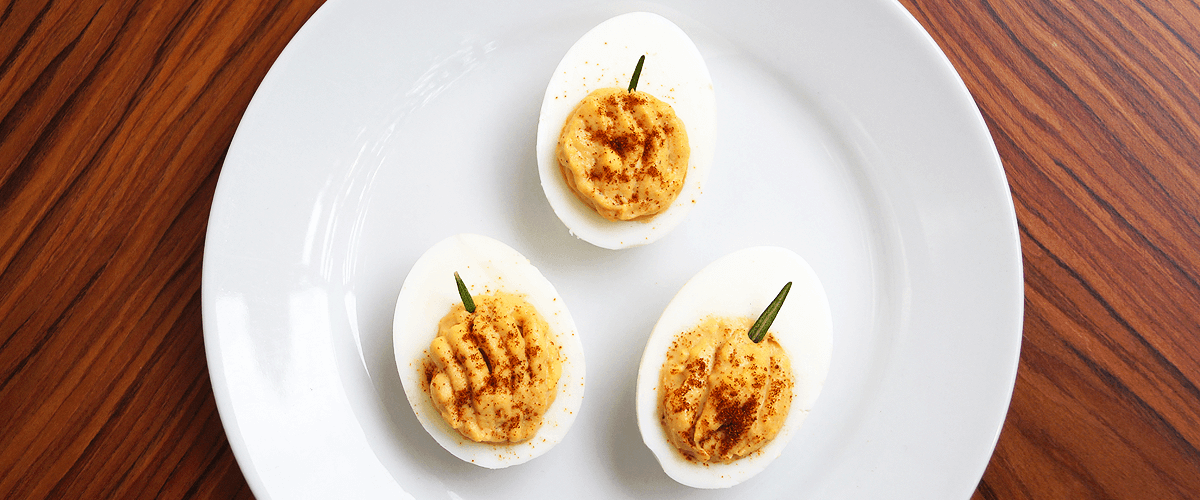 These devilishly good deviled eggs look just like little pumpkins! As fun to make as they are to eat, these tasty treats make excellent breakfasts, lunches, and appetizers. Plus, they're ready in just a few minutes.
 
Ingredients:

• Hard-boiled eggs
• Mayonnaise
• Dijon mustard
• Fresh herbs (rosemary, chives, etc)
• Lemon juice (optional)
• Paprika (optional)
• Salt and pepper (optional)

---


Prepare the eggs

Remove shells from hard-boiled eggs, cut in half lengthwise. Gently remove yolks with a teaspoon.

Make the mix

Add yolks to a bowl with mayo, Dijon mustard, lemon juice, a dash of paprika, and salt and pepper. Mix until well combined and creamy. Pipe mixture back into the egg whites.

Assembling the pumpkins

Sprinkle a dash of paprika on the yolk mixture and add a small piece of rosemary or chive on top for the pumpkin stem. Serve and enjoy!
Chef's Tip:
To
reduce food waste
, regrow your fresh herbs in a brightly lit windowsill and watch them regrow!
Edible Eyeballs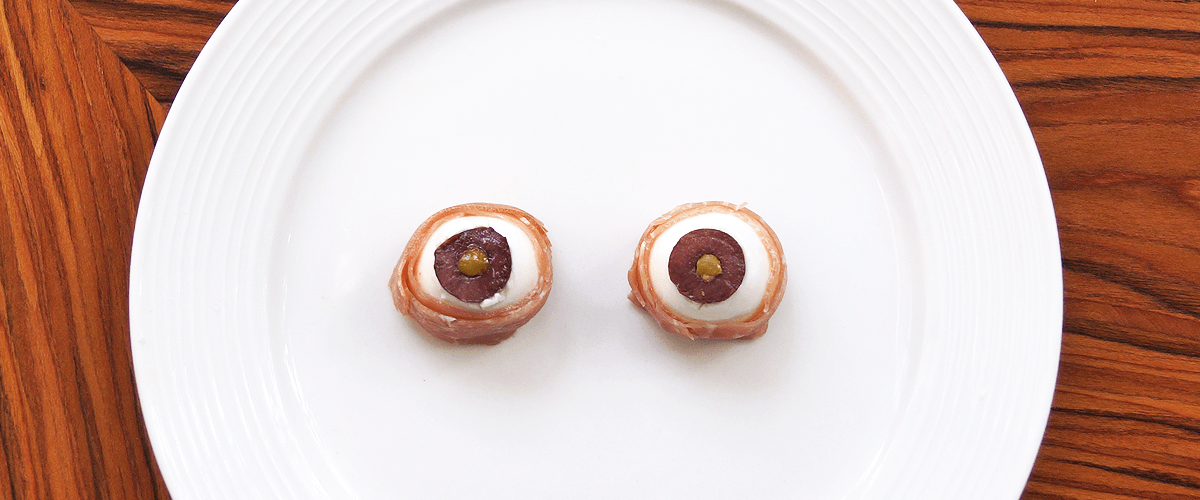 Normally eyeballs aren't on the menu, but Halloween is a whole different story. Make these bite-sized snacks in 3 easy steps, with 3 no-cook ingredients. Keep your eye on these ones — they'll disappear fast!
 
Ingredients:

• Bocconcini
• Olives
• Prosciutto

---


Mise en place

Remove bocconcini from packaging and place on a cutting board. Slice the olives.

Prepare the eyeballs

In the center of each bocconcini, carefully cut out a hole and remove the cheese. Insert a slice of olive and gently press to secure.

Wrapping up

Wrap the bocconcini in strips of prosciutto and plate. Your eyeballs are ready to eat!
Vampire Smiles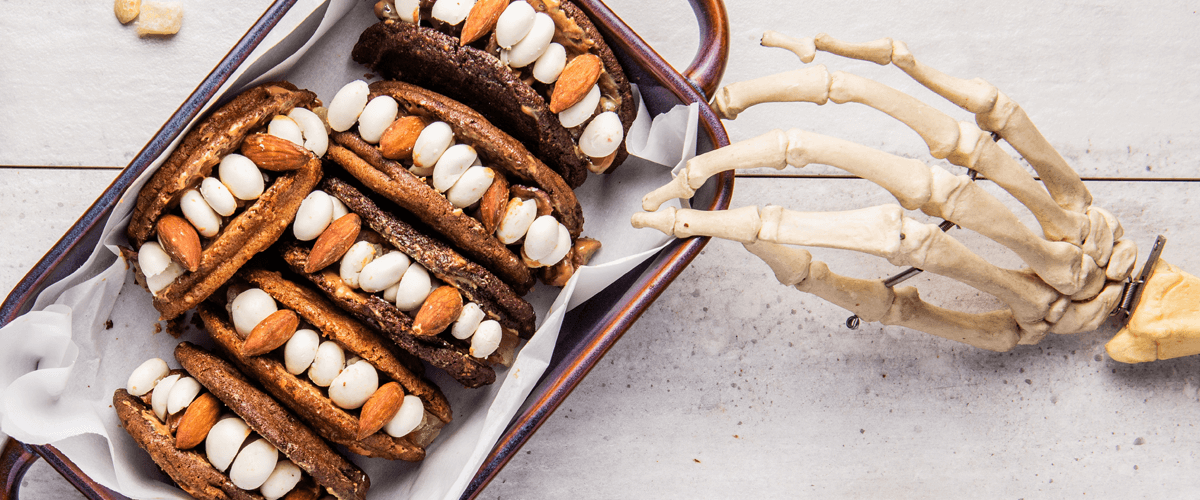 Who knew vampires had such pearly whites? With just a handful of complementary ingredients, you can serve up a smile for snack time or dessert. Not recommended to eat with garlic breath.
 
Ingredients:

• Ready-to-Bake Triple Chocolate Cookies
• Exotic Snack Mix
• 100% Natural Peanut Butter

---


Bake the cookies

Preheat oven to 350°F (177°C). On a lined sheet pan, spread out the dough balls and bake, 7 to 10 minutes, until the edges begin to crisp. Let cool for a few minutes before cutting in half.

Add the peanut butter gums

Spread a layer of peanut butter on each half of the cookie.

Secure the teeth

Pick out a few yogurt-covered raisins from the snack mix and push into the peanut butter to secure, creating a row of teeth. Don't forget the fangs! Add an almond on each side to create those signature vampire fangs.
Chef's Tip:
For a scary-good savoury version, substitute cookies for
bao buns
and peanut butter with BBQ sauce. Add sliced ​​cucumbers for teeth and carrots for fangs. Inside, use cooked shrimp to make a sassy tongue sticking out at you!
Chocoween Brownies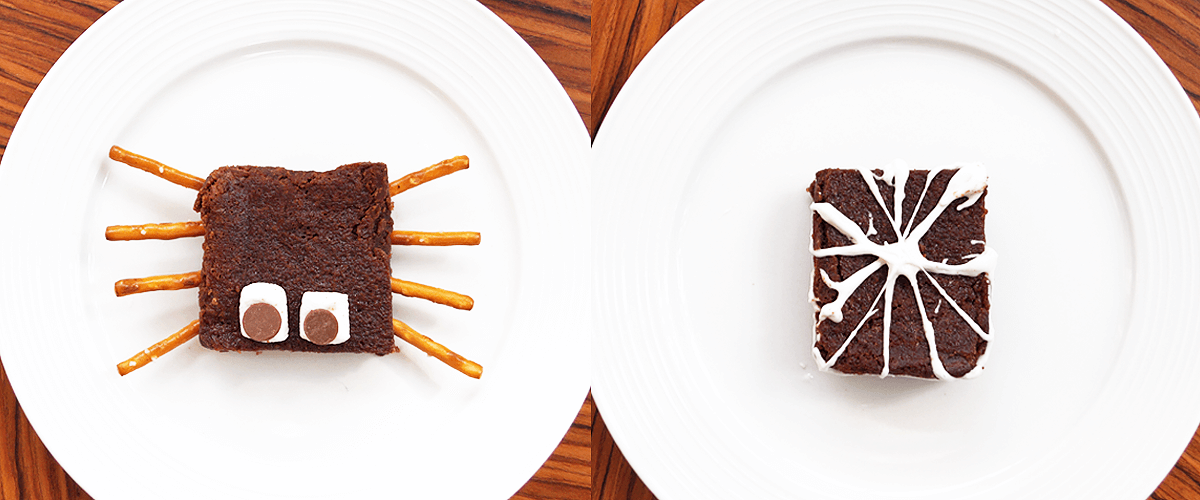 Welcome to Halloween, where brownies have 8 hairy (salty) legs and sticky webs! No need to fear these cuties — they're the sweetest snack time guests.
 
Ingredients:

| | |
| --- | --- |
| • Chocolate Fudge Brownies | • Marshmallows |
| • Salty snack mix | • Creamy Milk Chocolate Fondue or chocolate chips |

---


Decorate the brownies

Slice brownies into desired size. Add decorative eyes using marshmallows and chocolate chips or chocolate fondue.

Add the legs

Add 4 pretzels to each side of the brownie to make 8 spider legs.

Make a web

In a ramekin, melt marshmallows in the microwave for a few seconds. Let cool slightly so you don't burn your fingers. Once cooled, dip fingers in the melted marshmallow and expand your hand around the brownie to create a stretchy web effect (kids will love this sticky step!).
Candy Corn Parfait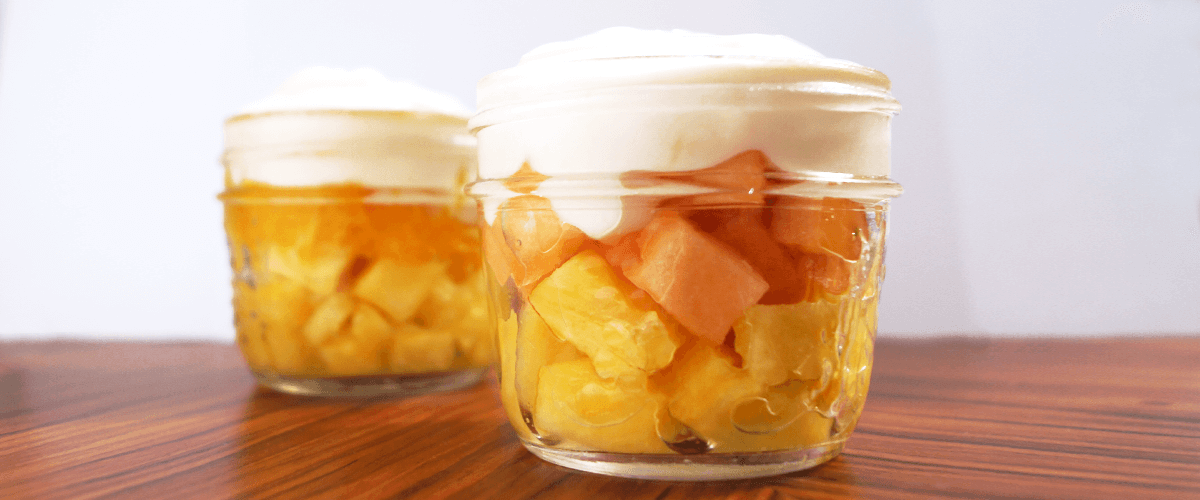 These sweet parfaits look just like the classic Halloween candy (but they're available all year round)! A simple, healthy snack perfect for breakfast, brunch, lunch, or dessert.
 
Ingredients:

• Fresh Cut Pineapple
• Fresh Cut Cantaloupe (and/or Fresh Cut Orange Supremes)
• Vanilla Yogurt (or Thick & Creamy Coconut Milk Delight)

---


Mise en place

Add a layer of pineapple and a layer of cantaloupe and/or oranges.

Final touch

Add a generous layer of yogurt over the fruit. Yup, it's that easy!
Find it on your selection page:
Fresh Cut Cantaloupe, Fresh Cut Orange Supremes, Fresh Cut Pineapple, Vanilla Yogurt, Thick & Creamy Coconut Milk Delight, and more!
Quesadill-o-Lanterns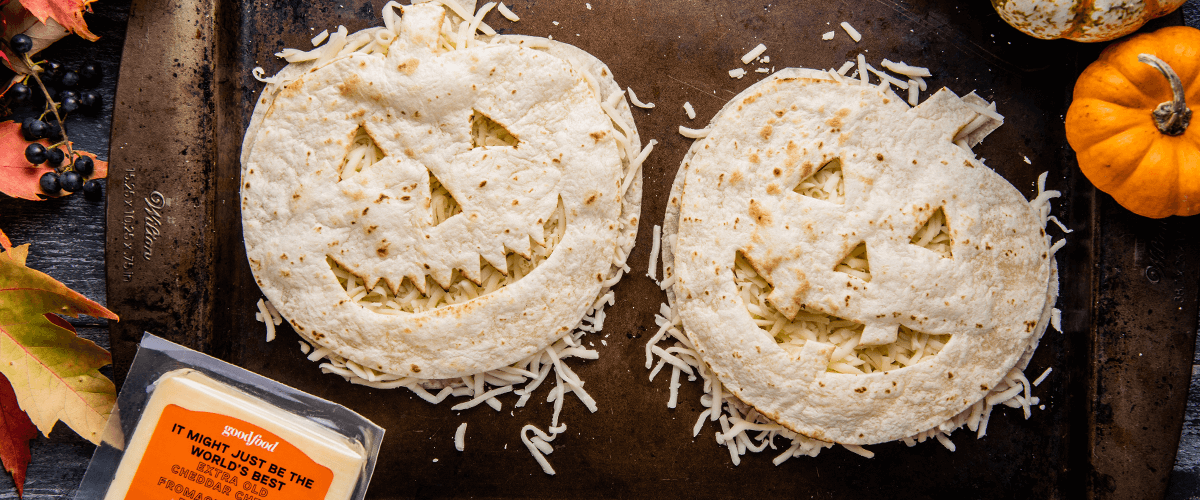 Say cheese, quesadill-o-lanterns! These super easy snacks are perfect for Taco Tuesday night before Halloween. Decorate them however you like: creepy, happy, playful — let your imagination run wild.
 
Ingredients:

| | |
| --- | --- |
| • Tortillas | • Extra Old Cheddar Cheese, Louis d'Or Firm Cheese, etc. |

---


Mise en place (parental supervision required)

Preheat oven to 350°F (177°C). While the oven warms up, stack 2 tortillas and slice into the shape of a pumpkin (or any other halloween creature that inspires you). Take one tortilla and cut out eyes, nose, and a mouth (or other design). Grate cheese into a bowl.

Add the cheese & cook

Spread grated cheese over the other tortilla. Add the face of the pumpkin (the designed tortilla) on top. Cook for about 10 minutes or until cheese is melted. Dip in salsa, sour cream, or guacamole!
Chef's Tip: For a pizza pumpkin, layer in tomato sauce on the first tortilla before sprinkling with cheese.
Frankensmoothie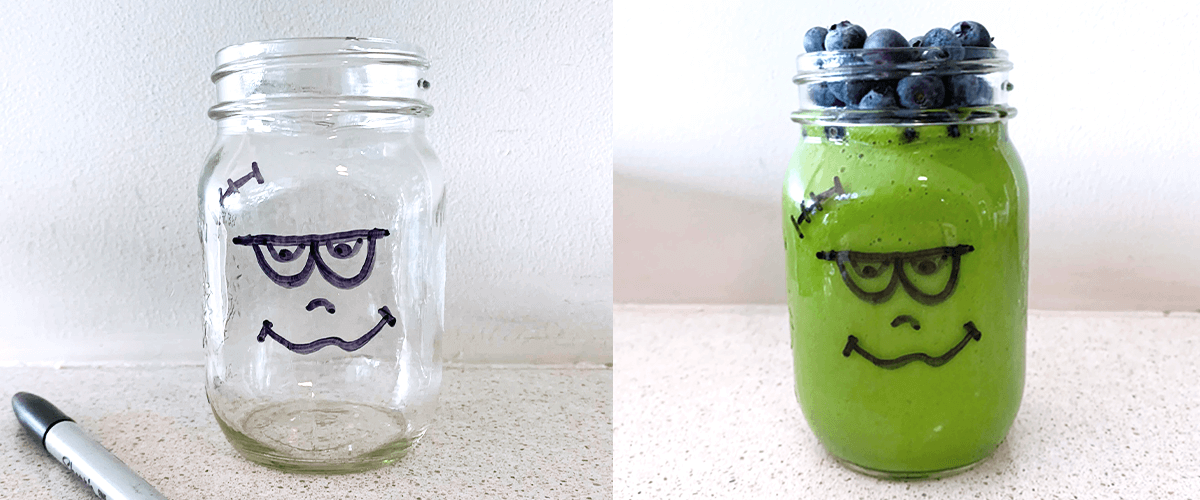 Where's Frankenstein's monster? He's in your cup! Refreshing and totally fun, this snack is ALIVE (with flavour)! So grab a sharpie and your favourite ready-to-blend smoothie for a frightfully delicious drink or snack.
 
Ingredients:

• Ready-to-Blend Piña Colada Smoothie or Mango Avocado Smoothie
• Drink Your Greens Cold-Pressed Juice (optional)
• Leafy greens (optional)

---


Blend smoothie

Follow directions on the cup to blend your smoothie. For a more intense green colour and added nutrients, use Drink Your Greens Cold-Pressed Juice as your blending liquid or add your favourite leafy greens to the mix.

Create your monster

Using a sharpie, draw the face of Frankenstein's monster on the glass or have your child get crafty and make their own design!
Find it on your selection page:
Ready-to-Blend Piña Colada Smoothies, Ready-to-Blend Mango Avocado Smoothies, Drink Your Greens Cold-Pressed Juice, and more!
Having Fun at Home This Halloween

Halloween will definitely look a little different this year, but the spirit of the season can be celebrated in lots of fun new ways that respect public health guidelines. Dress up as a family and share your costumes on social media, go "trick or treating" on virtual calls with friends and family, and whip up some awesome Halloween snacks with the kids for scary movie night.
Check out your selection page for even more sweet and savoury treats!
 
Image Credits
Feature Image, Image 2-8: via Goodfood
Image 1: via Allison Sklar