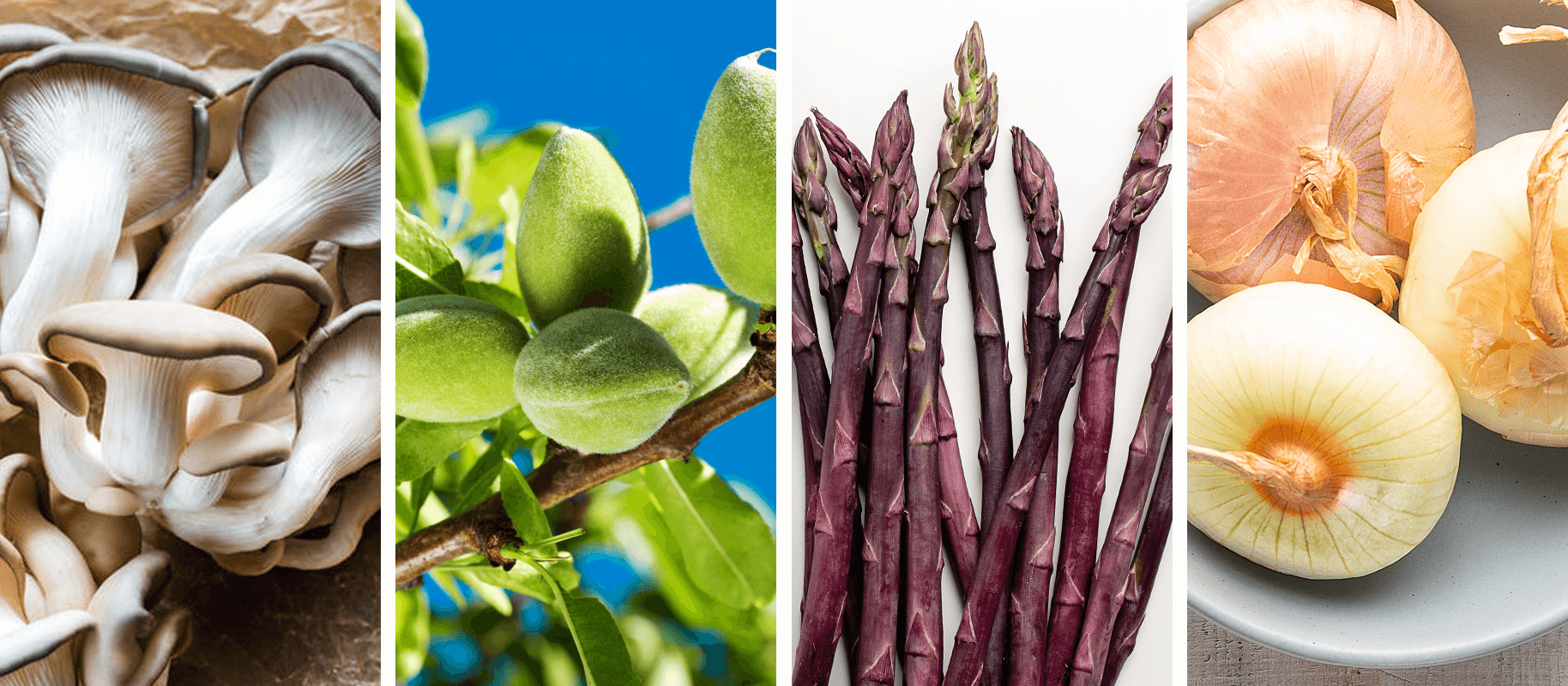 April 2020 — Spotlight Ingredients
From salad making to bread baking and everything in between, we're all doing a little more home-cooking these days. While you're experimenting with new recipes and honing your techniques in the kitchen, consider adding a few fresh flavours to the mix. Spring has officially sprung, after all!
This month, bring a taste of spring to your plate with bright, beautiful — and occasionally fuzzy (hello, green almonds!) — April spotlight ingredients.

Black Oyster Mushrooms

Oyster mushrooms are back — in black! A member of one of the most popular families of cultivated fungi in the world, black oyster mushrooms are prized for their muted black, donut-shaped caps that offer up endless presentation possibilities.
These savoury stunners don't just look great on a plate, their unique, almost meaty texture and rich nutritional profile make them a popular addition to vegetarian dishes. Whether they're sliced, forked into ribbons, or cooked whole, black oyster mushrooms deliver a subtle, buttery flavour to sauces, soups, pasta, stir-fries, and more.

Green Almonds

These funky and adorably fuzzy oblong orbs hold a special surprise inside: a jelly-like, skinless, unripened almond! Although some prefer to peel away the soft green shell, you can eat green almonds whole — fuzz and all (like a peach).
These ephemeral beauties have a fresh, crispy texture, and tart, earthy taste with just a hint of almond that makes them an excellent addition to salads, pesto, desserts, and more. Plus, they're high in antioxidants, protein, fiber and are one of the best sources of vitamin E around. Green almonds are only in season for a few weeks in the spring, so don't blink or you'll miss 'em!

Purple Asparagus

You're probably familiar with green asparagus, the supermarket sweetheart found in salads, stir-fries, and side dishes around the world, but did you know this ultra-healthy veggie comes in different shades and sizes? Particularly popular in Europe, the purple variety gets its rich colour from the antioxidant anthocyanin.
Healthy, crunchy, and oh-so-tasty, purple asparagus is the sought after superfood you didn't know your crisper drawer was missing! Known for its eye-catching, brightly coloured spears, purple asparagus has a sweeter disposition and more tender flesh than the common green variety. One of the healthiest vegetables of the bunch, these pretty purple powerhouses are loaded with dietary fiber, vitamins A, B, C, E, K, iron, and other minerals.
Wrap in prosciutto and bake, fold into a risotto, or shred into a salad — no matter which way you slice it, you can't go wrong with purple asparagus!

Cipollini Onions

It's little wonder cipollini onions are such a big hit with chefs and home cooks alike! Literally "little onions" in Italian, cipollini (pronounced chip-oh-lee-nee) are small but mighty onions about the size of a key lime but not quite as round.
Remove their thin, papery skin to reveal sweet, pale flesh that caramelizes like a dream when roasted or pan-fried. You haven't truly experienced caramelized onions until you've had melt-in-your-mouth cipollini caramelized onions!
 
There's no better time than the present to add a few new ingredients to your repertoire. Try all the spotlight ingredients featured on the menu this month and let us know which one was your favourite!
 
Image Credits
Featured Image, Image 1-4: via Goodfood