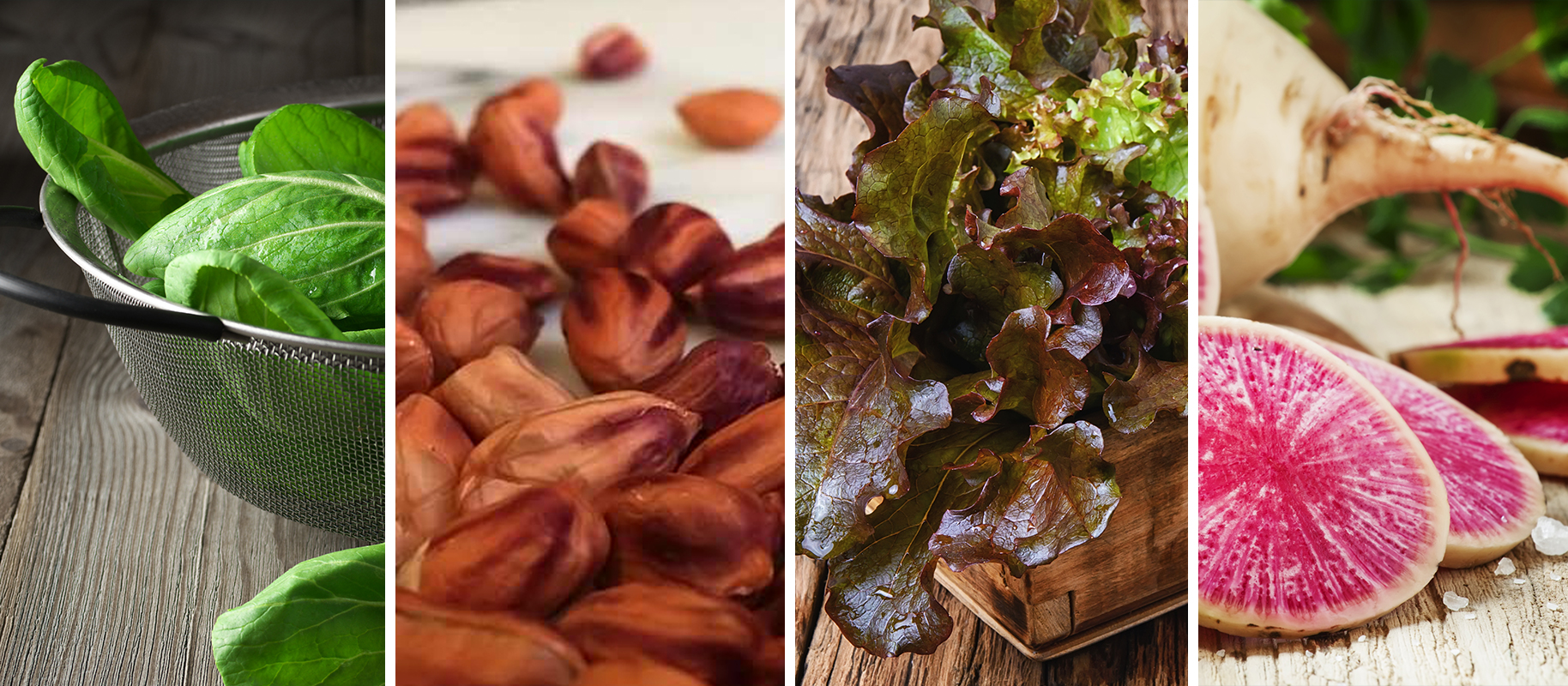 AUGUST 2018: SPOTLIGHT INGREDIENTS
If food is the universal language, this week's spotlight ingredients are wonderful words you'll want in your Goodfoodie lexicon!
BABY TATSOI
Baby tatsoi is yet another grand culinary gem of Chinese descent. Sometimes called "spoon mustard" or "Chinese flat cabbage"  tatsoi takes its name from Mandarin (塌棵菜 tā kē cài). Nicknames aside – this Asian mustard green is packed with plenty of calcium and nutrients, making it a healthy complement to everything from soups to salads, not to mention stir-fry!
WILD JUNGLE PEANUT
Heirloom product, check ✔ Superfood, check ✔ Catchy name, check ✔ In a nutshell, the wild jungle peanut really lives up to its reputation. Shade-grown in the pristine Ecuadorian rainforest, these raw peanuts are rich, aromatic and earthy – making them a cool crunch component to your cooking. You'll go nuts for this South American treat!
LOLLA ROSSA LETTUCE
Lolla Rossa is a loose-leaf type of lettuce with crisp, semi-succulent, hardy texture and red ruffled tips.  Think of lettuce with a crimson twist! No wonder this Italian lettuce has become a hot commodity amongst chefs and foodies. Flavour-wise? Expect a bold, slightly bitter and nutty bite.
WATERMELON RADISH
According to Chatelaîne, watermelon radishes are "a surprisingly sexy veggie" and we couldn't agree more! Cut past its dull outer-shell to reveal a magenta surprise with a crisp and slightly peppery profile. Equally tasty and colourful, watermelon radishes have quickly become fine dining staples and we're proud to introduce them to your kitchen this week!
__________
Check out the spotlight ingredients on the menu!