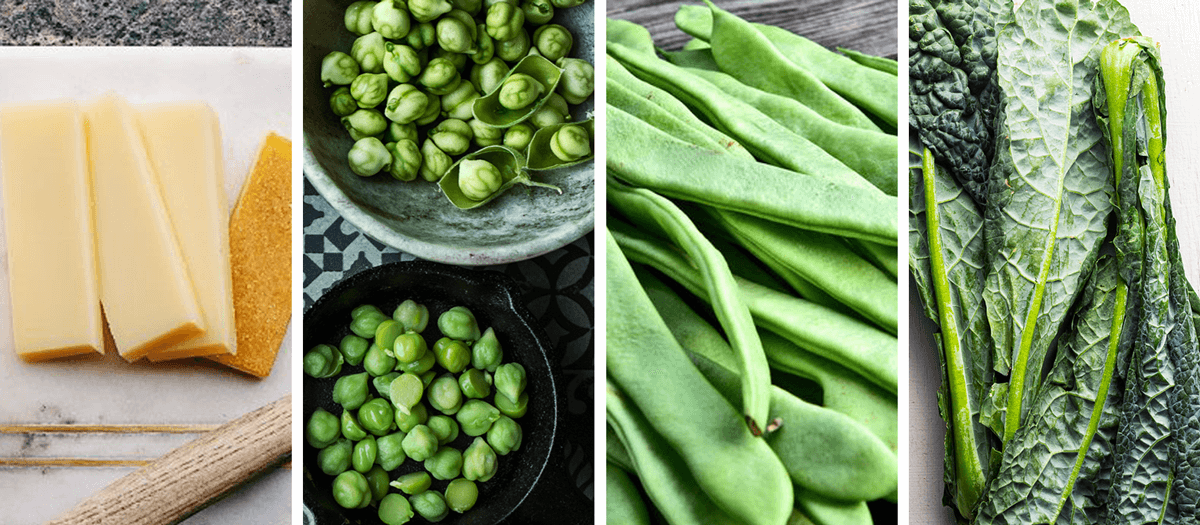 August 2020 – Spotlight Ingredients
Whether you've gone up north or are enjoying a relaxing staycation at home, savour the amazing local flavours of the season while they're still here! Wrap up the summer in style with artisanal cheese and a basket full of fresh, green veggies.

Louis d'Or

Geeze Louis, that's a good cheese! Every wheel of 9 months-ripened Louis d'Or (gold in French) is the result of decades of generational knowledge from a local Quebec farm and cheesemaker.
This award-winning, handcrafted artisanal delight uses top-quality milk from organic grass-grazing Holstein and Jersey cows to produce its medium-bodied, complex fruity and nutty profile — perfect for a charcuterie platter or savoury addition to pasta.
P.S. Louis d'Or and other delicious local cheeses are also available at a grate price right from your selection page. Was that a little cheesy? Good. That's how we like it.

Fresh Chickpeas

You probably have a can of chickpeas hanging out in your pantry right now, but have you ever had fresh chickpeas? Get ready to experience your favourite legume in a whole new way — fresh-picked off a summertime vine!
Grown and enjoyed in the Middle East for thousands of years, chickpeas, also known as garbanzo beans, are now found in kitchens across the globe.
Crisp, flavourful, and really good for you, fresh chickpeas are about the size of a green pea and grow in similar (smaller) pods that are harvested before the plant withers and the seeds dry out.
Their sweet, nutty taste and rich protein, fiber, and vitamin and mineral content make them a popular ingredient in vegetarian diets and a variety of dishes like hummus, soups, salads, falafel, and more.

Flat Beans

With summer wrapping up and bean season in full swing, there's never been a better time to try crunchy flat beans!
Also known as Romano beans, these green Italian veggies thrive in hot Mediterranean climates but can now be found growing in specialty greenhouses around the world.
Longer, flatter, and snappier than your classic green bean, these level legumes have a distinctive sweet and herby flavour profile and are packed with vitamins and minerals, protein, and fiber.
Often eaten raw as a crunchy snack, flat beans also lend themselves well too sautéeing, roasting, stewing, and steaming. Buon appetito!

Lacinato Kale

Rocking a rich dark blue-green hue and very long, dimpled leaves that are almost reptilian in texture, it's no wonder this leafy green is also known as "dinosaur kale"!
A beloved staple of Tuscan cuisine for generations, the firm texture, delicate earthy flavour, and sweet taste of lacinato kale (cavolo nero in Italian) lends itself beautifully to veggie-packed soups, green smoothies, and fresh salads.
Like other super healthy kale varieties, this larger than life leafy green is packed with antioxidants, iron, magnesium, calcium, potassium, and vitamin C. Delicious and nutritious!
 
From fine cheeses to fresh legumes and green vegetables, there are lots of fresh flavours to discover this month! Which one will be your next favourite ingredient?
 
Image Credits
Feature Image, Image 1-4: via Goodfood