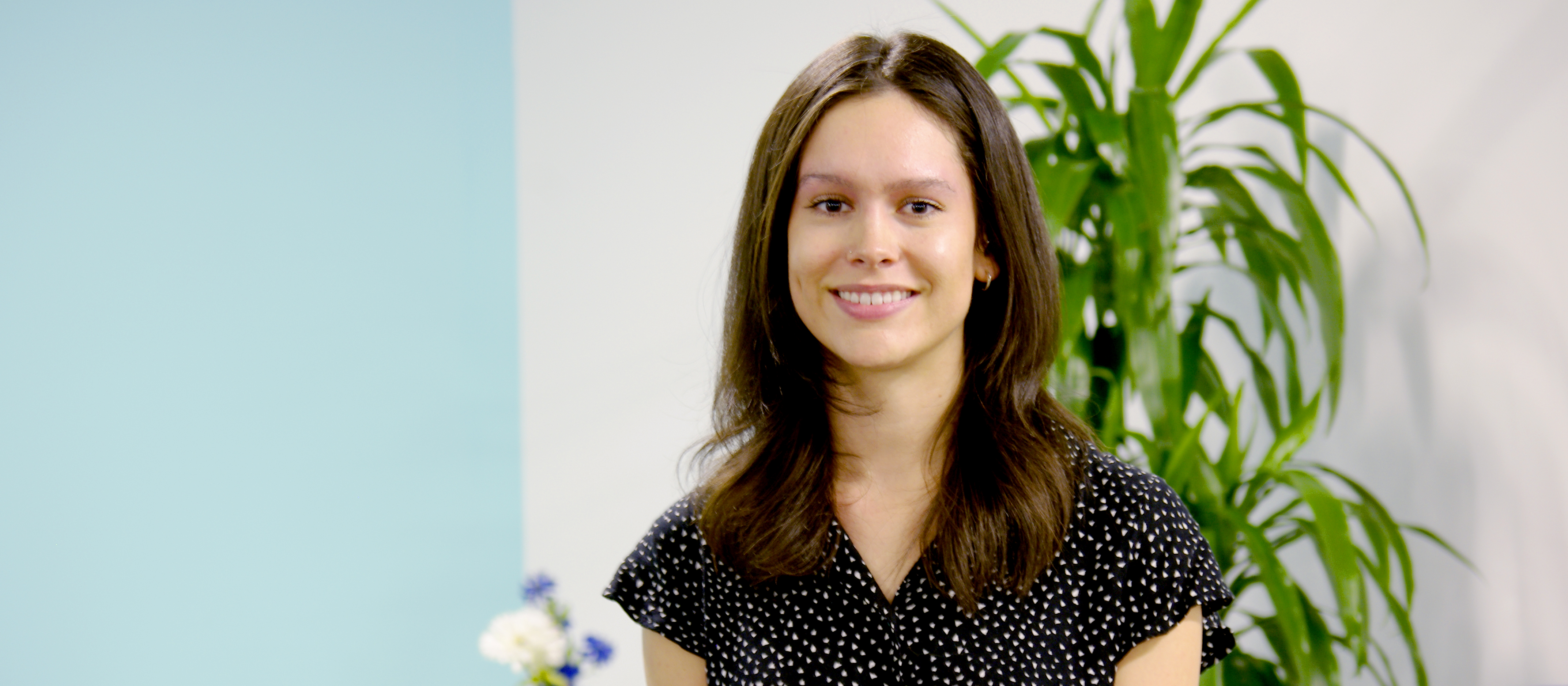 BALANCING NUTRITION with Olivia Menzies
You may have noticed your Goodfood recipe bags now how have full nutritional information labels on them. When Olivia Menzies, Culinary Development Coordinator & Nutrition Specialist, joined the Goodfood team, food transparency reached a whole new level!

Hailing from Gatineau, Quebec, Olivia grew up in a very health-conscious family that got her started on the right track from an early age. As Olivia studied her way through a bachelor's degree in nutritional sciences at the University of Ottawa, she worked in restaurants, tying her even closer to the food industry.

"I was exposed to many different fields such as community nutrition, clinical and research. I learned that nutrition can be applied in so many ways and how it can have a huge short term and long term effect on our health."

After graduating and becoming part of l'Ordre professionnel des diététistes du Québec, Olivia moved to Montreal where she started consulting in a gym as a nutritionist as well as at Sainte-Justine Hospital where she worked closely with kids and their families.

"I learned more than I could ever hope for at these jobs and witnessed hands-on just how important proper nutrition was and how it can be adapted to fit one's needs."
Once landed at Goodfood, Olivia put her experience to work providing detailed information on every recipe from our test kitchen —  no small feat!
"At first, the biggest challenge I faced was keeping up with all the new plans and recipes we were coming up with, but honestly, that's a good problem to have!"
When it comes to nutrition, Olivia believes strongly in transparency and accuracy.
"People should know what they are putting into their bodies and they should be able to make a clear choice based on detailed and precise nutritional information. That way, we have way more control. For example, often restaurants or prepared supermarket options are loaded with sodium and sugar, whereas at home we have the control, which in the long term, is beneficial for our health. Also, restaurants don't always have health in mind, but rather taste — which is great, but in my opinion, combining and balancing both is best!"
She also emphasizes the importance of not overthinking things.
Her advice? Keep it simple!
"We're bombarded with ever-changing information and it is causing a lot of confusion. For overall health, I try to do the following things every day: drink lots of water, eat a variety of veggies for lunch AND dinner, avoid transformed and packaged foods and listen to my hunger. My approach is also to enjoy food! Whether it is to create recipes, eat them in a social context, try new restaurants…the idea is to always savour and appreciate the food on your plate."
Putting that into practice, just like any habit, taking baby steps will help:
"My experience has taught me that a little goes a long way, meaning that small changes at a time lead to long term success. Habits are hard to change —  and changing everything at once doesn't always work. Often times, people are discouraged when having to make changes regarding their nutrition and often don't have the practical tools at hand to motivate them. A subscription based menu with clear instructions helps keep clients on the right track while providing convenience and well-balanced nutrition — and eating delicious meals helps too of course!"
When it comes Olivia's favourite part of her role —  hearing back from you, our members, is top of the list:
"Reading the reviews definitely reminds me why I do my job. I love how Goodfood recipes show people that cooking can be easy and that they're capable of making delicious meals without spending hours in the kitchen. Learning exactly how we made an impact on a member's day, whether it be an improvement in health, in their culinary skills, in getting a picky eater to have broccoli —  or simply more time in the kitchen and at the table with their loved ones…it all makes my job very rewarding!"
Here's to a happy and healthy 2019!
___________