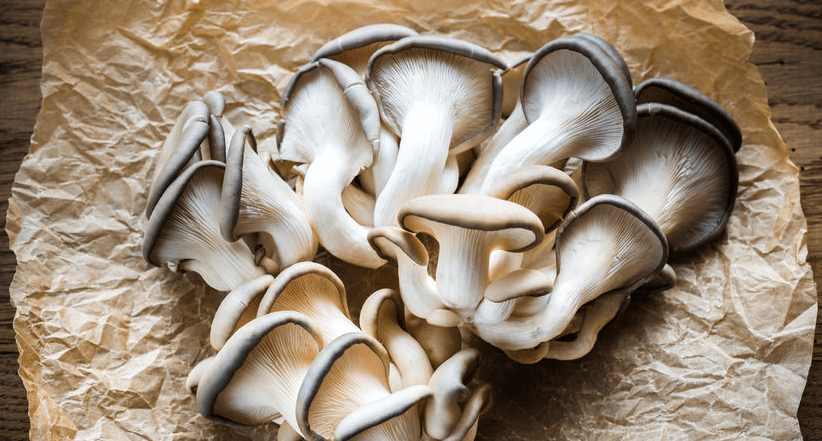 Black Oyster Mushrooms
Oyster mushrooms are back — in black! A member of one of the most popular families of cultivated fungi in the world, black oyster mushrooms are prized for their muted black, donut-shaped caps that offer up endless presentation possibilities.
These savoury stunners don't just look great on a plate, their unique, almost meaty texture and rich nutritional profile make them a popular addition to vegetarian dishes. Whether they're sliced, forked into ribbons, or cooked whole, black oyster mushrooms deliver a subtle, buttery flavour to sauces, soups, pasta, stir-fries, and more.
Did you know? Black oyster mushrooms are low in calories and high in protein, fiber, iron, zinc, calcium, and vitamins B, C, and D!
Black Oyster Mushroom Recipes
Blast from the Past

Like other species of oyster mushroom, black oyster mushrooms complement just about every type of pasta, including long ribbons of fresh pappardelle. Pair with crispy green peas and crunchy gremolata breadcrumbs and you've got yourself a wholesome, satisfying dinner the whole family will love.
This recipe made waves (or should we say ribbons?) with our members when it first premiered. Keep your eye on the menu for future chances to try fresh pappardelle and other featured ingredients!


Featuring:
Fresh pappardelle
Green peas
Black oyster mushrooms
Back in Black

Not one to be outdone, black oyster mushrooms are back on the menu this week! Their earthy flavour and seafood-esque texture pair excellently with mild, flaky fish. This week, you'll glaze these fabulous fungi in sweet and salty teriyaki sauce and serve atop golden, flaky haddock with tangy cabbage for a kick.


Featuring:
Haddock fillets
Baby bok choy
Black oyster mushrooms
 
Head on over to your selection page to add this tasty, Japanese-inspired meal to your basket this week!
 
P.S. Don't forget to tag @goodfoodca in your photos of black oyster mushrooms and other unique Goodfood ingredients on social media!
 
Image Credits
Feature Image, Image 1-3: via Goodfood