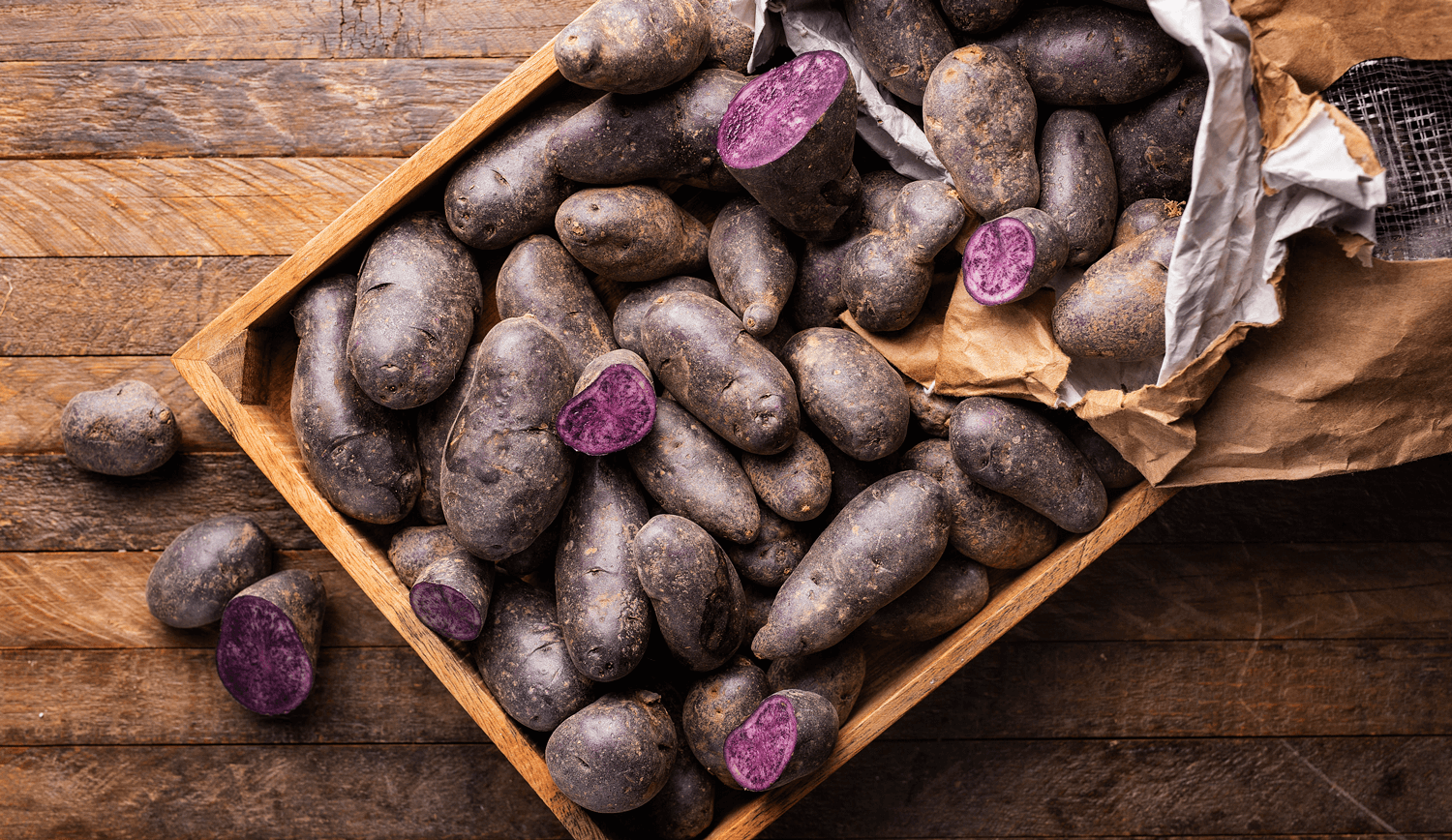 Blue Potatoes
Once in a blue moon, even the humble potato has an opportunity to shine as a spotlight ingredient!
The eye-catching blue potato traces its roots back over 8,000 years from the very first potatoes cultivated in the high plains and mountain slopes of Peru and Bolivia. Today, you can find blue potatoes in kitchens all over the world.
When cooked, the dark purple flesh of this colourful tuber turns a vibrant bright blue — a tell-tale sign of its high levels of heart-healthy antioxidants. Interestingly enough, blue potatoes also contain more potassium than bananas!
Fun fact: Blue potatoes get their signature hue from the same natural pigment that gives blueberries their colour.
Blue Potato Recipes

Slightly nuttier and earthier than standard white potatoes, there's no need to peel these medium-starch spuds during meal prep. Their thin skin and moist texture make them a dream to bake, roast, or mash.


Featuring:
Cod fillets
Poblano pepper
Blue potatoes

Featuring:
Chicken thighs
Pineapple
Blue potatoes
 
Add a pop of colour to your plate with this week's stunning (and delicious) recipe for seared chicken thighs with blue potato and herb salad.


Featuring:
Chicken thighs
Baby red potatoes
Baby blue potatoes

 
A true feast for the eyes, these blue-tiful potatoes look great on any plate. Don't miss your chance to try blue potatoes this week!
 
P.S. Don't forget to tag @goodfoodca in your photos of blue potatoes and other unique Goodfood ingredients on social media!

 
Image Credits

Feature Image, Image 1-3: via Goodfood