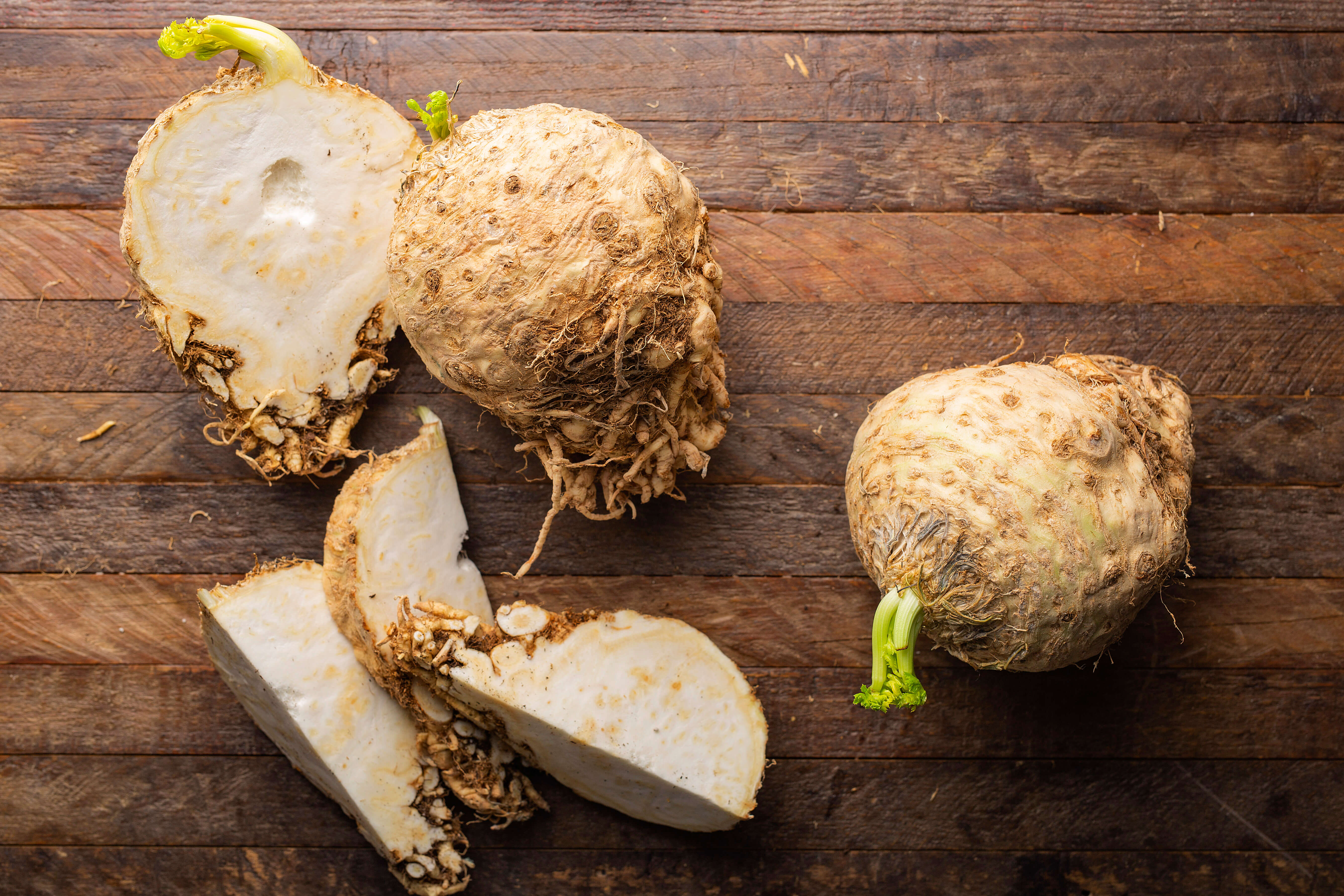 Celery Root
Poor unsightly, oft-ignored celery root. This bulbous root looks like a turnip but is actually a type of celery, just not the typical cheese whiz and peanut butter variety. A staple of Puerto Rican cuisine, this healthy root is available all winter long on the mainland.
Although not a creature from the wizarding world (despite the resemblance), this low-calorie vegetable does have a magical amount of nutrients packed inside its softball-sized root. Antioxidant-rich celery root is loaded with fiber, vitamin C (perfect for those wintertime sniffles), vitamin B6, vitamin K, phosphorus, potassium and manganese.
Even if this underground underdog isn't winning any grocery aisle beauty contests, it scores high on versatility and flavour. Also known as celeriac, celery root is easy to prep and makes delicious mash, crunchy slaw, spiralized 'noodles' and more. When cooked, the texture is similar to potatoes and the taste is often described as celery-like with a hint of parsley. Not to be outdone, the leaves and stems can be used as an edible garnish to add a pop of colour to winter dishes.

Celery Root Recipes

Now that you've been formally introduced, it's time to try out the versatile celery root for yourself! Dig into a few of our favourite celery root recipes from the archives to get the creative juices flowing.


Featuring:
Thick-cut pork chops
Julienned celery root
Apple

Featuring:
Carrots
Cremini and porcini mushrooms
Celery root

Featuring:
Haddock fillets
Dried cranberries
Julienned celery root

And be sure to try celery root au gratin in this week's creamy and delicious recipe:

Featuring:
Pork chops
Bacon slices
Celery root
 
If you haven't yet, it's time to give this knobbly root a chance. After all, beauty is in the eye of the root holder!
 
Image Credits
Image 1-4: via Goodfood