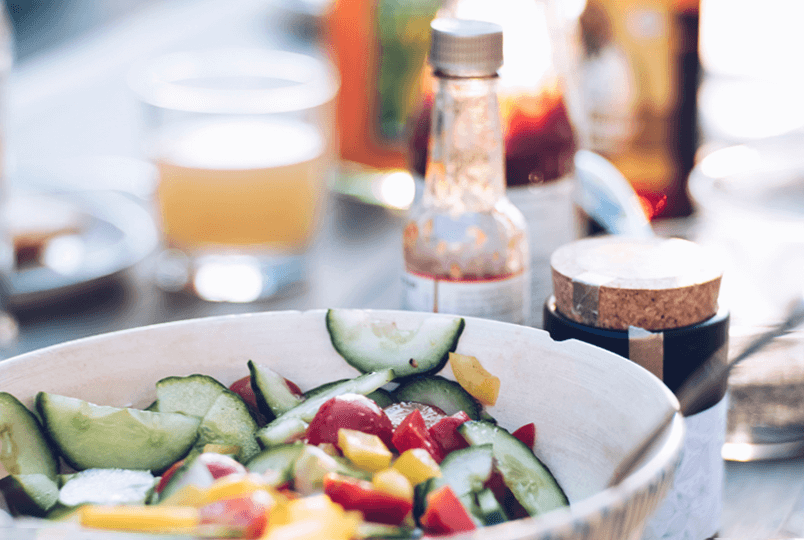 Cooking at Home: Backyard BBQ Ideas
Spring is in the air and so is the smell of BBQ! Although we can't invite our friends and family over to celebrate the warmer weather at the moment, a mini backyard (or deck or balcony!) BBQ is a great way to enjoy the sunshine and a few sizzling snacks while staying safe.
Here are a few backyard BBQ ideas for a sizzling lunch or dinner, just in time for the long weekend!

Fire Up the Grill with Gourmet Meat & Fish

What's the first thing that comes to mind when you think of BBQ? For many, it's steak! The key to tender, juicy steak is to start with a top-quality cut of meat, sear it, cook to your desired temperature, and then let it rest.
Once your cooking surface is hot enough, add a premium cut of Canadian beef like AAA Striploin Steak or quick-cooking AAA Filets Mignon to your grill pan and sear on all sides. Cook to your preferred degree of doneness and then let rest for about 5 minutes to ensure maximum juiciness.
For a different take on steak, throw some sustainably sourced Wild-Caught Yellowfin Tuna Steaks on the grill for a light, fresh, and equally hearty main. These gorgeously pink, thick-cut steaks are a grillmaster's dream and cook to medium-rare in only 4 minutes!
Find it on your selection page:
On the Lighter Side of the BBQ with Vegetarian Options

A BBQ-inspired meal doesn't have to lean on red meat for that signature smokey flavour. If you're looking for a break from steak, look no farther than Garden Veggie Burgers or Plant Power Burgers made with 100% plant protein and 0% meat. These patties give you all the satisfaction of mouthwateringly juicy beef burgers, minus the beef!
If you're not afraid to get a little messy, toast up your go-to buns and top with protein-packed Mexican Vegetarian Chili and shredded cheese for savoury, kid-friendly Sloppy Joes.
For a seasonal crunch, serve up a refreshing springtime salad. Customize your salad however you'd like with leafy greens and veggies and then dress with your favourite salad dressing. Top with grilled Halloumi, a salty cheese with a high melting point that's perfect for grilling, or seared Colossal Tiger Shrimp. Shrimp cook up in no time at all and offer a rich, smokey flavour that works perfectly on salads, in tacos, or as the star ingredient in bright and tangy bánh mì.
Find it on your selection page:
A Side of Crispy, Crunchy Homemade Chips

Homemade chips, paired with your favourite dip, are one of the quickest and easiest side dishes to serve with your grilled main. Use leftover White Pita Bread or tortilla to bake up your own batch of chips. They're so much more satisfying than storebought!
If you're feeling a little peckish before your meal, homemade chips also make a great snack to tide you over while you're waiting for the grill to heat up.

How to Make Oven-baked Pita Chips

Step 1: Preheat oven to 350°F. On a cutting board, stack pita bread on top of each other in a neat pile. Using a sharp knife, cut through the pitas like you're cutting a pizza. For regular-sized pitas, cut into 8 equal pieces.
Step 2: Place cut pitas in a large bowl. Toss with a drizzle of oil to coat and season with salt and pepper. For added flavour, sprinkle with smoked paprika and garlic powder to taste. Toss to coat evenly. Spread pitas out on a lined baking sheet.
Step 3: Bake for 8 minutes at 350°F, or until golden brown. Taste (be careful, chips will be hot) and sprinkle with extra seasoning, if desired. Serve with salsa, sour cream, guacamole, or hummus.
We won't blame you if you take a second to admire your handiwork before dipping those beautifully baked homemade chips in Chunky Salsa Roja, Tomatillo Salsa Verde, or Beet & Dill Hummus!
Find it on your selection page:
And for Dessert…

If you still have room for dessert after your BBQ feast — who are we kidding, there's always room for dessert — combine Fresh Cut Honeydew Melon, Pineapple, and Orange Supremes for a bright, refreshing fruit salad to end your backyard BBQ on a sweet note.
For an added touch of indulgence, warm up a pot of Chocolate Fondue and dip (dunk) your favourite fruit in rich dark or milk chocolatey goodness.
Find it on your selection page:
 
What backyard BBQ ideas will you be trying at home this long weekend? Let us know on social media and tag us @goodfoodca with your BBQ favourites!
 
Image Credits:
Feature Image: via Unsplash