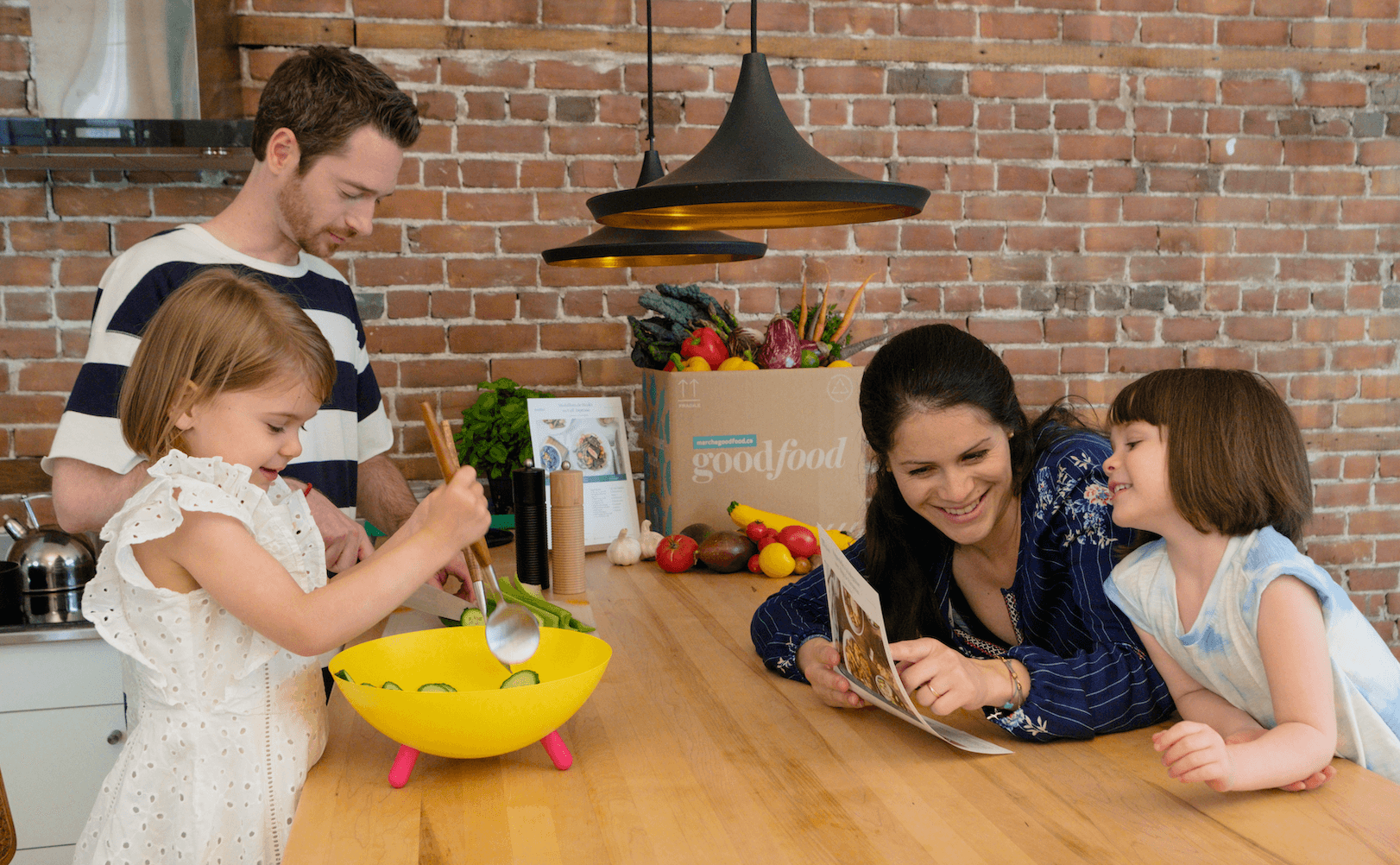 Cooking Fun for the Whole Family
Most of us can remember learning to cook with our parents and grandparents as children — time to pass the torch! Those memories have shaped who we are as adults and often come to mind when we prepare a meal, even though we still can't quite recreate abuela's arroz con pollo. Creating new memories with our kids in the kitchen means teaching important life skills, improving reading abilities, practicing following directions, and learning neat new tricks, all the while spilling some family secrets, and spending quality time together.
Ever tried teaching the little ones how to make a simple yet delicious meal? Thanks to Goodfood's clear step-by-step instructions and pre-portioned ingredients, the whole family can enjoy a fun, productive activity together — an especially great thing on those days where it feels like it's week 873 of quarantine!
Check out our best tips for a successful cooking experience with the kids.

Start With the Family Plan
When making a meal together, you want to make sure there's enough to go around so everyone can enjoy the fruits (or vegetables) of their labour! We recommend the Family Plan, built with busy families in mind. All the nutritious, delicious recipes in the Family Plan (4-serving size) are ready in under half an hour and sure to please even the pickiest eater. You can check out what's on the menu and easily switch to the Family Plan right from your selection page.

Teach (and Learn!) Some New Words
To answer some of the questions the kiddos might have during dinner prep, give the recipe card a once-over ahead of time and familiarize yourself with some of the culinary techniques and terminology. If you come across something you're not sure about, take the opportunity to learn together and have fun with it. The more fun you have, the more fun they'll have! You can check out some interesting facts about the ingredients you'll be using too (who knew shishito peppers look like little lion heads?).

Let's Get Cookin'!
First, prep your mise en place, either by yourself or with the kids, so everything is ready to go. Then, present the overall cooking project to the little ones, telling them about the cool jobs they'll be assigned. If you have an avid reader in the house, put them in charge of reading the directions out loud so everybody can hear and follow. Then, divide the rest of the work depending on their age and existing skills. With steps outlined in easy-to-assign sections, dinner will be on the table in no time!

Plating
Now's the time for everyone to get creative. Sure, you could just make everybody's plate… Or you could host a food styling contest! Let everyone choose their presentation plate or bowl and allow them to serve themselves so they can bring their vision to life (the little ones might need a helping hand). You can also challenge your sous-chefs to try and recreate the photo on the Goodfood recipe card — winner chooses dessert. We told you this was going to be fun!

Time to Enjoy
There really is nothing quite like enjoying a delicious meal together as a family. Homemade just tastes better! At the dinner table, ask the kids what they thought about the dinner preparation, what their favourite part of the process was, what they learned, and what they'd like to learn next.
This doesn't have to be a one-off, it's the perfect way to spend more quality time together as a family while learning new skills and having lots of fun. Who knows, you may find you have a future member of our culinary team amongst you!
Show us your family meals on Instagram and make sure to tell us about your family cooking experience, we can't wait to hear how it went!
 
Image Credits
Feature Image: via Goodfood