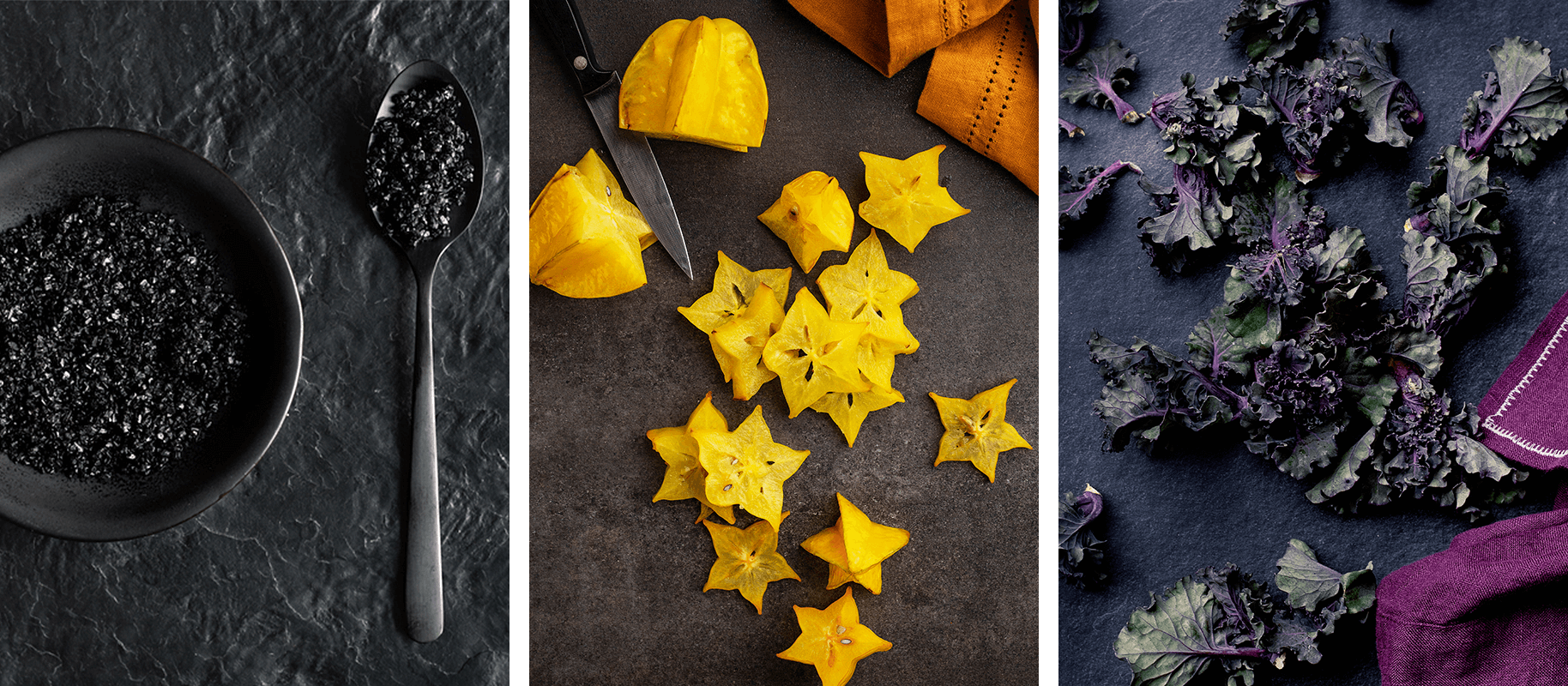 December 2019 — Spotlight Ingredients
Lace up your winter boots and grab a glass of eggnog, December is officially here! As the year comes to a close and a new decade begins, there's no better time to try out an exciting new ingredient.

Black salt

Want to add some flair to your dinner presentation? Stun and impress your guests? Add a new dimension to your favourite dishes? Black salt has you covered!
The distinct shade and earthy flavour of this gourmet finishing salt come from a mix of sea salt flakes and activated charcoal. While you might think charcoal belongs on the barbecue, activated charcoal has been used for thousands of years as a completely natural and organic water treatment solution and powerful detoxifying agent.
We all know that presentation is important when it comes to plating your dish. Enter your new presentation hero: black salt! For maximum effect, use on contrasting, lightly coloured foods to dress up your dishes and delight the senses.
Sprinkled on deviled eggs, baked potatoes, grilled chicken, fish and seafood, black salt adds elegance, texture, and unique salty crunch. Why not reinvent your margaritas by rimming the glass with black salt? The only limit is your imagination!

Carambola (Star Fruit)

You wouldn't know it by looking at it, but this shiny, odd-shaped fruit holds a geometric surprise inside. Funky, fruity, and fun, the carambola's claim to fame is its star-shaped cross-sections — hence its nickname, star fruit!
Put your peeler away — carambola is entirely edible from top to bottom. When the delicate, waxy skin turns yellow and the ridges darken, your carambola is ripe and ready to eat.
Assuming you can resist gobbling up all the juicy stars while prepping, carambola adds a sweet and sour crunch to salads, curries, fish and seafood dishes, jams, cakes, and pies! Dry them out for delicious, nutritious chips or an eye-catching garnish for mixed drinks and sangria.
A star on the outside and the inside, carambola is low in calories, high in antioxidants, and loaded with fiber and vitamin C (over 50% of the daily recommended intake, depending on the serving).

Kalette

What do you get when you cross kale with brussels sprouts? Kalettes, also known as kale lollipops!
These adorable little hybrid veggies were created with traditional breeding techniques and are not genetically modified (non-GMO). With vibrant purple stems and frilly leaves; a fleshy, toothsome texture; and a nutty, mildly bittersweet taste, you really get the best of both worlds in this novel veggie blend.
Claiming pedigree from two superfood parents, kalettes are packed with vitamins and minerals so you don't have to feel guilty about that extra helping (and there will be an extra helping). Believe it or not, even kids like them!
Grilled, roasted, steamed, sautéed or raw, this amazingly versatile side is sure to steal the show at dinnertime.
Keep your eye out for these unique spotlight ingredients featured on the menu!
 
Image Credits
Feature Image, Image 1-3: via Goodfood