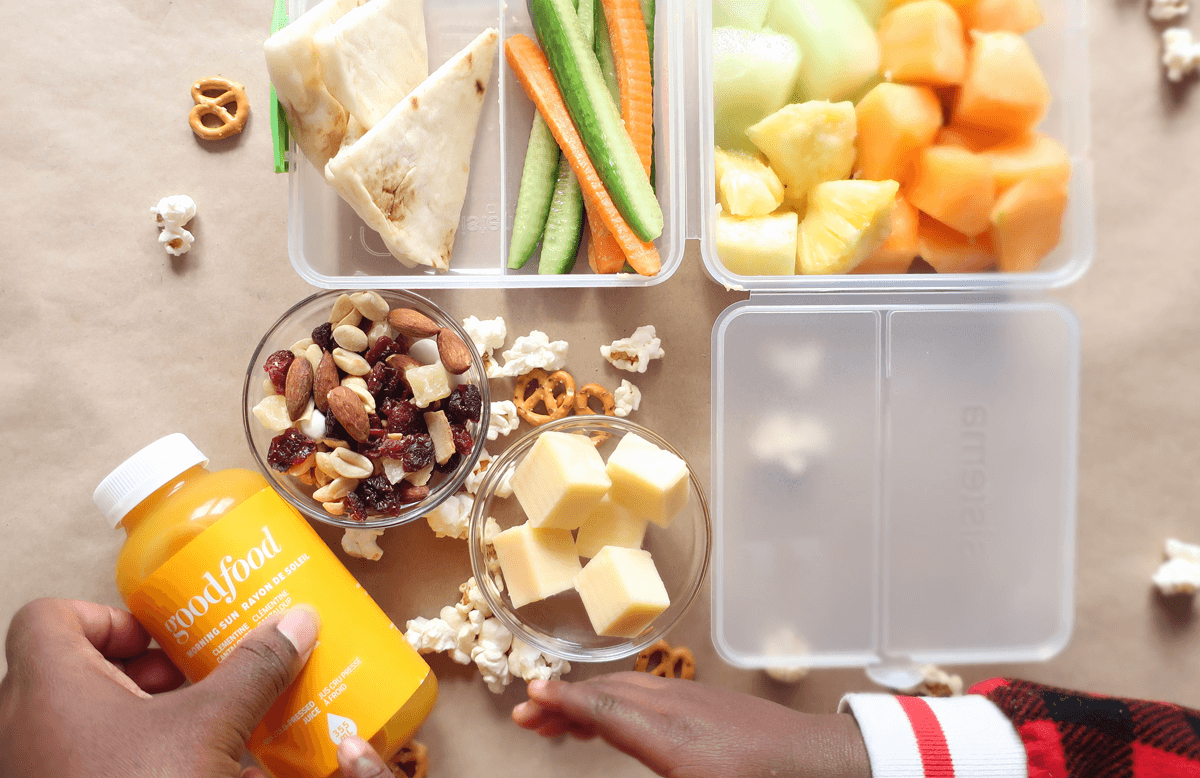 Easy Lunch Ideas for Kids at Home and at School
In a hurry to get the kids ready for school (or fed at lunchtime while you sneak in a little work)? Having a few easy and delicious lunch ideas up your sleeve is a great way to save yourself time and energy during the busy weekdays.
Here are a few of our favourite delicious and nutritious lunchbox favourites that only take a few minutes to prepare. These ideas are so easy, even the kiddos can get involved in the meal prep!
1. Grazing Boxes/Bento Boxes

With these have-it-all boxes, there's no need to settle on just one flavour profile at lunch! Easy-to-make and really quite pretty with their rainbow of ingredients, grazing boxes or bento box-inspired lunches are easy to eat and fun to make for foodies of any age.
Check out what Jenn from My Spiced Life and her daughter created together one sunny afternoon using some of their favourite Goodfood products. Round up your family's favourite flavours and get your little ones in on the action too!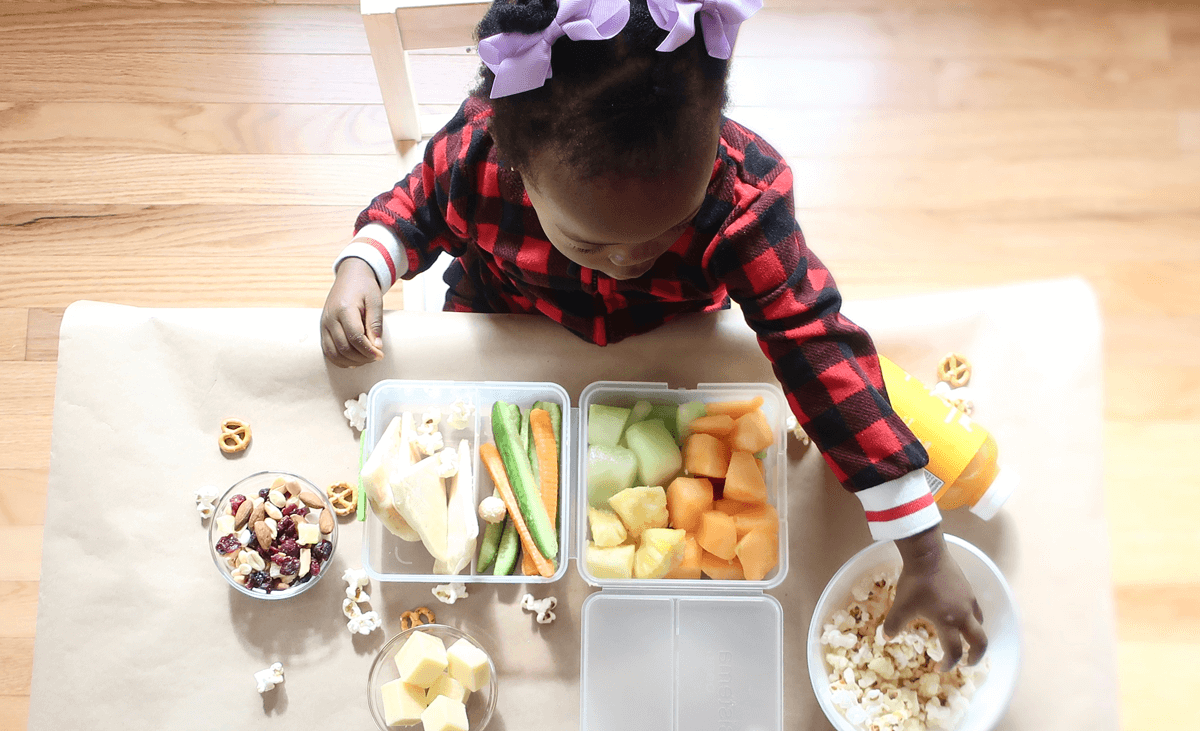 What Can I Put in My Grazing Box/Bento Box?

The short answer: whatever you'd like! We recommend a combo of sweet and savoury and light and hearty for a nice balance. Here are a few of our top ingredients:
Sweet & Salty Flavoured Popcorn: One sweet bite, one salty bite, one sweet bite, okay, one more salty bite… once you get started with this delicious mix, it'll be hard to stop!
Extra Old Cheddar Cheese: It might just be the world's best! This award-winning aged cheddar from Prince Edward Island is perfectly sharp, tangy and salty.
Salty Snack Mix: Get your crunch on with roasted BBQ peanuts, corn nuts, salted pretzels, sesame sticks, chipotle cheese sticks, and more!
Chocolate & Cranberry Mix: : Featuring peanuts, cranberries, dark chocolate, raisins, and more, this mix is a perfect midday pick-me-up.
Dried Fruits & Nuts: Californian pistachios, dried apricots, a crunchy mix of nuts and berries … whichever combo you like!

 
Allergy warning: If your child is heading back to school, it's best to avoid having nuts in their lunchboxes. Enjoy these meals at home instead.

Ham & Cheese Rolls: All you need is ham (or any other cold cut or prepared meat), cheese, condiments, and a tortilla to make these quick and easy rolls.
Genoa Salami: Whether you like these rich rounds mild or spicy, they make excellent lunchbox additions.
Bread: From naan to focaccia to a freshly baked baguettine, bread is great for dipping and making impromptu sandwiches.
Veggies & Dip: Goodfood hack: order our Mediterranean Mezze Platter appetizer kit and get everything you need to fill out your lunchbox, including cucumbers, carrots, halloumi cheese, naan, and beet and dill hummus.
Fresh Fruit: Put the finishing touch on your lunchbox with fresh and juicy cantaloupe, pineapples, or honeydew melon!
Find it on your selection page:
Sweet & Salty Flavoured Popcorn, Extra Old Cheddar Cheese, Salty Snack Mix, Chocolate & Cranberry Mix, Cooked Ham, Genoa Salami, Dry Roasted California Pistachios, Dried Apricots, Berry Crunch Snack Mix, Olive Oil & Herb Focaccia, Ciabatta Baguettine, Mediterranean Mezze Platter, Fresh Cut Cantaloupe, Pineapple, and Honeydew Melon
2. New & Improved Sandwiches

Making a sandwich seems simple: grab 2 slices of bread and slap (or spread) something in the middle. But don't fret — not every sandwich is that boring! Give your little ones a next-level lunch with these better sandwich tips.
Start with Quality Bread

From white bread to fancy focaccia, there's a lot of different types of bread out there, which means there's something for everyone (even the pickiest eaters)! Whatever your child's taste, here are a few popular choices to get inspired:
Whole Wheat Pita/Tortilla: Perfectly portable and super versatile, pitas and tortillas are a great option for lighter lunches.
Sliced White Bread: Is there anything better? Butter up these classic slices with any combination of condiments and toppings.
Pretzel Buns: Not just for burgers! The slightly sweet pretzel flavour shines in these soft, chewy buns that bring a certain je ne sais quoi to any sandwich.
Bao Buns: Everyone says "wow" when they taste steamed bao! Flat, folded, and oh-so-fluffy, bao buns are the perfect complement to just about any kind of filling.
Croissants: Fresh out of the oven in just a few minutes, these flakey pastries are perfect for breakfast, brunch, and light lunches.
Montreal-style Bagels: Crispy on the outside, soft on the inside, and covered in sesame or poppy seeds, these authentic bagels are a must-try (bagel bites anyone?).
Olive Oil & Herb Focaccia: Made with unbleached flour and premium olive oil, this Italian-style flatbread is simply divine. Plus, it's perfect for dipping!
Find it on your selection page:
Whole Wheat Pita, Tortilla, Sliced White Bread, Pretzel Buns, Bao Buns, Croissants, Montreal-style Bagels, Olive Oil & Herb Focaccia
Add a Perfect Protein

Now that you've found the perfect bread, time to pair it with the perfect protein! Involve your kids in the process so they can discover fresh flavours while learning new skills in the kitchen. Taste test time!
Cool Cold Cuts
Cooked Ham: A flaky, delicately spiced cold cut classic that kids and adults alike love in their sandwiches.
Mortadella: Made using an original Italian recipe, this cold cut takes your taste buds on a trip to Bologna, one bite at a time.
Sliced ​​Capicollo: Much like Genoa salami, this lean cooked ham comes in mild or spicy, depending on your kiddo's preferred heat level. Makes a great Muffaletta sandwich!
Cooked Meats
Braised Beef: This tender, pull-apart beef is fully pre-cooked and ready to use in your sandwiches.
BBQ Pulled Pork: No matter your age, it's hard to resist a delicious pulled pork sandwich! Pre-cooked and ready to go.
BBQ Chicken Breasts: A classic chicken sandwich is a welcome addition to any lunchbox. Save time and buy it already cooked!
Chef's Tip: If you're using juicier proteins, toast your bread or bun first to prevent sogginess.
Veggie Options
Extra Firm Plain Tofu: With 100% non-GMO tofu, the possibilities are endless! Extra-firm tofu has a toothsome texture that holds up great in a sandwich.
Tempeh: Another versatile protein, this soy-based superfood is a nutrient-rich option that works with just about any flavour profile.
Carrot "Bacon": Who says the "B" in "BLT" has to be traditional bacon? Try something new with this plant-based, just-as-tasty substitute!
Roasted Veggies: Choose your favourite seasonal vegetables, roast them up to unleash all those delicious flavours, and build your sandwich.
100% Natural Peanut Butter: Smooth-and-silky peanut butter made with nothing but 100% dry-roasted peanuts — mmm, mmm, mmm! Remember to be mindful of allergies and keep this one out of the school lunchroom.
Find it on your selection page:
Cooked Ham, Mortadella, Sliced ​​Capicollo, Braised Beef, BBQ Pulled Pork, BBQ Chicken Breasts, Extra Firm Plain Tofu, 100% Natural Peanut Butter
Top with Fresh Veggies

What better way to get your kids to eat their vegetables than to layer them into their sandwiches? Lettuce, cucumber, tomatoes, onions — the options are endless! Remember to season all individual sandwich toppings for maximum flavour. If your little ones enjoy a little spice, add banana peppers, jalapeño peppers, or kimchi.
Sandwich Inspo

Using all the tips above, we rounded up some of our favorite sandwiches to help inspire your next lunchbox creation:
There's tons of possibilities!
3. Oat Bowls for Lunch!

You know them as a classic breakfast go-to, but artisanal oat bowls are also great for lunch! Packed with fiber and protein, these healthy little bowls will keep your kids satiated until dinnertime. Not to mention, they're super portable and easy to prepare in 3 ways:
In the fridge (less than 2 minutes): Cover the oats with a thin layer of milk or milk alternative. Stir evenly and let stand overnight in the fridge. In the morning, just grab and go!
In the microwave (less than 2 minutes): Cover the oats with a thin layer of milk or milk alternative and microwave for about 90 seconds, until heated through.
In a pot (about 7 minutes): Fill the oat cup to the top with milk or milk alternative. Transfer to a small pot and bring to a boil. Simmer for 7 minutes, stirring occasionally.
Stock up on grab-and-go oat bowls for one of the easiest lunch options out there. Here are 3 of our member's favourite oat bowl flavours:
Sweet Cherry Peanut Oat Bowl

Combine all-natural oats, real cherries, raspberries, and pure peanut butter for an explosion of flavour in a cup!
Apple Cinnamon Crisp Oat Bowl

Filled with fabulous fall flavours like green apples, almonds, pecans, cinnamon, cranberries, and dates, this artisanal oat bowl is packed with 16 grams of protein and 12 grams of fiber!
Blueberry Pecan Crunch Oat Bowl

Featuring blueberries, pecans, almonds, lemon, and a hint of sweet, sweet maple syrup, this oat bowl is a colourful addition to any lunchbox.
Allergy warning: If your child is heading back to school, it's best to avoid having nuts in their lunchboxes. Enjoy these meals at home instead.
4. Ready-to-eat Meals That Taste Like Home

You don't always have to cook in order to make great lunches for the kids (or yourself). Enter, ready-to-eat meals! No prep needed, just keep them cool until lunch and then heat and eat.
Here are a few examples of ready-to-eat meals ready to make your lunchtimes easier:
Falafels with Vegetable Quinoa & Lemon Aioli
Pappardelle with Creamy Mushroom Sauce
Seared Chicken Breast with Sun-Dried Tomato Pesto over Mediterranean Vegetable Orzo
5. What to Do with Those Leftovers?

If you have leftovers from dinner, don't let them go to waste! A lot of meals reheat very well as-is — especially our generously portioned meal kit recipes. If your child doesn't feel like a repeat from last night, consider repurposing the leftovers into a whole new meal to reduce food waste.
Here are a few examples of upcoming kid-friendly recipes that make great lunches the next day:
Don't Forget the Drinks & Snacks!

Alongside all these great lunch ideas for kids at home and at school, complete your kiddo's lunchbox with a few healthy snacks like popcorn, fruit salad, or chips and chocolate hummus.
To keep them hydrated all the day through, send them off with a water bottle that will keep liquids cool (check out our Cool Beans Thermal Bottle at the bottom of your selection page!) and a delicious cold-pressed juice as a nutritious treat.
So, what's for lunch this week?
 
Image Credits
Feature Image, Image 1-2, 11: via Jenn from My Spiced Life
Image 3-10: via Goodfood