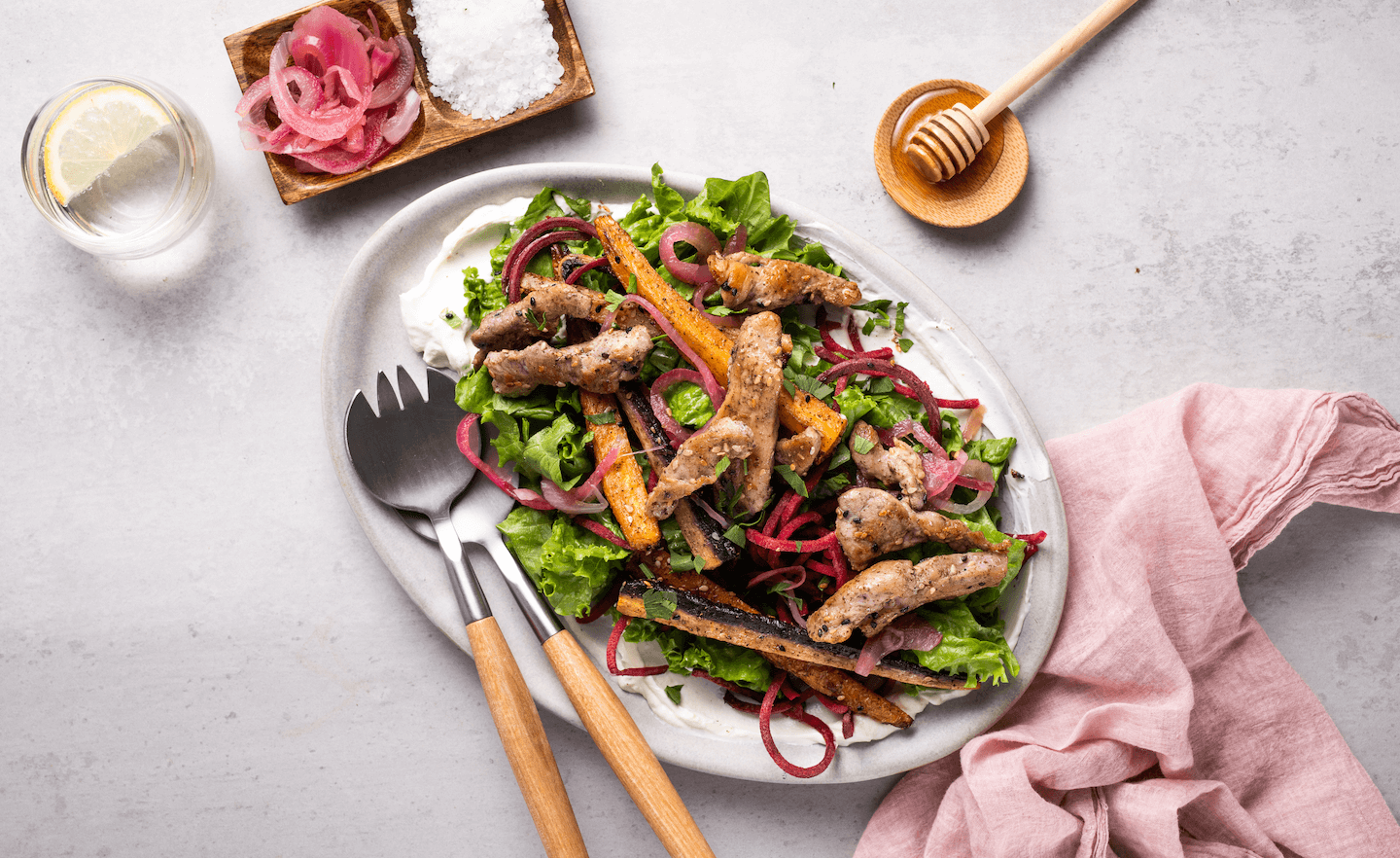 Eating Clean15 in 2020
New year, same old pressure to pick a resolution and stick to it. Easier said than done, right? This year, do something you'll actually enjoy doing. Something sustainable, achievable, and — may we add — delicious.
Your New Year's resolution shouldn't feel like an empty gesture driven by guilt or shame — it's an opportunity to set yourself up for a happier, healthier year every single day. You might cook at home a little more, try out new ingredients, or eat more vegetables. It's up to you. This is your year.

Healthy Meals for a Happy New Year

If eating healthier is on your New Year's resolution list this year, we'd like to introduce you to our low-carb, high-protein menu: Clean15. Although low-carb diets details vary, they tend to limit foods rich in carbs (primarily simple carbs) and embrace protein-rich and healthy fat foods.
As Goodfood's Nutritionist Olivia Menzies, R.D. advises, it's best to take any dietary trend with a grain of salt and focus on eating a healthy, well-rounded diet. "Instead of thinking 'low-carb', we should be lowering our intake of simple sugars and eating more vegetables every day." And that's exactly what Clean15 promotes.
Olivia explains, "Clean15 is great for anyone looking to increase their veggie intake and reduce simple sugars like white rice, white bread, and white pasta. The plan replaces traditional carbs with salads and vegetables, vegetable "rice" or "noodles", or unrefined grains like quinoa. The extra protein in the meals helps you feel fuller longer so you can achieve your personal goals and an overall healthy lifestyle."
If you're craving a little healthy comfort food one week, it's easy to switch things up in just a few clicks on your selection page. All of our plans are built with our members' health and happiness in mind.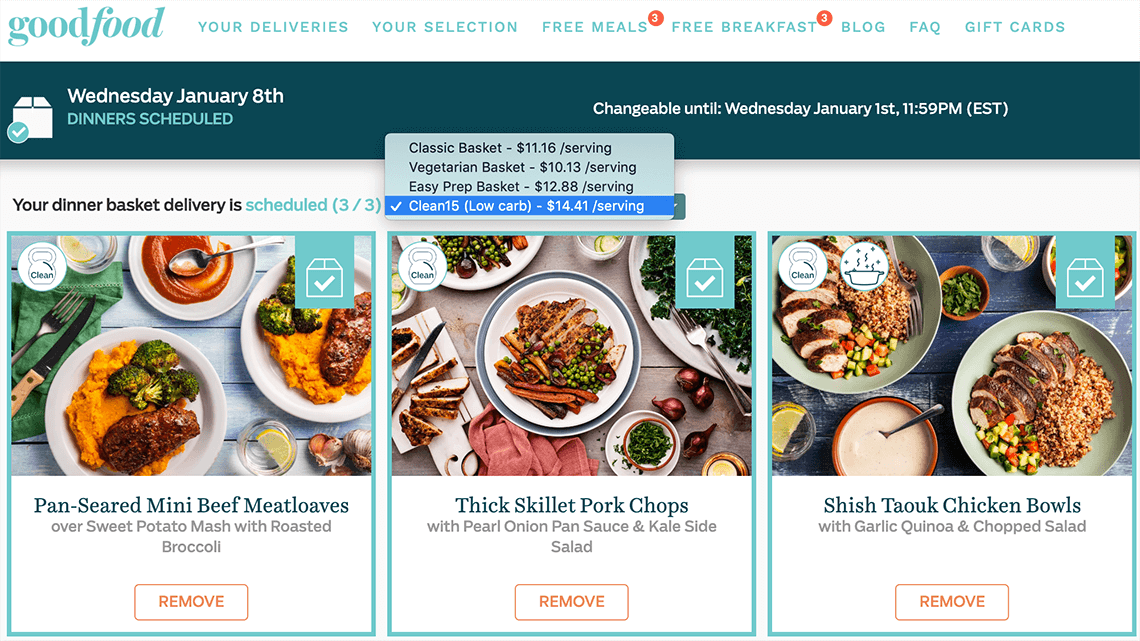 Next to the scheduled delivery date, click on the dropdown menu to choose your plan for the week.

Our Members' Favourite Healthy Meals of the Year

Hungry yet? Check out these member favourites and upcoming recipes from the Clean15 menu for dinner inspiration this year.

Brazilian Shrimp Moqueca with Butternut Squash 'Rice'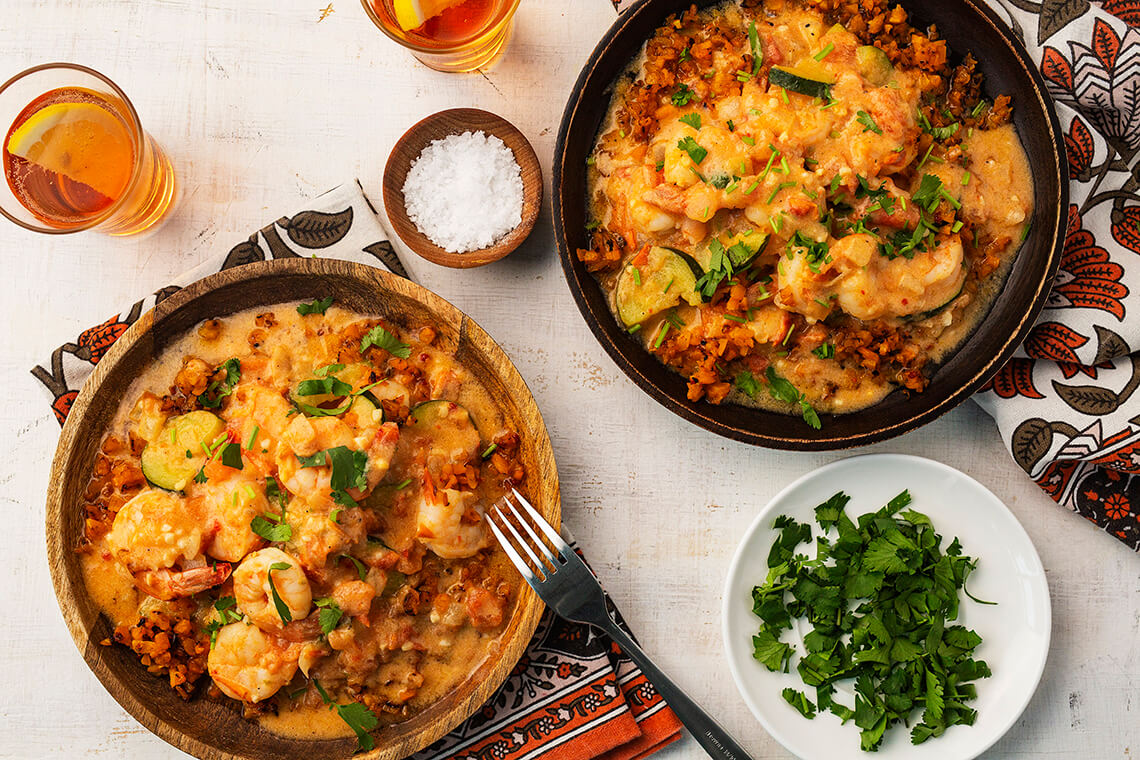 Swap out the fish in traditional Brazilian fish stew and you've got Brazilian shrimp moqueca! The thick and creamy moqueca is served over sautéed butternut squash 'rice', seasoned with roasted garlic and signature red pepper spice mix. Ready in only 25 minutes!
Featuring:
340g shrimp (high-protein serving)
350g butternut squash 'rice'
100g zucchini
Coconut Curry Chicken Skillet with Golden Cauli-Rice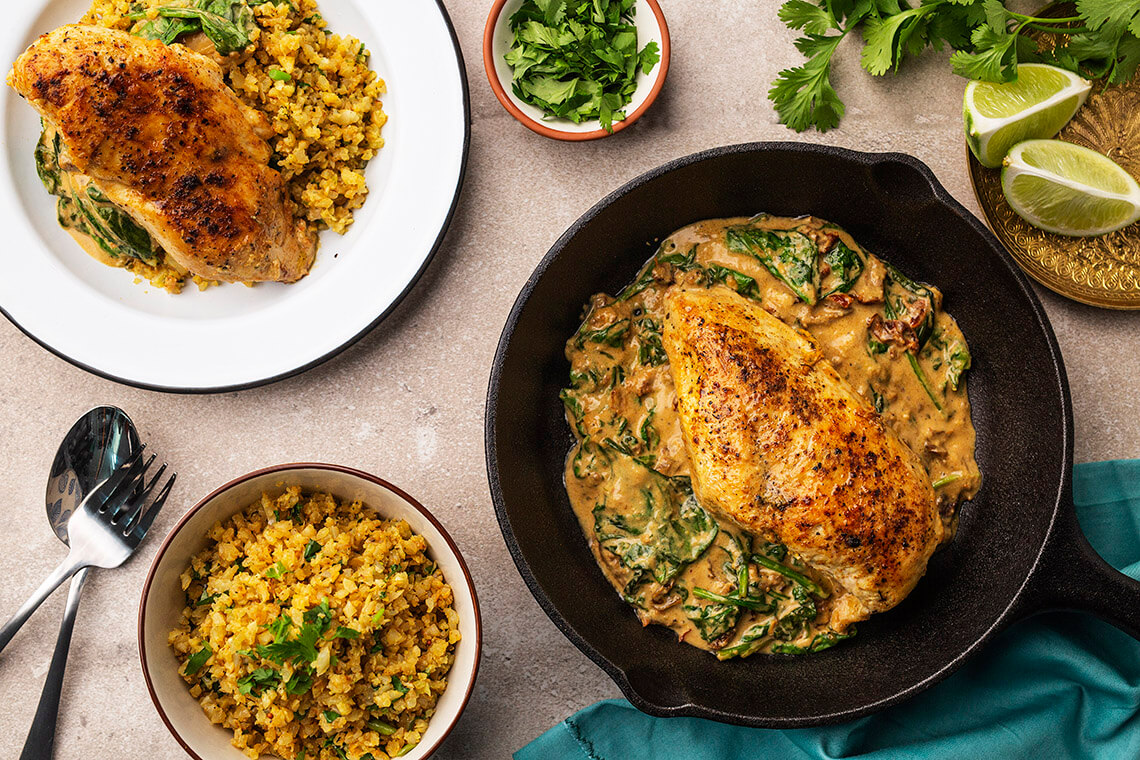 Prep your skillet for Madras masala-spiced chicken in creamy, dairy-free coconut milk and sun-dried tomato sauce, served over nutritious golden cauliflower 'rice'. Don't forget the baby spinach! Aw.
Featuring:
2 chicken breasts (high-protein serving)
225g cauliflower 'rice'
60g baby spinach
Trout with Spiced Cucumber-Cilantro Salsa Verde, Multicoloured Carrots & Green Salad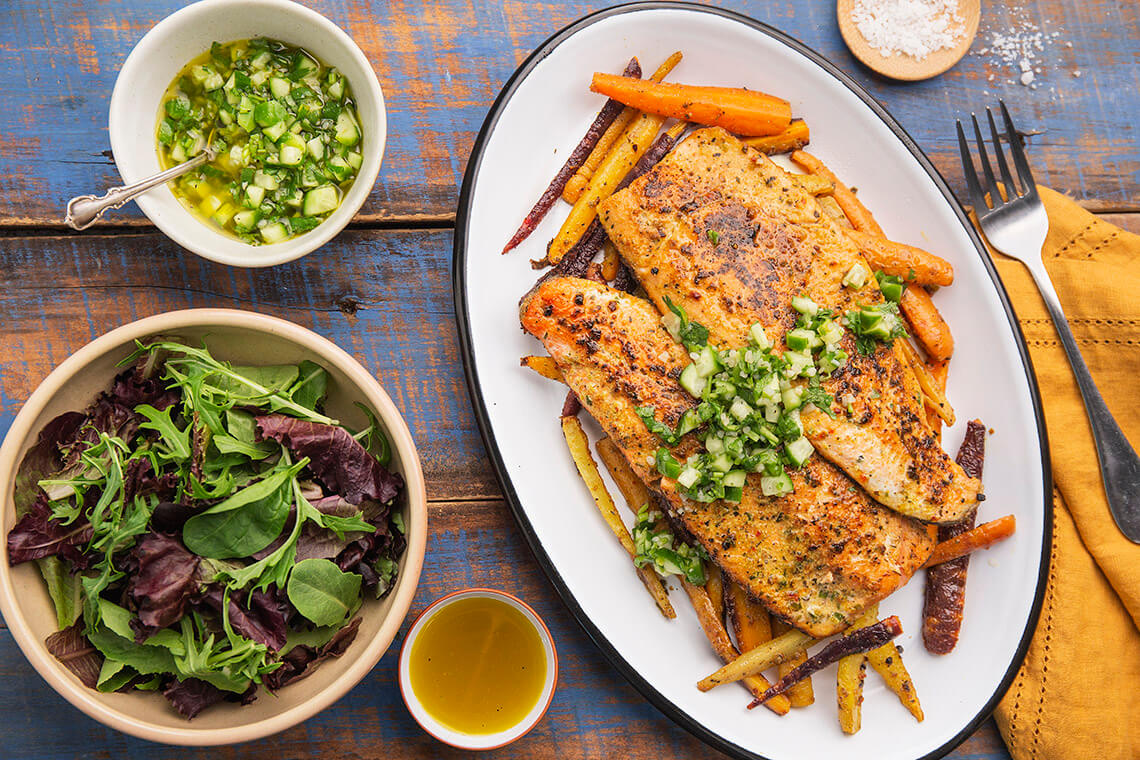 Sure, the rainbow assortment of Nantes carrots is gorgeous, but the real star of this dish is the tender trout, delicately seasoned with a balanced spice blend and topped with a dollop of fresh salsa verde, cucumber, cilantro, and lemon. Can you believe this stunner is ready in only 20 minutes?
Featuring:
2 trout fillets
300g multicoloured Nantes carrots
60g baby lettuce
Seared Pork Chops with Almond Milk Green Peppercorn Gravy Butternut Squash Mash & Green Beans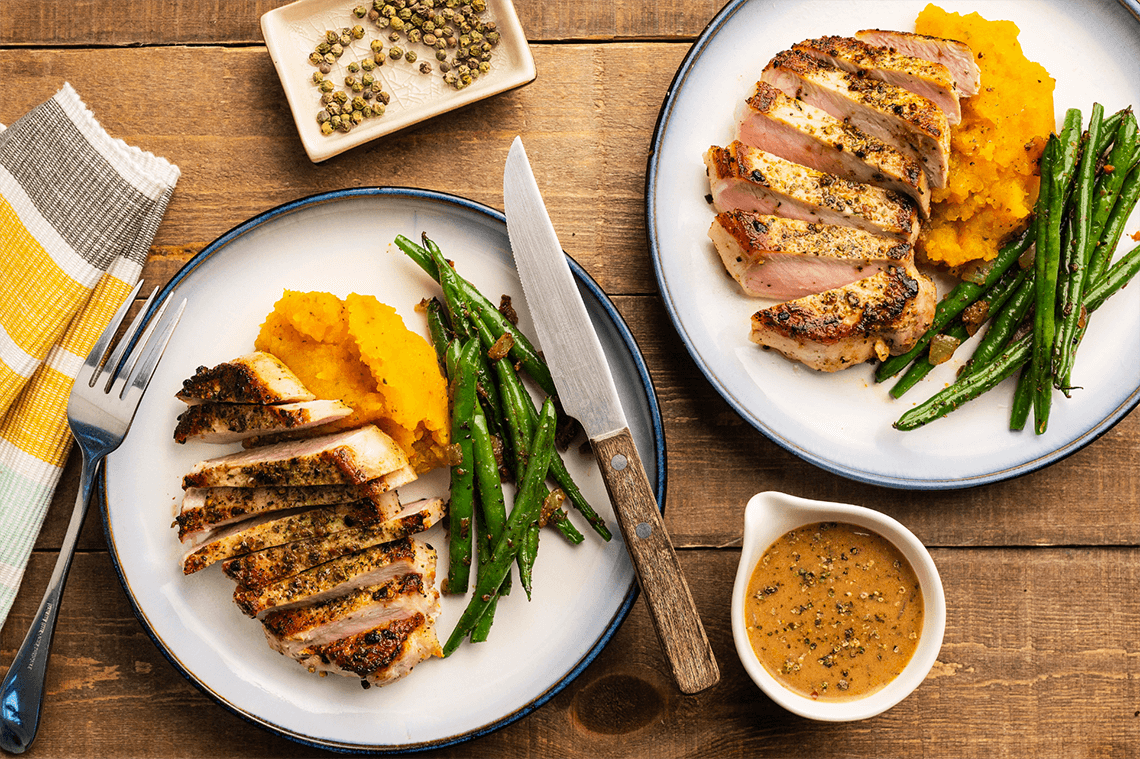 The rumours are true: peppercorn gravy doesn't have to be loaded with heavy cream and butter to deliver on creaminess. Our almond-milk green peppercorn gravy tops pan-seared pork chops, green beans, and fluffy butternut squash mash in a dairy-free contender that might just be better than the original.
Featuring:
340g thick-cut pork chops (high-protein serving)
450g diced butternut squash
100g trimmed green beans
Skillet Chicken Breasts with Sun-dried Tomato Pan Sauce & Spinach Salad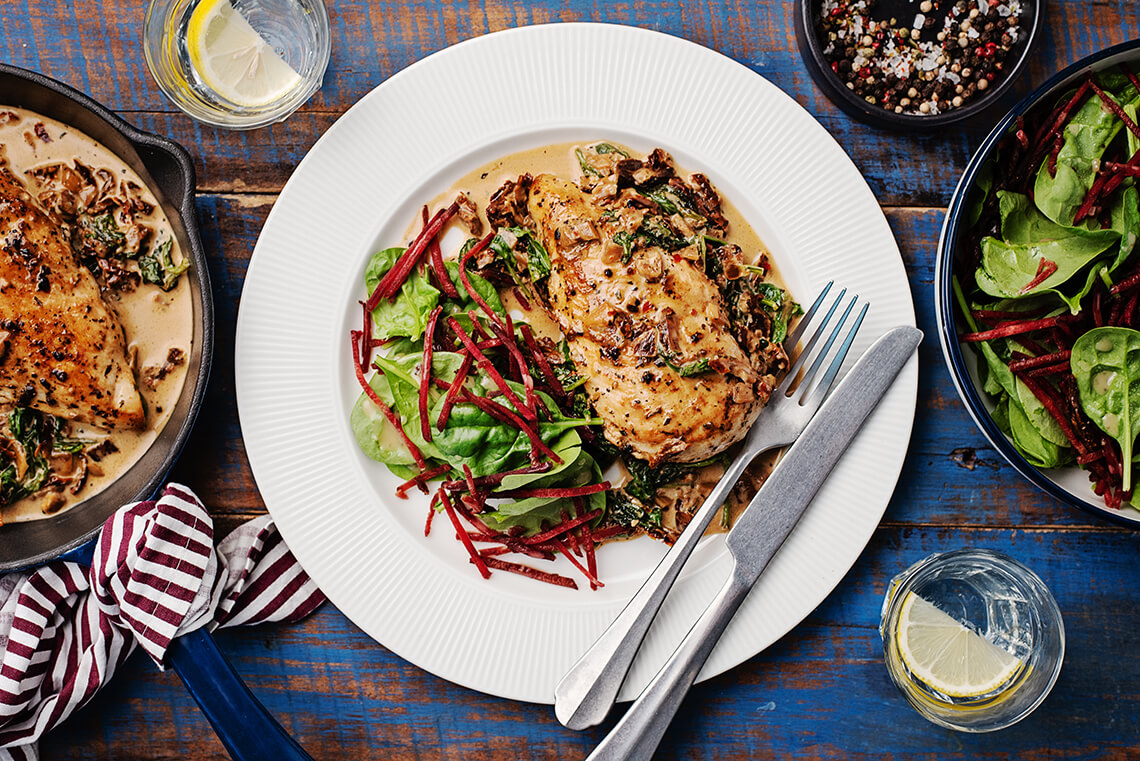 This Italian-inspired one-pot wonder features perfectly pan-seared chicken slathered in a bright and creamy sun-dried tomato pan sauce, served with a side of fresh baby spinach and crunchy beet salad. Bonus: clean up's a breeze!
Featuring:
2 chicken breasts (high-protein serving)
120g baby spinach
100g julienned beets
Steaks with Rustic Walnut-Parsley Pesto Charred Broccoli & Carrots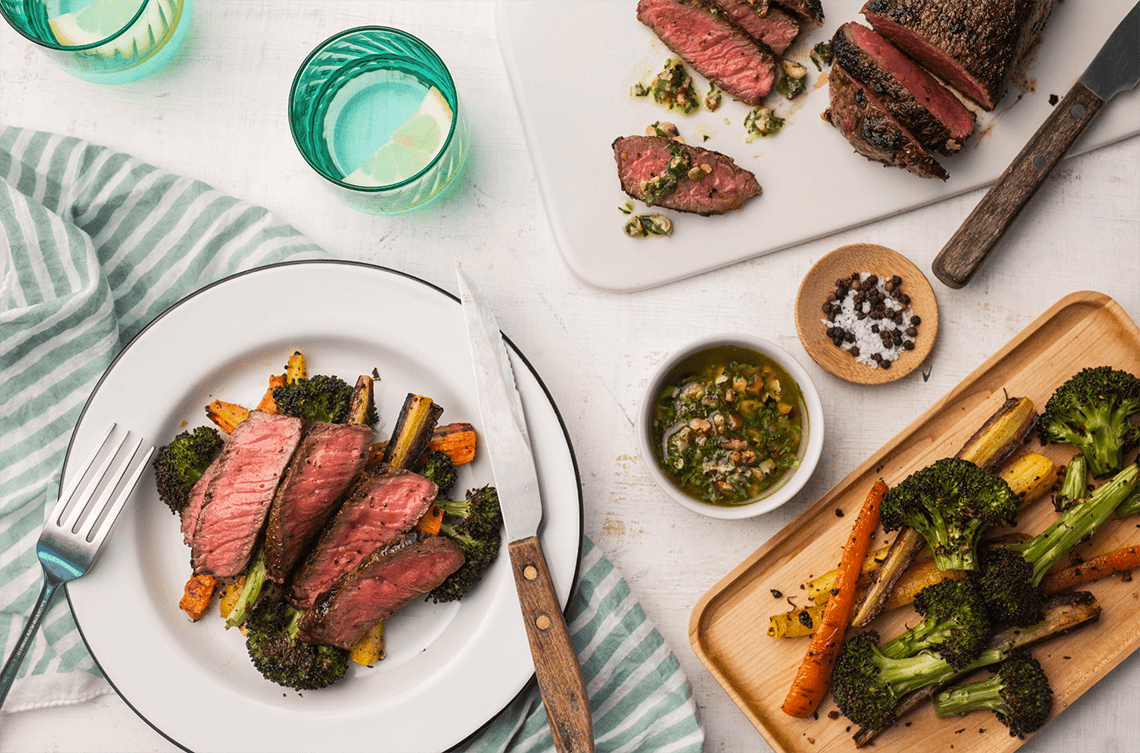 Meat your new favourite steak and veggies dish! You'll have juicy seared steak topped with fresh parsley and toasted walnut pesto, roasted multicoloured Nantes carrots, and charred broccoli on your plate in 20 minutes (or less, if you like your steak blue!).
Featuring:
340g top sirloin beef steaks (high-protein serving)
200g multicoloured Nantes carrots
200g broccoli florets
This Week's Clean15 Recipes

Ready to start your New Year's resolution off right with easy, healthy meal options? Add these new Clean15 favourites to your basket this week!

Turkey-Stuffed Zucchini Boats with Fresh Bocconcini Bruschetta & Arugula Side Salad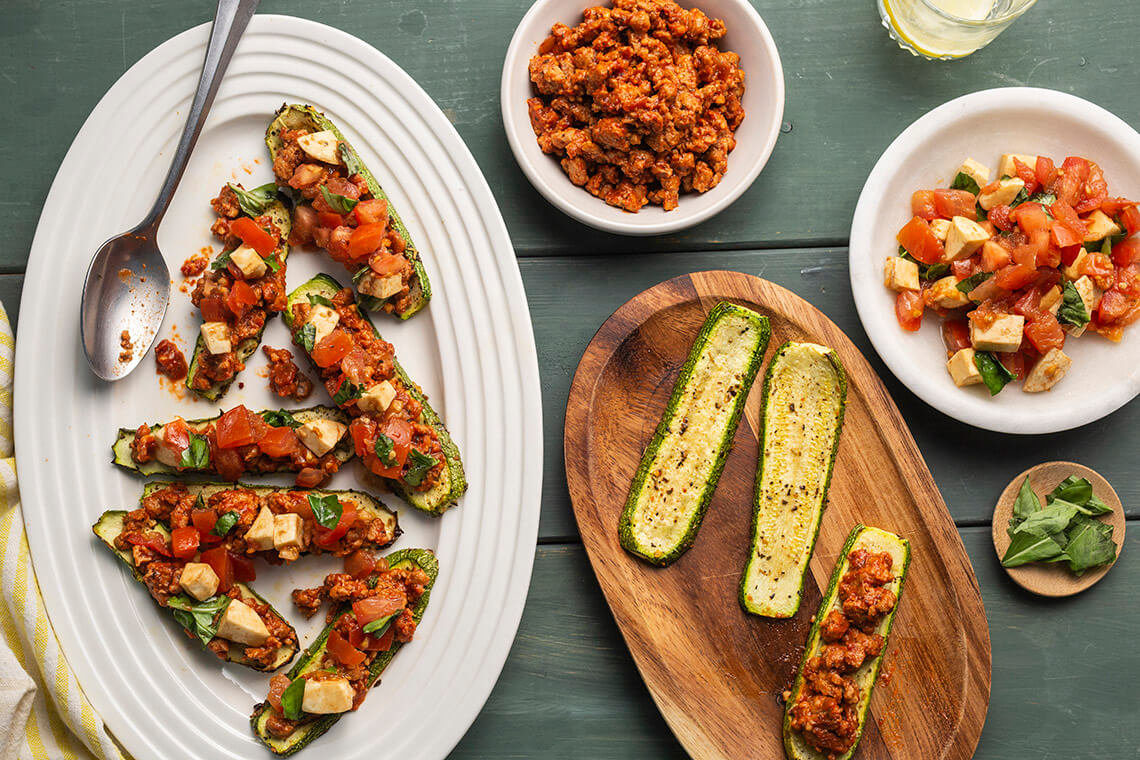 Dinner will be smooth sailing with roasted turkey-stuffed zucchini boats, topped with a traditional Italian antipasto of fresh bocconcini, basil, tomatoes, balsamic vinegar, and olive oil. No leftovers ahead, captain!
Featuring:
340g ground turkey (high-protein serving)
2 zucchini
100g bocconcini
Indian-Style Garlic & Black Pepper Chicken with Curried Spinach & Baby Bok Choy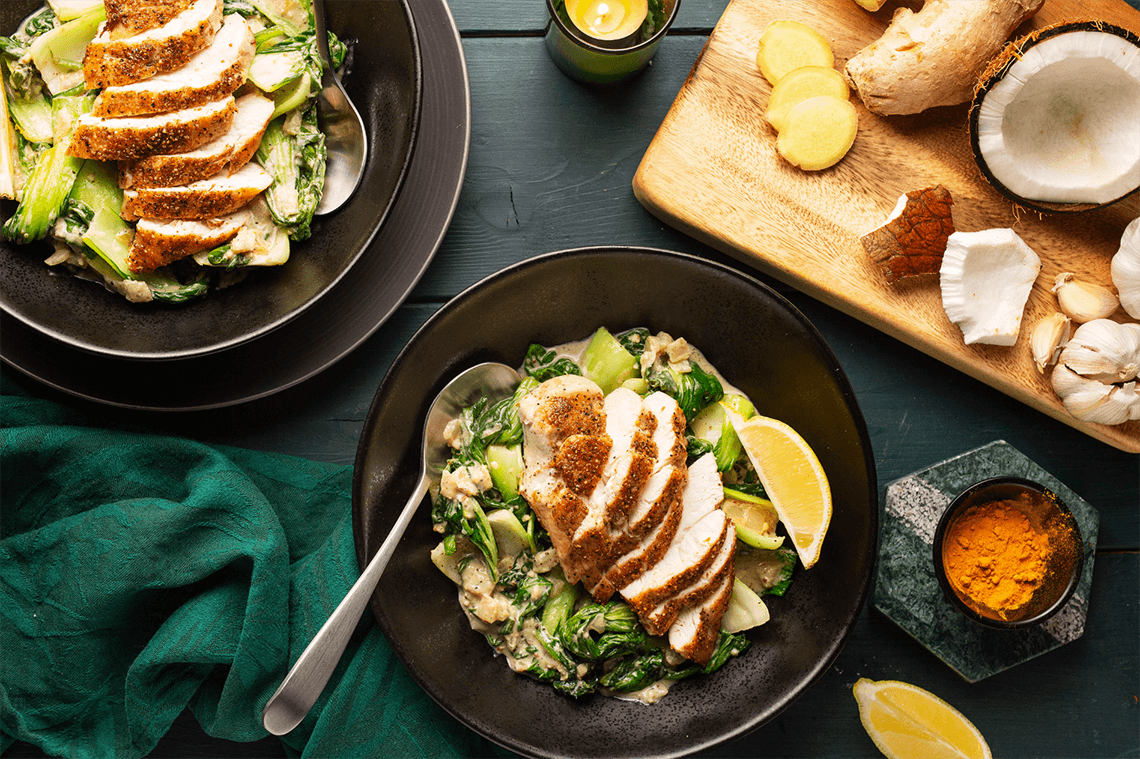 This one-pot wonder features black pepper-spiced chicken breasts atop a savoury and creamy vegetable-packed curry, with just the right amount of sauce to let that juicy protein shine.
Featuring:
2 chicken breasts (high-protein serving)
340g baby bok choy
90g baby spinach
Spice-Rubbed Seared Steaks with Warm Broccoli, French Bean & Feta Salad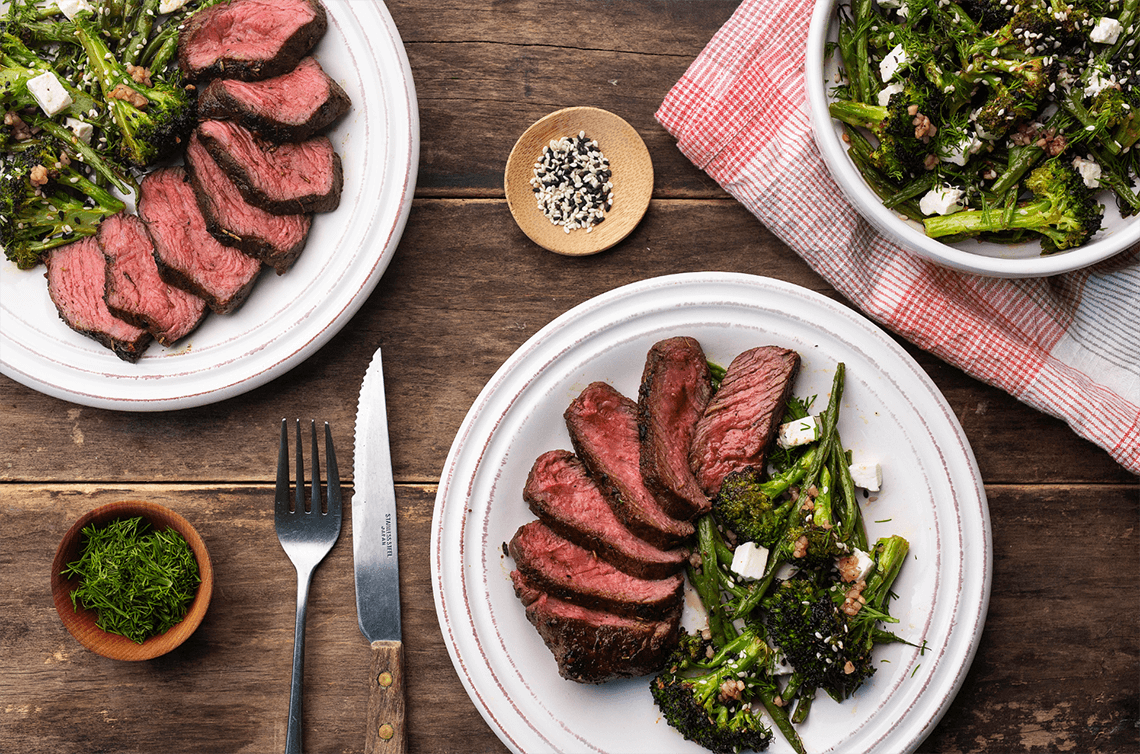 Dry rubbed top sirloin beef steaks with roasted broccoli and French beans with dill, feta and a light red wine vinaigrette — all ready in just 15 minutes. Is this our fastest and most delicious steak plate to date? Only one way to find out.
Featuring:
340g top sirloin beef steaks (high-protein serving)
200g trimmed French beans
200g broccoli florets
 
Now that's how you start the new year off right. Wishing you a happy and healthy new year, from all of us at Goodfood!