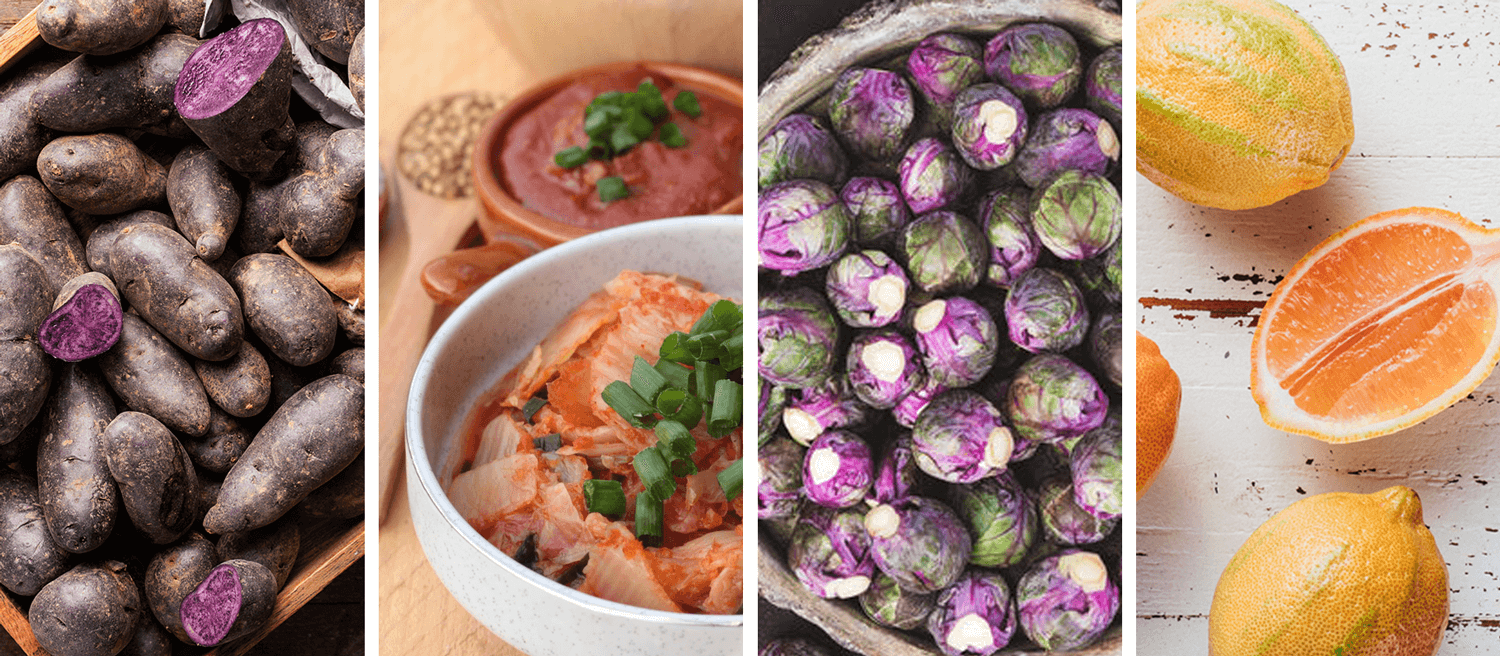 February 2020 — Spotlight Ingredients
Ah, February, the month of love! Traditionally celebrated with roses, chocolates, and jewelry, we're taking things up a notch with spotlight ingredients in every colour of the rainbow! Who needs a bouquet of roses when you have blue potatoes, kimchi, pink lemons, and purple Brussels sprouts to brighten up your month?

Blue Potatoes

When cooked, the purple flesh of this colourful tuber turns a vibrant bright blue — a tell-tale sign of its high levels of heart-healthy antioxidants. Slightly nuttier and earthier than standard potatoes, there's no need to peel these medium-starch spuds. Their thin skin and moist texture make them a dream to bake or mash. A true feast for the eyes, these blue-tiful potatoes look great on any plate!

Kimchi

Traditionally made from fermented cabbage, radish, garlic, ginger, scallions, chillies, and fish paste, this spicy, pickle-like conserve is loaded with fiber, vitamin C, and natural probiotics that promote digestion and gut health. An integral part of Korean cuisine for millennia, the sour, spicy, and umami flavours of this versatile national dish pair well with just about everything, including Korea's other favourite export: fried chicken.

Pink Lemons

Wrapped in vibrant green stripes that vary from fruit to fruit, this sought-after citrus is known for (and named after) the pale pink pulp found behind its radiant rind. The secret ingredient to the showstopping millennial pink interior? Lycopene, the same compound that gives tomatoes and grapefruit their rosy hue! Fruity, floral, and virtually seedless, pink lemons are perfect for baking, juicing, and zesting.

Purple Brussels Sprouts

Having doubts about sprouts? Wrapped in luxurious layers of bright green leaves sprawling with deep purple veins, purple Brussel sprouts taste sweeter and cook faster than their green brethren. A member of the nutrient-rich cabbage family, these specialty sprouts are high in antioxidants, low in calories, and loaded with vitamin C (more than an orange!), vitamin K, folate, fiber, and omega-3 fatty acids.
 
Fall in love with these unique spotlight ingredients featured on the menu this month!
 
Image Credits
Feature Image, Image 1-4: via Goodfood