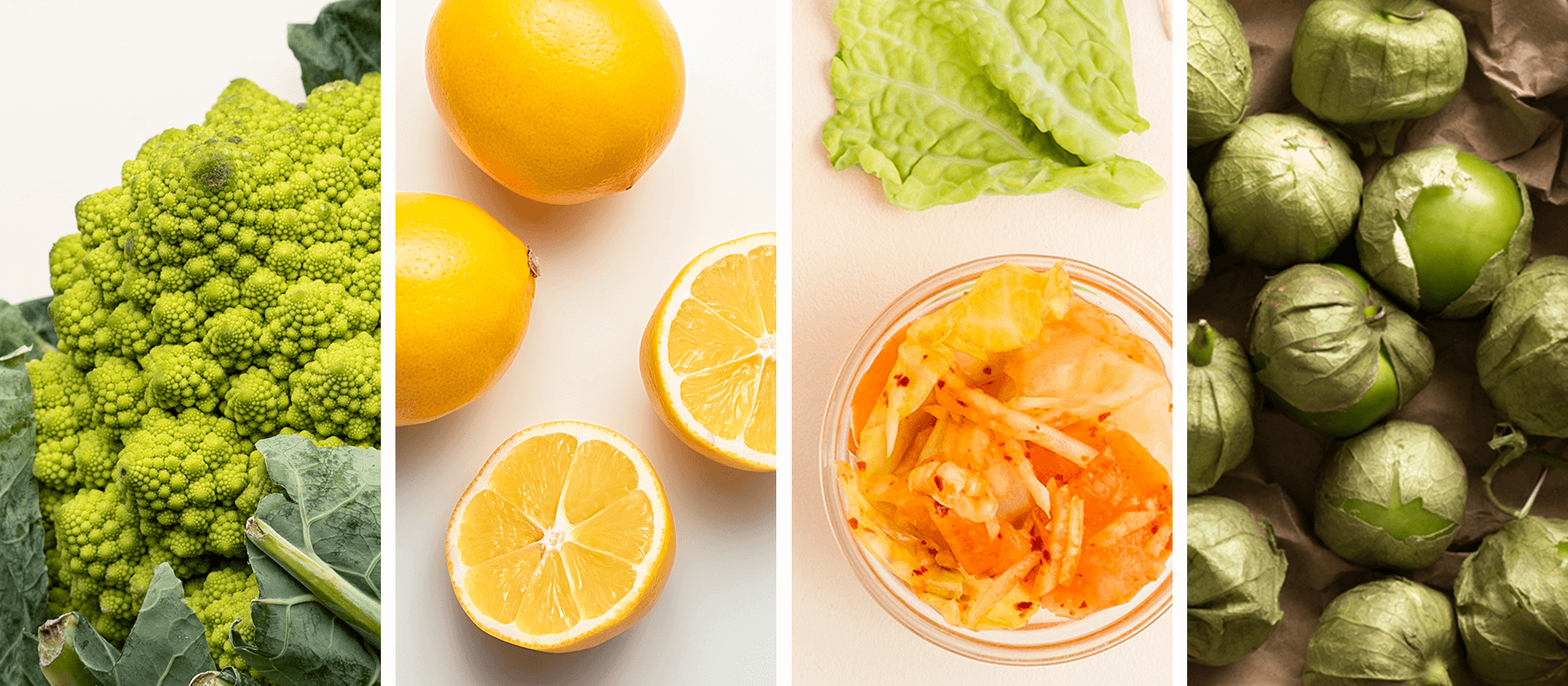 February 2021 – Spotlight Ingredients
February may be known as the month of roses and chocolate, but it's also the perfect time to indulge in colourful and delicious culinary discoveries. This month, try something new and impress your sweetheart with meals made with love (and a few special spotlight ingredients).

Romanesco



Meet romanesco — an unusual looking vegetable (actually, an edible bud) from the Brussels sprouts, broccoli, and kohlrabi family!
Originally cultivated in Rome, this Fibonacci fan favourite is crunchier than cauliflower and sweeter than broccoli, with a subtle, nutty bite that complements many types of meals.
Roasted, sautéed, or raw, romanesco is a stunning addition to salads, pasta, crudités platters, and much more.

Meyer Lemons



You know the saying: if life gives you (Meyer) lemons, make lemonade!
Named after its first importer, botanist Frank Meyer, this small, seasonal winter crop sits somewhere between a mandarin orange and a regular lemon.
Sweeter, milder, and less acidic than its lip-suckingly sour siblings with a more delicate rind, Meyer lemons are ideal for making cocktails, sauces, and desserts.

Kimchi



In Korea, a meal just isn't quite the same without a little kimchi. In fact, 94% of the population enjoy it every single day! Morning or evening, this versatile condiment always has a place on the table.
Traditionally made from fermented cabbage, radish, garlic, ginger, scallions, and chilies, this spicy, pickle-like conserve has a complex flavour profile that works well in stews, on sandwiches, in dumplings, and in a variety of other dishes. It's also loaded with fiber, vitamin C, and natural probiotics to promote good digestion and gut health.
Ready to add a little spice to your life? Check out the "Grocery" tab on your selection page to add kimchi to your basket today. And you won't want to miss a brand new addition: kale kimchi!

Tomatillos



Ready to unwrap a fistful of flavour? Enter the tasty tomatillo!
Also known as husk tomatoes, papery husk-wrapped tomatillos aren't actually tomatoes at all but a unique species in the nightshade family. Bright, tangy, and flavourful, these golf ball-sized green beauties taste like summer all year long.
With a taste as rich as their history, tomatillos ("little tomatoes" in Spanish) have been the star of many Latin American dishes — especially salsa verde and other green sauces — for thousands of years.
The tart, tomato-y flavour of the versatile tomatillo also lends itself well to fresh salads, guacamole, soups, curries, stir-fries, and even dessert.
 
Flavour of the Month: Parsnip

So much more than off-white carrots, parsnips are a hearty vegetable that have been gracing our pots and plates for generations. Having recently made something of a comeback, these sweet, mild root vegetables can be found in lots of dishes: in soups and stews, mashed, fried or roasted as a side, and sliced or shredded into salads. Just like their orange cousins, they contain loads of vitamins, minerals, and fiber.
Enjoy parsnips in some of February's meal kit recipes, available on your selection page:
Bon appétit!
 
So many delicious ingredients to add to your basket this month! Which one are you most looking forward to trying? Let us know @goodfoodca!
 
Image Credits
Feature image, Image 1-4 : via Goodfood