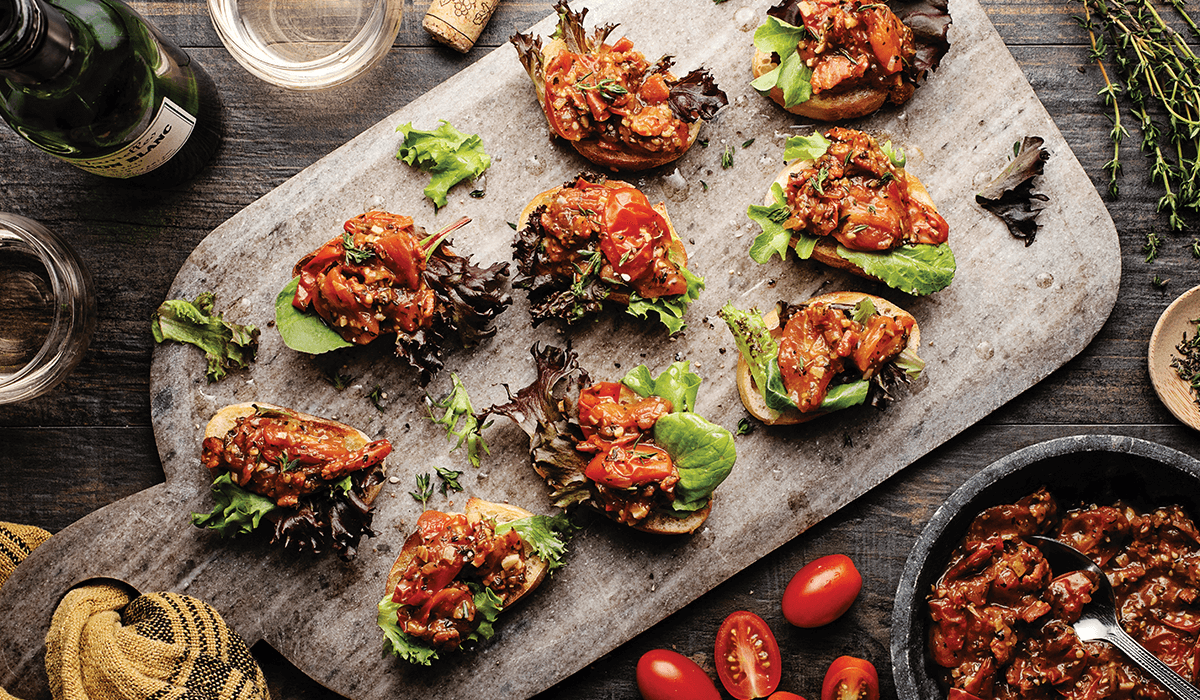 Get Ready for the Big Game with Game Day Snacks
Real talk: half the fun of watching any big sporting event on TV are the super snacks that go along with it! To get you ready for some serious game day snacking, we've compiled a guide to must-have munchables for when you're settling into the couch with the fam or cheering your team on together virtually.
So get ready… get set… hike!
 
Big Game, Big Appetite

Here are our suggestions for tackling big hunger cravings on the big day!

Ribs



The players might be the ones making touchdowns, but it's the game day snacks that'll be scoring big points at home. Quick to heat up and enjoy, our delicious fully cooked BBQ ribs are an excellent solution to satisfy serious appetites. Plus, you can wave them at the ref when a call doesn't go your team's way!

Smoked Meat & Rye Bread



Montreal might be famous for hockey, but its signature smoked meat treat is perfect for football snacks as well. Pile the succulent smoked meat high — with lots of yellow mustard, of course — on our fresh marbled rye bread, and enjoy a sammy while watching the helmets go slammy!

Chicken Wings



Perhaps the most iconic food associated with game day snacking, chicken wings are the ultimate football finger food. Just remember to order enough to satisfy the whole household — you don't want to be winging it on the big day!

Mixed Appetizer Platter



Dig into this one-stop appetizer shop, guaranteed to get any game day celebration going in style with pulled pork sliders on mini onion buns, cheeseburger sliders with caramelized onions, and mini rolled chicken quesadillas with melty cheese and touch of heat.

By the Handful

Like a great wide receiver, it's essential to use your hands strategically… like grabbing more game day snacks!

Popcorn



No snack sesh would be complete without a big bowl of popcorn. This salty (or sweet or spicy) treat is a family fave that's also perfect for enjoying solo, and pairs well with a refreshing drink, like our bubbly kombucha.

Breaded Cheese Curds



We know, we had you at "breaded"! Three words that go magically well together, breaded cheese curds are crispy on the outside and meltingly tender in the middle, with lots of good stretch to boot. They're destined to become your new football snack go-to.

Poutine Bites



Football fanatics, these poutine bites will take your game day snack swagger to the next level. A thin coating of potato engulfs a melting middle, packed with cheesy, saucy goodness. Poutine, but in finger food form — score!

Super Appetizer Kits to Bowl You Over

If you're looking for something a little more formal, we have some sophisticated suggestions sure to put points on the board. These appetizer kits just need to be assembled and then it's game on!

Baked Brie with Thyme-Roasted Grapes, Baby Greens & Homemade Breadsticks



Instead of chips and dip, you'll be dipping focaccia breadsticks into molten brie topped with warm, savoury-sweet grapes. It's thyme to indulge!

Savoury-Sweet Bacon Jam Ciabatta Bites with Balsamic, Tomatoes & Thyme



As if bacon jam wasn't super enough, these mini-toasts with the most also feature juicy, tangy balsamic-tossed tomatoes.

Rosette de Lyon Mezze Platter



Treat yourself to a smorgasbord experience with this plentiful platter featuring cold cuts mix with warmed olives, marinated baby peppers, and herbed focaccia.

Time to Kick Off!

So, now you're good — or Goodfood — to go! What will you be making for the big game? Check out your selection page!
Tag us in your pics @goodfoodca, we can't wait to see your game day snacks selection!
Note that our product availability varies by region — but whatever you end up choosing will be a game day sensation.
 
Image credits
Feature Image, Image 1-2, 4-10 : via Goodfood
Image 3: via Unsplash