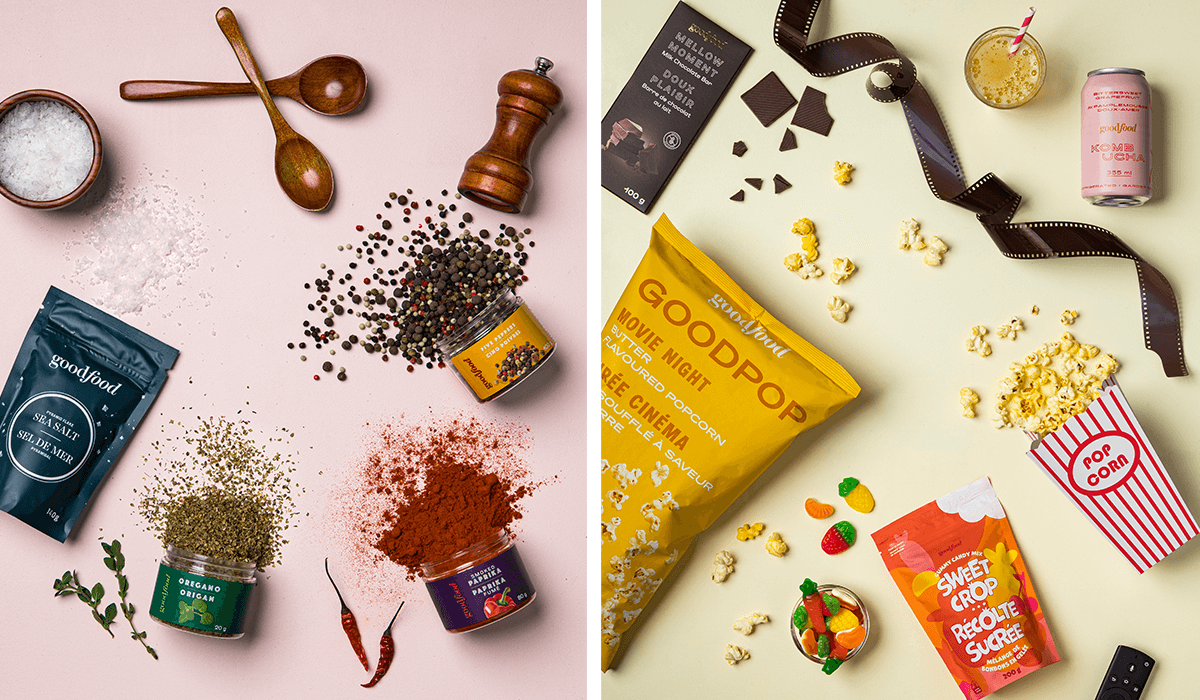 Goodfood's Holiday Gift Guide: 10 Gift Ideas for the Foodies in Your Life
The Goodfood Holiday Gift Guide 2020 is here! While this list was thoughtfully curated by our team, Goodfood does not officially endorse any companies or products mentioned below. Well, except for Goodfood — they're pretty cool.
The rumours are true — the holidays are right around the corner! If you're anything like us, you're probably asking yourself, "What am I going to get them this year?" while looking for unique ways to shop local for everyone on your gift list.
These days, supporting local businesses and suppliers is more important than ever. We've got some tips on how you can make that happen and some great gift ideas for the foodies or foodies-to-be in your life. Plus, all the Goodfood products featured in our holiday gift guide are made in and/or packaged in Canada!
Looking for more inspo? Check out last year's gift guide for even more unique gift ideas.
 
How to Support Local This Holiday Season

Updating our shopping habits can make all the difference for local businesses. Here are just a few ways you can support the local economy this year:
Support local farmers by choosing farm-to-table restaurants and food services, frequenting local shops and markets, and seeking out products that are labelled as grown, made, or packaged in your province/Canada
Browse local product directories and other round-up posts of local businesses
Seek out local equivalents for your gift ideas (including online purchases, a lot of local businesses are now offering online shopping and delivery!)
Buy gift cards from local businesses as gifts for your friends and family
Create DIY gift bundles using local products (more on that later!)
Find creative ways to incorporate non-traditional offerings from local businesses into your gifting (second-hand silk scarves as gift wrap, online classes offered by an art institute in your city, plants from your local nursery, etc)
Share your finds on social media so other shoppers can support local businesses too
10 Gift Ideas for Foodies (and Foodies-to-be)

Give the gift that's sure to please: food! Here are 10 gift ideas for your favourite foodies.
Note: Items sold separately. Availability varies by region. Check out your selection page to mix and match however you'd like!

For the Early Riser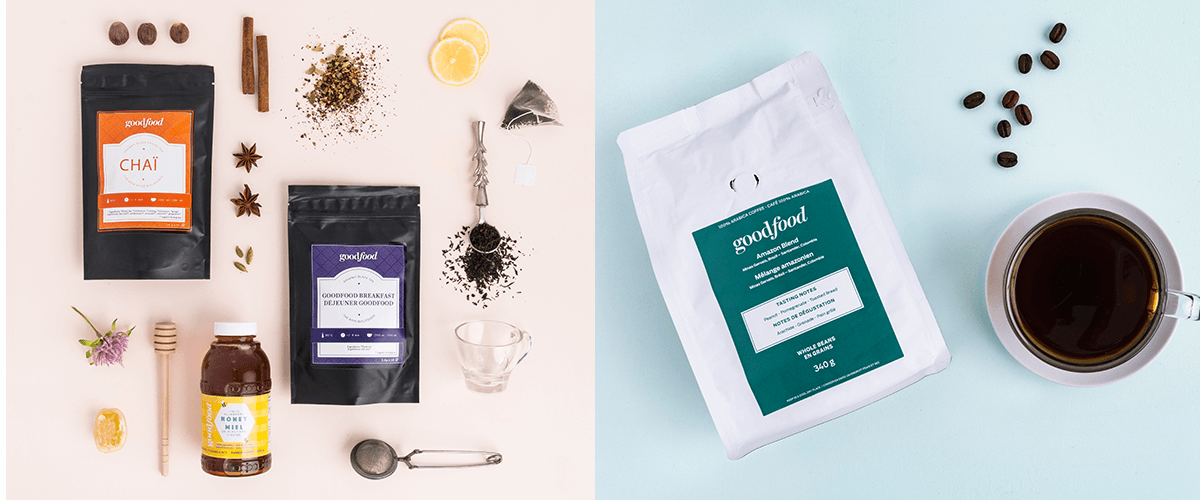 Tea or coffee? No matter which mug they grab in the morning, we have the perfect gift set to help fuel their day from dawn to dusk. Another cup, please!

1) Tea bundle
Chaï Organic Black Spiced Tea (15 bags): This organic spiced black tea features tasty notes of cardamom, nutmeg, cinnamon, and ginger.
Goodfood Breakfast Tea (15 bags): Good tea, good morning! This organic black tea is robust enough to be served with milk and sugar but delicious enough to be enjoyed on its own too.
Liquid Blueberry Honey: Made with the nectar of blueberry flowers from Quebec's Lac-Saint-Jean region, this local honey is tasty in tea and other hot beverages.
Cool Beans Thermal Bottle: This double-walled stainless steel bottle keeps drinks hot for up to 12 hours (or cold for 24). Perfect for tea lovers on the go.
Tea Accessories: teapots, cups, infusers and tea boxes… Everything they need to enjoy tea time!
2) Coffee bundle
Amazon Blend (Filter Ground or Whole Beans): This medium-roast blend is made from 100% Arabica beans grown in Brazil and Colombia, featuring a complex array of toasty, nutty aromas and notes of chocolate and pomegranate.
Cold Brew Coffee Cans (New Orleans Style or Vanilla): This delicious, portable cup of joe is organic, slowly brewed over 18 hours, and made with responsibly-sourced coffee.
Coffee Accessories: A handcrafted mug, a French press, a grinder… Bring their morning cup to the next level with the right equipment!
Cool Beans Thermal Bottle: The perfect accessory to keep your coffee warm whether you're at home or on the go.
For the Sweet (and Salty) Tooth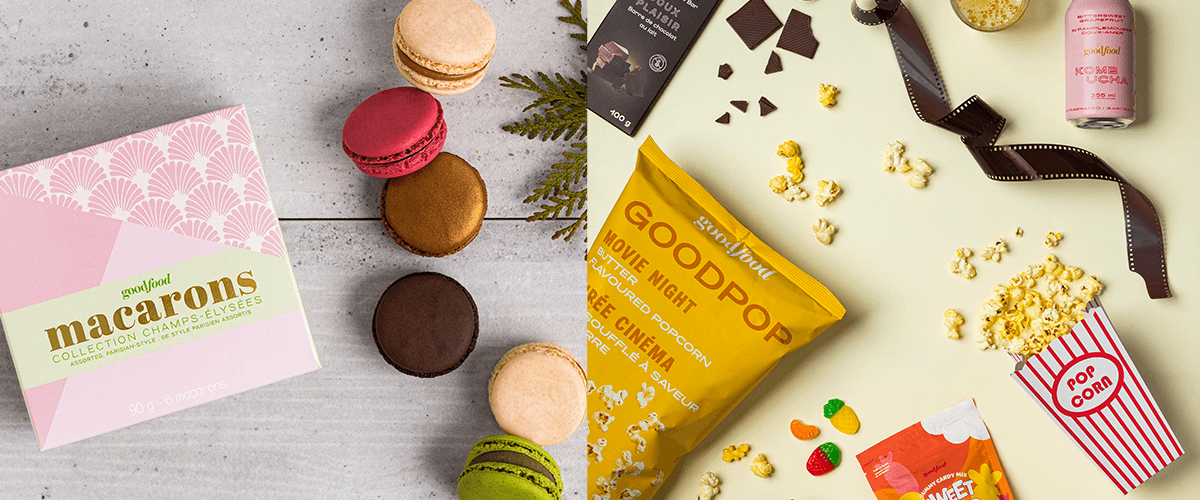 No gift guide's complete without a few sweet treats that fit under the tree so easily. This gift is always a surefire hit during the holiday season, and perfect for friends, neighbours, or your friendly local mailperson!

3) Macarons for days

Transport them to the heart of Paris with a discovery selection of fine French-style macarons. From chocolate to caramel to lemon to blueberry, there's one for every macaron mood!
Champs-Élysées Collection: This collection is a Triomphe! Nibble on caramel, dark chocolate, pistachio, raspberries, and coffee macarons.
Saint-Germain Collection: This collection includes 6 fine French-style macarons in chocolate, maple, lemon, blueberry, and vanilla.
For a Paris-themed gift, bundle with other classic Parisian elements, like a good bottle of French wine, a book of French recipes or cocktails, or a decorative Eiffel Tower art piece from a local artist.
4) Comforting desserts

With dessert, the possibilities are endless! Consider breaking out the apron and get baking yourself, or fill out a nice basket with handpicked treats to treat your sweetie!
Chocolate Chip Banana Bread: Fluffy and flavourful, this banana bread raises the (chocolate) bar by being generously studded with chocolate chips.
Peanut Butter or Almond Butter: 100% natural, these two jars only contain one ingredient each: peanuts or almonds. That's it!
100% Pure Maple Syrup: 100% Canadian, dark and rich, this dessert must-have goes beautifully with bread, cakes, and so much more.
Homemade Jam: If you like to add a little DIY flair to your holiday gifts, why not include a jar of homemade jam, bottled with love? Here are a few recipes for homemade jam to get you started.
5) Movie night bundle

Is there anything better than snuggling up in a cozy blanket and watching a good movie on a chilly winter's eve? Enjoy your favourite holiday flicks with the family or with your sweetie while enjoying delicious snacks perfect for a movie night in.
Butter Flavoured Popcorn: No need to leave the comfort of your living room when this delicious, extra-buttery popcorn is right at hand. Action!
Sweet Crop or Critter Crew Gummy Candy Mix: Get your sweet fix with this bountiful mix of gummies in the shape of fruit and veggies or creepy critters.
Bittersweet Grapefruit Kombucha: Sparkling, balanced and refreshing, this slightly fizzy fermented tea quenches your thirst while adding a little sparkle to movie night.
Milk and/or 70% Cacao Dark Chocolate Bar: Do you prefer milk or dark chocolate? Why not both! Break these bars into pieces, melt and dip, or add to your favourite snacks (chocolatey Sweet & Salty Flavoured Popcorn, anyone?).
For the Budding Chef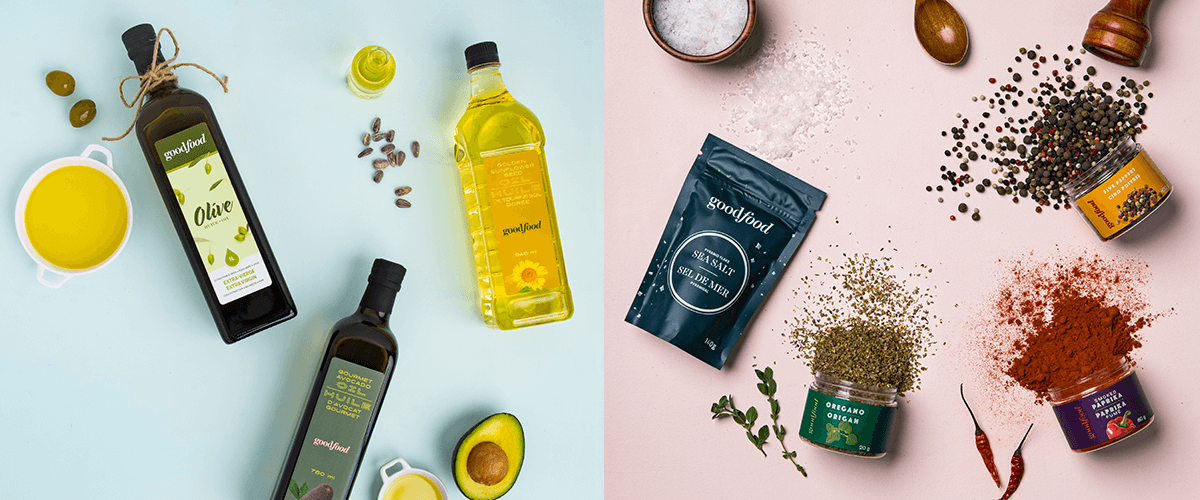 We all know someone who loves to cook or is just starting their culinary adventure. Why not fill their pantry with some culinary essentials this holiday season? This type of gift helps your giftee cook better and eat better. It's a total win-win!

6) Essential cooking oils bundle

For every recipe, there's a perfect oil to accompany it! For cooked dishes, salads, fresh bread, dips, or sauces, a trio of cooking oils is the perfect gift idea for foodies and casual cooks alike!

Extra Virgin Olive Oil: Our extra-virgin oil has a refined, fruity flavour with an acidity level of less than 1%. Perfect for light cooking, salads, and dips alike.
Golden Sunflower Seed Oil: This versatile oil is great for cooking and frying, but can also be used in desserts and dressings. Now that's multi-purpose!
Gourmet Avocado Oil: Rich and creamy, this is a perfect cooking oil thanks to its high smoke point. It also lends itself nicely to vinaigrettes, dips, and sauces.
7) Essential spices bundle

Oils are certainly a kitchen essential, but don't forget about the spice cabinet! The right seasoning can bring out so much extra flavour in all their favourite dishes.

Sea Salt: The all-essential ingredient and the perfect finishing touch to grilled meats, spreads, and, of course, seafood!
Five Peppers Peppercorn Medley: Put some pep in your step with this mix of bold black pepper, spicy white pepper, and herbaceous green pepper, with hints of aromatic allspice and fruity pink peppercorns.
Smoked Paprika: Paprika is a pantry must-have to add flavour and oomph to many dishes. Its addictive smokiness mixes with the spice's natural sweetness to take dishes to a whole new level.
Oregano: There's nothing quite like oregano to enhance the flavours of Mediterranean dishes! Perfect for pasta, marinades, stews, and more.
8) Goodfood all-star spice blends bundle

Give special spices to a special person! With something for every personality, spices are a lovely way to take their taste buds on a tasty trip around the world. Here are some of our members' favourite spice blends.
Savoury Seoul-Style Blend: One of our most popular Meal Kit blends! Take your palate on a quick trip to Seoul with this Korean-inspired mix of garlic, paprika and sesame seeds. It's a hit on any protein, fresh noodle stir-fry, or stew.
Roasted Garlic & Sweet Pepper Blend: Another member favourite, this mix of bell peppers, garlic, turmeric and just a touch of cayenne, plus a little zing from powdered vinegar brightens up anything from veggies to fish and meats.
Lemony Dill & Marjoram Blend: This other kitchen must-have is the perfect blend of zingy lemon and floral marjoram with dill seeds, paprika, bay leaf, and black pepper.
For Just About Everyone on Your List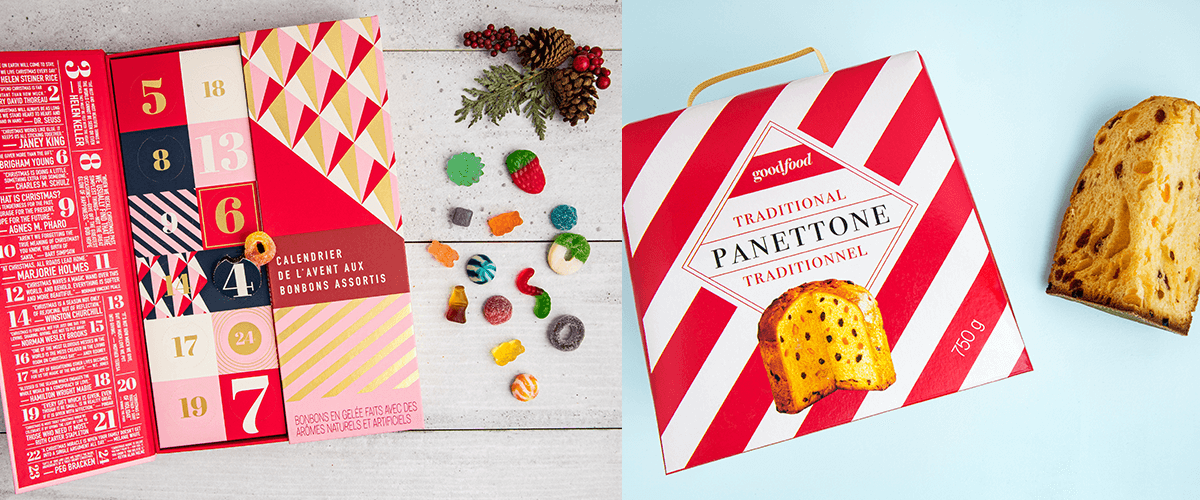 Pretty much everyone, no matter how young or old, loves sweet treats during the holidays! Here are a few ideas to help make this holiday season a little sweeter.

9) Sweet stocking stuffers
Advent Calendar with Mixed Chocolates: A new treat every day until December 25th. Which flavour will they uncover today? Only one way to find out!
Advent Calendar Mixed Candy Treats: Life is sweet during the holidays, especially with a daily pile of assorted candies!
Reindeer Munch: You don't have to be one of Santa's reindeer to enjoy this caramel popcorn with white and milk chocolate pieces!
Hot Chocolate Stir Spoons: A cup of hot milk or milk alternative is all you need to enjoy these stir spoons dipped in four flavours of rich Belgian chocolate.
Marbled Chocolate Peppermint Bark: Crunchy and irresistible, this peppermint chocolate bark combines dark chocolate, white chocolate, and generous pieces of candy cane.
Traditional Panettone: Give them a taste of a rich Italian Holiday tradition with a made-in-Italy panettone: a brioche-like cake dotted with raisins that has a mellow taste with citrusy notes.
Artisanal Panettone: Made with candied oranges and lemons imported from Italy, this artisanal Canadian-made delight will make their holidays instantly special. Delectably soft and studded with citrus and raisins, it tastes as beautiful as it looks. This panettone comes with our specially designed wrapping paper (complete with gift tag)!
For the Home Cook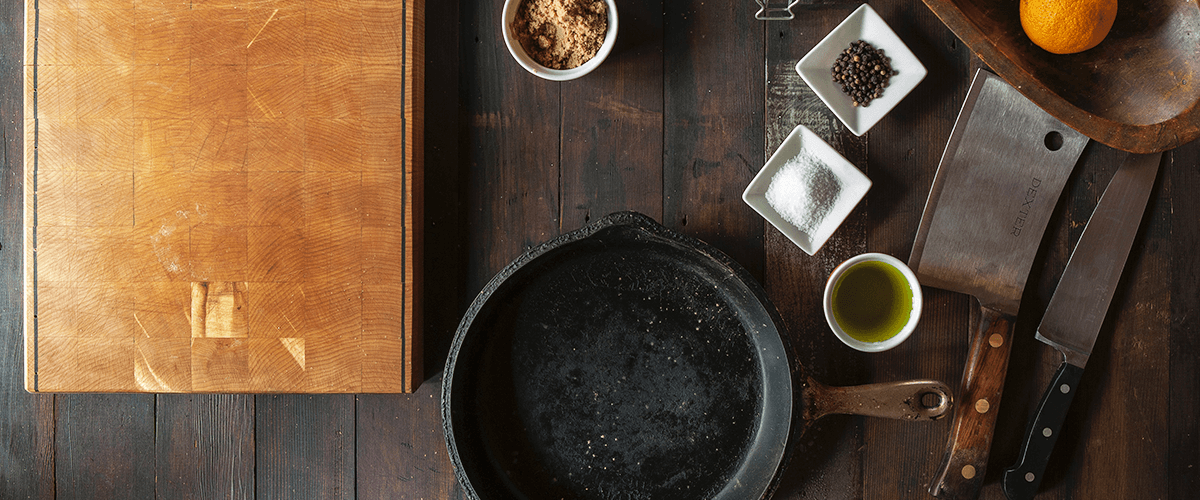 To make great food, it helps to have the right tools! We talked to our culinary team to get a few of their recommendations for must-have kitchen accessories that also make excellent (and much appreciated) gifts.

10) Kitchen equipment upgrade
Bonus: The Ultimate Last-minute Gift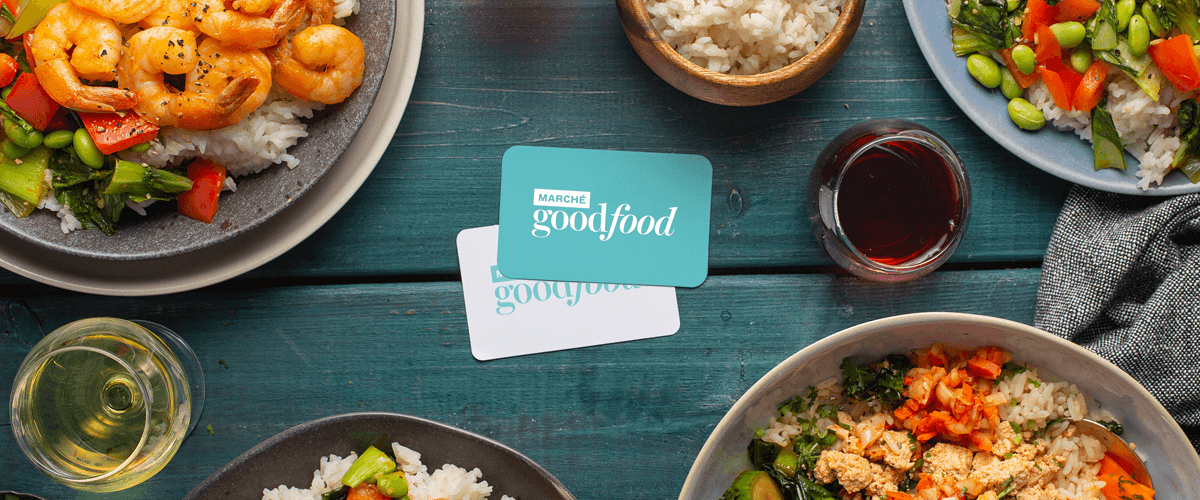 Gift cards are not only a great last-minute idea, they're also a fantastic way to support local businesses. To give your friends and family the gift of fresh, local ingredients and a variety of unique recipes that make cooking fun and easy, grab a Goodfood gift card — available in any amount you'd like to give!
From our table to yours, happy holidays!
 
 
Image Credits
Feature Image, Image 1-4, 6: via Goodfood
Image 5: via Unsplash