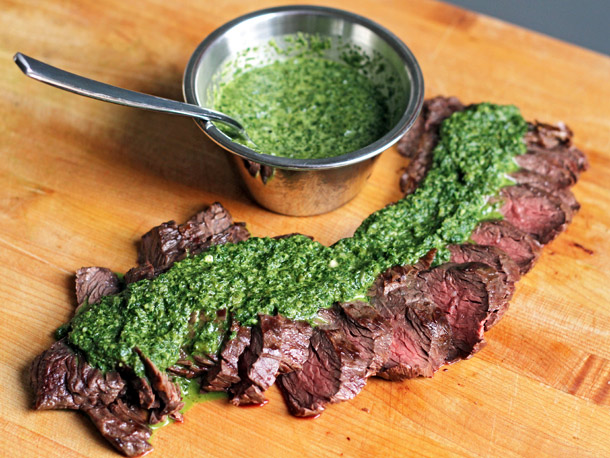 Guest Post – Fresh Herbs: Nature's Seasoning
Photo credit: Serious Eats
In my opinion there's nothing that elevates a dish quite like fresh herbs; cooling mint with a spicy curried lamb, peppery basil with fresh tomatoes & mozzarella and savoury dill with salmon.
Parsley is often seen as the most common of the herbs, and perhaps a little boring, but one shouldn't underestimate this awesome plant.
In 2012, my husband and I lived in Buenos Aires for a few months. An asado (or a traditional Argentinian BBQ) is a major part of Argentine culture, and the steak is often served with chimichurri – a delicious blend of fresh parsley, olive oil, garlic, and red wine vinegar. The fresh parsley is such a nice pairing with the rich steak, but the best part is the amazing health benefits of parsley:
– It recently ranked #8 on Time Magazine's list of the 41 Superfoods (ranked by how nutrient-dense the food is per calorie)
– One of the highest foods in vitamin C: 130 mg per 100g – to put this in perspective, a grapefruit has 30 mg per 100g!
– Combining iron-rich foods like steak with foods high in vitamin C increases iron absorption
– It's an amazing source of the cancer-fighting antioxidant lycopene
– It's also a source of folic acid, vitamin A and vitamin K
Next time you reach for the blue cheese or a buttery béarnaise sauce to pair with your steak, give chimichurri a try instead – it's healthy, easy-to-make and delicious – enjoy!
Argentinian Chimichurri
Ingredients
1 1/2 cups fresh parsley, washed
1 clove garlic, minced
1/4 tsp. sea salt
1/4 tsp. fresh ground pepper
1/4 cup extra virgin olive oil
2 tbsp. water
1 tbsp. red wine vinegar
½ tsp. chili flakes (optional)
Method
Combine all ingredients in a food processor and serve as a dipping sauce for BBQ'd steak.
Lauren Follett is a Registered Nutritionist who doesn't believe in diets or quick fixes. She works closely with her clients to teach & motivate them to make healthy choices, discuss healthy living strategies and create customized nutrition programs that fit with their life. Learn more about Lauren & her nutrition services at: www.laurenfollett.com.