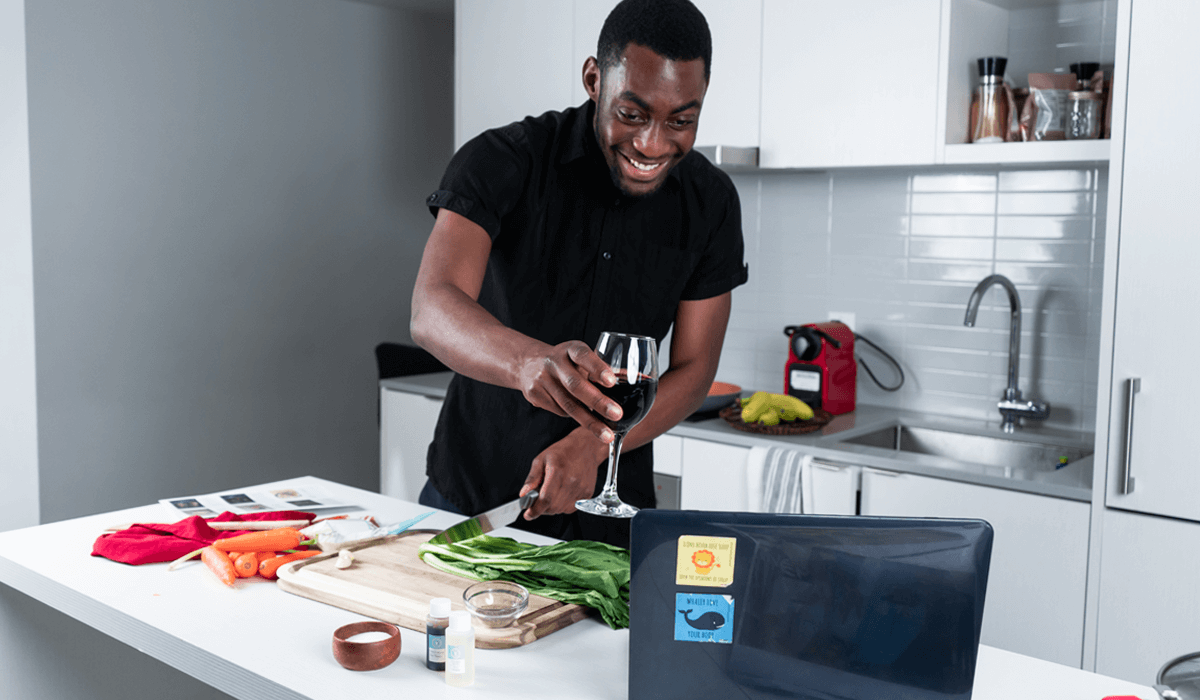 The Ultimate Guide to Hosting a Successful Virtual Dinner Party
These days, hosting a virtual dinner party and sharing a delicious meal "together" is one of the best ways to stay connected with your loved ones while staying safe.
For a successful evening with lots of moving parts, planning ahead makes all the difference. Dig into our ultimate guide for tips on successfully celebrating the season with family and friends around the virtual table (and building new traditions along the way)!
Special thanks to filmmaker Mike Regis who directed and produced the shoot, Rielle Ramos who helped out with food styling and photographer Saidmair Mu who took the photos for this guide. Mike is a passionate artist who takes a realistic and humanistic approach to his photographic storytelling, with a focus on the lived experiences of the Black community.
 
Preparing for Your Virtual Dinner Party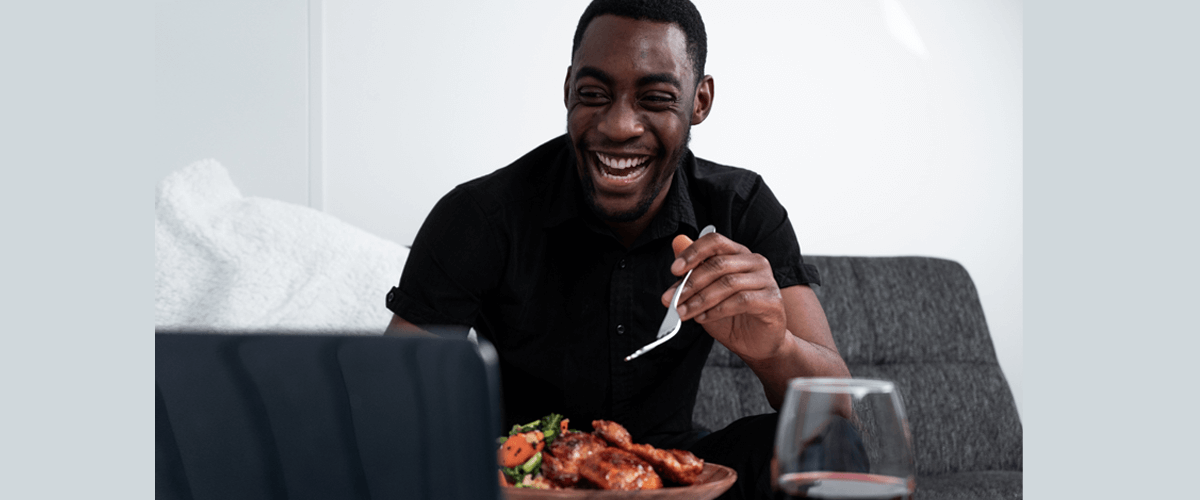 Let's get organized! No matter the event, planning is the key to a successful and enjoyable experience for you and your guests (especially if you've invited all the relatives)! So where should you begin?

1. Choosing the Right Time

One of the advantages of hosting a virtual gathering is the flexible schedule. Uncle Paul doesn't have to travel from Montreal to Toronto, cousin Martin working nights can still pop in and say hello, and Aunt Eileen who lives in Winnipeg can join in on the celebration too!
To find a date and time that works for everyone on your guestlist, leverage free event planning tools like Calendly or Doodle. They allow you to:
Get everyone's availability
Find the most convenient meetup times
Send a virtual invitation to your guests
Ensure all your guests add the event to their calendar

While planning your event, be sure to set an event start time and a dinner time to give everyone a chance to connect and get settled before dinner. For example, you may set the start time at 6:00 pm but plan to have the holiday meal begin at 7:00 pm.

Chef's Tip: Send a reminder the night before to make sure everyone arrives on time the night of the event.
2. Selecting the Best Platform

If there's one thing that 2020 has embraced, it's virtual events! It's no wonder platforms like Zoom, Google Meet, Facetime, Skype, and Houseparty have exploded in popularity over the last few months. But which one is right for your party?

The most important thing is to choose the platform most accessible for your guests. For example, Facetime isn't compatible with Android devices, and Facebook Messenger requires a Facebook account.
Chef's Tip: A few days before the event, give your guests a call to make sure they've downloaded the tool (if needed) and understand how to use it. Consider doing a quick test run to avoid spending 30 minutes the day-of trying to troubleshoot connection issues!
3. Deciding on the Menu

Every group meal starts with the question, "Who's cooking what?" — especially during the holidays! Even if you won't be able to dig into Martin's famous potato salad this year, you can still enjoy the same delicious flavours together with ready-to-cook meal kits delivered to everyone's door before the big day.
Not only will this option save you a trip to the store (and waiting in line), it also makes cooking easier and helps everyone get their meal on the table at the same time. You and all your guests will have the exact amount of ingredients you need, with no last-minute grocery store trips trying to find that missing item on your list! Plus, recipes are easy to follow and easy to make so everyone can enjoy a delicious meal they made themselves.
TL;DR, ready-to-cook meal kits are a safe bet and all your guests will be spoiled for choice with a wide selection of recipes:

You can complete your basket with grocery items, ready-to-eat meals, and even ingredients for festive cocktails or mocktails!
Here are a few steps to help you decide what menu makes sense for your event:
Go to your selection page and make a shortlist of interesting recipes and other products for the meal. Make sure you choose a week with a delivery period before your event.
Consider your guests' allergies and other dietary restrictions (let's not suggest a turkey dinner for vegetarian guests!). You can also decide to cook different recipes according to personal taste. All of our recipes are quick and easy to make.
Once the shortlist is ready, ask your guests for their opinion via a fun and easy survey. Add an emoji to each option to make voting easier.





Decide whether you will cook the meal together or prepare the recipes on your own before eating together at a set time.
Invite your family to sign up to Goodfood (and enjoy some free credit too)!
Make sure everyone orders their recipes before the cut off period in their Goodfood accounts to ensure they receive their box in time for the virtual dinner party.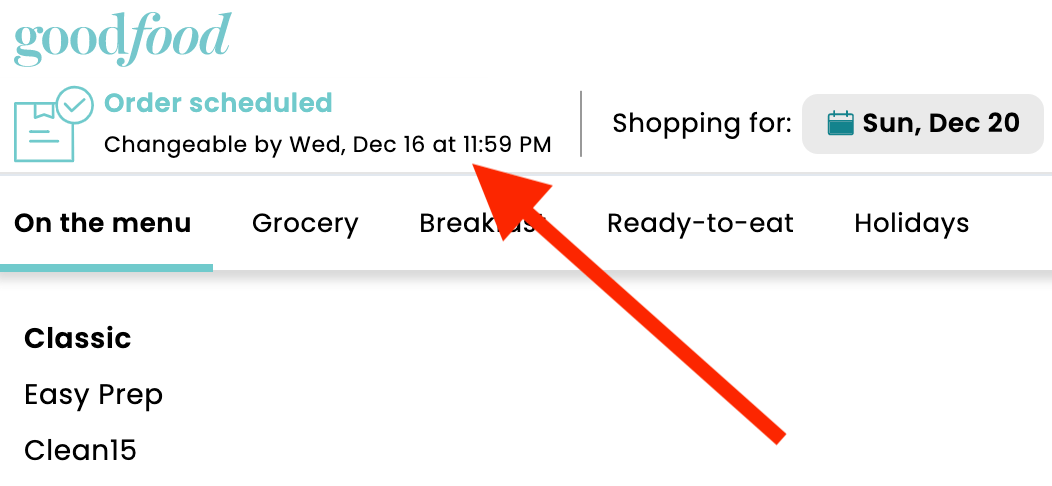 Chef's Tip:
Check out
your selection page
for dozens of original recipes and grocery products added every week (and seasonal specialties too)!
4. Picking a Theme & Activities (Optional)

Since we're doing things a little differently this year, why not go all out with a theme or some fun activities to do with friends and family? The key to success is choosing simple but fun options that work virtually:
Icebreaker questions (prepare a few questions in advance to get the conversation going)
Trivia (Kahoot is a great way to play together)
An online murder mystery evening
TV or movie night (Netflix Party helps you watch together)
Any other ideas from you or your guests!
Things to Do the Day of Your Virtual Dinner Party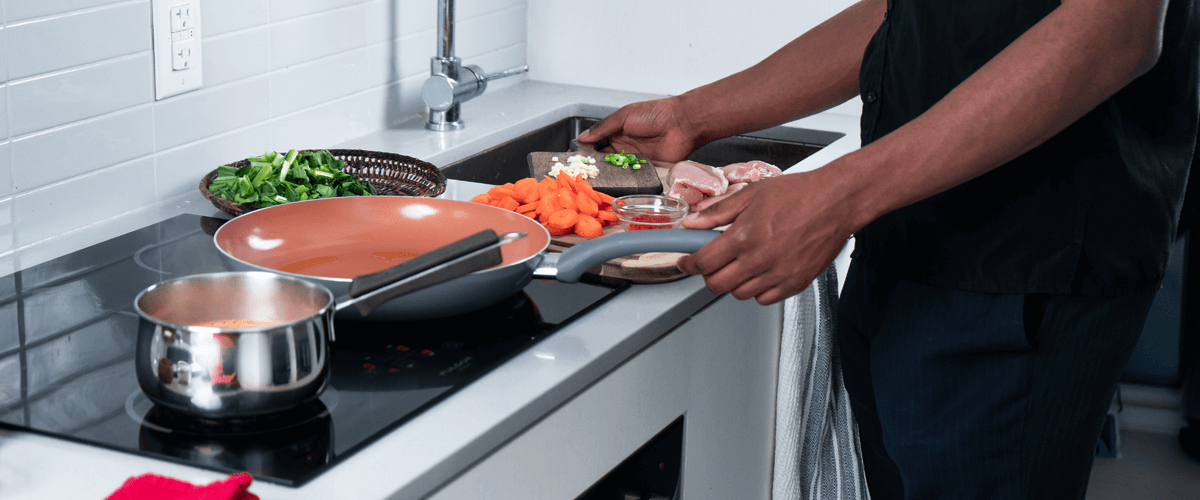 Get Prepped

It's the big day and the meal starts in a few hours. Is everything ready to go? Here's a quick checklist:
Your guests have confirmed: Follow ups may be necessary to confirm the final guest list
Your devices are charged: Don't have your fun cut short because of a low battery.
The table is set: Just like a regular meal, set up your table to help create that dinner party atmosphere.
Your tools are ready: : Make sure you've got everything you need to enjoy your meal, like cutlery, serving utensils, napkins, and drinks so you don't have to run around off-camera during the party.
Recipes are on hand: With everyone following the same recipe (or other Goodfood recipes) and preparing at the same time, getting dinner on the table in time will be easy as pie. Make sure to schedule enough time for everyone to cook at a leisurely pace.
Savour the Moment

Cooking and eating in good company is one of life's simple pleasures. Make the most of it by savouring the delicious meal you prepared and enjoying great conversation with friends and family.
Take the time to eat and enjoy the fun. Ask questions, keep your guests involved, and share those tips and tricks you learned while cooking!
Celebrate, Together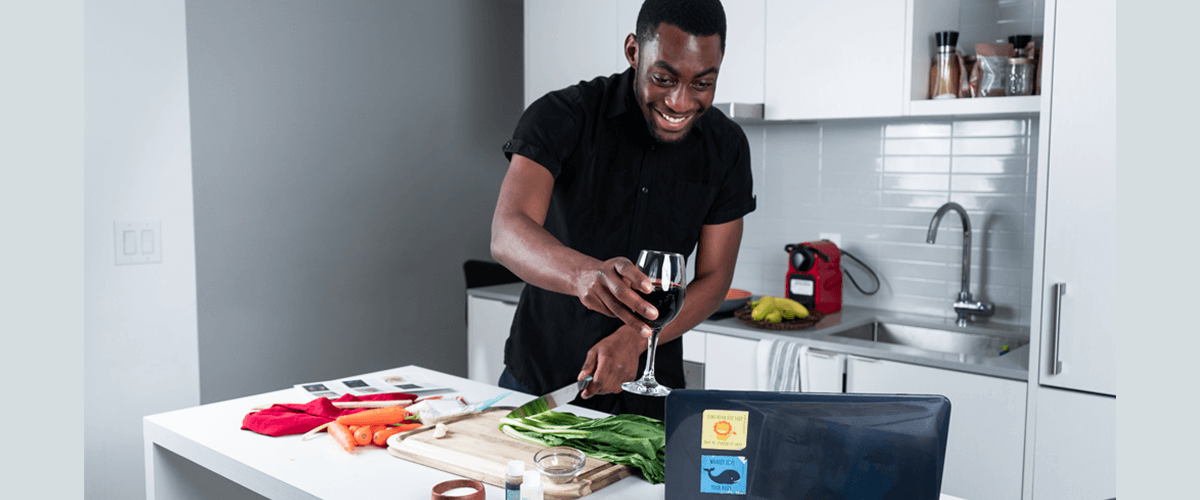 With a little planning, some creativity, and Goodfood, you'll be able to throw your most successful virtual dinner party to date. What tips do you have to make virtual gatherings a success? Share them with us @goodfoodca!
 
 

Image Credits
Feature Image, Image 1, 4-5: via Mike Regis
Image 2-3 : via Goodfood (template via iMessageChat)