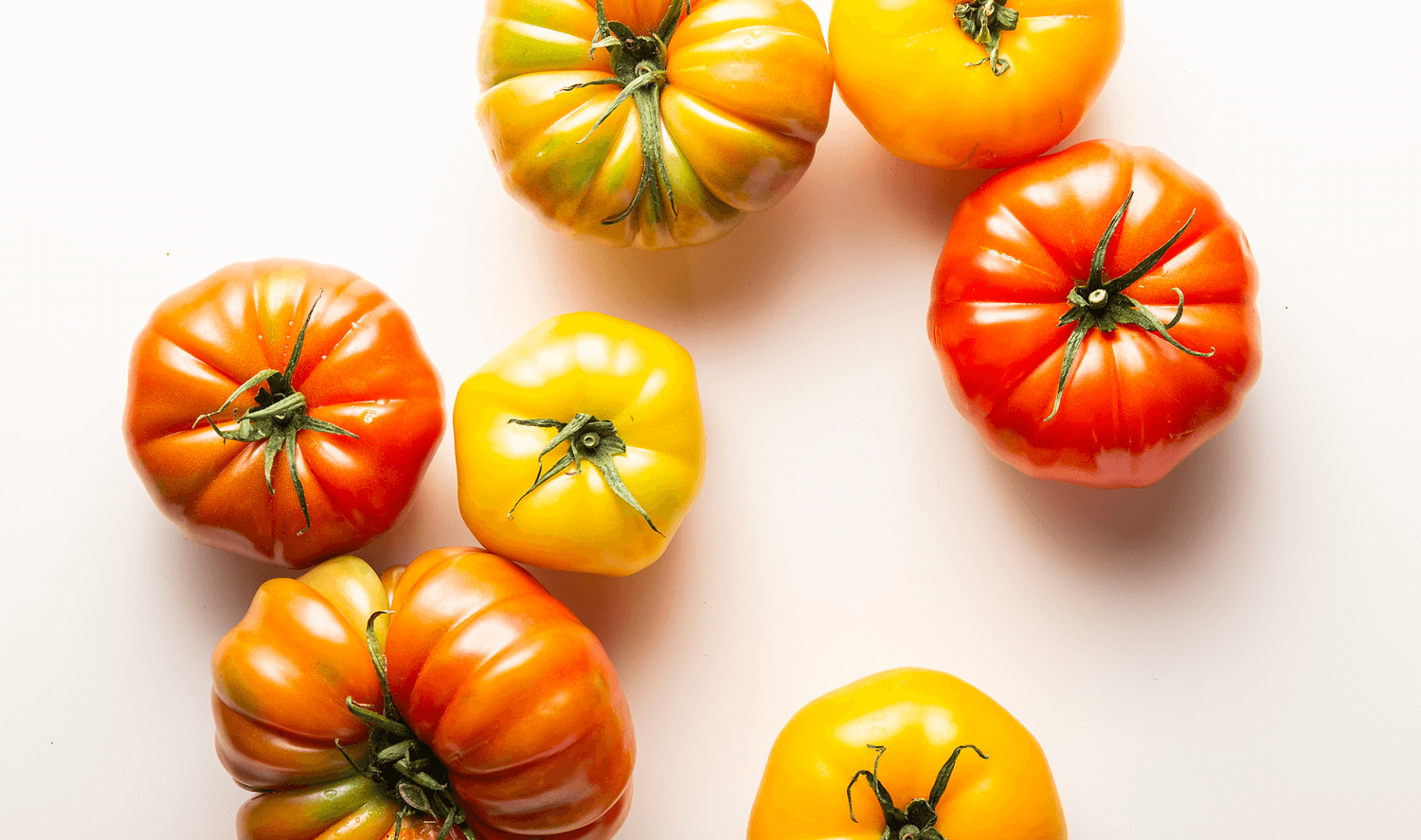 Heirloom Tomatoes
These unusually shaped, multicoloured fruit certainly aren't the plump, rosy-red tomatoes you're used to seeing on grocery shelves! Unlike more common hybrid tomatoes, heirloom tomatoes come in every colour of the rainbow and develop a full, rich flavour and sweet, juicy flesh on the vine.
What makes heirloom tomatoes different from standard red tomatoes? Heirloom tomatoes are an open-pollinated heirloom cultivar of tomato!
Open-pollinated plants are pollinated naturally by wind, insects, or human hands and you can save their seeds and plant them again.
Heirloom varieties are carefully selected and grown and their seeds are passed down by farmers and gardeners. Heirlooms, unlike hybrids, are not used in large-scale agriculture.
Cultivars (cultivated varieties) are plants that been carefully selected for sought-after traits like bright colours, interesting shapes and sizes, and delicious flavours.
Like a family heirloom, the seeds of these tasty tomatoes are passed down from generation to generation of farmer — hence the name! Farmers have given the many species of heirloom tomatoes names as fun and unique as their colours, shapes, and sizes like Brandywine, Ferris Wheel, and Mortgage Lifter!

Heirloom Tomato Recipes

An excellent source of vitamin C, vitamin K, potassium, folate, and antioxidants, heirloom tomatoes add a pop of colour and burst of flavour to Caprese salads, fresh salsas, cooked sauces, and anywhere else you'd use a tomato!

From the Archives

The weather is warming up and what better way to celebrate those summery vibes than with a Bloody Mary-spiced heirloom tomato salad? Colourful and punchy, this recipe paired a rich main of tender, juicy filet mignon and crispy potatoes with a side of bright, fresh heirloom tomato salad. No wonder it was a member favourite!

Featuring:
Filets mignon
Fingerling potatoes
Heirloom tomatoes
Coming Up This Week

Heirloom tomatoes are back in season and back on the menu! Among all the tomatoes at the farmers' market, our team can't get enough of these funky, flavourful fruits. They're sweet, they're tart, and they're ultra juicy — perfect for the hearty Thai-inspired shrimp salad with zesty rice featured on the menu this week!

Featuring:
Shrimp
Cucumbers
Heirloom tomatoes
 
Heirloom tomatoes are a seasonal treasure, so taste the difference while they're here!
 
P.S. Don't forget to tag @goodfoodca in your photos of heirloom tomatoes and other unique Goodfood ingredients on social media!
 
Image Credits
Feature Image, Image 1-2: via Goodfood