So, you took the plunge and volunteered to host the holiday party for your friends and family this year. No sweat — you got this! We've compiled all the tips and tricks needed to make this an unforgettable party for you and your guests this holiday season.

Preparing for Your Holiday Party

Planning might not be the most exciting part of throwing a party, but it's an essential step to success. From budgeting to invitations, find out what you need to know to get prepped and ready for action.
Make a plan and decide on a budget

The key to any successful event is a solid, thought-out plan. Write your ideas down so you have a guide to follow along the way. Depending on your style, this could range from a post-it note to a full-blown spreadsheet — whatever floats your gravy boat!
Running through the details in advance keeps you on track, on budget, and clear of any last-minute mishaps. To get a head start on your holiday party planning, ask yourself a few key questions:
How many guests do I want to invite?
Do I have the necessary supplies (think tableware, grocery essentials, seating, etc)?
What type of food do I want to serve?
Are there any known dietary restrictions?
Once you have a rough idea of the number of guests and supplies needed, work out a budget to keep your party costs under control. Then, start the preparations.
Plan your menu: Consider cooking time, recipe difficulty, and plating needs.
Choose your ingredients wisely: Incorporate versatile ingredients that work within your budget (for example, carrots can be used in a slaw, in soup, as a roasted side, and in cake).
Shop ahead: Draw inspiration from what's on special and seek out good value options for must-have ingredients.

Holiday hack: You don't need to buy 20 mini mason jars to make 20 individual cakes — you can use the cake pan you already have. Incorporating your existing kitchen supplies into your plan is easier on the wallet and your cupboard space.
Prepare your guest list and send out invitations

Once you've made a plan and nailed down your budget, it's time to finalize your guest list and send out the invites! No need to use traditional paper invites for this epic holiday party — save on paper, postage costs, and time by going digital (the trees will thank you!).
Digital invites keep your RSVPs up-to-date, centralize communication with your guests, and make sharing important information (like directions to the venue) quick and easy. Use an online service like Evite, or create a Facebook event and dress it up to your liking: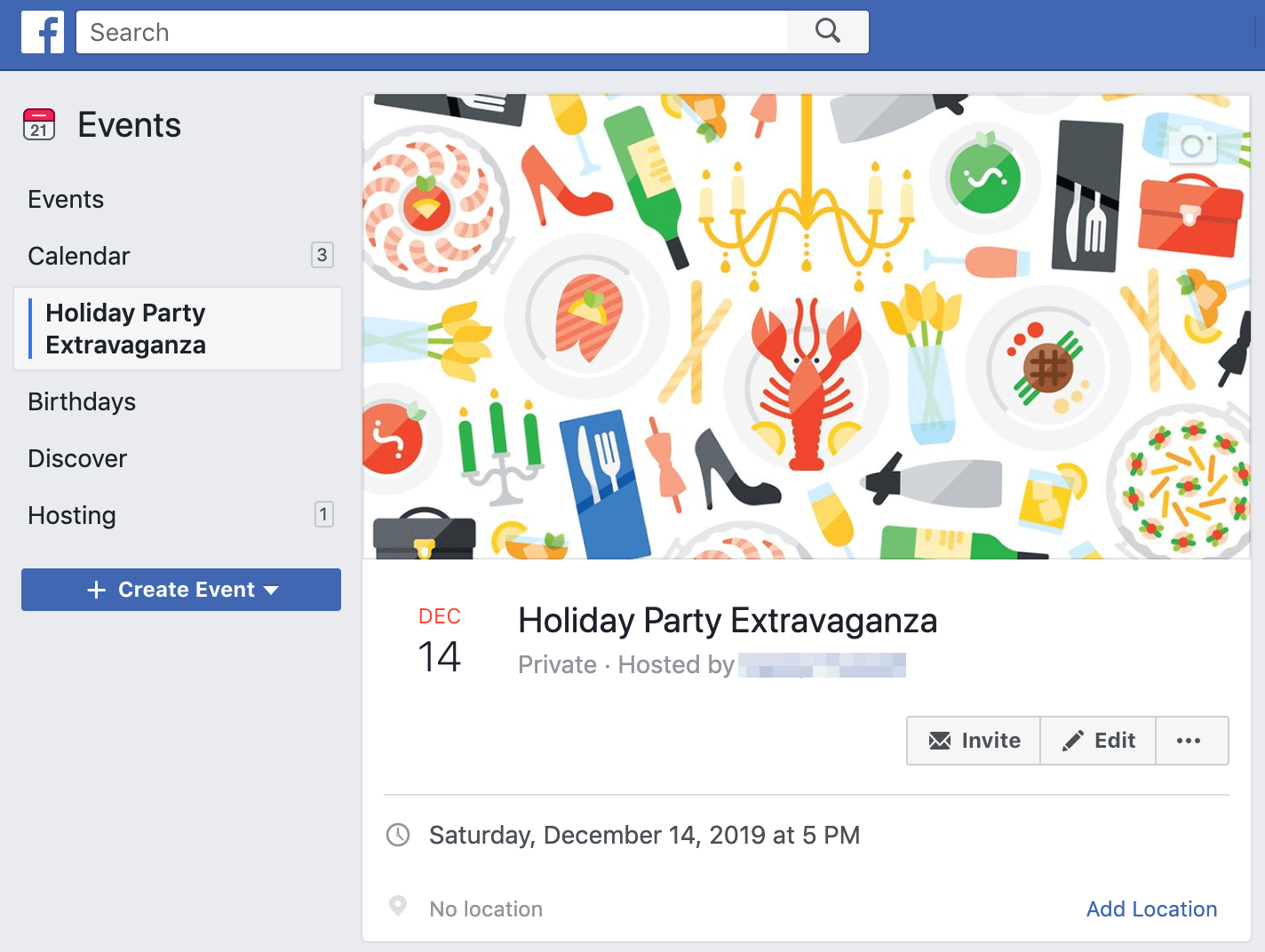 Holiday hack: Ask your guests about dietary restrictions in advance so you can ensure everyone has something safe and delicious to eat.

Setting the Seasonal Scene

Now that a plan is taking shape, it's time to decorate your space! Grab your supplies and put on the kettle; things are about to get crafty in here.
Decide on holiday decor

Your home doesn't need to look like the set of a holiday movie to feel festive! Keep it simple and get creative with supplies you already have:

Holiday hack: Gain a few extra helping hands by turning your holiday decoration creation project into a fun activity to share with a few family members or friends. BYOS (Bring Your Own Scissors), of course!
Table setting tips

Whether you plan on having a sit-down meal or serving your guests buffet-style, take a minute to go over your menu and anticipate what tableware your guests will need to chow down.
For a basic sit-down meal table setting, you'll need a: placemat and napkin, dinner plate, cutlery (fork, knife, and dessert spoon), water glass, and wine glass (if wine is being served with dinner). Keep table-top items to a minimum to avoid unnecessary dishwashing at the end of the night. If your menu items don't require a butter knife or dessert spoon, keep those bad boys in the drawer!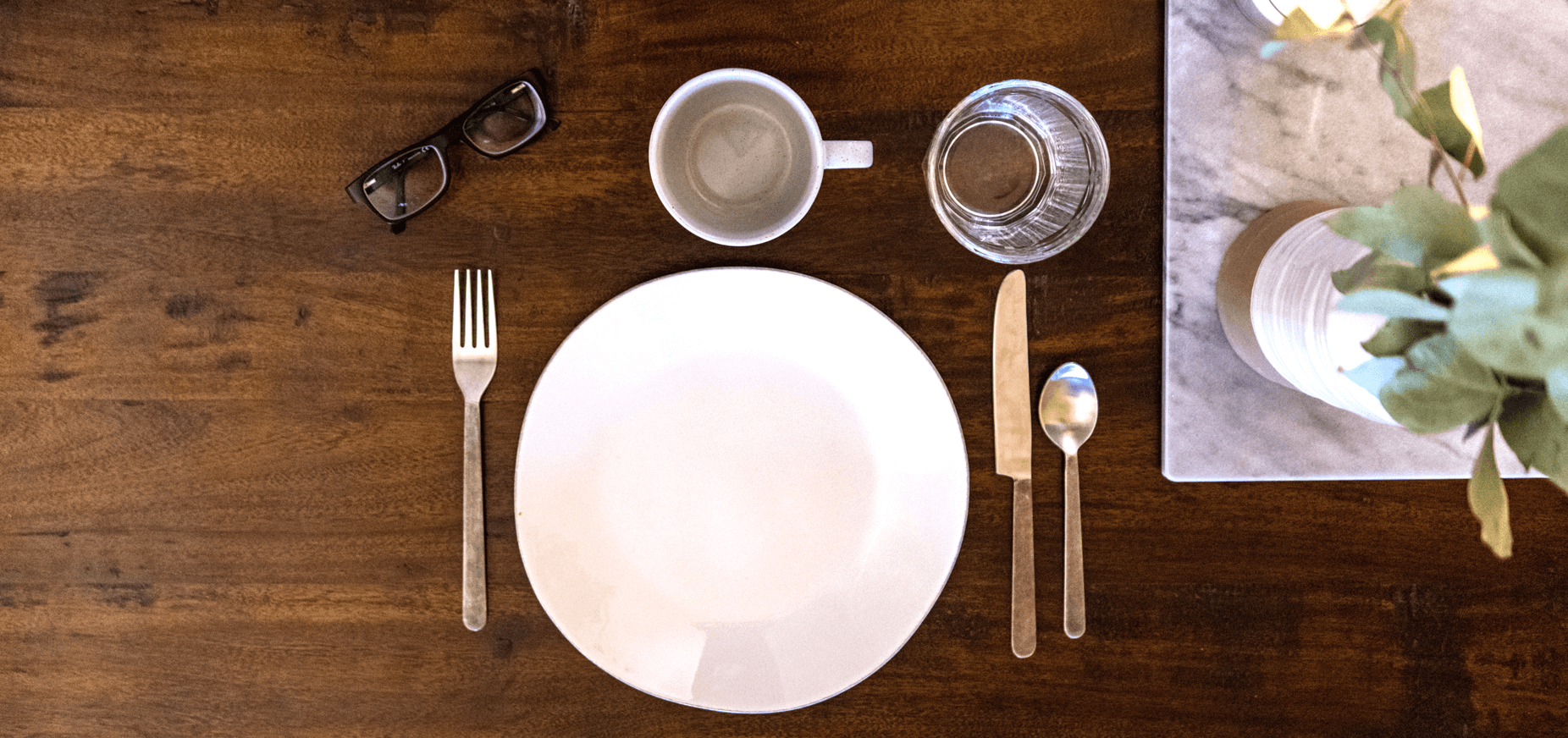 Even though it's a tempting shortcut, skip the disposable tableware. Seek out items that can be washed and reused (like tablecloths and placemats) or have dual-use (like mason jars as cups and for baking, canning, and storage for the rest of the year). If you must use disposable tableware, do a solid for the environment and opt for a biodegradable alternative.
Holiday hack: After clearing plates, take a minute to scrape food scraps into a large bowl to transfer to the compost bin later on. Rinse the plates right away for a scrub-free clean up after your guests leave.

Choosing the Holiday Party Menu

Food has the power to bring people together — but only if the host isn't stuck in the kitchen! A few calculated menu decisions will maximize the time you spend with your friends and family this holiday hosting season.
Holiday hack: Use this handy calculator to figure out the perfect portions per guest to streamline your grocery list and reduce food waste.
Shareable appetizers

Start the party off right with appetizer options that are easy to assemble, require minimal prep, and can be made in advance. You can focus on the next course and your guests will have something to munch on while they mingle.
Some classic crowd-pleasers designed with sharing in mind include:
Gourmet crudité platter
Chips and salsa with fresh guacamole
Grilled cheese bites
Fully loaded crostini
Shrimp cocktail
Note: All of these options are now available directly from your selection page!

Holiday hack: Oven space can be limited during parties where multiple dishes are being cooked and heated at the same time, so focus on appetizers that don't hog precious oven time.
Main course and side dishes

For the main course, say no to overly complicated recipes that trap you in the kitchen and yes to dishes that can be made in advance (like stews or pasta sauces) or quickly (like steak or scallops) that still fully deliver on flavour and presentation.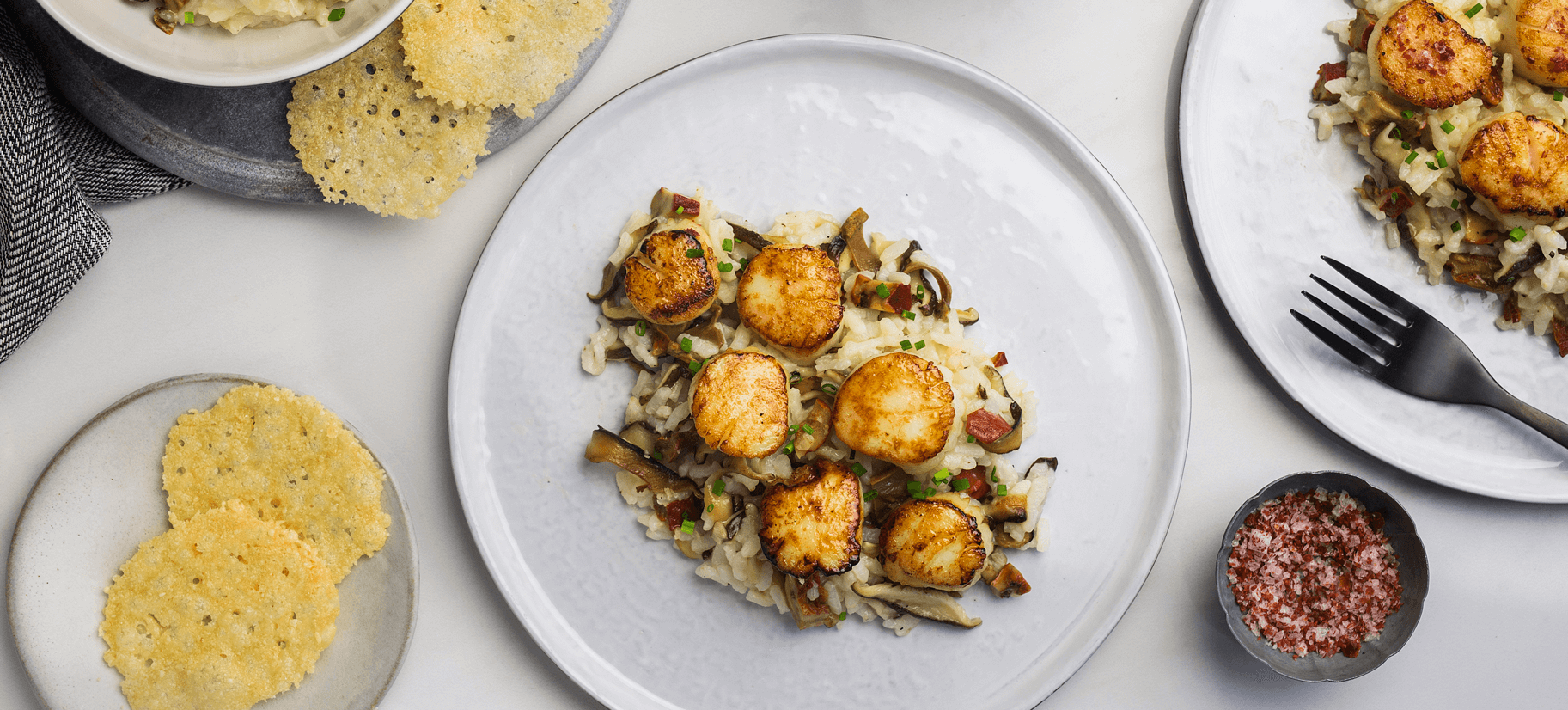 The same goes for the side dishes. Choose versatile sides that can be cooked and served easily (think roasted veggies, potatoes just about any way, pasta, and more). You can have fun with your sides too, like a baked potato bar where guests get a plain baked potato and all the fixins are laid out on the table. That equals less work for you and more time having fun with your guests. Pass the sour cream, please!
Holiday hack: Before the big day arrives, check your supply levels on grocery essentials like olive oil, butter, salt and pepper, and your ingredients list. Make a list of anything you're low on and get your shopping done in advance to avoid any last-minute trips to the store — especially during the holidays when store hours and stock can be a little unpredictable.

Check your selection page for grocery essentials you can stock up on in advance!
Delectable desserts

There's always room for dessert. Finish your menu off in style with a simple, stunning dessert that's light on prep time and big on flavour. Consider a one-dish dessert that's easy to make or prep ahead of time like cake, pie, or squares.
If your dessert requires baking and tastes better straight-out-of-the-oven (like an apple pie), throw it in the oven right after the main course has been served.
Holiday hack: Don't forget to set a timer! If your hands are full, use a smart assistant like Siri or Alexa to set a hands-free timer and avoid unintended crispy edges.
Cocktails and mocktails

No host has time to be cook, server, and bartender. Scratch that last one off the list by preparing a make-ahead, self-serve punch! Set up a bar area where guests can add the mix to their glasses themselves, with or without alcohol. Don't forget to leave a little room in the fridge for beer drinkers.
Holiday hack: To ensure your guests stay well hydrated throughout the evening, set up a water station with pitchers of water and extra glasses.
The potluck option

If time, budget, or kitchen space is an issue, spin your holiday party as a recipe-swap or potluck. Everyone will get an opportunity to contribute, experience new recipes, and show off their kitchen skills.
Holiday hack: No matter the party style, ask guests to bring their own tupperware or bust out that stack of reusable takeout containers for a sustainable way to share leftovers and avoid food waste.

Picking a Festive Playlist

No party is complete without a little mood-setting music. Creating the perfect playlist for your party can feel a bit daunting, so here are a few tips to get you started:
Develop a theme and set a mood based on your guests, menu, and decor
Select music that works within your theme (don't just shuffle your whole collection!)
Choose a variety of artists and mix classics, covers, and originals
Add enough music to last the whole party without looping (usually a few hours)

Holiday hack: Skip the playlist production and search for an existing compilation on your favourite music app. You could play holiday hits, classic tunes, or acoustic jams — the options for holiday cheer are endless!

The Most Important Step: Enjoy Yourself!

Holiday parties are meant to be a time of food, fun, friends, and family — not a time of getting stuck in the kitchen while your guests celebrate without you. They'll appreciate the effort you put into your event, but they'll appreciate it more if you're a part of the festivities.
Between the napkin folding and soup ladling, take time to bask in the glow of the amazing party you planned, budgeted, cooked, and served. Cheers to the host of the year!



Image Credits
Feature Image, Image 1, 4-6: via Goodfood
Image 2: via Facebook
Image 3: via Unsplash