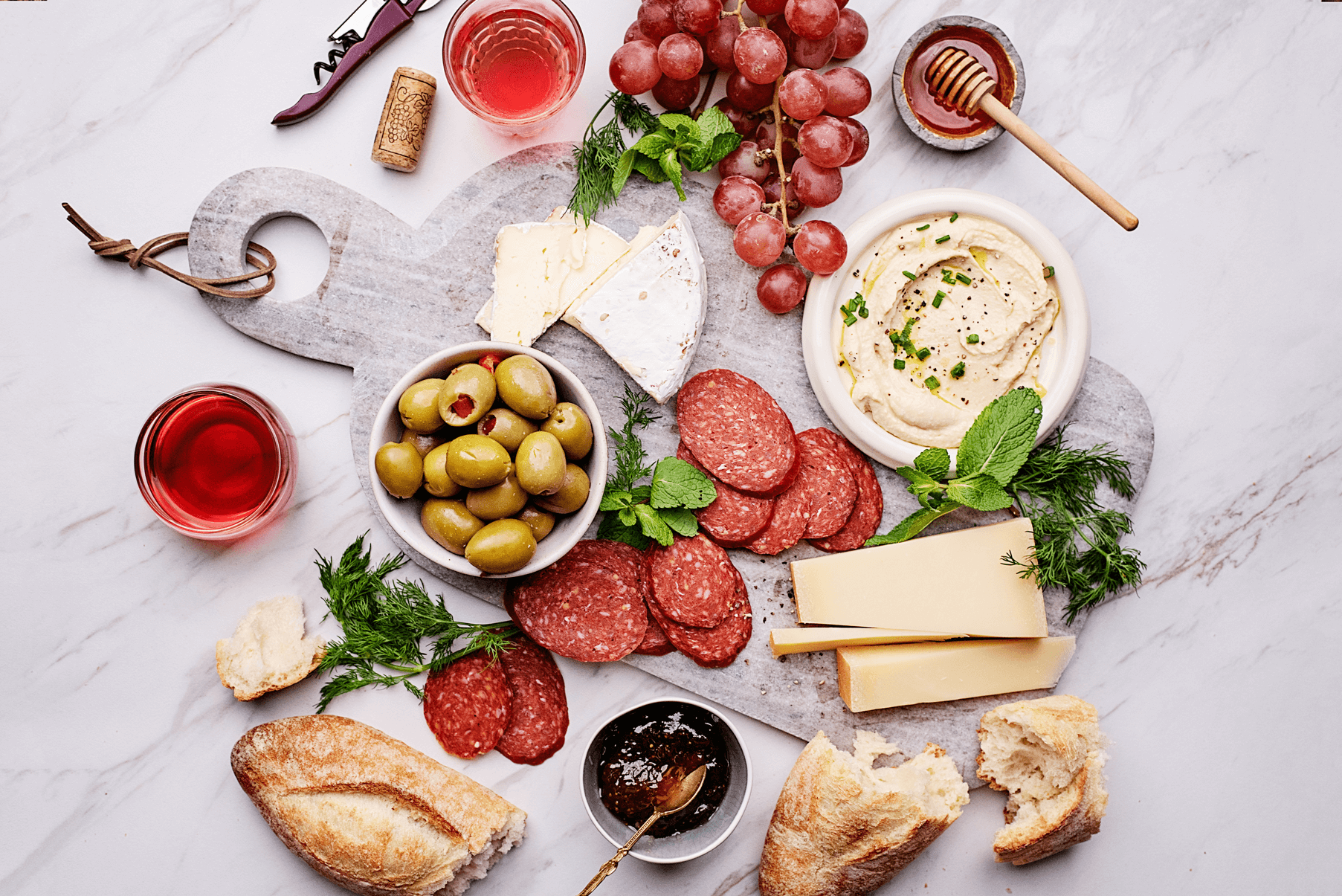 How to Make a Charcuterie Board
Say it with us: char-cu-ter-ie. Magnifique! A feast for the eyes as much as the stomach, this French (and Québécois) staple is the easy-to-assemble appetizer guaranteed to impress even your pickiest guests. Plus, little to no cooking required — just arrange and serve!
Read on for a list of must-have ingredients and tips on how to make your charcuterie board stand out from the crowd.

What to Include In a Charcuterie Board

When it comes down to it, a charcuterie board is basically a meat and cheese platter with a few complimentary extras added in for colour, texture, and taste. Alongside meat and cheese, bread, fruit, olives, and dips are generally considered the fundamental ingredients to a stunning charcuterie board.
Meat

Charcuterie does mean meat, after all! The meat-and-potatoes (sans potatoes) of any solid charcuterie board is a selection of fine cured creations. The most enticing platters include a mix of chewy cured meats and juicy cooked meats of various flavour profiles — think sweet, salty, sour, and spicy. A few charcuterie board favourites include prosciutto, salami, sliced beef, spicy Spanish chorizo, smoked ham, rosette de Lyon, and paté or rillette.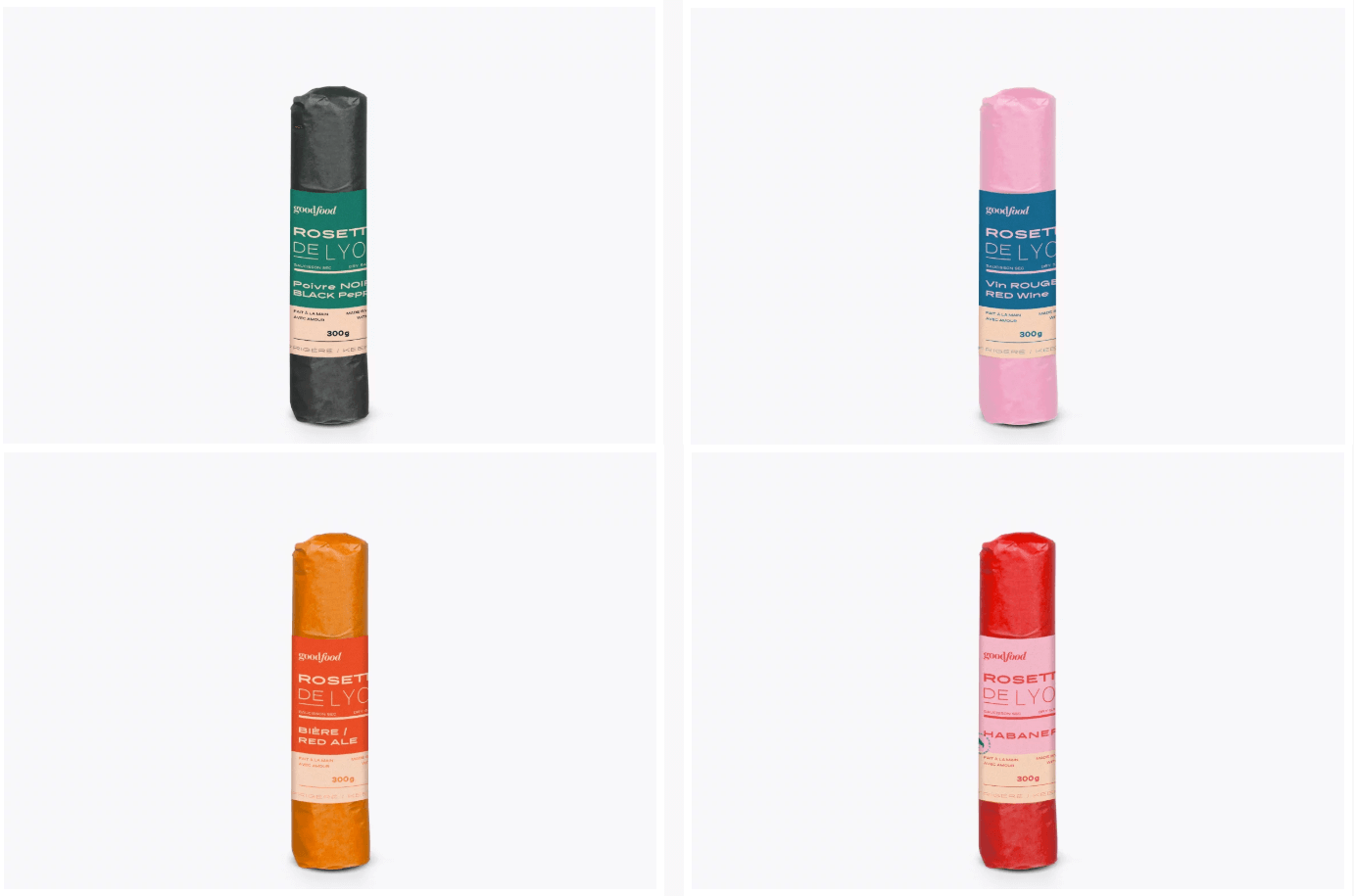 Impress your guests with our Rosette de Lyon Dried Pork Sausage in Black Pepper, Red Wine, Red Ale, and Habanero — available directly from your selection page at a special member price.
As cured meat is particularly rich, a little will go a long way with your guests. The general consensus is to include about 50-150 grams of meat per person, depending on whether the charcuterie board is an appetizer or serving as the main fare.
For those on a plant-based diet, get creative with veggie meat options that have all the flavour and flair of real meat. Either way, create a separate meat-free platter for vegetarians attending your event.
Cheese

The ultimate comfort food and savoury snack, no charcuterie board is complete without cheese! Load your board with a variety of soft and hard cheeses, with flavour profiles that range from mild to sharp.
Some charcuterie board favourites include aged cheddar, creamy brie, dry Manchego, smoked gouda, full-bodied Louis d'Or, and mature Gorgonzola. Ask your local cheesemonger for an out-of-the-box suggestion to add a special little something to your spread.

One soft cheese and one hard cheese, coming right up! Add Whole Milk Triple-crème Brie and Louis d'Or Firm Cheese to your basket this week.
To lend your guests a helping hand and make self-serving easier, pre-slice the hard cheeses and have a cheese knife close at hand for the soft cheeses. Include one cheese knife per soft cheese to avoid mixing flavours.
When it comes to portion amounts, cheesy does it! Those little slices are rich and filling, so keep your serving sizes to around 30-50 grams of cheese per person.
Bread

Bread: the unsung hero of the charcuterie board! Too oft regarded as a lowly meat and cheese receptacle, the right bread can add a one-two punch of flavour where your guests least expect it.
You can't go wrong with a crusty, fresh-out-of-the-oven baguette, or a flavour-infused specialty bread like sourdough or fougasse that compliments your meat and cheese selections.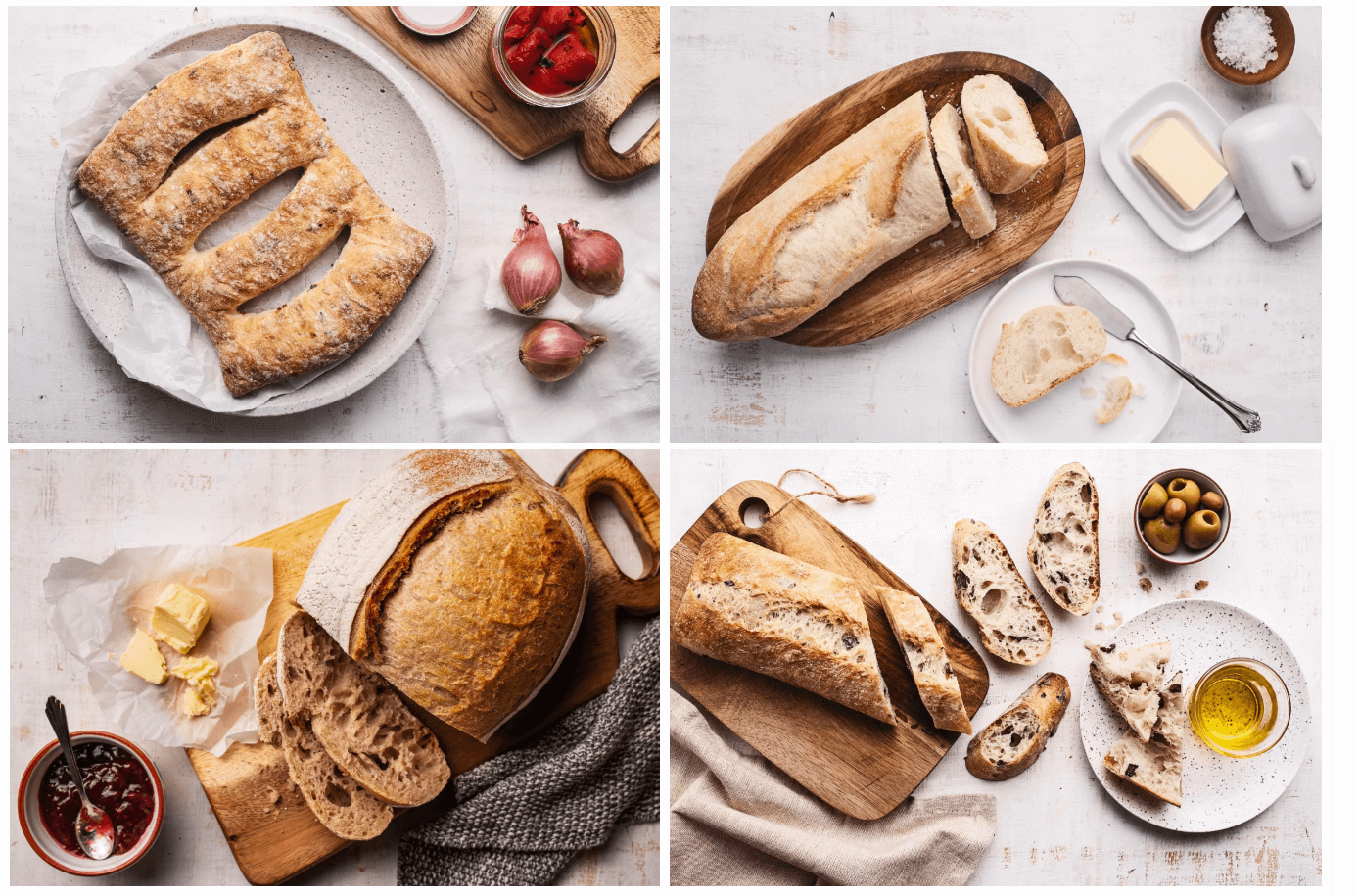 Our ready-to-bake breads are the perfect addition to your charcuterie board. Find Red Pepper & Onion Fougasse, Baguettine de Paris, Artisanal Sourdough Bread, and Kalamata Olive Baguettine on your selection page.
For bread, a good rule of thumb is to serve a few slices per person. Keep the slices thin, and don't cut too many in advance to preserve freshness. We like to have a backup loaf on hand for guests who do not abide by the "don't fill up on bread before dinner" rule! You can also supplement your bread supply with a row of good quality crackers.
Fruit, Olives & Pickles

Nestled amongst the earthy browns and beiges of the meats and cheeses, brightly coloured fruit adds a vibrant pop of contrasting colour to your charcuterie board. Plus, the freshness and crispness of the fruit nicely contrasts the richness of the other ingredients.
Half decorative, half functional; you can add as little or as much fruit as you want to your charcuterie board. Many opt for a cluster of grapes, but you can include whatever fruit you fancy: sliced fresh figs, carambola, mixed berries, peaches, pears or apples (soak in lemon water first to avoid browning). You can also sprinkle in dried fruit and nuts to the nooks and crannies of your charcuterie board for a crunchy surprise.
Like fresh fruit, briny, salty, tangy olives and pickles also do their part in cutting the richness of the meats and cheeses. Include olives and pickles in individual small bowls to avoid any brine soaking into the other items on the board.
Dips & Jams

Adding various sweet and sour dips to your charcuterie board allows your guests to experiment with different flavour combinations. Consider including high-quality olive oil (with or without balsamic vinegar), sweet jam, chunky chutney, specialty honey, tangy aioli, dijon mustard, olive tapenade, or creamy hummus. Don't forget to include small spoons or spreaders for any dips or jams on your charcuterie board.

Add Traditional Middle Eastern Hummus, Dijon Mustard, Smoky Eggplant Baba Ghanoush, and more delicious dips to your basket this week.

How to Arrange a Charcuterie Board

Now, the fun part: arranging your charcuterie board! Lay out all your ingredients on the counter to get an idea of what you're working with. Eyeball the approximate size of the board you'll need, keeping in mind that hard cheeses will be sliced and meats will be layered.
Next, select a food-safe board (this is important, as the ingredients will be resting directly on the board). Feel free to use a special serving board made out of slate, marble, or ceramic; or stick with a good old fashioned wood cutting board.
As you prepare your ingredients, imagine the layout and how they will interact with each other. You'll want to mix colours and textures and fresh and cured. Don't be afraid to pile, stack, and layer the ingredients on, next, and around each other.
Now let's get arranging!
Place your olive, pickle, and dip bowls around the board (with appropriate cutlery).
Fold, stack, and pack the meat in different areas around the board. You've got a lot of ingredients to fit in, so make use of that limited space!
Find a nice spot for the soft cheese (and cheese knife), then layer in the sliced hard cheeses.
You might need to move a few things around or pack things in a little tighter at this stage — don't fret, a little reshuffling is normal!
Squeeze in some sliced baguette and crackers.
Add in fresh fruit and sprinkle dried fruit and nuts in empty pockets around the board.
Offer a bowl for refuse like olive pits and grape stems.
Place cocktail napkins near the platter and around the room.
Enjoy your charcuterie board!

Meat a little inspiration? Check out some charcuterie board superstars on Instagram to get the creative juices flowing.
With a little something for everyone, is there anything a charcuterie board can't do? Let your imagination run wild (well maybe not too wild — keep those cookies for the dessert platter) and go overboard with your charcuterie board!

Image Credits
Feature Image, Image 1-4: via Goodfood