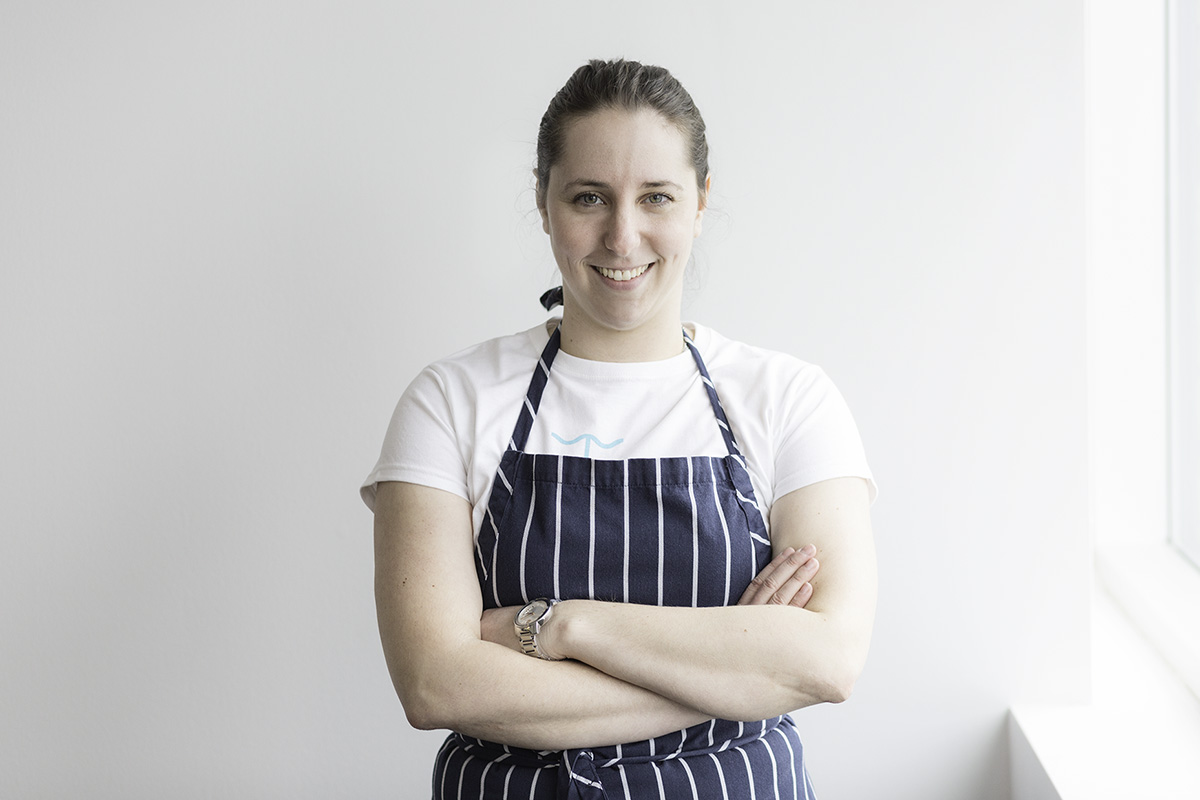 INSIDE OUR TEST KITCHEN with Jordana Rebner, Culinary Director
If a baby's first words were ever a sign of things to come, Jordana Rebner's career fortunes were sealed when she first blurted out "Lady, menu please!" As Goodfood's Culinary Director (and unofficial Wonder Woman), Jordana has carved out a novel career in a burgeoning meal kit industry and brings a lot to the table, both literally and figuratively!
Things weren't always so cut and dried for Jordana, however. "Like a lot of young people today, I had no idea what I wanted to do for a living". After finishing her university degree in Industrial Relations, Jordana decided to skip the usual entry-level jobs and take a stab at culinary school. "I wasn't sure where I was going to go with it, but I was passionate about food and I felt that if I kept at it, somehow things would work out".
And work out they did. After paying her dues in a fast-paced restaurant, and then for a food manufacturer, Jordana took a leap of faith and came to work for Goodfood. "I just thought the service was a wonderful concept. It was new, exciting, different – and a great way to get people to cook, enjoy and try new ingredients at home." She quickly overcame the unique challenges of the job; figuring out what kind of recipes Goodfood members liked, working within constraints such as produce availability & seasonality and creating menus with exciting levels of flavour and variety.
When asked how she stays inspired to keep coming up with new recipes, Jordana says that there is actually no shortage of ideas. "Between the internet, TV, books, magazines, local & not-so-local restaurants – and best of all – our members' suggestions, we have more than enough to work with". Not every idea makes the cut, however. Every single recipe that is proposed needs to go through extensive testing in the Goodfood test kitchen; from prep, to cooking, to tasting, everything is measured and documented. Once confident that the meal meets the rigorous standards of quality, flavour and value expected by Goodfood members, then and only then is it given the green light to go on the menu.
The obsession with perfection can sometimes get intense. "After getting some feedback about rice cooking times being off, we spent days holed up in the test kitchen, weighing, measuring, cooking, timing (and ultimately eating) every single type of rice we use. We now consider ourselves rice cooking experts and even devised an exhaustive table that details every rice scenario possible!
Behind every superstar there is always a supporting cast and Jordana makes sure to give credit where credit is due. "Honestly we have a fantastic team here that is imaginative, reactive to change and most importantly, passionate about food". From recipe card creation, translation, planning, testing, ingredient gathering, scheduling, food styling and photography, a lot goes into the Goodfood menu every week. Jordana runs a tight ship to ensure everything is on time, on budget and absolutely delicious.
She also can't stress the importance of member feedback enough as a key to success: "When we get extraordinarily positive recipe reviews, we take what worked from it and double down. If a recipe was less appreciated, we take the time to analyze why and make sure we use it as a learning for the future. This focus on continuous improvement is what keeps our recipes tasty and our members coming back for more Goodfood."
Jordana is a prime example of how hard work and pursuing your passion is a recipe for success. Looking forward, she has many more surprises in store: "More variety in our proteins, exotic spotlight ingredients and even more diverse recipes to suit every palate imaginable are in the works". Sounds good to us, Jordana!
So there you have it, the Goodfood test kitchen demystified, compliments of the Chef (well actually, the Culinary Director).
Have questions for Jordana? Reach out to our Member Happiness team and they'll be happy to get an answer for you!
See what Jordana put on the menu this week!