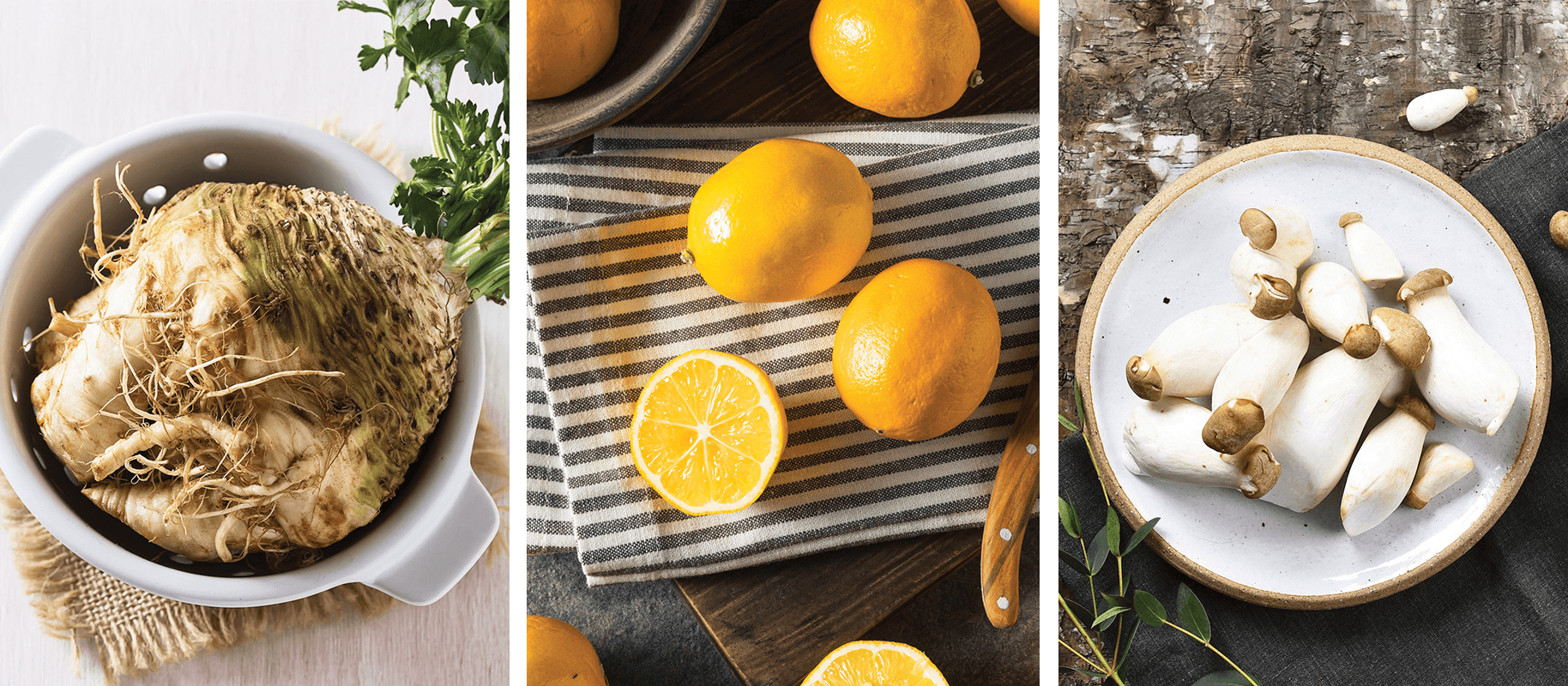 January 2020 — Spotlight Ingredients
New year, new ingredients! If you haven't committed to a New Year's resolution yet, here's a good one (and one that's good for you): incorporate unique ingredients into your weekly dinner routine. The secret to this resolution's success? Our spotlight ingredients, of course!
Celery Root

Poor unsightly, oft-ignored celery root. This bulbous root looks like a turnip but is actually a type of celery, just not the cheese whiz and peanut butter variety.
Even if this underground underdog isn't winning any grocery aisle beauty contests, it scores high on versatility and flavour.
Also known as celeriac, celery root is easy to prep and makes delicious mash, crunchy slaw, spiralized 'noodles' and more. When cooked, the texture is similar to potatoes and the taste is often described as celery-like with a hint of parsley.
If you haven't yet, it's time to give this knobbly root a chance. After all, beauty is in the eye of the root holder!

Meyer Lemons

Orange… Lemon… Orange! No, wait, lemon… Having trouble deciding on a complementary citrus for your culinary creation?
Let us introduce you to the Meyer lemon (named after its first importer, Frank Meyer); a sweeter, milder, less acidic lemon than its lip-suckingly sour siblings.
Small, sweet and seasonal, this winter crop sits somewhere between a mandarin orange and your regular, run-of-the-mill lemon.
Their sweeter disposition and more delicate skin make Meyers the perfect lemon for baked goods and drinks. As the old saying goes, if life hands you Meyer lemons, make lemonade!
Mini King Oyster Mushrooms

Behold, its royal highness mini king oyster mushroom; micro-version of the largest oyster mushroom species; Mediterranean Seashore native; shelf-life superstar; and overall fungi!
This small but mighty mushroom isn't much to write home about raw but adds a ton of velvety smooth umami to your dish when cooked.
Mini king oyster mushrooms don't lose their shape during the cooking process, so they're ideal for fancier presentations.
Give your dinner the royal treatment with a nutrient-rich mushroom fit for a king, queen, and everyone in between. Long live the mini king oyster mushroom!
 
Don't miss your chance to try out these unique spotlight ingredients on the menu this month!
 
Image Credits
Feature Image, Image 1-3: via Goodfood