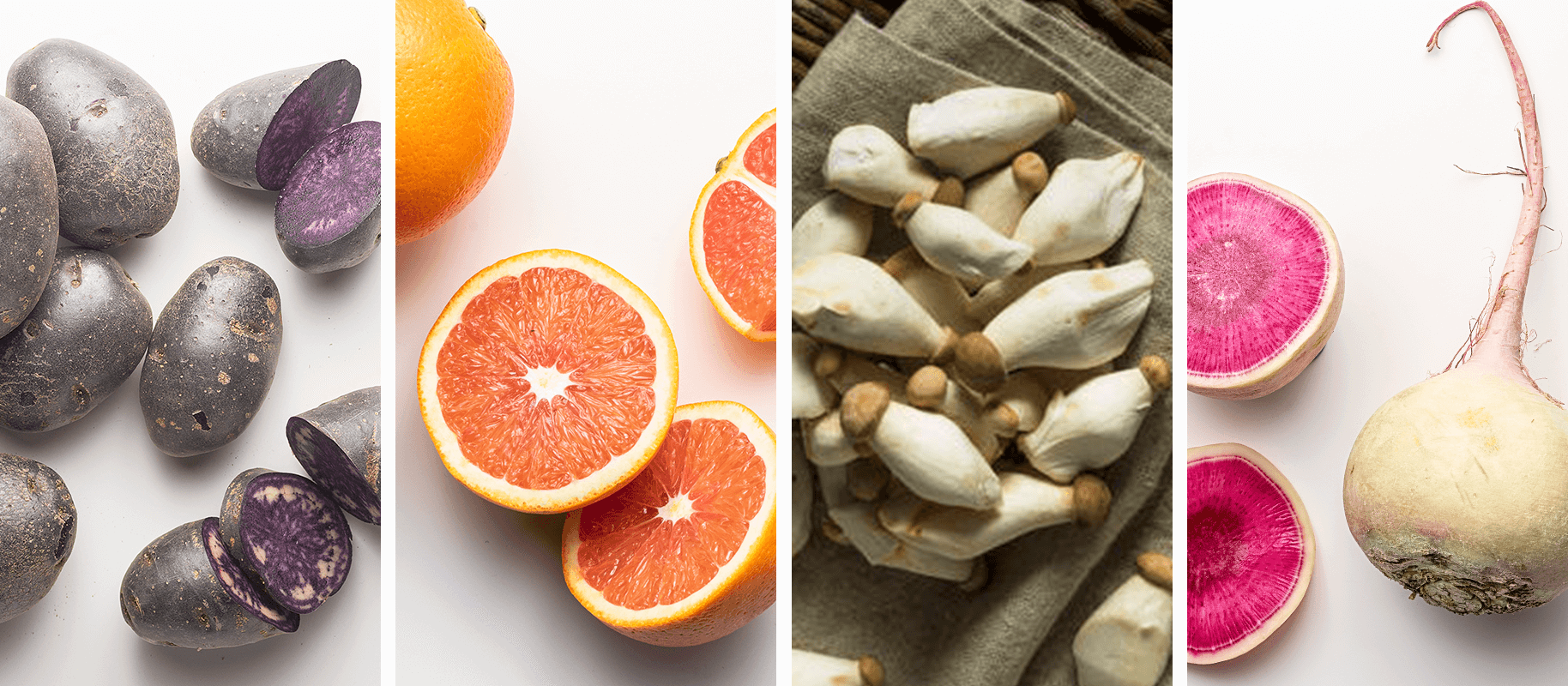 January 2021 – Spotlight Ingredients
New year, new ingredients! Now that 2021 is officially here, it's the perfect time to find new favourites and incorporate unique ingredients into your daily diet. Here are 4 positively delicious spotlight ingredients that will help you eat better this year.

Baby Blue Potatoes



Discovered over 8,000 years ago in the mountains of Bolivia and Peru, baby blue potatoes are as delicious as they are visually appealing.
Their thin skin, nutty flavour and soft texture make them particularly delicious either mashed or baked. When cooked, their dark purple flesh turns into a beautifully vibrant shade of blue!
Fun fact: The bluish hue of these spectacular spuds actually comes from the same natural pigment found in blueberries!
In addition to jazzing up your recipes, baby blue potatoes are very high in antioxidants and contain more potassium than bananas.

Cara Cara Oranges



The tastiest discoveries are sometimes a simple twist of fate. That's certainly the case with the Cara Cara orange, which came to fruition in 1976 when an accidental cross-pollination in Venezuela gave birth to this sublime citrus fruit with a reddish-pink flesh.
But it's not just its vibrant colour that sets the Cara Cara apart — this orange is also distinguished by its complex, floral flavour, which is sweeter and less tart than other orange varieties. Plus, Cara Caras contain 20% more vitamin C and almost 30% more vitamin A than its citrus cousins!
As luck would have it, winter is the perfect time to try some of this unique, brightly-hued fruit. That's when it's in season and it's at peak deliciousness. Orange you excited to get a taste?

Mini King Oyster Mushrooms



Behold, its royal highness mini king oyster mushroom — micro-version of the largest oyster mushroom species!
In the wild, king oyster mushrooms grow on the roots of forest plants found flourishing in the Mediterranean basin. The mini versions of these majestic mushrooms are cultivated around the world and have become a contemporary staple of Asian cuisine.
These small but mighty mushrooms add a ton of texture and velvety smooth umami to a dish when cooked. Edible from head to toe, protein-rich mini king oyster mushrooms have thick, meaty stems perfect for vegetarian dishes — hence the nickname "vegan scallops"!

Watermelon Radishes



This outwardly unassuming root vegetable is proof that you can't judge a book by its cover. Here's a radish whose only connection with watermelons is the stunningly pretty flesh it reveals after being sliced!
Originating from China, the watermelon radish ("beautiful heart" in Mandarin) is a member of the brassica family, and thus a cousin to veggie stalwarts like cabbage, broccoli, and kale. This one is actually an heirloom variety of the daikon radish, beloved in Asian cuisine.
Like daikon, watermelon radishes have a delightfully crisp yet juicy flesh. Their slightly sweet flavour finishes with an invigoratingly peppery kick.
Radishes have been prized throughout history for their unique properties. These pink beauties in particular are rich in both vitamin A and C, especially when munched on raw!
 
Flavour of the Month: Brussels Sprouts

Grated, grilled, sautéed… There are so many ways to enjoy and rediscover the classic Brussels sprout! Packed with antioxidants, fiber, and vitamins, this cruciferous veggie is particularly tasty in January, which means now's the perfect time to enjoy!
This month, you can find these splendid sprouts in meal kit recipes featured throughout the month on your selection page, like Whisky BBQ Chicken with Sweet Potato Mash & Roasted Brussels Sprouts and Almond-Topped Sumac Chicken with Roasted Parsnips, Brussels Sprouts & Spiced Labneh. Don't miss 'em!
 
So many nutritious and delicious ingredients to add to your basket this month! Which one are you most looking forward to trying? Let us know @goodfoodca.
 
Image Credits
Feature Image, image 1-3: via Goodfood