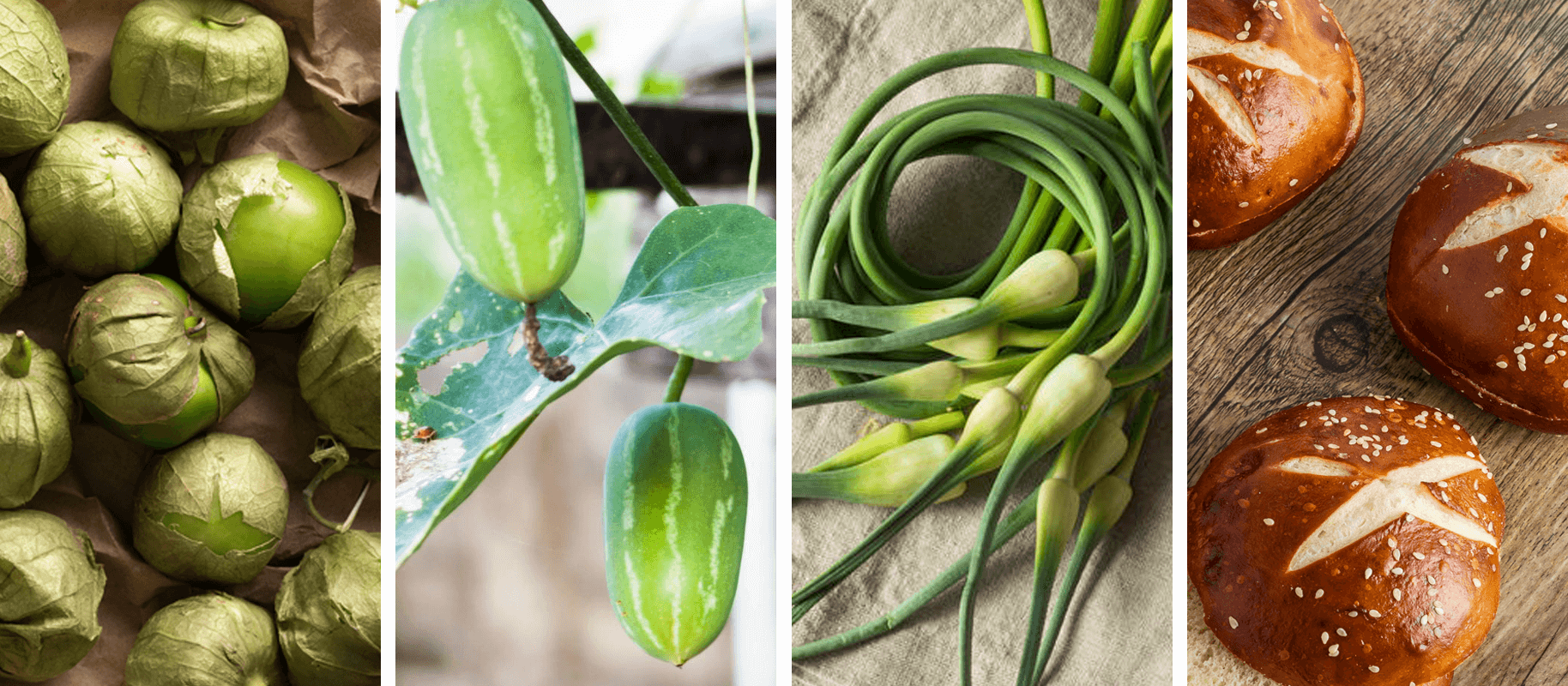 July 2020 — Spotlight Ingredients
With the heat of the summer comes some of the most delicious fresh flavours of the year! Although summer vacation is going to look a little different this year, we can let our tastebuds do the travelling by exploring all the sweet and savoury summer specialties our local harvests have to offer.

Tomatillos

That's right, there's another papery husk-wrapped fruit on the menu this summer! Meet the tomatillo ("little tomato" in Spanish), your new favourite golf ball-sized green fruit that resembles an unripe tomato but isn't actually a tomato at all.
Also known as husk tomatoes, tomatillos are actually a unique species in the nightshade family that have been cultivated for thousands of years across Mexico and parts of Central America.
A staple of Mexican cuisine, these bright green beauties have a starring role in traditional salsa verde and a variety of green sauces. The tart, tomato-y flavour of the versatile tomatillo also lends itself well to fresh salads, guacamole, soups, curries, stir-fries, and even dessert.
Bright, tangy, and flavourful, tomatillos are an excellent addition to any summer dish!

Tindora

Would a gourd by any other name taste as sweet? Also known as ivy gourd and many other monikers, tindora is a tiny, bright green vegetable (technically a tropical vine) popular in South Asian cuisine.
About the size of your pinky, the mild bitter-sweet flavour and delightful crunch of this one-of-a-kind mini gourd shines in soups, curries, stir-fries, side dishes, and salads. Tindora absorbs flavour like a sponge and pairs particularly well with spices like mustard, coriander, and cumin and aromatics like ginger, garlic, and chilis. Plus, it's packed with fiber, vitamins A, B, and C, iron, and beta-carotene.
Tindora is only available on the menu for a limited time, don't miss your chance to try it!

Garlic Scapes

Garlic: nature's gift that keeps on giving! Before the cloves we know and love are harvested, the coiled shoots that grow from the top of the garlic plant are clipped to allow the bulb to thicken. The result of that early summer trim? Garlic scapes!
A tangle of flavour-packed twisty tendrils, garlic scapes are the perfect balance between fresh, earthy flavour and wholesome garlicky goodness.
Chop into salads, blend into pestos, fold into scrambled eggs, grill on the BBQ, or swap into any recipe calling for garlic or scallions. This month, try them with fresh udon noodles and juicy chicken!

Pretzel Buns

Inspired by the twisty snack we savour at ball games and street fairs, pretzel buns combine all the best parts of the knotted bread in one bite.
These salty, crispy, and doughy buns are created in small batches from an all-natural breadmaking technique passed down from generation to generation of artisan baker. The flour is prepared on-site, hand-kneaded, and baked in a stone hearth oven to give each bun its authentic taste and texture.
You can try them for yourself this month's spotlight recipe inspired by the delicious pretzel baking tradition. Get your orders in before these artisanal buns say 'Auf Wiedersehen'!
 
From tart, tomato-y tomatillos to wholesome artisanal pretzel buns, you won't want to miss the delicious summer flavours of the spotlight ingredients featured on the menu this month!
 
Image Credits
Featured Image, Image 1-4: via Goodfood