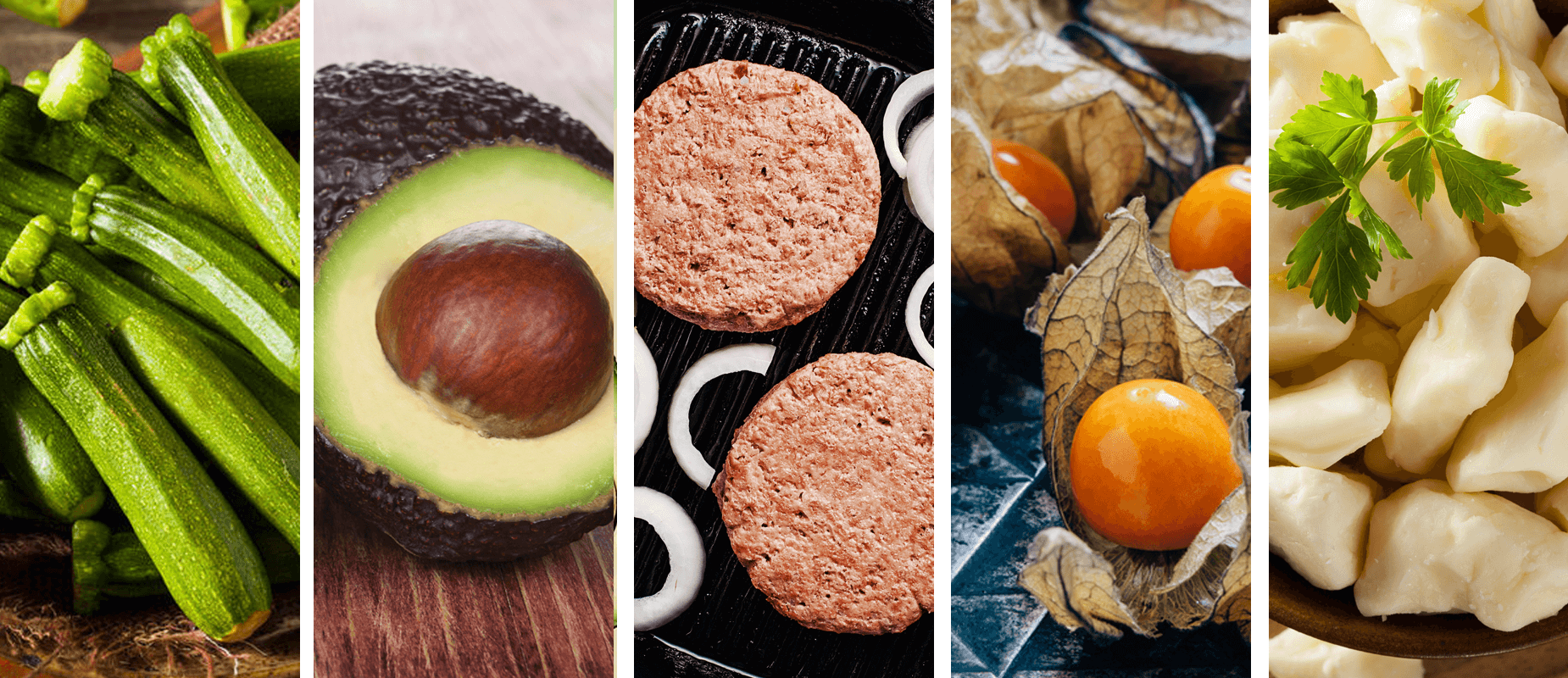 June 2020 — Spotlight Ingredients
The warm weather and fresh flavours of summer are officially here and that means our menu is loaded with even more farm-fresh, seasonal ingredients sure to please your palate. Although there have been a few disruptions in the supply chain, our teams are working hard to bring you special spotlight ingredients every week.
This month, turn up the summer vibes with baby zucchini, Avocados From Mexico, plant-based burgers, groundcherries, and squeaky cheese!

Baby Zucchini

Oh, baby — baby zucchini are officially in season! About the size of a pickling cucumber, these sweet little summer squash are stubbier, more delicate versions of the deep green, totally delicious zucchini you're used to seeing in the produce aisle.
Like their bigger brothers, baby zucchini are low in calories, high in fiber, and a rich source of antioxidants, vitamins, and minerals like potassium, manganese, and vitamins A and C.
Packed with fresh summer flavour, these little cuties are super easy to prepare and grill up like a dream in just a few minutes. You can also enjoy them raw in salads, added to a sauce, roasted and used in a sandwich, breaded and fried, spiralized into noodles, or baked into breads, muffins, or cakes.

Avocados From Mexico

Avocado toast, guacamole, chocolate mousse — the possibilities are endless. The irresistibly rich and creamy avocado is one of the most versatile ingredients out there and it's the perfect way to brighten up just about any sweet or savoury dish. That's why we partnered with Avocados From Mexico to bring you only the best, perfectly ripe avocados in your baskets over the next few weeks!
Avocados From Mexico is giving away 1,000 free Goodfood boxes and you have a chance to get one to send to a friend, a family member, or anyone you want!
Order a recipe
made with Avocados From Mexico and check inside your box to find out if you will bring sunshine to your friend's plate!
 
Technically a large berry with one big seed, this wildly popular fruit is also wildly good for you. Packed with a ton of vitamins and minerals like vitamin K, C, E, multiple Bs, folate, and potassium, this always-in-season superfood is also high in antioxidants, heart-healthy fatty acids, and fiber, which helps keep you fuller, longer.
Wondering how to tell if an avocado is ripe or not? Give it a squeeze and if there's a little give, it's ready! You can slice firmer avocados into salads, sandwiches, and sushi or mash up the softer ones into fresh guacamole, creamy smoothies, or decadent desserts.

Plant Power Burger

Forget the dry, uninspired veggie burgers of yesteryear. Power-up with leafy, beefy Plant Power Burgers, made with 100% plant protein and 0% meat. These plant-based beauties give you all the satisfaction of mouthwatering beef burgers, minus the beef.
Round, flavourful, and juicy, Plant Power Burger patties look and taste like the real deal. Thanks to the earthy beets that help shape the patties, these ultra-juicy burgers hold up great on the grill and in the bun. #MeatlessMondays are back with a veggieance!

Groundcherries

Is that a tiny paper lantern? Nope, it's a ground cherry! Peel away the delicate husk to reveal a small, golden berry that kind of resembles a cherry tomato.
Despite the name, ground cherries are neither cherries nor cherry tomatoes, although they do share a family tree with tomatillos, another papery husk-wrapped fruit. Sounds like the start of an excellent summer salsa!
Prized for their distinctive taste that falls somewhere between a tomato and a pineapple, nutritionally rich ground cherries are equally at home in both sweet treats and savoury meals. Pop a fresh one in your mouth for a juicy snack, chop and mix into fresh salads, or try them as a sweet-tart vinaigrette!

Cheese Curd

*squeak-squeak* What's that sound? Cheese curd, better known as squeaky cheese! A staple of Québécois cuisine and the star of any proper poutine (french fries slathered in steaming hot gravy, topped with a mountain of cheese curds), squeaky cheese gets its nickname from the sound it makes when you bite into a fresh, creamy curd.
Made from pasteurized 100% Canadian milk, these salty snacks aren't just fun to eat, they're also an excellent source of calcium and protein! Dip them in jam for a sweet and salty breakfast side, add to a charcuterie plate, or use as a quintessential topping to finish off your very own homemade poutine!
 
From juicy plant-based burgers to rich, creamy avocados, you won't want to miss the unique spotlight ingredients featured on the menu this month!
 
Image Credits
Featured Image, Image 2: via Avocados From Mexico
Image 1, 3-5: via Goodfood