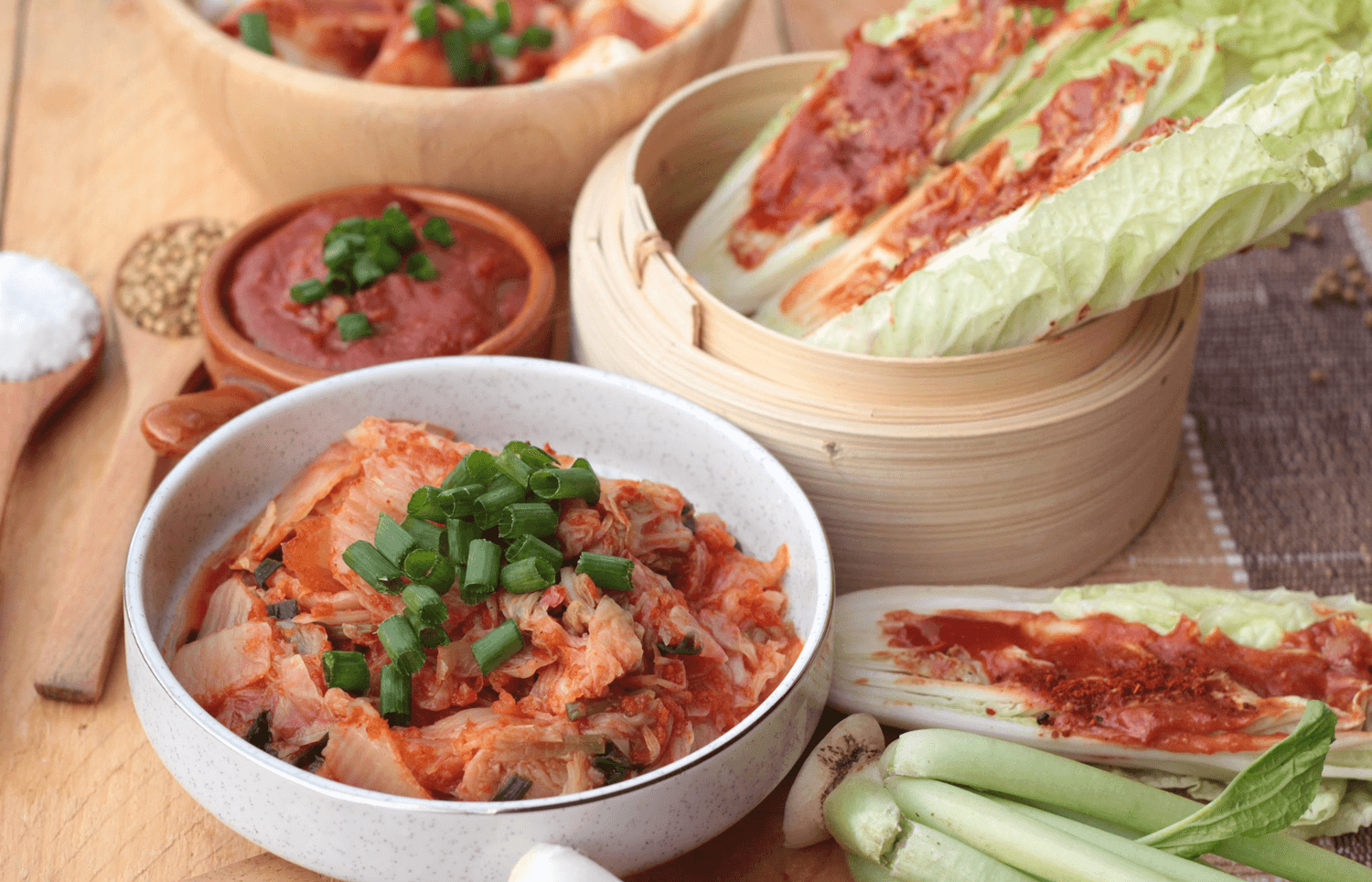 Kimchi
When the clock strikes mealtime in Canada, many people instinctively reach for one of their favourite condiments like ketchup, mustard, or pickles to liven up their dish. In South Korea, 94% of the population reaches for kimchi every single day.
An integral part of Korean cuisine for millennia, this spicy, pickle-like conserve is traditionally made from fermented cabbage, radish, garlic, ginger, scallions, chillies, and seafood or fish paste. Loaded with healthy vegetables, this sour superfood is rich in fiber, vitamin C, and natural probiotics that promote digestion and gut health.
The age-old communal process of making kimchi with family, friends, and neighbours — gimjang — was recently awarded UNESCO Intangible Cultural Heritage status!
Fun fact:
The Korean stock market has a "
kimchi index
" that tracks prices of the 13 main ingredients used to make traditional kimchi!
Recipes with Kimchi

The sour, spicy, and umami flavours of this versatile national dish pair well with just about everything, including Korea's other favourite export: fried chicken.
We also think it makes a punchy mayo, crunchy bibimbap topping, and zesty stew base!


Featuring:

Featuring:
Tofu
Brussels sprouts
Kimchi

Featuring:
Pork strips
Fresh ramen noodles
Kimchi
 
This week, crispy, tender chicken thighs and spiced sticky rice soak up all the mouthwatering flavour of a homemade kimchi sauce, while a cucumber and kimchi side salad adds a sweet and spicy crunch to our Korean-style fried chicken thighs recipe:


Featuring:
Chicken thighs
Calrose rice
Kimchi
 
Keep your eye out for kimchi on your selection page this week!
 
P.S. Don't forget to tag @goodfoodca in your photos of kimchi and other unique Goodfood ingredients on social media!
 
Image Credits
Feature Image, Image 1-4: via Goodfood