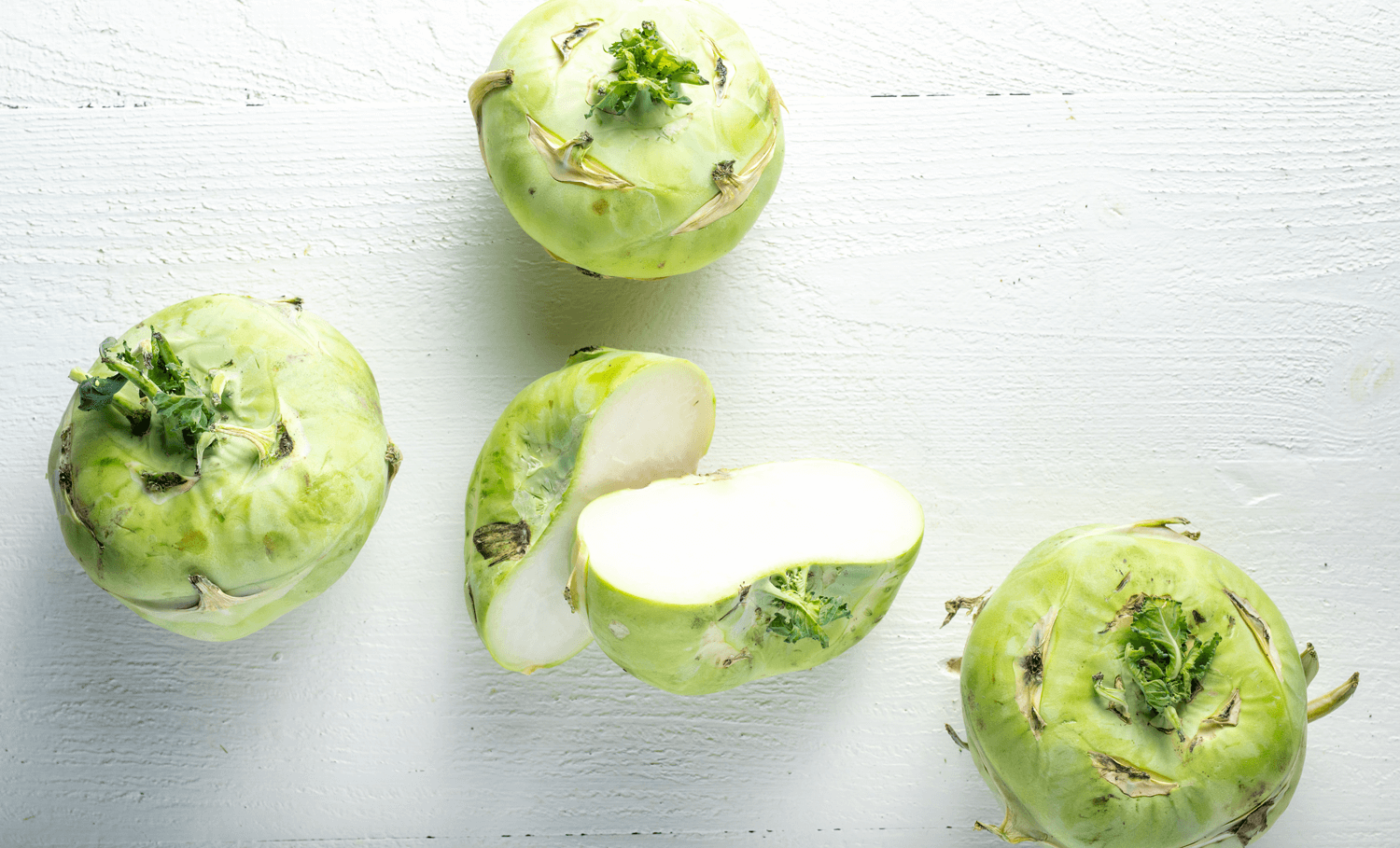 Kohlrabi
What looks like a turnip, is named after a turnip, but isn't a turnip at all? Kohlrabi, also known as the German turnip (again, not a turnip)!
An integral part of German and Indian cuisine, this easy-growing member of the cabbage family is gaining popularity on this side of the pond for its versatility in the kitchen and its rich nutritional profile.
Kohlrabi is part of the cabbage crew of house
Brassicaceae
, a family of super nutritious cruciferous vegetables and one of the most popular agricultural crops in the world. You've probably eaten a few buds (Brussel sprouts), stems (kohlrabi), flowers (romanesco), leaves (cabbage, bok choy), roots (turnip), and seeds (mustard) in a Goodfood recipe!
 
A classically healthy cruciferous vegetable, kohlrabi is an excellent source of vitamin C, is rich in vitamin B6, and is a good source of potassium and fiber.

Kohlrabi Recipes

Part bulbous stem, part totally edible leafy greens, kohlrabi tastes like a milder, slightly sweeter broccoli stem with all the crispy crunch of a fresh apple. Remove the rough, fibrous outer layer of the stem and steam, roast, blend into a soup, or serve kohlrabi raw in salads and slaws.


Featuring:
Boneless Chicken Thighs
Basmati Rice
Kohlrabi

Featuring:
Haddock fillets
Apple
Kohlrabi
 
Speaking of slaws, try out this stubby little veggie in our light and crunchy sesame kohlrabi slaw in this week's spotlight recipe with crispy chicken thighs and savoury ginger rice.


Featuring:
Chicken thighs
Jasmine rice
Kohlrabi
 
Head on over to your selection page to add this delicious spotlight ingredient recipe to your basket this week!
 
P.S. Don't forget to tag @goodfoodca in your photos of kohlrabi and other unique Goodfood ingredients on social media!
 
Image Credits
Feature Image, Image 1-4: via Goodfood