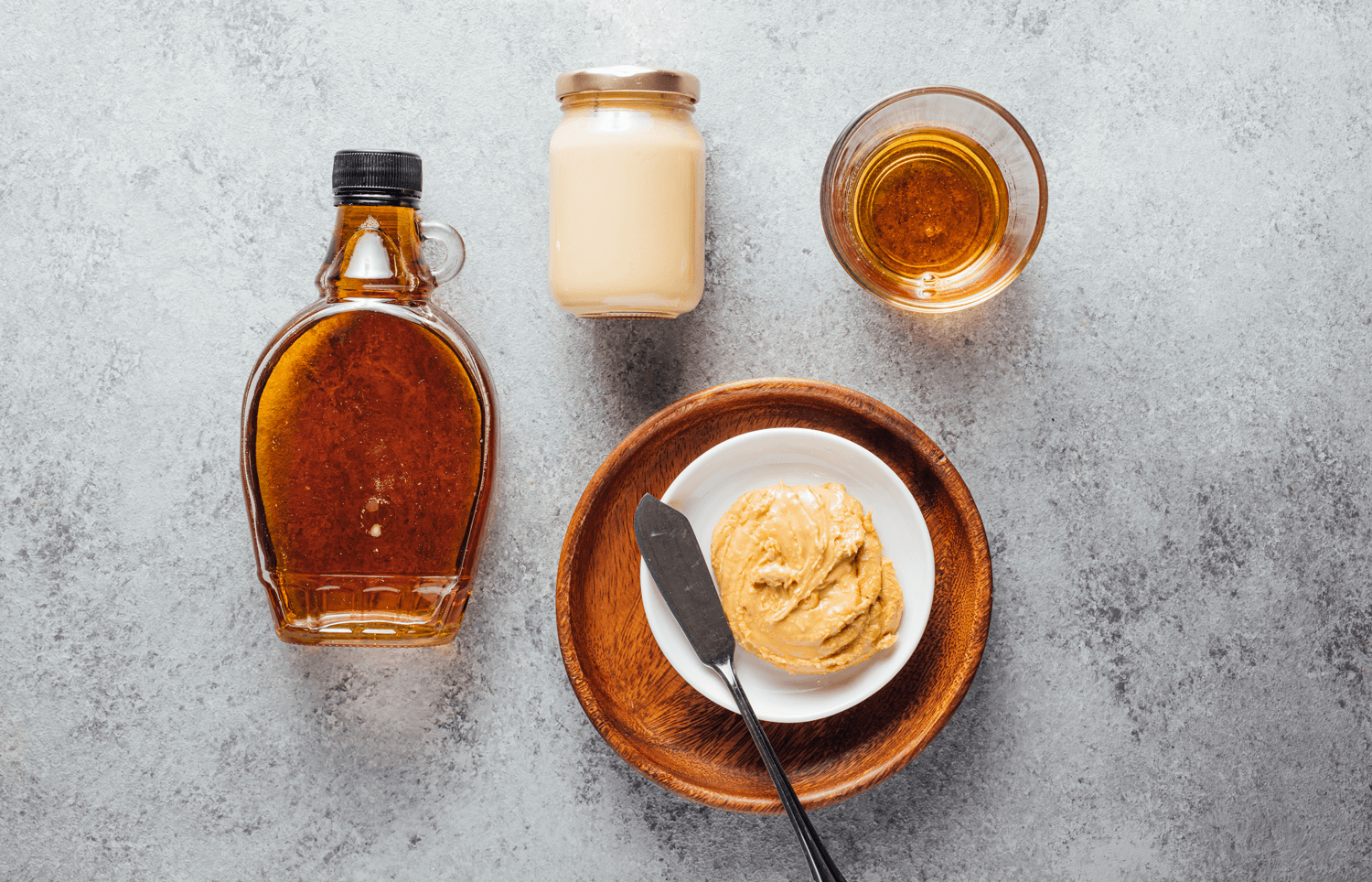 Maple Butter
When the sugary sap begins to flow during le temps des sucres in Eastern Canada, it's a local tradition to head out to a rural sugar shack for a day of family-friendly activities and a feast of maple delicacies.
To bring a little taste of the cabane à sucre home, many visitors make a pit stop at the homemade sweets table to pick up a bottle (or five) of maple syrup, a few maple treats, and jars of sweet, creamy maple butter.
You read that right. Maple butter. Although as creamy as a stick of room temperature butter, this iconic Canadian confection is made of 100% pure maple syrup and completely dairy-free.
Did you know?
Maple butter is most commonly made from
Grade A
Amber maple syrup, known for its rich taste and lighter colour.
Maple Butter Recipes

A Goodfood favourite, our maple butter is sourced from a local, authentic family-owned sugar shack where freshly harvested maple syrup is heated up past the boiling point of water and whipped into a smooth, creamy, naturally sweet spread.
Maple butter and pork go together like peanut butter and jelly, but you can add this sweet treat to other proteins, tofu, roasted veggies, and so much more. Check out a few of our favourite maple butter recipes cooked up by our culinary team.


Featuring:
Pork chops
Sweet potatoes
Maple butter

Featuring:
Pork chops
Potatoes
Maple butter
 
Maple butter adds an unmistakable (and irresistible) maple touch to just about anything — pancakes, french toast, muffins, as a frosting on cakes, and in savoury dishes like our recipe for Maple Butter and Ponzu Glazed Pork Meatballs over Jasmine Rice with Crunchy Salad!


Featuring:
Ground pork
Ponzu lime sauce
Maple butter
 
Be sure to add this delicious, buttery recipe to your basket this week!
 
P.S. Don't forget to tag @goodfoodca in your photos of maple butter and other unique Goodfood ingredients on social media!
 
Image Credits
Feature Image, Image 1-3: via Goodfood