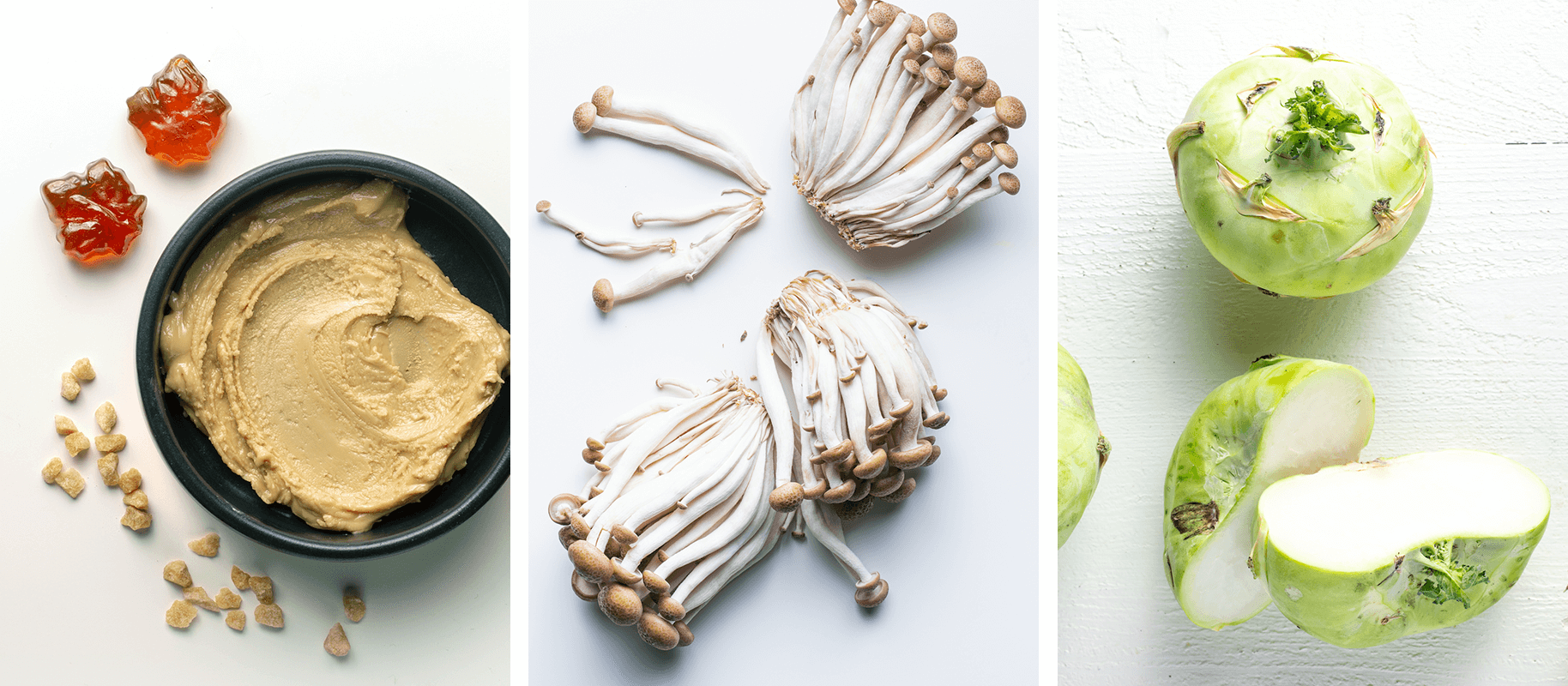 March 2021 – Spotlight Ingredients
Sugar shack season is here! Bring the cabane à sucre home with a rich, indulgent, do-it-yourself feast filled with local flavours, new culinary discoveries (hello, spotlight ingredients!) and tons of sweet and sticky maple syrup, of course. Speaking of maple…

Maple Butter



Maple is the iconic flavour of Canada. This entirely natural ingredient is so versatile, it can perk up an endless variety of both sweet and savoury recipes. Maple is a staple!
From traditional free-flowing syrup to crunchy granulated sugar, we love the many forms of maple, but we particularly treasure one type of sweet maple treat: maple butter.
You read that right. Maple butter. As creamy as a stick of room temperature butter, this Canadian confection is made of 100% pure maple syrup (and completely dairy-free).
A Goodfood fave, our authentic maple butter is sourced from a family-owned sugar shack, where freshly harvested maple syrup is boiled and then whipped into a seriously smooth sweet spread.

Shimeji Mushrooms



Umami has taken center stage in the hearts of foodies and with it a renewed appreciation for the fantastic flavour of mushrooms — including the delicate and prized shimeji mushroom!
Dozens of species of shimejis, often used in their wild form in traditional Japanese cuisine, are now cultivated around the world for use in a wide variety of dishes. One bite will make you understand why!
These long, thin mushroom clusters are beloved and revered for their mild, nutty flavour and toothsome texture. Shimeji lose all their raw bitterness when cooked, and make a tasty addition to soups, stews, stir-fries, rice bowls, and nabe (hot pot). They're also incredible when pickled! The only limit is your culinary imagination.
Like other edible mushrooms, these versatile fungi are low in fat, and high in fiber, protein, niacin, and potassium.
There's not mushroom for debate — shimeji mushrooms are a hit!

Kohlrabi


Step up your veggie game with this awesome globe of green goodness!
A botanical cousin to nutritious and delicious members of the brassica family like cabbage, cauliflower, and kale, kohlrabi is highly regarded for its versatility and rich nutritional profile in cuisines around the world.
Classically healthy as cruciferous veggies tend to be, kohlrabi is an excellent source of vitamin C and is rich in vitamin B6, potassium, and fiber.
This crunchy cultivar boasts both a distinctive bulbous stem that's refreshing and juicy when eaten raw — think jicama — and edible leafy stalks. That's right, kohlrabi ain't too shabby!
 
There are lots of delicious ingredients to add to your basket this month! Which one are you most looking forward to trying? Let us know @goodfoodca!
 
Image Credits
Feature image, Image 1-4 : via Goodfood