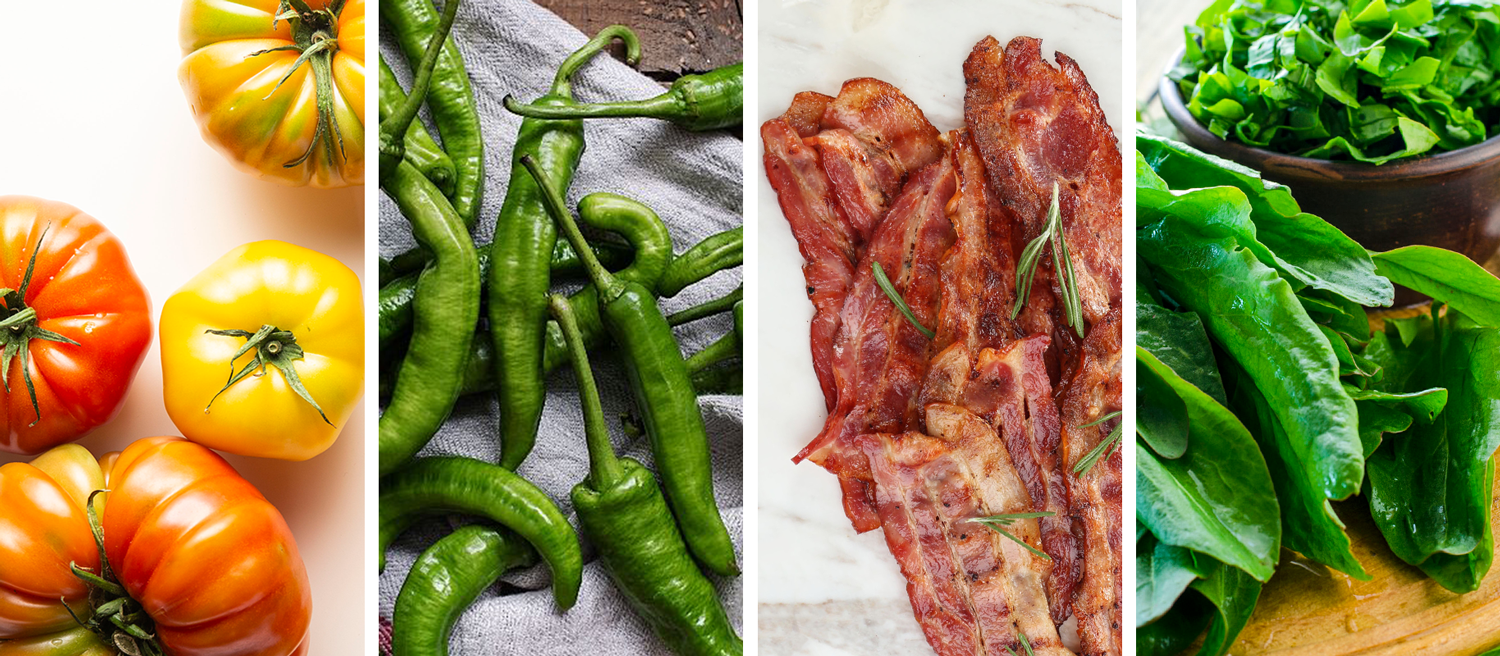 May 2020 — Spotlight Ingredients
And just like that, it's May! With summer right around the corner, the weather is warming up and the flavours of spring are being harvested from tree, vine, and ground.
These days, it's a little more difficult to stroll around the farmer's market sampling unique spring ingredients. To make sure our members didn't miss out on any of the finest flavours of the season, our supply chain team worked hard to source all of these delicious and totally delightful May spotlight ingredients!

Heirloom Tomatoes

These unusually shaped, multicoloured fruit certainly aren't the plump, rosy-red tomatoes you're used to seeing on grocery shelves! Heirloom tomatoes, unlike more common hybrid tomatoes, come in every colour of the rainbow and develop a full, rich flavour and sweet, juicy flesh on the vine.
Like a family heirloom, the seeds are passed down from generation to generation of farmer — hence the name! These farmers have given the many species of heirloom tomatoes names as fun and unique as their colours, shapes, and sizes like Bananna Legs, Lollypop, and Green Zebra!
An excellent source of vitamin C, vitamin K, potassium, folate, and antioxidants, heirloom tomatoes add a pop of colour and burst of flavour to Caprese salads, fresh salsas, and cooked sauces. These funky fruits are a seasonal treasure, so taste the difference while they're here!

Shishito Peppers

Shishito peppers get their name from the Japanese words shishi (lion) and tōgarashi (chili pepper) because the tip of the chili pepper looks like the head of a lion! A member of the sweet and spicy species Capsicum annuum, these bright green, wrinkly skinned peppers share a family tree (or vine, if you will) with bell peppers, jalapeños, and cayenne peppers.
These crisp and crunchy peppers are packed with vitamin C, antioxidants, and dietary fibers and are normally quite mild and sweet. Depending on the events of the growing season, every so often a few pods — about 1 in 10 — develop a touch of spiciness. Not a fan of heat? Not to worry; these crisp and crunchy peppers are about 100x milder on the Scoville scale than their cousin the jalapeño pepper. Love heat? Half the fun is hunting out a punchy pepper in the bunch!

Sorrel

Sorrel, also known as garden sorrel, common sorrel, or spinach dock, moonlights as a leafy green but is technically a perennial herb (think mint or sage) from the buckwheat family.
These flavourful little greens don't have the earthy taste found in kale or spinach; instead, the slender, arrow-shaped leaves and juicy stems offer an intense, acidic tang along the lines of sour kiwi or lemon zest. Like other nutritionally dense greens, sorrel is low in calories and packed with vitamins A and C, potassium, and fiber.
A popular addition to soups, stews, sauces, salads, and sandwiches around the world, sorrel is the secret ingredient you didn't know your home cooking was missing!

Thick-cut Bacon

Thicker and more satisfying than your average supermarket strips, our thick-cut bacon is made using a handful of ingredients, including farm-fresh pork bellies that are naturally smoked with maple wood and cured to perfection.
A leader in natural and organic farming and pork production, our bacon supplier is a local Quebec business that has been serving the community for over 75 years. Their high-quality organic products — like thick-cut bacon — are made from Certified Humane and GMO-free pork raised without antibiotics.
About twice as thick as regular bacon, these substantial slices hold their own layered into BLTs, diced into pasta, crumbled on salads, or served as part of a hearty breakfast.
 
From colourful tomatoes to juicy farm-fresh bacon, you won't want to miss the unique spotlight ingredients featured on the menu this month!
 
Image Credits
Featured Image, Image 1-4: via Goodfood