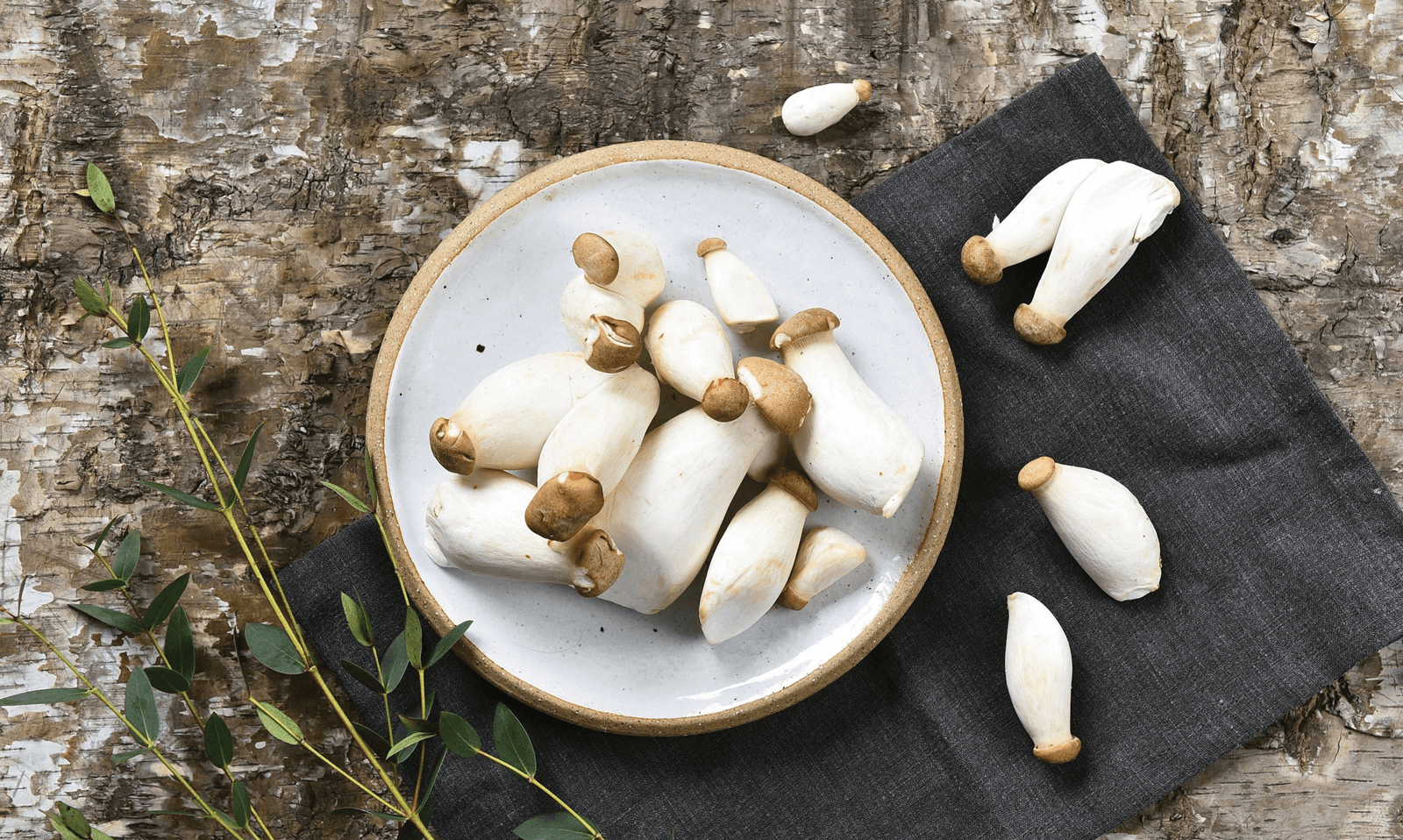 Mini King Oyster Mushrooms
Behold, its royal highness mini king oyster mushroom; micro-version of the largest oyster mushroom species; shelf-life superstar; and overall fungi!
In the wild, king oyster mushrooms grow on the roots of forest plants found flourishing in the Mediterranean basin. The mini versions of these majestic mushrooms are cultivated around the world and have become a contemporary staple of Asian cuisine.
These small but mighty mushrooms aren't much to write home about raw but add a ton of velvety smooth umami to your dish when cooked. Edible from head to toe, protein-rich mini king oyster mushrooms have thick, meaty stems perfect for vegetarian dishes.
Fun fact: Due to their scallop-like texture, these funky fungi (and their heftier siblings) have earned the nickname "vegan scallops"!
Mini King Oyster Mushroom Recipes

Mini king oyster mushrooms don't lose their shape during the cooking process, making them ideal for fancier presentations. Their mild flavour pairs well with rich proteins, creamy pastas, and savoury stir-fries.
Here are a few of our members' favourite mini king oyster mushroom recipes from the archives:


Featuring:
Chicken thighs
Potatoes
Mini king oyster mushrooms

Featuring:
Mild Italian pork sausage meat
Pizza dough
Mini king oyster mushrooms

Featuring:
Filet mignon
Fresh gnocchi
Mini king oyster mushrooms
 
This week, try the stately mini king oyster mushroom in our version of this mouth-watering classic ramen soup:


Featuring:
Pork strips
Baby bok choy
Mini king oyster mushrooms
 
Give your dinner the royal treatment with a nutrient-rich mushroom fit for a king, queen, and everyone in between. Long live the mini king oyster mushroom!
 
Image Credits
Feature Image, Image 1-4: via Goodfood