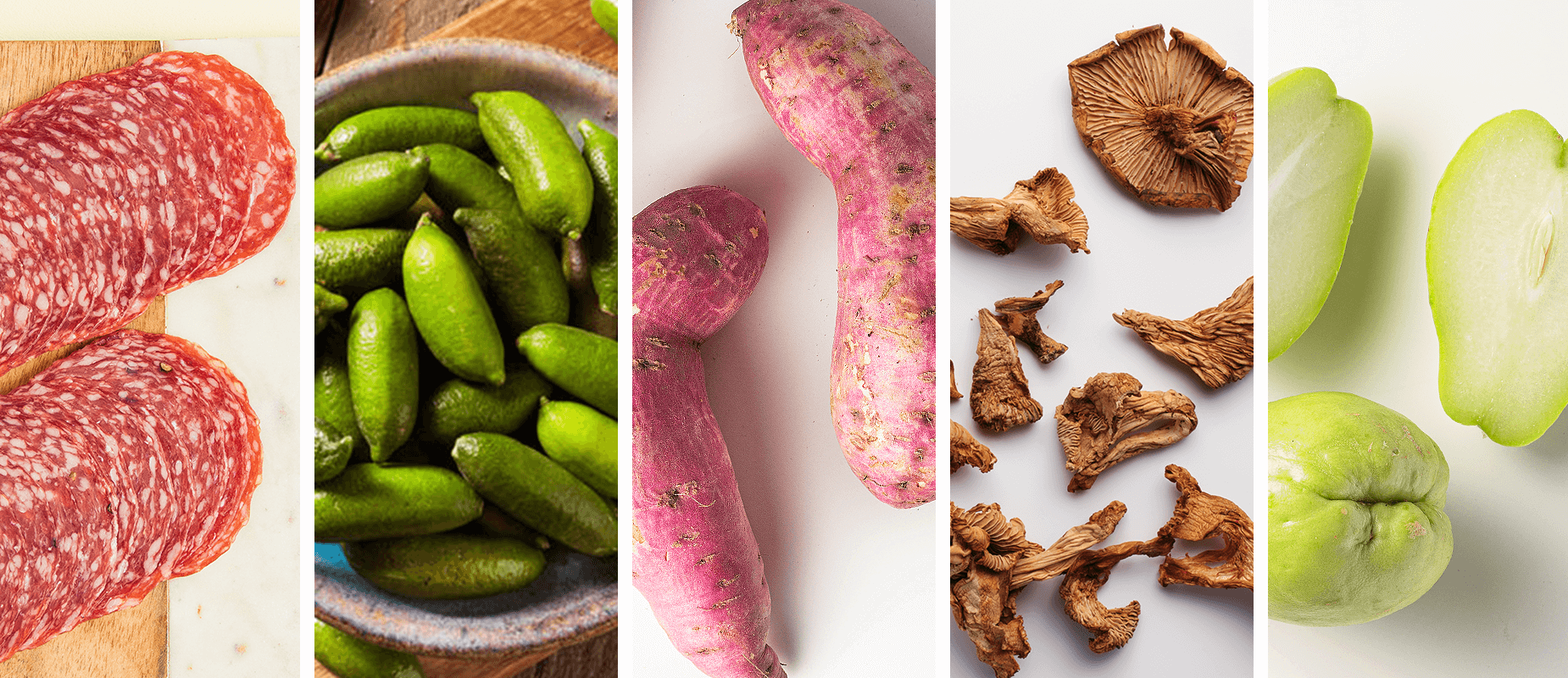 November 2020 – Spotlight Ingredients
The temperature is starting to dip, the Halloween decorations are back in storage, Black Friday is around the corner, and the late autumn harvest is offering up many delicious flavours to enjoy. No doubt about it, November is officially here!

Mild Genoa Salami

Pizza, pasta, Parmigiana Reggiano, olio d'oliva… It's no surprise Italy is renowned for its vibrant pantry staples and versatile ingredients!
One of our favourites is the wildly popular mild Genoa salami, adored for its rich umami flavour and melt-in-your-mouth texture. As if that wasn't enough to get your taste buds tingling, our Genoa salami is made by a local supplier in Ontario!
Originating in the hillsides of the port city of Genoa in Northern Italy, this savoury salami is made with delicately spiced fresh pork that's dry-cured for a minimum of 40 days to develop its rich flavour and creamy consistency.
P.S. Mild Genoa salami is also available to order on your selection page! Perfect for pizzas, charcuterie boards, sandwiches, or just as a simple snack. Prefer a bit of heat? Try it in spicy. Cosi buono!

Finger Limes

Also known as caviar limes (yes, you read that right!), these totally unique and truly stunning finger-shaped fruits have been making waves across the pond as of late.
A part of Australian-aboriginal cuisine for millennia, finger limes are now a worldwide culinary sensation sought-after for their juicy, caviar-esque popping pearls that taste like a cross between lemon and grapefruit.
Discover the tiny tangy treasures hidden inside the rind by slicing the fruit in half and gently removing the pulp. The flavour-packed and nutrient-rich pearls make great additions to salsas, vinaigrettes, as a garnish, or in desserts. You won't want to miss this sensational citrus!

Caribbean Sweet Potato

Want to add a little summer flavour to your winter plate? Enter the bright and sunny Caribbean sweet potato!
Pinkish-purple on the outside and lightly golden on the inside, this tropical tuber is as sweet (milder than the orange variety you know and love) with slightly earthy and nutty notes.
On top of adding stunning colour and fabulous flavour to your plate, the Caribbean sweet potato is also loaded with fiber, potassium, vitamins, and antioxidants. Delicious and nutritious!
No matter the weather, this spectacular spud is sure to brighten up mealtime.

Dried Chanterelle

A favourite of fungi forgers in North America and Europe, the more than 40 varieties of bright and beautiful chanterelles dot the forest floor like rays of golden sunshine. This month, the ones in your basket are picked right here in Canada!
Sought out by chefs and foodies alike for their tender, meaty texture and rich, peppery umami flavour with hints of apricot, chanterelles pack an even bigger punch when dried and the flavours intensify.
Reconstituting these fabulous fungi is easy — all you need is a few minutes and a small bowl of boiling water.
Whether they're worked into sauces, stir-fries, omelets, or risotto, dried chanterelles are sure to please any palate and pair well with many different recipes.

Chayote

Chou chou in Jamaica, christophene in the Caribbean, mirliton in Haiti, choko in Australia, chayote in North America — would a gourd by any other name(s) taste as sweet? Yes!
A staple crop of the ancient Aztecs and an integral part of Mexican and South American cuisine today, every bite of this ultra-crunchy, completely edible member of the gourd family is like an explosion of freshness.
Pale green in colour and about the size and shape of an oversized pear, chayote is mildly sweet and earthy with hints of cucumber, wheatgrass, and honey.
Nutritious and delicious, this antioxidant-rich superfood is also packed full of fiber, vitamins, and minerals and can be eaten raw or prepared in just about any way imaginable. Taco Tuesday just got even tastier!
 
Oh my gourd, there's so many delicious seasonal fruits and vegetables to add to your basket this month! Which one are you most excited to try? Let us know @goodfoodca!
 
Image Credits
Feature Image, Image 1-4: via Goodfood