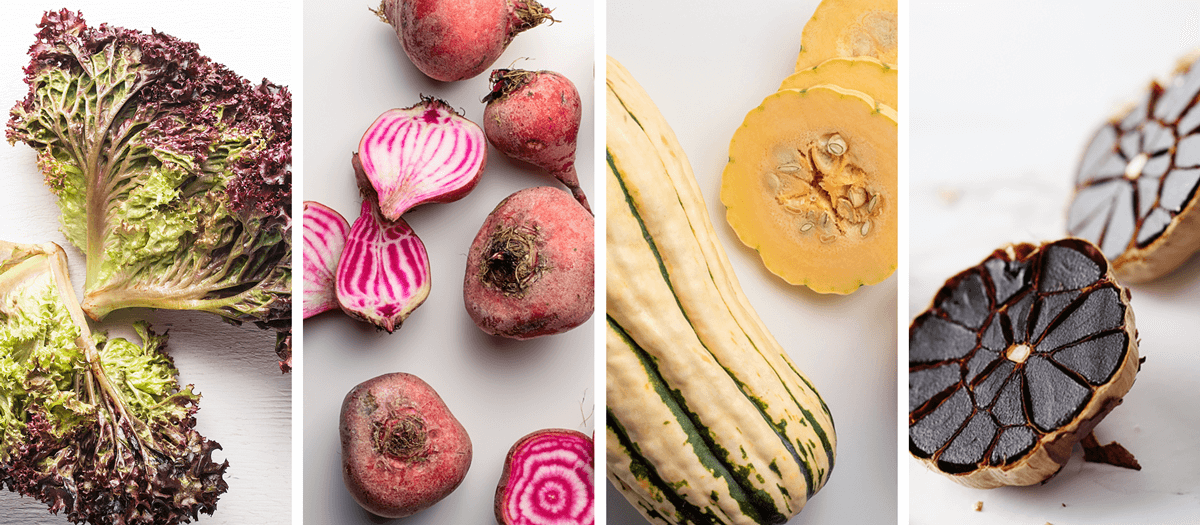 October 2020 – Spotlight Ingredients
Autumn is officially here! That means it's time to fill your plate with all the beautiful colours and fabulous flavours of the fall harvest. From seasonal squash to savoury black garlic, October's spotlight ingredients are sure to brighten up your lunchtime meals, dinnertime favourites, and holiday feasts alike!

Lolla Rossa Lettuce

Vibrant green at the stem with crimson red fancy frills on top, Lolla Rossa ("red husk" in Italian) is the colourful, curly lettuce you want on your plate.
Local-loving foodies rejoice! Also known as "Lollo Rossa" or "Lollo Rosso", this sustainably grown lettuce is harvested year-round from local greenhouses in Alberta.
Sporting a full-bodied, nutty flavour and tender, crispy red leaves packed to the brim with antioxidants, vitamins A and C, iron, fiber, and folic acid, Lolla Rossa is a perfect sandwich topper, colourful garnish, or fresh salad ingredient (those frills really hold flavour!).

Chioggia Beets

Say hello (or buongiorno) to the Tonda di Chioggia! Pretty in pink, Chioggia beets hold a secret surprise inside: magnificent magenta rings!
Although the colourful stripes might cause a double-take, these aren't candy canes (as they're affectionately nicknamed) — they're actually nutrient-rich root vegetables brimming with antioxidants, fiber, vitamins and minerals!
Named after the Italian coastal town of the same name, Chioggia (pronounced kee-oh-jah) beets are widely loved for their sweet, distinctly earthy flavour and pretty plating possibilities. They're delicious as stunning veggie carpaccio, shredded into salad, steamed, or roasted. Chef's tip: to maintain that signature look and colour, cook the beets whole with a splash of lemon juice or white vinegar and then peel and cut before serving.
Buon appetito!

Delicata Squash

Oh my gourd, it's winter squash season! In the warmer months, it's all about summer squash, but when the temperature dips, harvest baskets overflow with stunning squash in all the colours of the rustic rainbow!
If you're a fan of butternut squash but not a fan of your vegetable peeler, you're going to love Delicata squash. Long and cream-coloured with vertical green stripes, this fall favourite is the only winter squash that has a delicate, edible skin — hence the name! Simply slice into rings, remove the seeds (bake these separately, they're delicious), roast, and serve skin-on.
Wonderfully sweet, nutty, and buttery, Delicata squash is packed with nutrients like fiber, vitamin C, and carotenoids which contribute to good eye health.

Black Garlic

Black garlic? Oh, yes. This elegant ingredient arrives on the menu just in time for a hauntingly good Halloween feast! But be warned: this garlic is no vampire-repellent — it has no pungent odour and no bite — just out of this world flavour!
Despite its charred appearance, these beautiful bulbs are not burnt. Black garlic is a result of garlic heads being carefully aged and heated in order to caramelize each clove to culinary perfection. The all-natural process turns the cloves black and brings out a rich subtlety and amazing tangy undertones.
Used in Asian cuisine and medicine for thousands of years, black garlic boasts rich umami flavour with hints of molasses and balsamic vinegar and creamy, antioxidant-rich flesh that add a punch of unique flavour and texture to any dish.
 
Lettuce, beets, squash, and garlic: so many delicious, healthy, seasonal fruits and vegetables to add to your basket! Which one of these great ingredients will you try first?
 
Image Credits
Feature Image, Image 1-4: via Goodfood