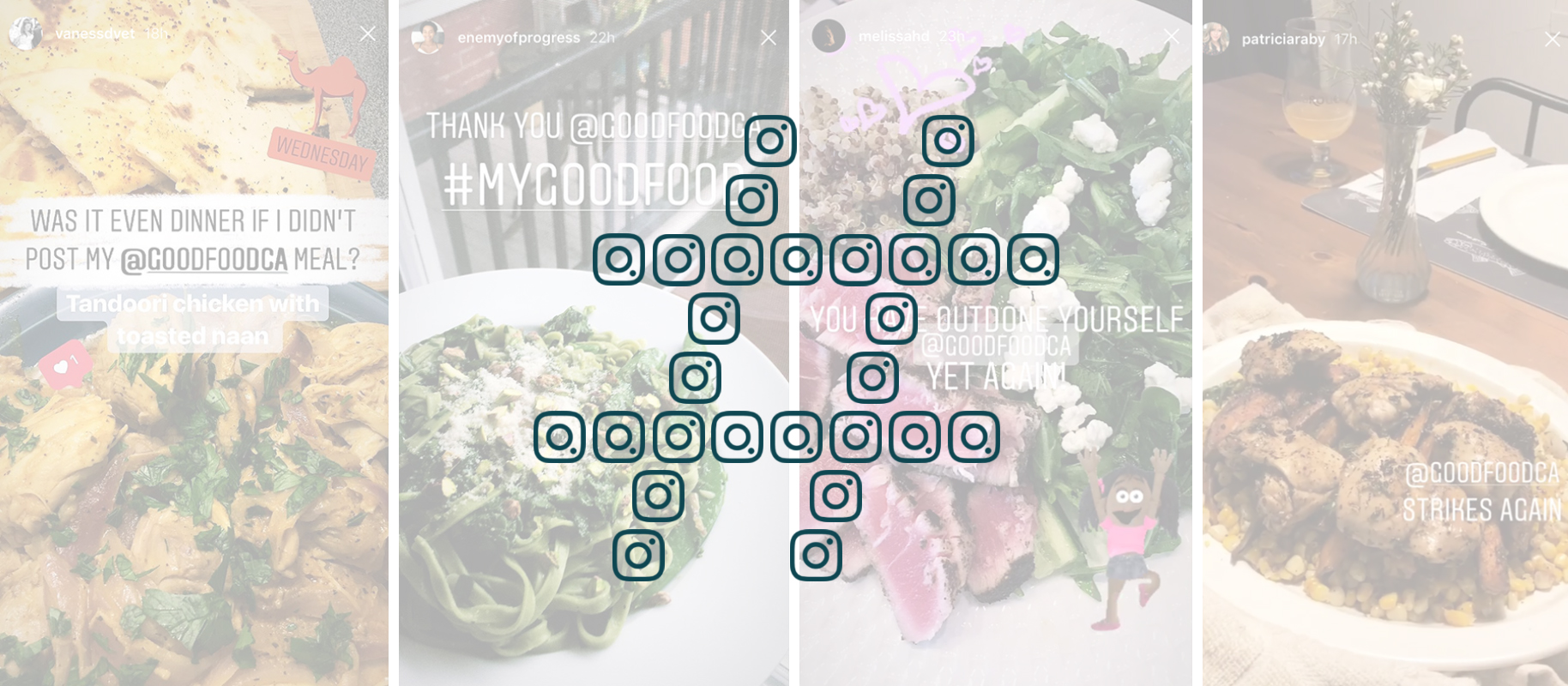 OUR INSTA CHEFS
We love seeing photos of your Goodfood creations! These members shared their cooking masterpieces and we noticed! Read on to see what they love about Goodfood and the recipes they couldn't resist posting on their Instagram stories.
____________________
V
ANESSA'S STORY: "I first saw Goodfood on someone's Facebook page and while I was definitely intrigued by the idea, I was a bit skeptical to commit to a subscription. After reading the recipes on the website and the flexibility of the subscription I decided to take the plunge and try it. From my very first week up until now, I have to say I LOVE this program. I love that I can experiment in the kitchen with tried and tested recipes and not have to worry about wasting ingredients that I may never use again, because the exact amount needed is provided.
Foods that I would never normally cook have become household favourites such as the Chicken Tandoori. In the past I maybe would have purchased a sauce, thrown it on the chicken and called it a night, but with Goodfood I love that there are simple step by step instructions to create this delicious meal from the bottom up without the hassle of shopping for the ingredients!"
____________________
JOJO'S STORY: "I subscribed to Goodfood after a friend recommended it to me. I often have very busy days and don't have the time to cook nutritious meals. I like how much effort is put into the recipes and their depth of flavour, while keeping them accessible and easy to make! The quality of the ingredients blew me away! I've also recently been in contact with Goodfood regarding sustainability and was very happy to learn that they're taking step towards lean packaging practices!
What I liked the most about the Fresh Spinach Linguine recipe was how easy it was to make the pesto (no food processor needed!) I also appreciate how many fresh vegetables went into the recipe for a zingy and comforting, yet balanced pasta dish!"
____________________
MELISSA'S STORY: "I decided to subscribe to Goodfood because it makes cooking fun and enjoyable. My boyfriend and I are very busy and don't have much time during the week to cook healthy meals so this gives us the opportunity to cook together and make wonderful meals quickly to suit our lifestyle.
The Sumac-Crusted Tuna was the perfect meal for the spring! It was fresh and healthy. Eating healthy is important to me and Goodfood gives me the opportunity to choose from a wide variety of different meals!"
____________________
PATRICIA'S STORY: "I am a foodie and I really enjoy cooking! I was seein
g everyone receiving Goodfood boxes in my entourage and the recipes are really what made me decide to subscribe. I like to take the time to cook for myself as often as I can. I also like sharing food with my friends and family. Goodfood's recipes are always very original and make me discover spices and recipes from around the world.
I loved the BBQ grilled inspiration in the Lemon-Herb Chicken. I always enjoy recipes that includes lemon zest to add a little subtle kick in every plate. The suggested presentation was awesome also!"
____________________
Mention us on Instagram @goodfoodca to show us your Goodfood creations, and your photo could be featured in one of our upcoming newsletters!