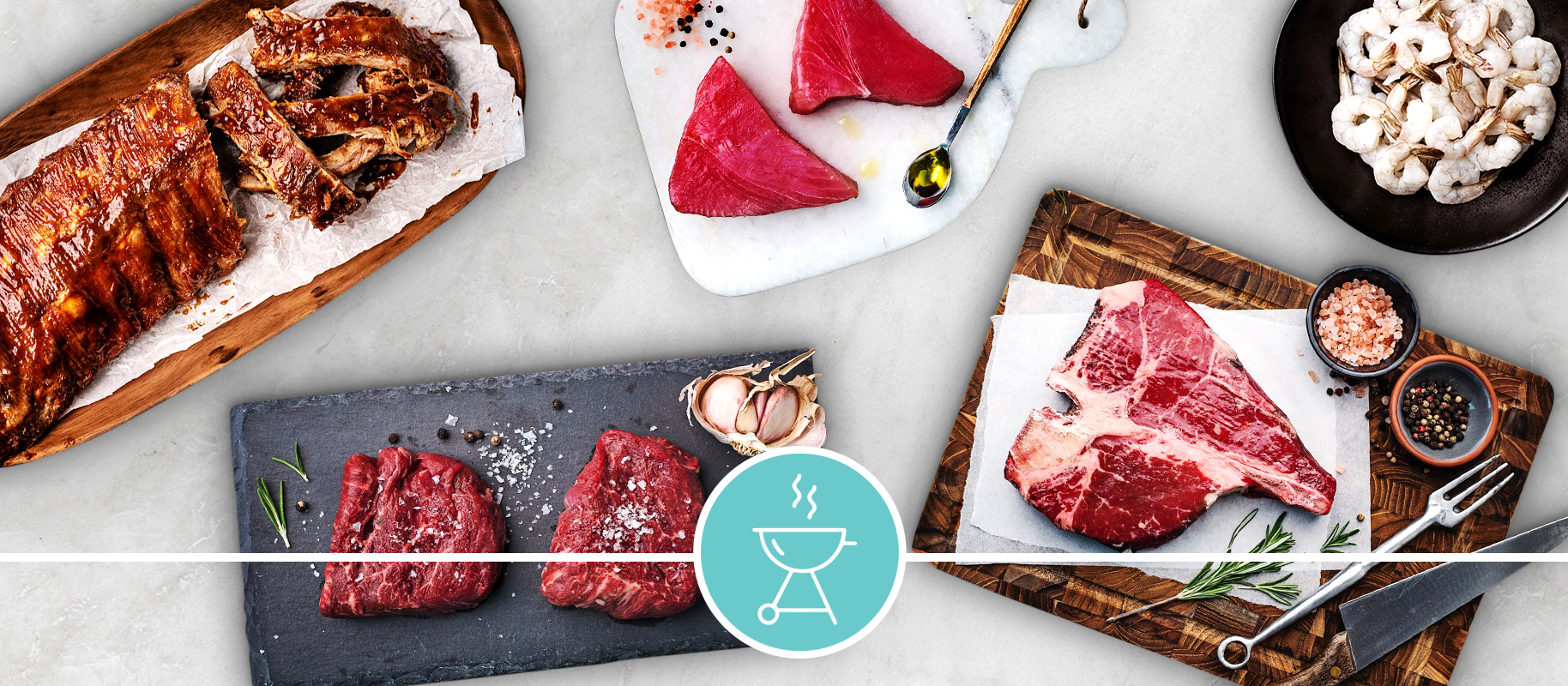 OUR NEW SECTION BBQ READY
Have you ever received a meal in your weekly Goodfood box and wished you had an extra serving of protein for a friend? What about opening up your barbecue and thinking: if only I had a tender Porterhouse steak to slap on the grill?
We've got you covered with our line of BBQ-Ready proteins, now offered for purchase exclusively to Goodfood members. Simply add to your weekly box for delivery straight to your door, all for a lower price than your local grocer or butcher.
Choose from the following selection:
AAA Striploin Steaks
This premium cut of Canadian beef is the perfect balance between a lean (yet still savoury) flavour and satisfying bite.
AAA Porterhouse Steak for Two
When steak is on the menu, nothing less than a Porterhouse will do. This generous cut of Canadian-raised beef features both filet mignon and striploin meat.
AAA Filets mignon
The leanest of our cuts of beef, these Canadian-raised filets mignon cook to exactly the way you like it in under 6 minutes and are generous enough to share.
Tail-On Pacific White Shrimp (31-40)
Sustainably sourced and unbelievably tender, these large shrimp are perfect for grilling up on the barbecue, pan-searing or baking in the oven.
Pre-Cooked BBQ Pork Ribs
There's nothing like BBQ ribs to make it feel like summer. This mouthwatering rack of pork ribs is generous enough to serve two. Just warm and serve.
Wild-Caught Tuna Steaks
Indulge in the fruit of the sea with two thick steaks of wild-caught tuna. Grill these up on the BBQ or pan sear in only four minutes for medium-rare.
Mild Italian Pork Sausages
This set of savoury pork sausages is made just like nonna (grandma) used to make them—packed with classic Italian flavours and without the use of added hormones.
---
Make your next backyard BBQ a Goodfood party; add one of our exclusive proteins to your next order today!