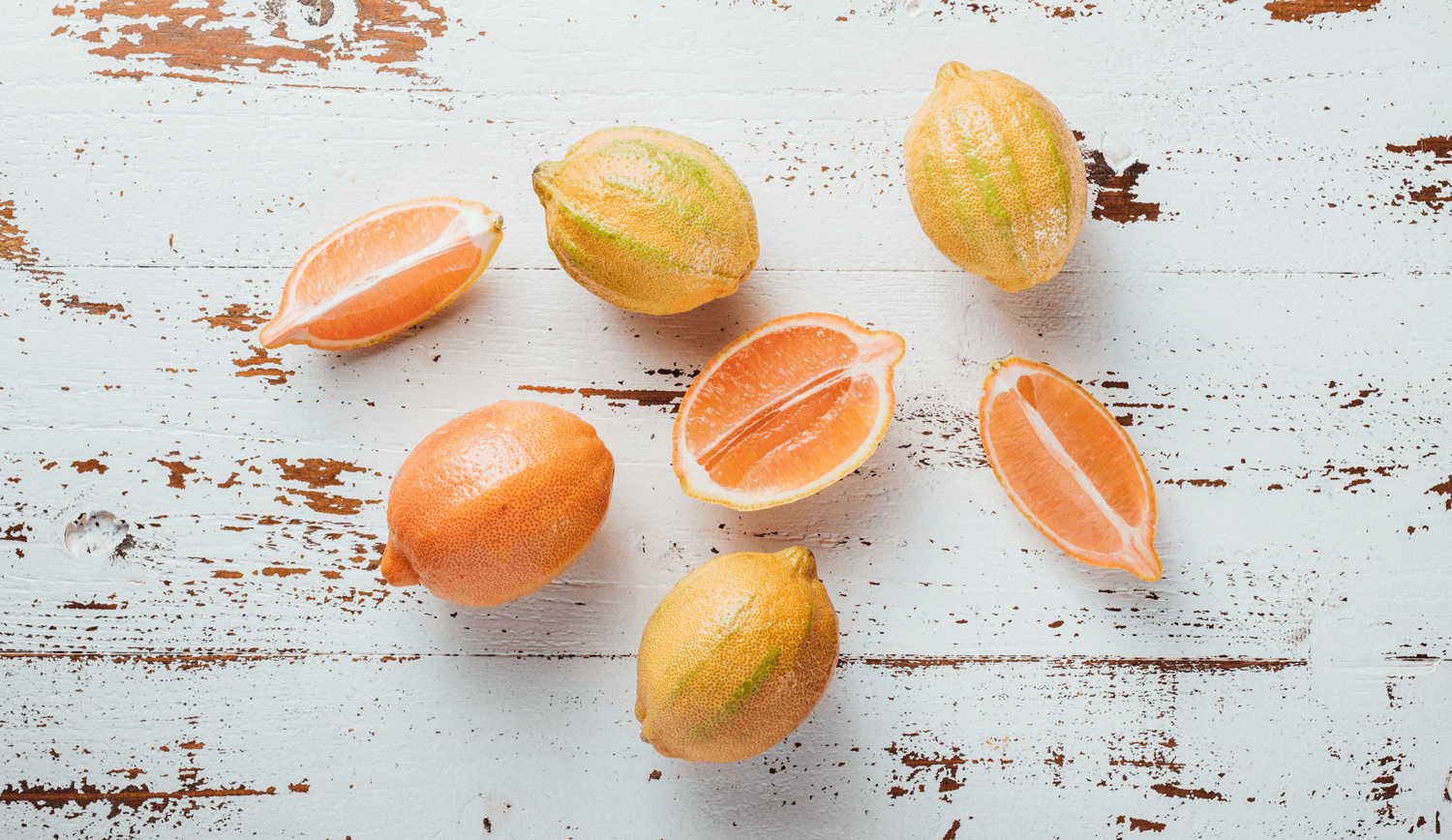 Pink Lemons
Exsqueeze me, is that a pink lemon?
Wrapped in vibrant green stripes that vary from fruit to fruit, this sought-after citrus is known for (and named after) the pale pink pulp found behind its radiant rind. As a pink lemon ripens, its brilliant green stripes begin to fade and its pinkish interior deepens in colour.
Can you guess the secret ingredient to the
variegated
pink lemon's showstopping millennial pink interior?
Lycopene
, the same compound that gives tomatoes and grapefruit their rosy hue!
 
First discovered as a naturally occurring mutation (called a 'sport') on a Eureka lemon tree in California in the 1930s, pink lemons have since been carefully cultivated into their own unique lemon variety.
Fruity, floral, and virtually seedless, pink lemons are perfect for baking, juicing, and zesting. Plus, they're a good source of vitamin C, dietary fiber, and calcium!

Pink Lemon Recipes

Much like their cousins Meyer lemons, pink lemons can be swapped into just about any recipe calling for lemon juice, zest, or pulp. Here are a few of our favourite pink lemon recipes from the archives:


Featuring:
Haddock fillets
Green beans
Pink lemon

Featuring:
Chicken breasts
Sugar snap peas
Pink lemon
 
Watch these exquisite lemons earn their stripes in this week's recipe for Pink Lemon Chicken Piccata with Herbed Potatoes & Green Beans!


Featuring:
Chicken thighs
Potatoes
Pink lemon
 
No matter which way you squeeze it, zest it or slice it, you'll be tickled pink with the bright and tangy flavour pink lemons bring to your favourite sweet and savoury recipes. Try out these farm-fresh and fabulous fruits this month!
P.S. Don't forget to tag @goodfoodca in your photos of pink lemons and other unique Goodfood ingredients on social media!
 
Image Credits
Feature Image, Image 1-4: via Goodfood