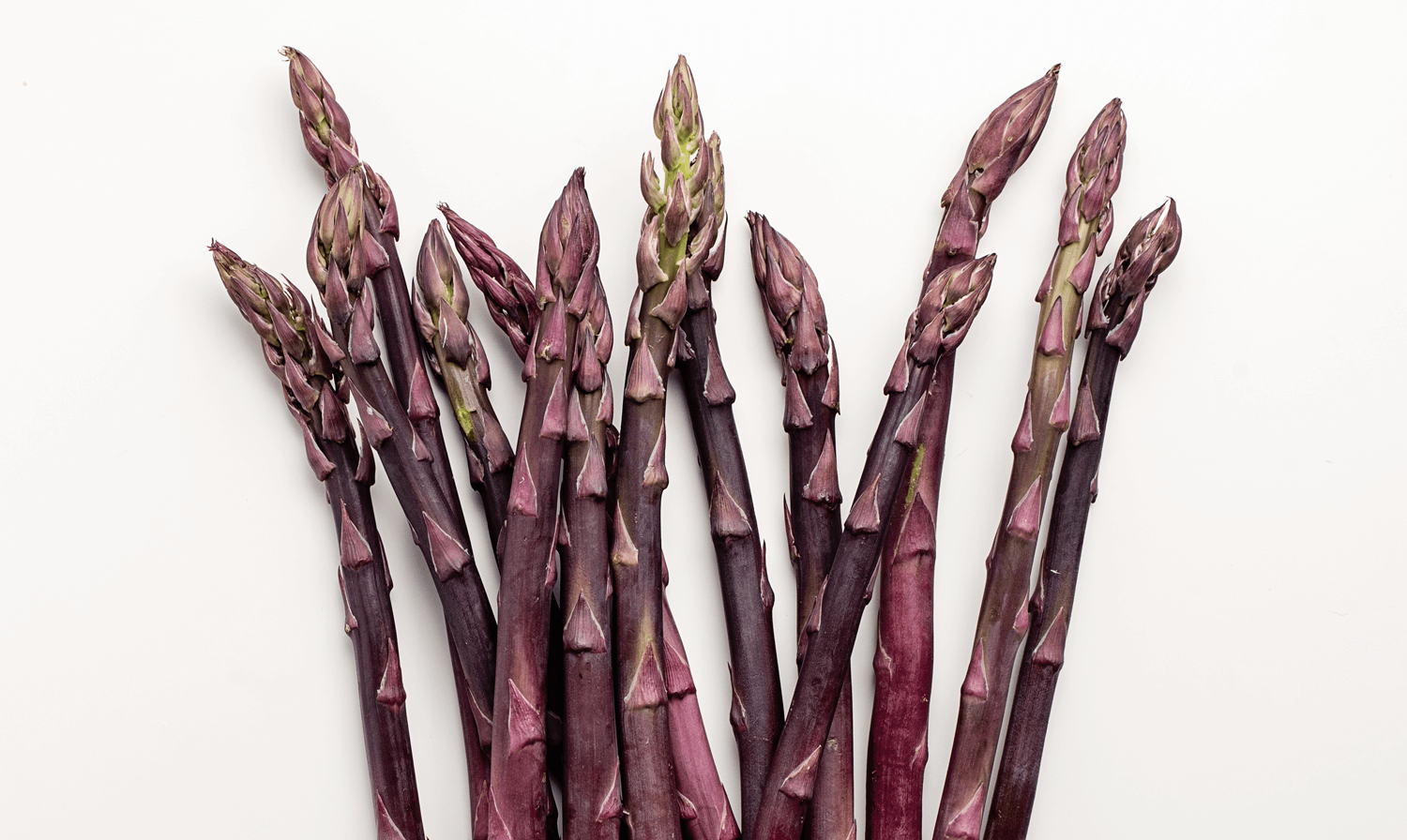 Purple Asparagus
You're probably familiar with green asparagus, the supermarket sweetheart found in salads, stir-fries, and side dishes around the world, but did you know this ultra-healthy veggie comes in different shades and sizes? Particularly popular in Europe, the purple variety gets its rich colour from the antioxidant anthocyanin.
You can find asparagus in green, purple,
and
white varieties! Pearly
white asparagus
is grown in the "dark" (the stalks are covered in earth) so no chlorophyll, or colour, is produced.
 
Known for its eye-catching, brightly coloured spears, purple asparagus has a sweeter disposition and more tender flesh than the common green variety.
One of the healthiest vegetables of the bunch, these pretty purple powerhouses are loaded with dietary fiber, vitamins A, B, C, E, K, iron, and other minerals.

Purple Asparagus Recipes

Have a favourite asparagus recipe on hand? You can easily swap in purple asparagus for a colourful twist on a classic, like this member favourite from the archives:

Featuring:
Arborio rice
Zucchini
Purple asparagus
Coming Up This Week

This week, try purple asparagus in a spring-inspired vegetarian dish loaded with crisp cherry tomatoes, fresh zucchini, sun-dried tomato pesto, and melty bocconcini pearls atop ribbons of Mafalda pasta. Don't forget to add this buttery pasta primavera to your basket today!

Featuring:
Cherry tomatoes
Mafalda pasta
Purple asparagus
 
Healthy, crunchy, and oh-so-tasty, purple asparagus is the sought after superfood you didn't know your crisper drawer was missing. Fold into a risotto or spring pasta, wrap in prosciutto and bake, or shred into a salad — no matter which way you slice it, you can't go wrong with purple asparagus!
 
What are you cooking up this week? Tag @goodfoodca in your photos of purple asparagus and other unique Goodfood ingredients on social media!
 
Image Credits
Feature Image, Image 1-2: via Goodfood