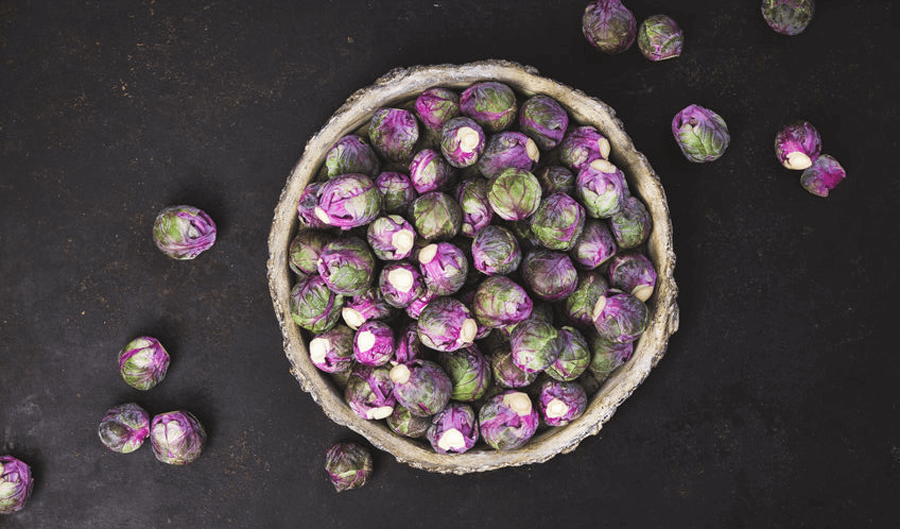 Purple Brussels Sprouts
Having doubts about sprouts? Sweet, delicious, quick-cooking purple Brussels sprouts are here to change your mind!
Wrapped in loose and luxurious layers of bright green leaves sprawling with deep purple veins, this frost-loving sprout knows the importance of layering up in cold weather. As frost hits the growing plant, purple Brussels sprouts begin to develop their rich purple hue and signature sweet, earthy taste.
A member of the nutrient-rich cabbage family, these specialty sprouts are high in antioxidants, low in calories, and loaded with vitamin C (more than an orange!), vitamin K, folate, fiber, and omega-3 fatty acids. That's one healthy little vegetable!

Purple Brussels Sprouts Recipes

The leaves of purple Brussels sprouts are not packed as tightly as their green brethren, so they cook faster when steaming, roasting, or frying. They also make an excellent addition to salads or slaws when sliced and served raw.
Give your dinner the royal treatment by swapping out classic green sprouts for the purple variety. Here are a few of our favourite Brussels sprouts recipes to get the creative juices flowing.

Filet mignon
Baby potatoes
Purple Brussels sprouts
Cauliflower florets
Fresh penne rigate
Shaved purple Brussels sprouts
 
Often found adding a splash of colour to high-end restaurant creations, this week you can find sought-after purple Brussels sprouts making their triumphant return to the Goodfood menu in this delicious chicken dish.

Chicken breasts
Jasmine rice
Purple Brussels sprouts
 
Purple Brussels sprouts are here to help you get your greens in! Or get your purples in..? Either way, make sure to try out these scrumptious and oh-so-healthy sprouts while they're on the menu!
 
P.S. Don't forget to tag @goodfoodca in your photos of purple Brussels sprouts and other unique Goodfood ingredients on social media!
 
Image Credits
Feature Image, Image 1-3: via Goodfood