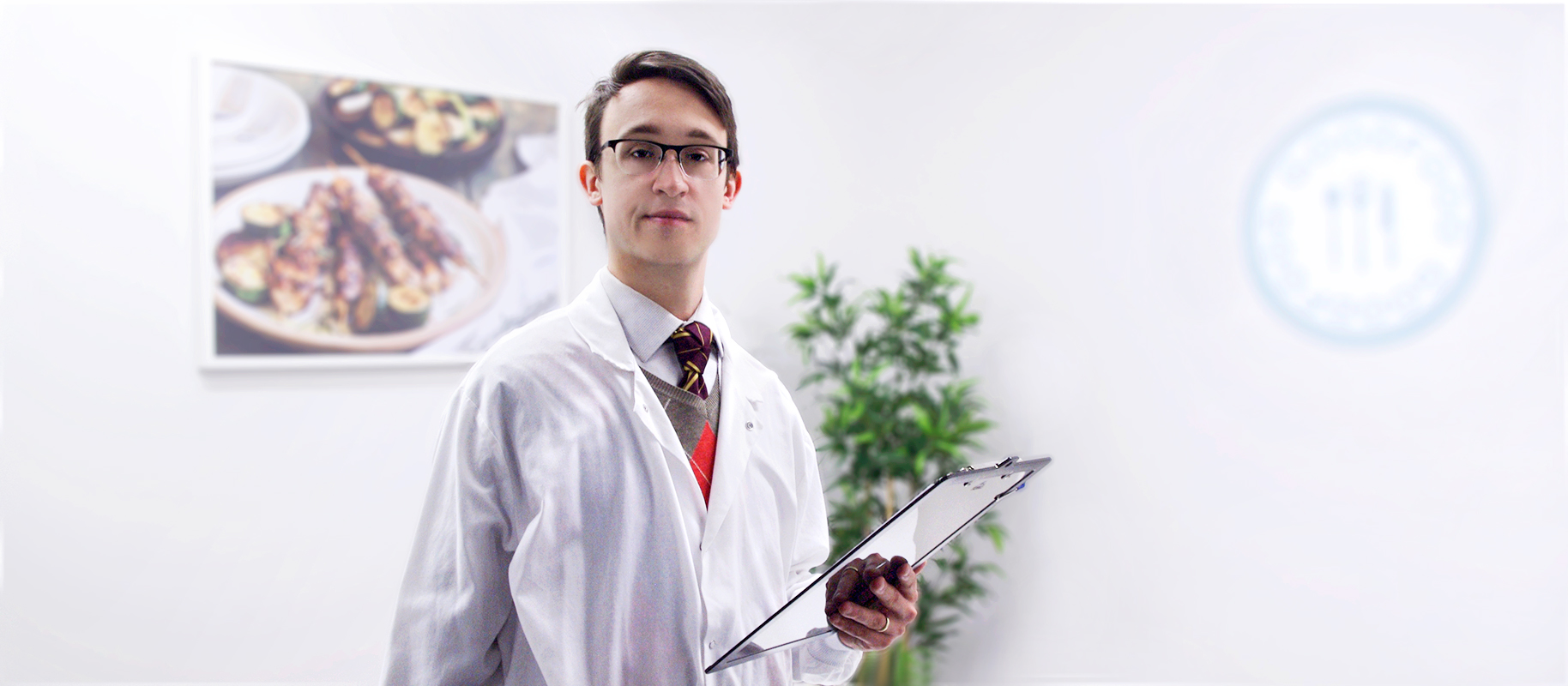 SAFETY FIRST with Matthew Sklar
Imagine a world where no one was looking out for us — not a pleasant thought!
If you pause for a minute and glance around, you'll realize that most of your worldly possessions and even services rendered had someone behind them with safety in mind. When it comes to Goodfood, Matthew Sklar, Food Safety Director, is a model to be followed for this behind-the-scenes role.
Matthew had always loved food, but only when he attended an open house at McGill University did he realize the potential career opportunities that existed which intersected with his natural sciences education. Following graduation, Matthew quickly found work as an auditor for a food safety & quality assurance inspection firm that had him flying around the globe visiting over 50 kitchens in 42 different cities across 5 continents. Matthew's next career moves brought him to Fontaine Santé where he worked his way up from QA technician to Food Safety Manager — and then as FS/QA Manager for what was at the time the biggest flight kitchen in Montreal. When an opportunity came up for a fledgling meal kit startup called Goodfood, Matthew decided to try his luck and landed the job.
He quickly got to work on initiatives that would raise procedures up to the gold standard:
"Goodfood has a very strong food safety culture. I've been very lucky to have the full support of the co-founders since day one, something unfortunately not seen at all food companies. The majority of our food safety-related procedures are based on industry best practices, such as the internationally recognized Codex Alimentarius and the CFIA's FSEP manual. I was able to draw a lot on my previous experiences in the industry to determine what procedures needed to be implemented and where to start."
Once established, Matthew brought everything to the next level:
"My biggest success so far has been getting the CFIA's approval of our HACCP plan last year. Canada has one of the world's best national food safety systems, which means that our regulatory body, the CFIA (Canadian Food Inspection Agency) is very strict. On top of that, we're inspected under the meat hygiene programme, which is the CFIA's strictest. They put a very big focus on documentation, such as clearly defined standard operating procedures, risk assessments for all ingredients and processing steps, operational records and product traceability."
Matthew's biggest challenges nowadays are adapting and scaling to the rapid growth of the company, but in his own words, it's not something that intimidates him in the least:
"It's what keeps my work exciting and engaging. I've been here for over two years now and there's still barely any routine — and for me, that's a good thing. I love that I'm helping to shape the future of food in Canada!"
When it comes to his philosophy on food safety, the focus is on prevention:
"The idea behind a strong food safety system is to protect the public and make sure that no one gets sick. As they say, an ounce of prevention is worth a pound of cure. My team and I spend a lot of our time on the production floor doing various checks and inspections: daily pre-op inspections, equipment cleaning verification after portioning, temperature verifications, product rotation checks, etc. I also always try to spend at least an hour per day on the production floor, observing operations to make sure everything is running smoothly and hygienically! All of the procedures and checks that we've put in place are designed to keep our products safe and fresh."
As with many things in life, it's also good to use some good old fashioned common sense:
"If it's not good enough for me and my family, it's not good enough for our customers. During food safety training sessions, I always tell associates to picture themselves as the customer — would you eat that? If not, our customer doesn't want to either. 'If in doubt, throw it out' is a great motto to follow."
To make food safety a priority at home as well, whether cooking Goodfood or not, Matthew offers the following advice "Always wash your produce and buy a digital thermometer to check meat temps when cooking."
Thanks for keeping us safe, Matt!
__________