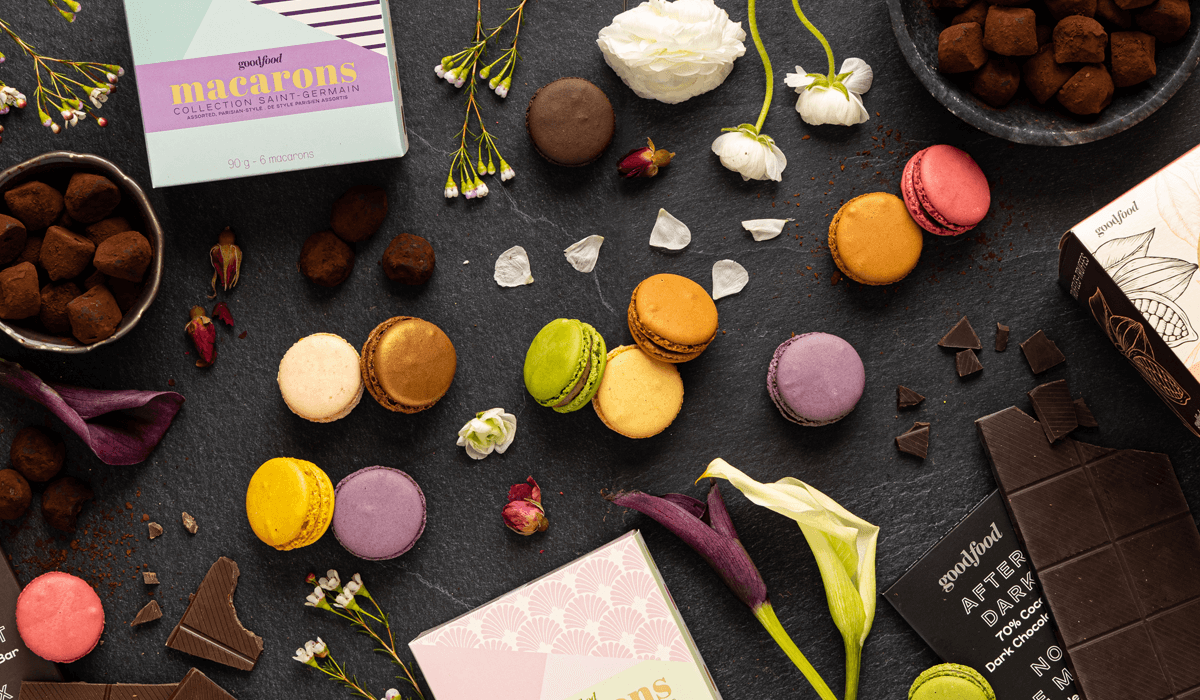 Seductively Simple Valentine's Day Meal Ideas
It's no secret that Valentine's Day is going to look a little different this year. No matter how you make it your own on the big day, there's still plenty to celebrate (and plenty of tasty treats to enjoy)!
The best way to share the love this February 14th? A Valentine's Day at home, with a gourmet meal made by you… or, better yet, made together. Mutually working through a recipe is a great way to get a little extra facetime with your sweetheart or build bonds with the fam (even if it's virtually). Plus, there's no better opportunity to show off your culinary know-how while having a little fun in the kitchen.
The key to a memorable meal is to keep prep simple and seamless. The less time you spend at the stove or the cutting board, the more time you'll have together at the dinner table. So, without further ado, let's dive into a few simple Valentine's Day meal ideas we're sure you'll fall in love with.

Breakfast in Bed Done Right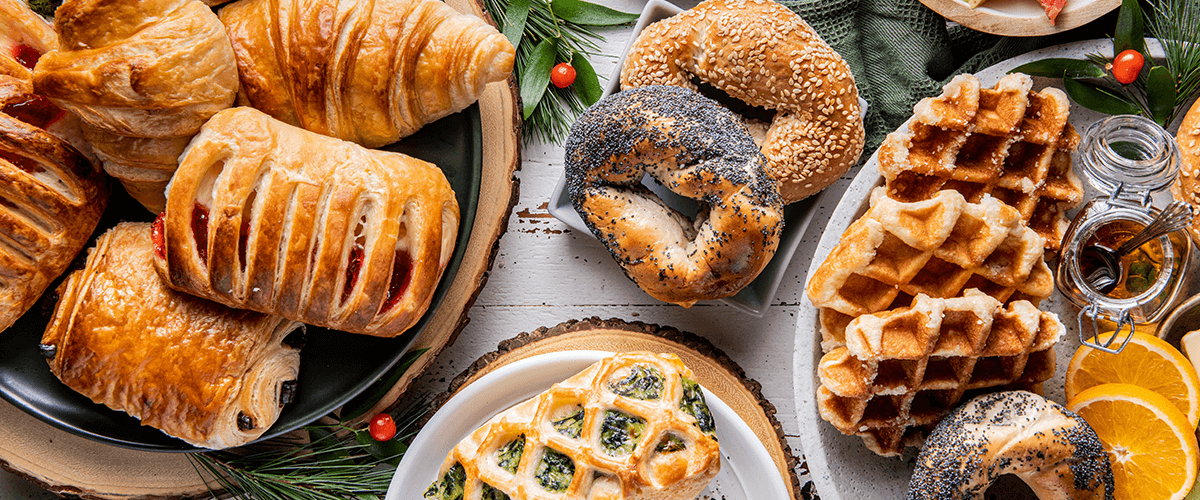 No need to wait until dinnertime to showcase your affection. Dust off the fancy serving tray and polish the champagne flutes — it's time to surprise your loved one with breakfast in bed!
For the ultimate romantic surprise, avoid overly complicated menu options and instead choose items you can assemble quickly (and quietly!), like pancakes, artisanal oats, and ready-to-bake pastries. Serve with a side of fresh fruit and a chilled glass of juice for a luxurious homemade meal with minimal cleanup.
Here are a few easy options you can find on your selection page:
Dutch Baby Pancake with Lemon-Ricotta Whip, Berries, Scrambled Eggs & Bacon: Spoil your Valentine with this soufflé-esque pancake topped with lemony whip and fresh berries, served with a side of bacon and eggs.
Butter-Crusted Vegetable Quiche with Feta: Rich and refined, this vegetable quiche is a must-have for a relaxing morning with your sweetheart.
Blueberry Pecan Crunch Artisanal Oat Bowls: Add a little colour to breakfast with artisanal oat bowls filled with blueberries, lemon, almonds, and pecans with a hint of sweet maple syrup.
Belgian Sugar Waffles: It only takes 2 minutes to make these irresistible, ready-to-bake waffles. Try topping with maple syrup and fresh fruit!
Strawberries & Cheese Danish: These tasty golden danish come out of the oven warm and ready to eat in only 15 minutes.
Chocolatines: Offer something sweet to your sweetie with this brunch staple, loaded with layers of fluffy pastry and decadent chocolate.
Croissants: Add fluffy, flakey, golden croissants, ready in only 15 minutes, to your breakfast in bed spread.
Pink Kick Cold-Pressed Juice: Serve up a glass of tangy apple, tart lemon, zingy ginger, and a dash of strawberry pureé for extra sweetness.
Cold-Pressed Orange Juice: Start their day with the taste of fresh oranges, cold-pressed to preserve the natural nutrients and bright flavour.
Chef's Tip
: From bagels and smoked salmon to yogurt and granola, find even more breakfast and brunch options on
your selection page
!
Appealing Appetizers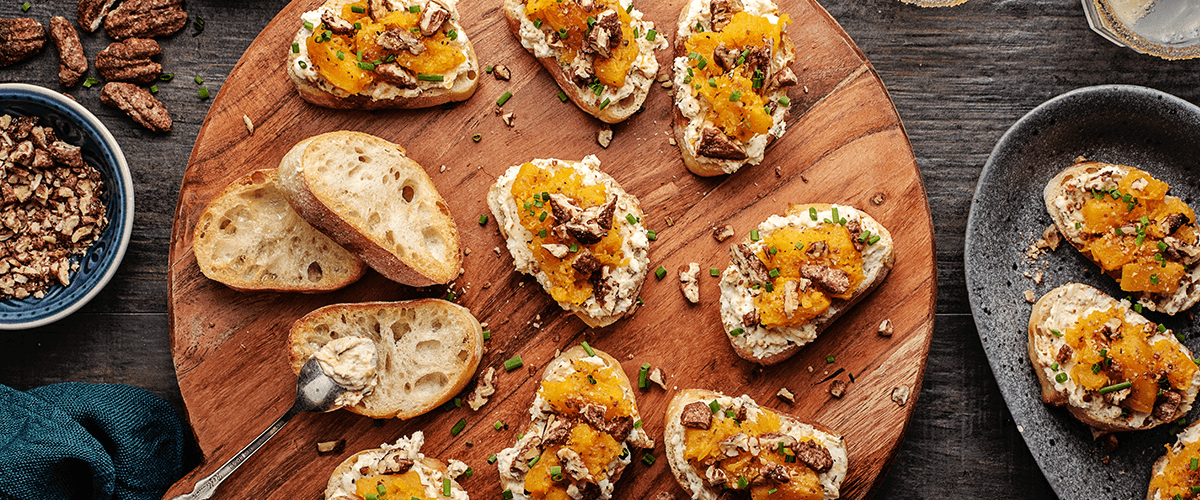 Valentine's Day is the perfect excuse to spend time together over a delicious meal and great conversation. Make the night last with a multi-course affair, starting with easy, impressive appetizers.
Keep things simple with bite-sized morsels that bring the flavour and keep you satiated before the meal to come. Crostini, spreads and dips, or grazing platters with an easy but elegant selection of olives, cheese, and crackers make for great starters.
Tender-Roasted Squash Crostini with Whipped Goat Cheese & Candied Pecans: These sweet and savoury butternut bites pair roasted squash with velvety whipped goat cheese, crostini, and candied pecans. An appetizer kit with everything you need in one bag!
Frozen Two-Salmon Tartare with Citrus Marinade: Wow them with this salmon tartare starter worthy of the finest restaurants. Ready to serve in 15 minutes.
Frozen Tuna Tartare with Thai-Style Marinade: Add a Thai-inspired touch to your starters with this tasty tuna tartare, ready to serve in 15 minutes.
Parisian Baguettine: Airy, soft and perfectly crisp after a few minutes in the oven, this par-baked baguettine is a winner with all meals.
Cranberry & Pumpkin Seed Artisan-Style Crackers: You're going to fall in love with crunchy cranberries and pumpkin seed crackers that pair perfectly with soft and salty cheese.
Burrata: Try this fresh, ooey-gooey mozzarella with artisanal crackers or fresh bread for an irresistible appetizer.
Louis d'Or Firm Cheese: Made according to traditional French methods and aged for a minimum of 9 months, this firm cheese has a complex, layered flavour perfect for a charcuterie board starter.
Double Crème Brie: Double the cream, double the deliciousness! This soft cheese with a bloomy rind is divine with artisanal crackers or toasted fresh bread.
Black Pepper Rosette de Lyon: Enjoy classic French saucisson flavour with a peppery kick with this spice-crusted rosette de Lyon. Try it with creamy brie!
Colossal Stuffed Olives: These giant Greek olives have a bright, fruity tanginess enhanced by pimento peppers, herbs, and, of course, plenty of garlic.
Chef's Tip: A few dipping sauces or spreads can elevate even the simplest of snack platters: try honey or hot sauce alongside cheese, or a drizzle of olive oil and balsamic vinegar to dip fresh bread.
Five-Star Fine Dining at Home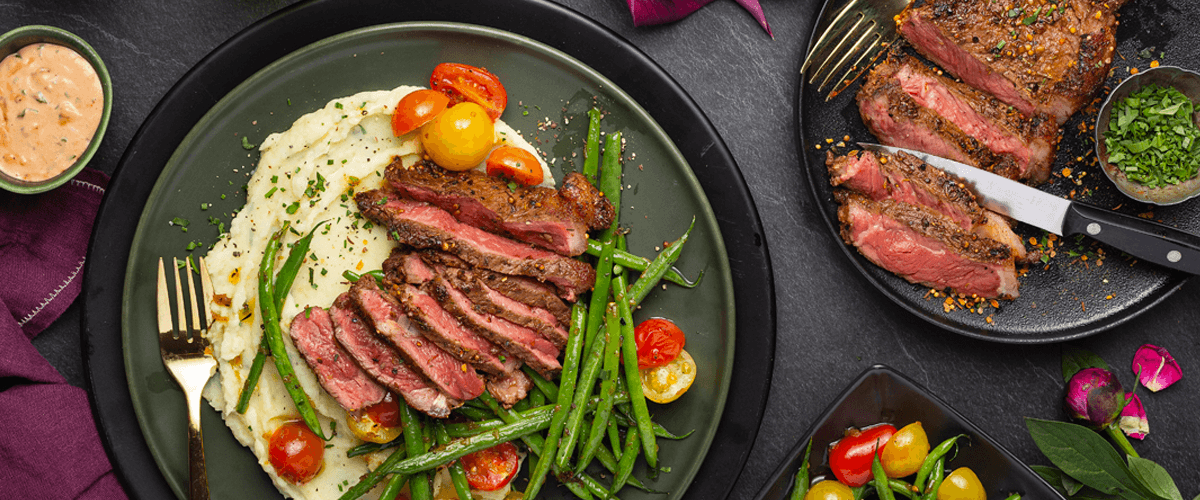 Whether you're looking to spend some quality time together on Valentine's Day, starting a new date night tradition, or celebrating an anniversary, opt for a fine dining experience right at home. Show off your steak-searing skills, get gourmet with a special seafood dish, or treat your veggie-loving valentine right with a plant-based plate that wows.

Restaurant-quality Meal Kits
DIY Dinner Proteins
AAA Filets Mignon: Beef up your dinner with the mouthwatering taste of AAA, Canadian-raised filet mignon, renowned for being the most tender cut of beef there is.
AAA Porterhouse Steak: This generous cut of Canadian-raised beef features both filet mignon and striploin meat. Perfect for a romantic dinner for two.
Boneless Duck Breast: Synonymous with French restaurants and candlelit dinners, duck is a delicious, versatile, and easy-to-prepare protein.
Raw Lobster Meat: Luscious and buttery, our Atlantic lobster is sustainably caught for the highest quality culinary experience.
Atlantic Salmon: Also sustainably sourced, our Atlantic salmon is rich in flavour and succulent in texture — perfect for a delicious date night.
Wild-Caught Scallops: Buttery and delicate, these plump, sustainably sourced Atlantic scallops only take a few minutes in the pan to achieve a golden sear on the outside and a tender texture on the inside.
Colossal Tiger Shrimp: These giant tasty tiger shrimp come to you raw and ready to integrate into the seafood recipe of your dreams for Valentine's Day.
Chef's Tip: For an at-home restaurant experience, take a little extra time to create the perfect table top for two. Pull out the linens, light a candle, and take care with the plating to turn dinnertime into a special occasion.
End the Evening on a Sweet Note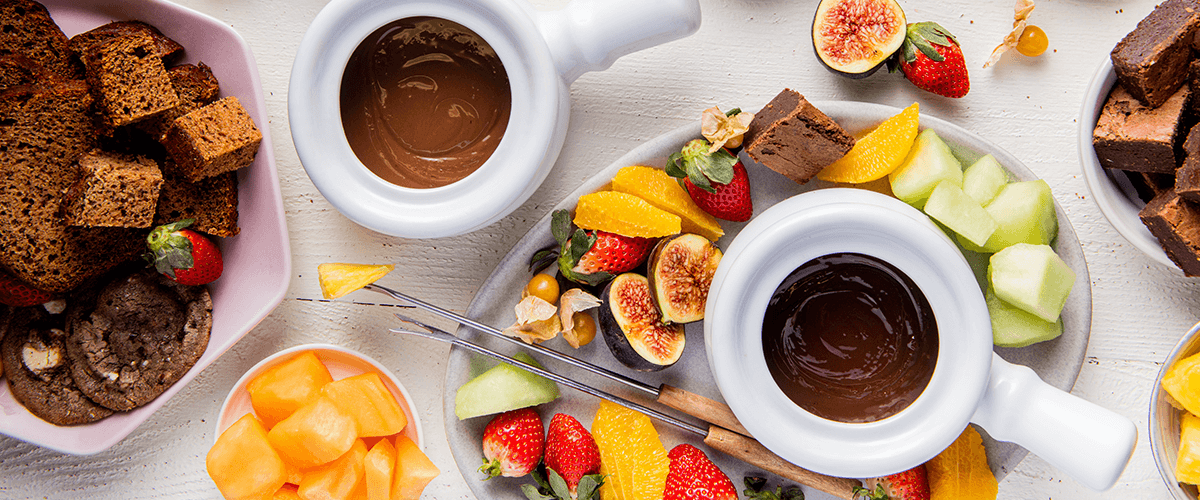 No romantic homemade meal is complete without a decadent dessert to top it all off. Indulge in some sweet treats with your sweetheart to wrap up the evening in style.
Key Lime Cheesecake: This luscious layered dessert stacks crunchy graham crust, zesty key lime curd and a rich topping of vanilla cheesecake in individual cups for perfect portions.
Crème Brûlée: Enjoy restaurant-worthy individual crème brûlées in minutes. Simply sprinkle on the sugar, broil, and crack that crunchy top!
Chocolate Truffle Ganache Dessert: Make their heart sing with this rich, silky chocolate truffle ganache made with intensely indulgent semi-sweet chocolate.
Better than Homemade Cakes and Pies: With a buttery crust and a range of delectable fillings, you'll be serving up a slice of something special.
Ice Cream & Sorbet: Sorbet or ice cream: why choose? Bring the best of both worlds together with a range of sweet and fruity flavours.
Creamy Milk Chocolate or Dark Chocolate Fondue: Molten liquid chocolate is here to make your dessert dreams come true! Dip fresh fruit, cookies, or sweet breads for a decadent treat.
Chef's Tip: Combine our pre-chopped fruit selections into a fresh fruit salad — perhaps with a drizzle of chocolate fondue?
Gourmet Gifts for Your Valentine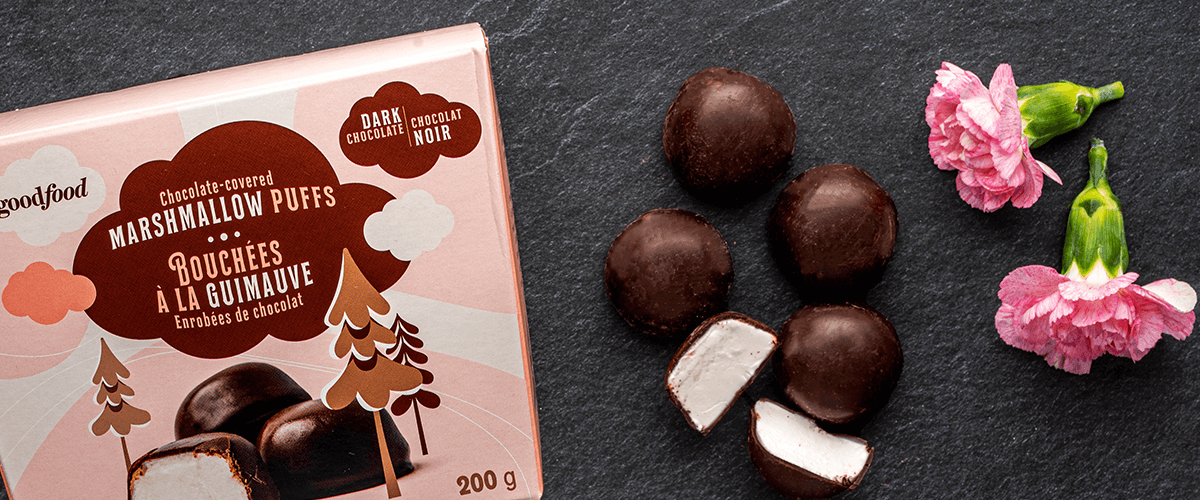 The best thing about an edible gift? It's a surefire hit for all your giftees! Show the loved ones in your life how much you care with a few specialty foodie treats.
Macarons Champs-Élysées Collection: Take their taste buds on a trip to the city of love with chocolate, caramel, raspberry, pistachio, and coffee macarons.
Cocoa-Dusted Truffles: These cocoa-dusted sweet treats are the perfect pick-me-up, with each bite providing an explosion of deep, rich cocoa flavour.
Milk or 70% Cacao Dark Chocolate Bar: A classic Valentine's Day gift, these chocolatey treats are perfect in bites, in pieces, or melted for dessert or as a snack.
Milk or Dark Chocolate-Covered Marshmallow Puffs: A match made in heaven: crispy layers of silky milk chocolate and the fluffiest, lightest marshmallow middle. Yummy!
Hot Sauce: If you're burning with love, show 'em with a unique gift: a lightly smoked jalapeño hot sauce!
Goodfood Gift Card: Spoil them with a Goodfood gift card so they can build their own perfect gift basket.

Find everything you need to pull off these simple Valentine's Day meal ideas on your selection page.* And don't forget to tag us in your dreamy dinners on Instagram @goodfoodca!
*Product availability varies by region.
 
Image Credits
Feature Image, Image 1-5: via Goodfood