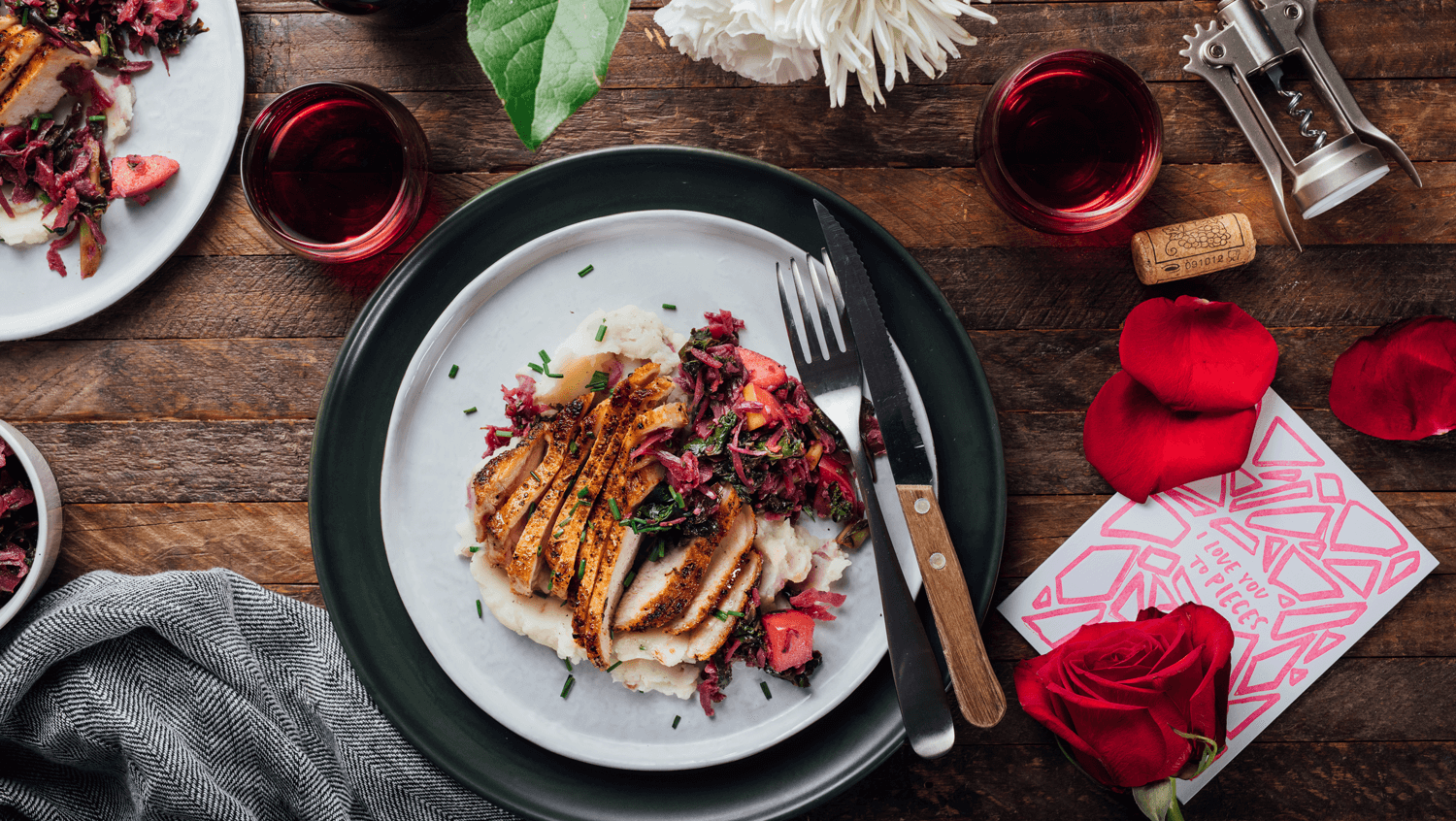 Seductively Simple Valentine's Day Meal Ideas
Chocolates. Roses. Jewelry. This year, skip the Valentine's Day clichés and spoil that special someone with an intimate date night or weekend in, complete with a gourmet meal made by you — or better yet — made together.
Mutually working through a recipe is a great way to get a little extra face time with your sweetheart and the perfect opportunity to show off your culinary knowledge and kitchen skills. Plus, it's fun. Really fun.
Without further ado, let's dive into a few simple Valentine's Day meal ideas we're sure you'll fall in love with.

Breakfast (Let's Call It Brunch) In Bed

No need to wait until dinnertime to go all out on your special day! Dust off the fancy serving tray and polish the champagne flutes — it's time to surprise your sweetie with brunch in bed.
For the ultimate romantic surprise, avoid overly complicated menu options like poached eggs and savoury soufflés and instead choose items you can assemble quickly (and quietly!), like pancakes, artisanal oats, and ready-to-bake pastries. Serve with a side of fresh fruit and a chilled glass of orange juice for a luxurious homemade meal with minimal cleanup.
Now, curl up under the covers and enjoy each other's company on this lazy morning in!
Find it on your selection page:



If you don't see these items on your selection page just yet, stay tuned! They'll be available in your area soon.
 
Check your selection page for even more breakfast in bed-friendly additions: buttery croissants, chocolatey chocolatines, decadent danishes, and heavenly cheddar and onion quiche. Just pop these fluffy, flakey, ready-to-bake pastries in the oven, plate, and serve!

Impress with Pasta

A sort of culinary blank slate, pasta is the perfect option for any home cook looking to make an impressive, delicious, and easy-to-cook meal without spending a ton of time in the kitchen.
For a naughty (and oh-so-nice) take on traditional mac and cheese, swap out macaroni noodles for fast-cooking fresh torchiette pasta, fold in a pack of luscious and buttery sustainably caught lobster meat, and top with a crispy golden baked panko and diced pancetta crumble. Don't forget the fresh green scallion garnish!
Find it on your selection page:
 
For a lighter but equally lavish pasta dish, pair fresh spinach linguine with roasted cherry tomato sauce, wilted spinach, and juicy pan-seared Pacific white shrimp. Finish with a sprinkle of flaked sea salt for taste and texture and voilà — an elegant dinner perfect for a romantic evening at home with that special someone.
Find it on your selection page:
Date Night? Steak Night!

Whether you're looking to spend some quality time together on Valentine's Day, starting a new date night tradition, or celebrating an anniversary, skip the restaurant reservation and opt for the original romantic date night staple — a simple and satisfying steak dinner!
Beef up steak night by pan-searing a generous cut of gourmet-quality Canadian-raised beef, drizzle with silky green peppercorn sauce to spice things up, and pair with a hearty helping of crispy purple Brussels sprouts, crunchy celery root slaw, or rustic blue potato mash. Finish with a side of rich and buttery wild-caught scallops for a classy steak night in.
Find it on your selection page:



Add mouthwatering Porterhouse steaks, lean and quick-cooking AAA filet mignons, and juicy AAA striploin steaks to your basket this week!
A Batch Made in Heaven

No romantic homemade meal is complete without a decadent dessert to top it all off. Pop a batch of ready-to-bake cookies in the oven for an ooey-gooey, fresh-out-of-the-oven finale. For an extra special treat, make creamy, dreamy ice cream sandwiches ahead of time using fresh baked cookies and your favourite ice cream.
Just in time for Valentine's Day, you can add our limited edition Oatmeal & Dark Chocolate Chunk or Milk Chocolate Chunk Cookies to your basket this week!
Find it on your selection page:



Combine our pre-chopped fruit selections into a fresh fruit salad — a perfect light dessert for any occasion.
 
Find everything you need to pull off these simple Valentine's Day meal ideas on your selection page this week!
 
Image Credits
Feature Image, Image 1-17: via Goodfood