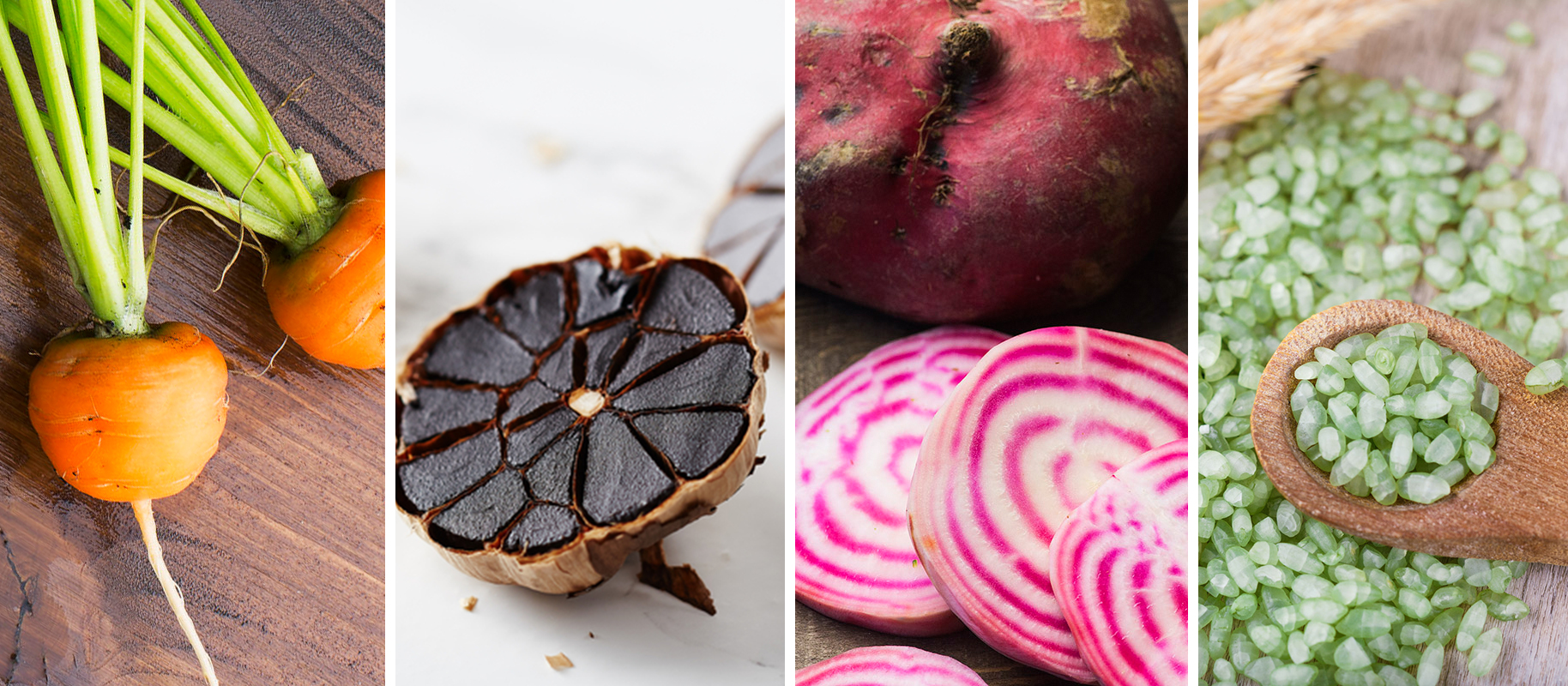 SEPTEMBER 2018: SPOTLIGHT INGREDIENTS
Back to school also means learning about fun new ingredients. Get ready to gain some serious kitchen knowledge!
GLOBE CARROTS
Globe or radish-type carrots are quite the conversation-starter. Equally eye-catching and exquisite, this heirloom vegetable was originally introduced in France about a century ago. Nowadays, this gourmet treat – which the French enjoy calling the Carotte Parisienne –  is a sought-after kitchen canvas for creative cooks out there.
BLACK GARLIC
You know how great wines get better with age? That's precisely what we're dealing with here. Born from fresh garlic, this black doppelganger is kept at 60°C for a two week period. This special process shapes a complex flavour profile: making it a  sweet, savoury and soft bite. To top it all off, black garlic boasts twice the antioxidant level as regular garlic – now that's healthy!
CHIOGGIA BEET
Say hello (or Buongiorno) to the Betterave di Chioggia! Think someone tinkered with mother nature? Think again! This bold Italian beet is everything but genetically modified. Affectionately compared to candy canes, this beet boasts a mild taste and can be enjoyed roasted, steamed or braised. Hot tip: when boiling Chioggia beets, add a splash of lemon juice or white vinegar to keep their color from fading.
GREEN JADE RICE
We're all wondering how the Chinese managed this tour de force… Well, we have a simple answer for you: bamboo juice! In fact, this unique bamboo dying gives jade rice a mild green tea flavour and aroma – not to mention its jaw-dropping gemlike hue! This medium-grain rice is moist and sticky and its green colouring slightly fades when cooked.
__________
Check out the spotlight ingredients on the menu!