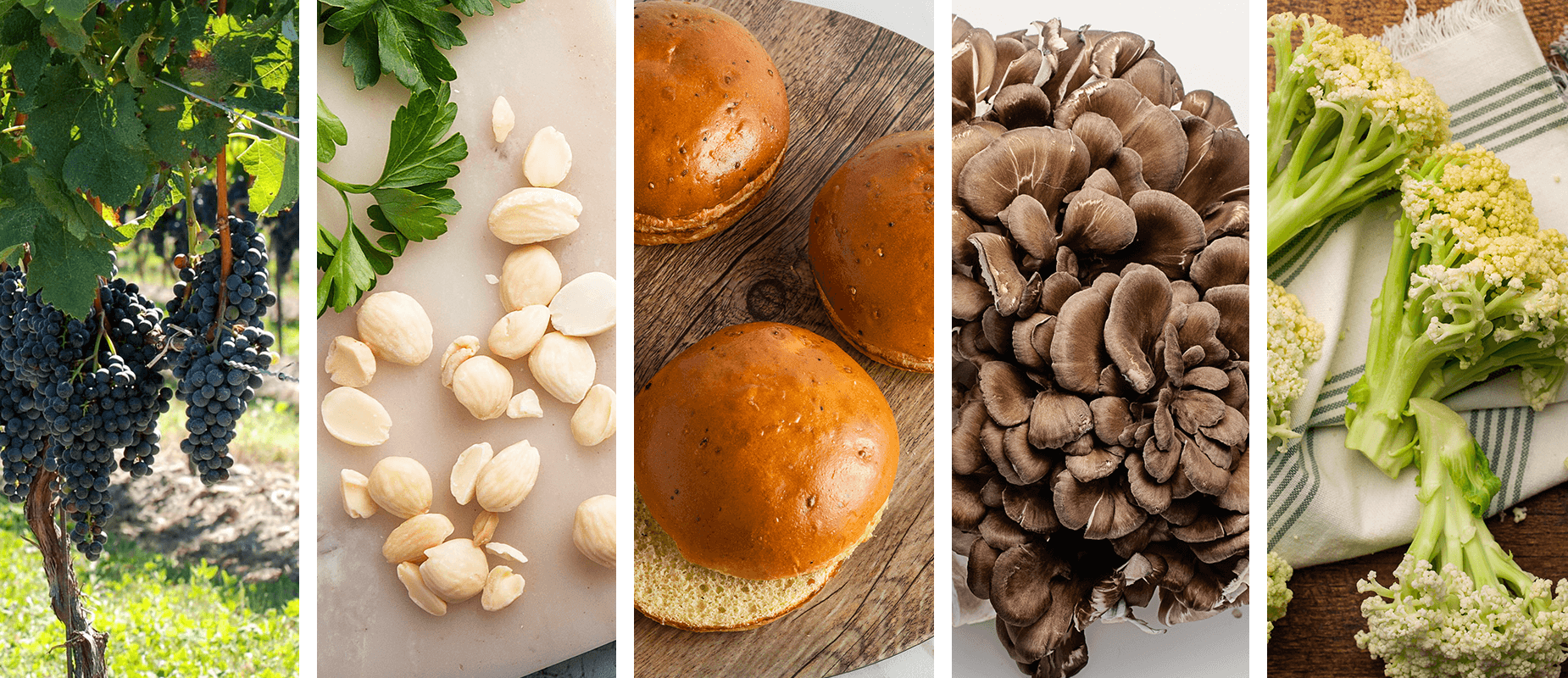 September 2020 – Spotlight Ingredients
Between classes or between meetings, trying out new flavours is a great way to make lunchtime, snack time, and dinnertime even more fun! Start back-to-school season off on the right foot with delicious and nutritious spotlight ingredients that would make an A+ addition to any plate or lunchbox.

Blue Concord Grapes

Squeeze in one last staycation and take your tastebuds on a culinary journey to beautiful sun-swept vineyards filled with row upon row of glistening blue grapes, bursting with fresh summer flavour.
A true taste of the best this season has to offer, Concord grapes are ultra juicy, perfectly sweet, and seedless. Their rich blue hue hints at the goodness hiding inside: heart-healthy antioxidants, important nutrients, and mouthwatering flavour. No wonder we drank so many glasses of Concord grape juice as kids!
Equally at home in sweet or savoury dishes, try these blue beauties in a jam, with artisanal cheeses, in sauces, or as a seasonal snack.

Marcona Almonds

The lush Mediterranean coastal region and hot, dry climate of Spain produce some truly magnificent flavours, including foodie favourite Marcona almonds!
Affectionately referred to as the "queen of almonds", this majestic nut is softer, rounder, and sweeter than its classic cousins, with a buttery texture similar to macadamia nuts.
Charming in both sweet and savoury settings, nutrient-rich Marcona almonds are high in protein, fiber, healthy fats, antioxidants, vitamin E, and other vitamins and minerals. Nut too shabby!

Steak Spice Buns

Soft, pillowy, and peppered with a perfect smattering of world-famous Montreal steak spice, these mouthwatering burger buns would be at home in any top steakhouse.
Speaking of Montreal, steak spice buns are not only spiced with the city's favourite blend, they're also baked fresh in a local artisanal bakery who pride themselves on using the finest ingredients and traditional baking methods to create bread of exceptional quality.
Punchy and peppery with a balanced herby flavour, these buns pair particularly well with juicy beef burgers. Throw them on the grill for a crunchy bite and even deeper flavour.
P.S. Check out your selection page to add a 4-pack of steak spice buns to your next order. Steak spice buns pair perfectly with beef, turkey, chicken, and plant-based patties!

Maitake Mushrooms

Get ready to explore the fifth basic taste, umami ("savoury" in Japanese), with a mushroom of many names — and many layers of flavour!
Also known as "hen-of-the-woods" because of its feather-like growth and delicate texture, maitake mushrooms have been used in Japan for thousands of years, primarily for medicinal purposes. Legend has it that when a forager found one of these prized fungi they would break out into a joyous dance, which coined the name "maitake" ("dancing mushroom" in Japanese).
These days, you can find these fabulous forest dwellers growing in tight clusters at the base of hardwoods in the wild or, like the organic ones in your basket, flourishing in local greenhouses as a delicious delicacy. If left to its own devices, this potentially gigantic mushroom can grow up to 100 pounds! No wonder maitakes are also called the "king of mushrooms."
A true melody of the forest, this earthy, nutty, almost spicy mushroom has a rich, unique flavour profile and is packed with antioxidants, potassium, fiber, vitamins B and D, and minerals.

Fioretto (Flowering Cauliflower)

Despite its long, green, broccolini-esque stems, fioretto ("little flower" in Italian), also known as flowering cauliflower or caulilini, is actually a type of cauliflower! One of the youngest members of the Brassicaceae family, this natural hybrid was developed by an innovative Japanese seed company in 2014.
Sweeter and more tender than the cauliflower you already know and love, this flavour-packed variety is an entirely edible bouquet of delicate white florets and green stems that don't need to be peeled. Simply sautée, add to a stir fry, or eat raw in a salad as-is.
Like its established cousin, this youngster is a nutritional powerhouse rich in vitamins C, K, and B6, fiber, potassium, and other important vitamins and minerals.
Rediscover cauliflower with fioretto — you'll thank us later!
 
From grapes to almonds to mushrooms and so much more, there are plenty of fresh, seasonal ingredients to try the whole month of September! Which one will be your next favourite?
 
Image Credits
Feature Image, Image 1-4: via Goodfood