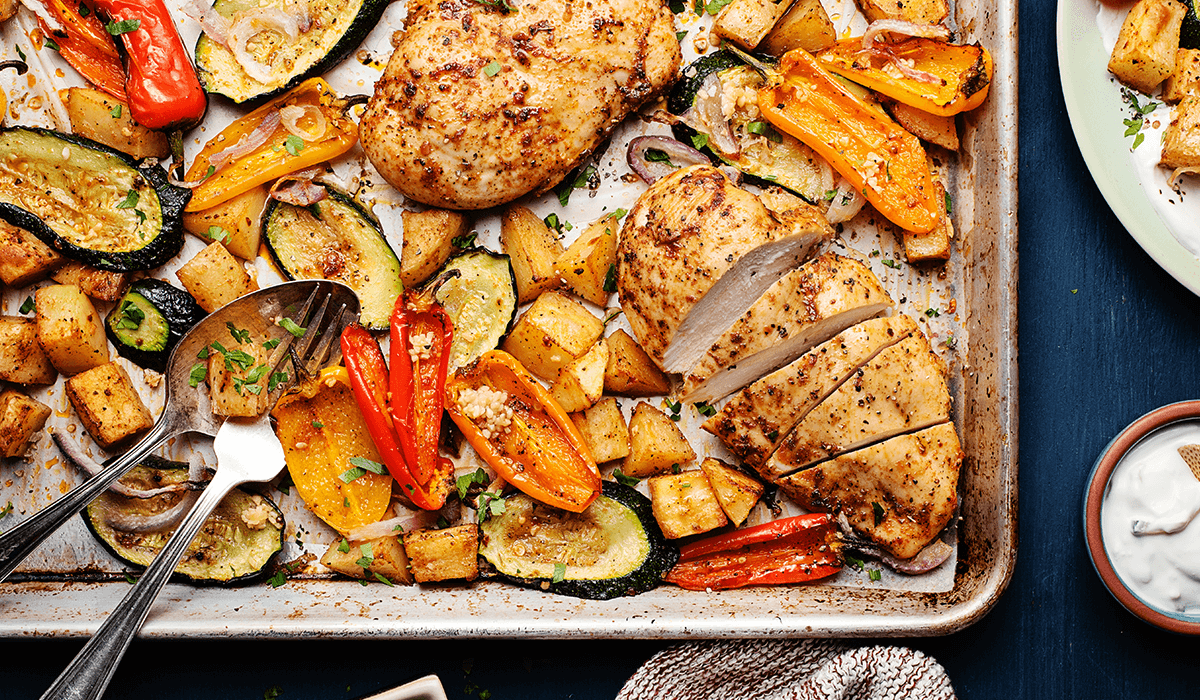 Sheet Pan Recipes: Effortlessly Tasty Meals (With Fewer Dishes Too)!
Have you heard of sheet pan recipes? These ingenious one-pan wonders are the perfect solution to easier family meals and smaller piles of dishes in the sink. All you need to get started: a sheet pan!
 
Why Sheet Pan Recipes?
With sheet pan recipes, easy and delicious go hand in hand. With these one-pan recipes:

You can cook a whole meal in fewer steps.
The oven does most of the work (only a small amount of mise en place is needed).
Fewer dishes are used, which means fewer dishes to wash after!
They make mealtime easier, especially on busy weeknights.

During the cooking time (30 to 40 minutes, depending on the recipe), you'll be able to spend quality time with your family, and that's priceless!
 
How Do Sheet Pan Recipes Work?

The main advantage of a sheet pan meal is its simplicity. Here are the 3 basic steps:

Spread the vegetables on a sheet pan and drizzle with oil.
Add the rest of the ingredients as per the instructions provided and pop the sheet pan in the oven.
Divide between your plates and enjoy!
Sheet Pan Recipes

Know what makes a sheet pan meal even easier? Having everything delivered to your door, of course! Here are just a few examples of recipes you'll find under "Sheet Pan Recipes" in the menu section of your selection page.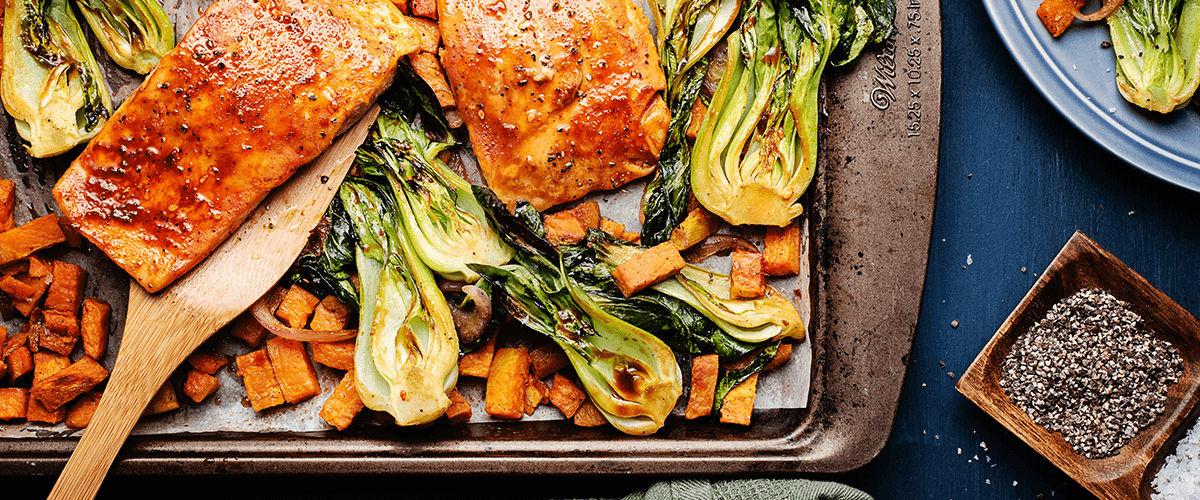 Slowly cooked in a trio of sweet soy sauce, rice vinegar, and white miso until glazed to perfection, this sustainably caught salmon is absolutely delicious when served over roasted Asian greens, red onions, and spiced sweet potatoes. A blend of Asian-inspired flavours ready in only 30 minutes!
Serves: 2
Includes:
Salmon fillets
Diced sweet potatoes
Baby bok choy
Sliced red onions
Sweet soy sauce
Rice vinegar
White miso paste
Savoury Seoul spice blend (brown sugar, sea salt, white sesame seeds, garlic, ginger, black pepper) — also available on your selection page!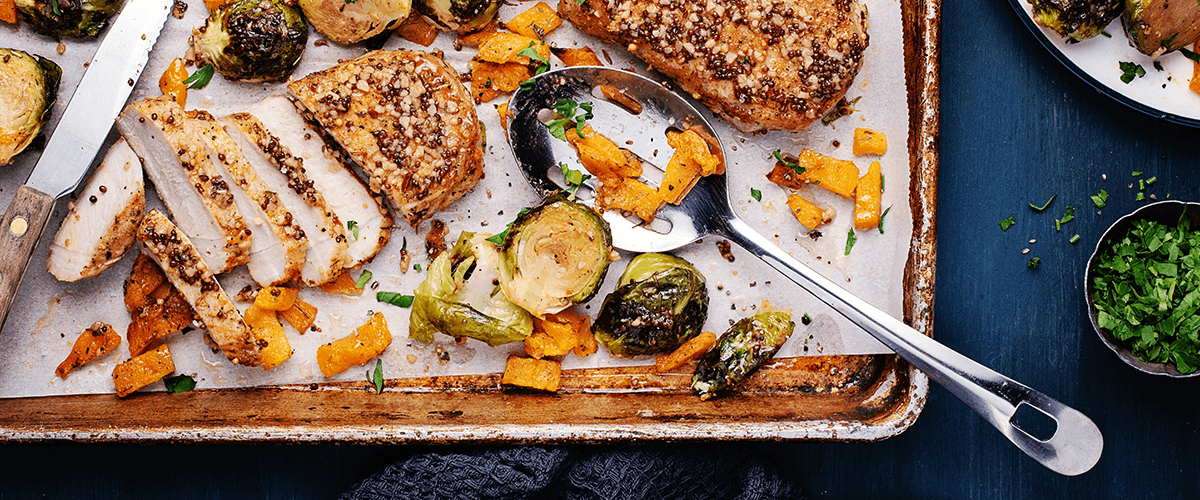 Maple-mustard sauce takes this pork chop feast to the next level! You'll start by roasting the squash, later adding thick, juicy pork chops and Brussels sprouts to the pan. Generously coat everything in the delectably sticky glaze before one last blast that will draw out all the aromas (and sheen) of this abundant bake. Just like that, dinner is served in only 35 minutes!
Serves: 2
Includes:
Pork chops
Diced butternut squash
Bunch of parsley
Minced garlic
Brussels sprouts
Old fashioned mustard
100% pure maple syrup — also available on your selection page!
Garlic and chives spice blend (salt, paprika, garlic, vinegar powder, onion, red bell pepper, black pepper, sunflower seed oil, oregano, parsley, chives).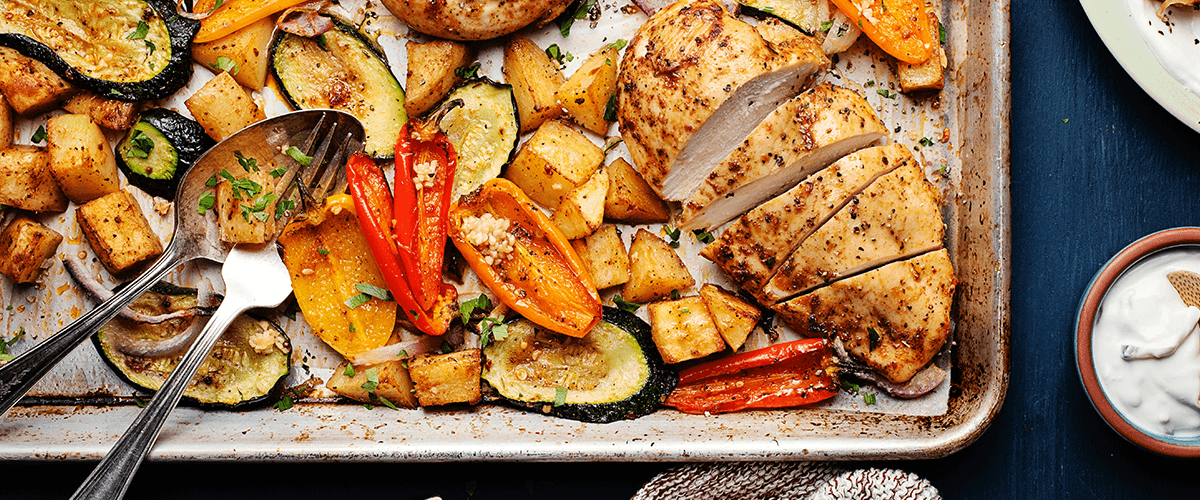 Start by roasting spiced potatoes alongside juicy chicken, until both become tender. Sweet peppers, zucchini and onions join the pan — then combine with a final hit of garlic for a quick blast on broil to draw all the flavours together. Plate the golden chicken and veggies atop a refreshing swoosh of tzatziki, and a final sprinkle of fresh parsley. A Mediterranean delight, ready in 40 minutes!
Serves: 2
Includes:
Chicken breasts — also available on your selection page!
Potatoes
Sweet peppers
Minced garlic
Bunch of parsley
Sliced red onions
Zucchini
Tzatziki
Tomato and oregano spice blend (paprika, garlic, salt, roasted garlic, black pepper, sun-dried tomato, tomato, red bell pepper, oregano, mustard, rosemary)
Sheet Pan Recipes to Simplify Mealtime
Make your next midday meal even easier with these fuss-free bakes, using only one pan. Less dishes means, well, less dishes! Check out your selection page for even more easy and delicious meal options the whole family will love.
 
Image Credits
Feature Image, Image 1-3: via Goodfood