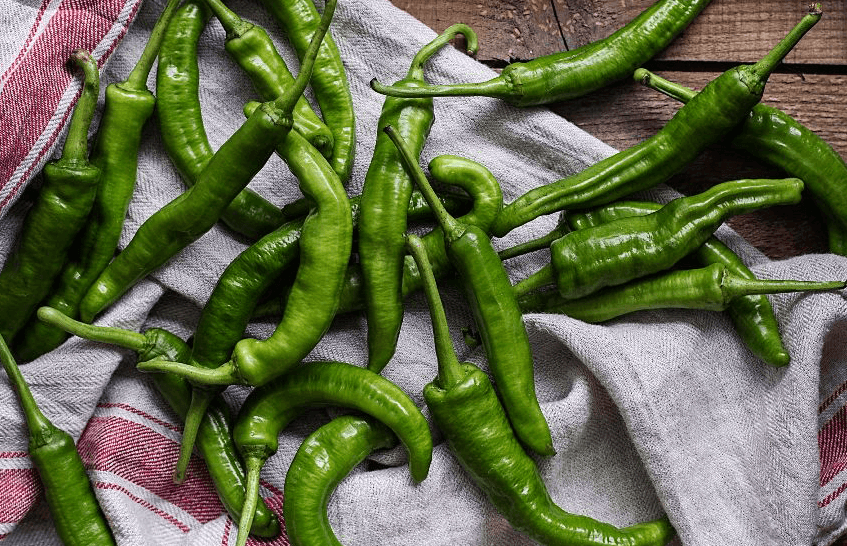 Shishito Peppers
A member of the sweet and spicy species Capsicum annuum, these bright green, wrinkly skinned peppers share a family tree (or vine, if you will) with bell peppers, jalapeños, and cayenne peppers.
These crisp and crunchy peppers are packed with vitamin C, antioxidants, and dietary fibers and are normally quite mild and sweet. Depending on the events of the growing season, every so often a few pods — about 1 in 10 — develop a touch of spiciness.
If you prefer your meals on the milder side, not to worry; these crisp and crunchy peppers are about 100x milder on the Scoville scale than their cousin the jalapeño pepper. Enjoy a bit of heat now and again? Half the fun is picking out a punchy pepper in the bunch!
Shishito peppers get their name from the Japanese words
shishi
(lion) and
tōgarashi
(chili pepper) because the tip of the chili pepper looks like the head of a lion! To spot the lion, hold a shishito pepper horizontally and turn so the tip of the pepper is facing you. Do you see it? Show us your most lion-like pepper on
social media
!
Shishito Pepper Recipes

Popular in Japanese and Korean cuisine, shishito peppers are completely edible, including the seeds, with thin, quick-cooking walls that make them ideal for appetizers and sides.
These easy to prepare peppers are often served stewed in sauce, battered and deep-fried, stuffed with soft cheese, added to salads, or simply charred to perfection on the grill or in the pan.

Steak & Pepper Night

This member favourite paired savoury bone-in striploin steak with blistered shishito peppers, charred to perfection in reserved fond. Charring thin-skinned shishitos only takes a few minutes and brings out their fresh flavour — a perfect complement to the rich, juicy steak you just cooked to perfection.

Featuring:
Bone-in striploin steak
Artisan lettuce
Shishito peppers
Coming Up This Week

Our supply chain team has been working hard to source unique ingredients for our members that are particularly hard to find on grocery shelves these days. This week, our team secured a shipment of one of our favourite snacking peppers, shishito!
In this sweet and sour teriyaki pork burger recipe, simply spiced shishitos are blistered to perfection to develop a deep, smoky flavour that suits this burger perfectly. You'll stack them under the bun and save a few for the side, too!

Featuring:
Ground pork
Teriyaki glaze
Shishito peppers
 
Have you added these delicious burgers to your basket yet? We're not lion — shishito peppers are a must-try spotlight ingredient this month!
 
P.S. Don't forget to tag @goodfoodca in your photos of shishito peppers and other unique Goodfood ingredients on social media!
 
Image Credits
Feature Image, Image 1-2: via Goodfood