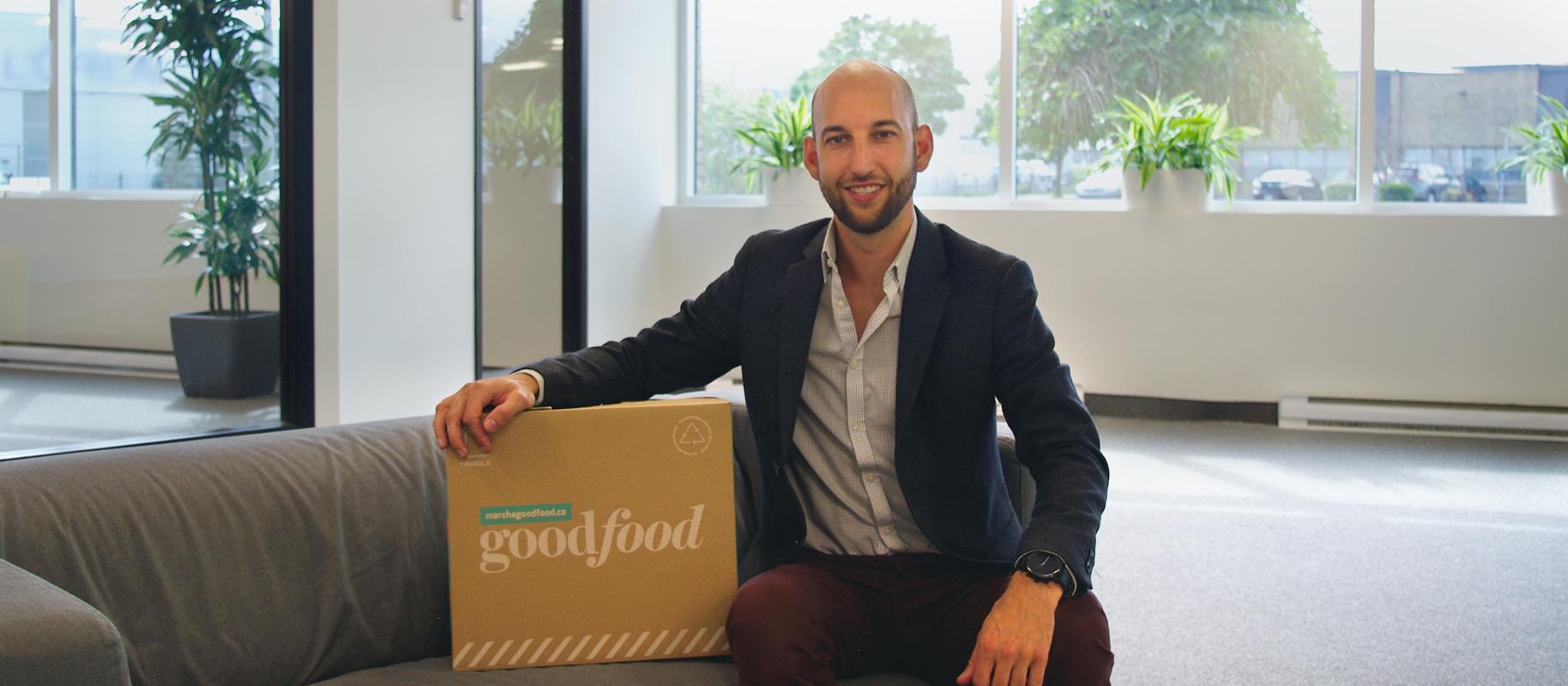 SIGNED, SEALED & DELIVERED with Patrick Rivard, Director of Logistics
There's a brief moment of excitement and joy every time you and your Goodfood box meet on your doorstep. Thrill & anticipation fill the air as you strip the tape off the top of the box and open the cardboard flaps to reveal a cornucopia of fresh ingredients, just waiting to be transformed into delicious meals! There's something magical about this moment—and it wouldn't be possible without the work of Goodfood's Director of Logistics, Patrick Rivard and his team.

Like most Goodfood employees, Patrick loves cooking. He credits his grandmother, a professional cook, for helping him discover his passion for food as he acted as a junior sous-chef for countless family meals growing up. His culinary skills have since evolved wonderfully, as many in the Goodfood office will tell you after having sampled his world-famous barbecue!

After graduating from HEC in Business Administration with a specialization in Operations & Logistics, he worked his way up through large corporate enterprises and start-ups alike, his inclinations towards e-commerce gradually cementing into endearment and devotion.

An athletic spirit (and defending office ping-pong champion), Patrick is a true believer in the service. "Being a sports enthusiast, especially when it comes to beach volleyball, I attach great importance to healthy eating— and the best way to achieve that in my opinion is to prepare meals yourself. For someone with an extremely active lifestyle, Goodfood fits perfectly into my busy workday".  
This need for constant movement translates perfectly towards his role at Goodfood. Fresh ingredients never sit idly at Goodfood. As soon as they're portioned, assembled and packed, the journey towards your dinner table begins, one fraught with the challenges of managing a complex network of delivery partners, zones and route optimization.

"The delivery of fresh baskets is no simple task. We have to constantly monitor outdoor temperatures, provide the right packaging to ensure the freshness of food throughout the course as well as perform tests and analyses with our delivery partners. These tests allow us to determine the exact quantity of ice-packs to include in boxes by factoring in the type of insulation, dependent on external conditions and delivery duration to ensure the perfect temperature for the recipe bags and proteins."
Patrick provides a glimpse into what it takes to provide the best possible experience: "To maximize freshness, the main goal is to reduce transit time between the box being packed at our facilities and being opened by our members. To do this, we set up teams of associates who work in the evenings, overnight and on weekends to ensure packing happens as close as possible to the hours of drop-off. Additionally, we negotiate with our delivery partners for the latest possible pickup times, sometimes even in the middle of the night or the wee hours of the morning."
Working hand-in-hand with partners around the clock, strong communication cannot be understated: "In addition to our value proposition in terms of quality, freshness, flavour and quantity, we work closely with our logistics partners to go above and beyond, always pushing to provide an optimal experience for our members. Our expectations are very high and we ask our carriers to make sure to meet the requests of our Goodfoodies. Drivers will often have to follow very specific (and sometimes surprising) delivery instructions; for example, leaving a box hidden in a recycling bin, dropping it over a fence—or even on a ferry dock! Sometimes drivers will have to contact our members so that they can give them access to their building or to pick up the box. Nothing is off the table when it comes to delivering Goodfood to our members."
Never quite satisfied, Patrick is constantly looking for ways to push the envelope even further. Projects for SMS delivery notifications and box recycling programs are both in the works on top of the continuous development of new & existing relationships with delivery partners required to make them happen. Environmental responsibility and sustainability are especially important to him: "Not a day goes by where we're not looking for new solutions to reduce our environmental footprint. Whether through innovation, biodegradable packaging, the launch of box recovery programs or the optimization of delivery networks, the environmental issue is at the heart of our concerns."

With some light shone on the hustle and bustle behind Goodfood deliveries, we hope the next time that moment of glee arrives along with your Goodfood box, it'll feel extra magical. After all, every box is sealed with a kiss. (ok, not really—but we do put a lot of love into them!)
__________
See what Patrick is working on delivering to your doorstep this week – Check out the menu!